A glimpse into the early history of Rolex
One of the most important vintage wristwatches within the Rolex archives is what is referred to as the Rolex 3131 "Bubbleback". As with so many Rolex watches and collections, the term "Bubbleback" is not an official name, yet it has become so ubiquitous that it is now the accepted term when referring to this specific collection of wristwatches. The nickname "Bubbleback" was given to these early Rolex Oyster Perpetual wristwatches because of the convex shape of their casebacks to accommodate bulkier movements. This was done to give the illusion of a slimmer case, while trying to hide the bulkiness in the back.
In 1931, Rolex invented and patented the first self-winding mechanism with a perpetual rotor and a few years later, in 1933, the Bubbleback was born with reference 1858 driven by the Caliber 520. During its time, the Bubbleback was offered in a variety of metals – steel (labeled Steelium by Rolex), pink gold, yellow gold, as well as two-toned steel and gold Rolesor. In fact, the Bubbleback was actually the first Rolex watch to ever be crafted in steel.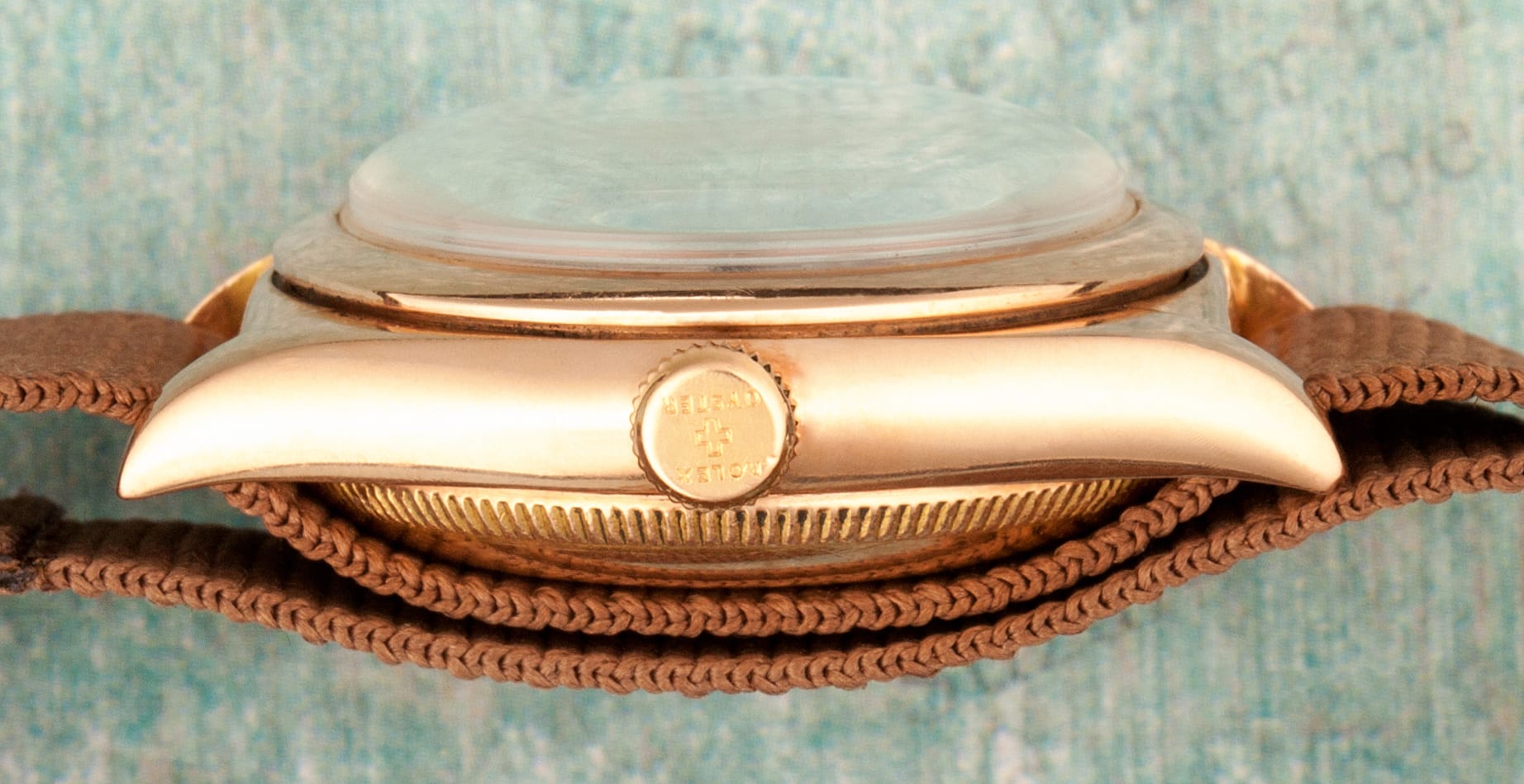 A decade after the first Bubbleback, a ladies version was unveiled in 1941, and eventually, three different sizes were available to suit both genders. Over the course of its production, the Bubbleback was offered in several different styles with a multitude of dial configurations and differing bezel options. Later versions of the Bubbleback, referred to as the "Big Bubbleback", were the precursor to one of Rolex's core collections – the Datejust. Manufacturing of the Bubbleback ceased around 1955.
Earlier versions of the Rolex Bubbleback were constructed with a three-part case, later replaced with a two-part case in 1936. The Bubbleback reference 3131, as seen in these pictures, is one of the earliest models to come equipped with the two-part case, as well as the "Super Balance" within its movement. The "Super Balance", Rolex-speak for a simplified balance wheel, was created by the brand in 1935 and enhanced the functioning of the movement. At the heart of the ref. 3131 is the Caliber 620 with subsidiary seconds, as opposed to the sweep seconds of the Caliber 630 found in the ref. 3132.
The 3131 was part of the family of square-end Bubblebacks that ranged from 30mm-32mm in diameter. The gold round case of this Rolex Bubbleback 3131 encases a white dial with large 12 Arabic numeral hour markers, a seconds scale on the outer rim, and center hour, minute and seconds hands, and it is topped off with a smooth bezel.
Due to the hype and popularity of Rolex sports watches, such as the Daytona, Submariner and GMT-Master, sometimes older and simpler Rolex vintage watches get overlooked. Yet, these pieces are an integral part of the brand's history and heritage and illustrate the important contributions Rolex has given to the watchmaking world at large.