There are a good number of luxury watches out there that deliver solid bang-for-your-buck, but as it stands, there's arguably nothing out there that rivals what Baume & Mercier is doing with the new Clifton Baumatic. The piece is a technical exercise that leverages the capabilities of the Richemont group as a whole, and the more that I read about it, the more impressed I became. We'll get into the details in a second, but both in specs and in finishing, this is way more watch than its sub-$3k sticker price would lead you to believe. If you're in the market for an affordable all-out sleeper of a watch with a classic dressy aesthetics, you're going to want to keep reading.
It's what on the inside that counts
First things first, it's the movement powering this new piece that's the real hero. You're looking at a caliber that isn't too far off of the classic ETA 2824 in terms of size and layout, but it has way more tricks up its sleeves. It uses silicon for its balance spring, escape wheel, and lever (as well as a redesign of its escapement). Its larger mainspring delivers a power reserve of 5 days or 120 hours – three to four times longer than the aforementioned "industry standard" caliber.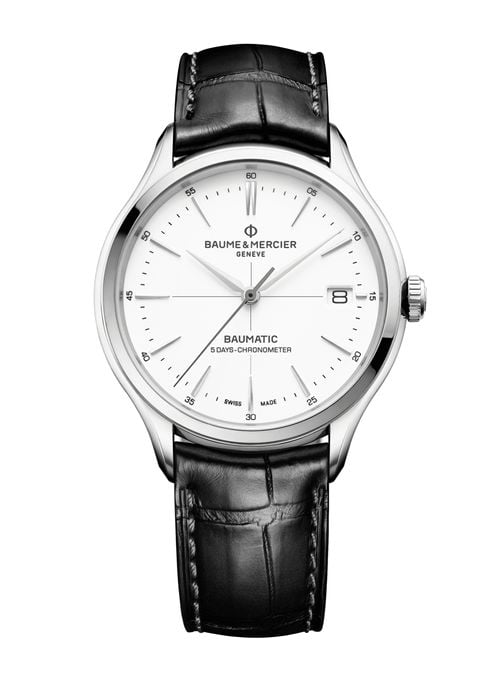 Additionally, the use of silicon allows this caliber to surpass the basic standards to be referred to as antimagnetic, with its resistance to magnetism rated at 1,500 gauss. If that wasn't enough, the top-tier model of the range we're looking at is also COSC certified for accuracy, which is yet another feat that is becoming more common in entry level watches, however is anything but standard.
What makes this so special in my eyes is the holistically thoughtful nature of this caliber. If you look at it via the sapphire caseback, you'll see that Baume did not go out of their way to provide Geneva Seal levels finishing to the movement. Without leaving it entirely unfinished, they basically did just enough to dress it up by machine, clearly focusing more on function than form. They didn't opt to only make it available in a precious metal case. Hell, they didn't even try and position it as a rare and exclusive limited-edition release.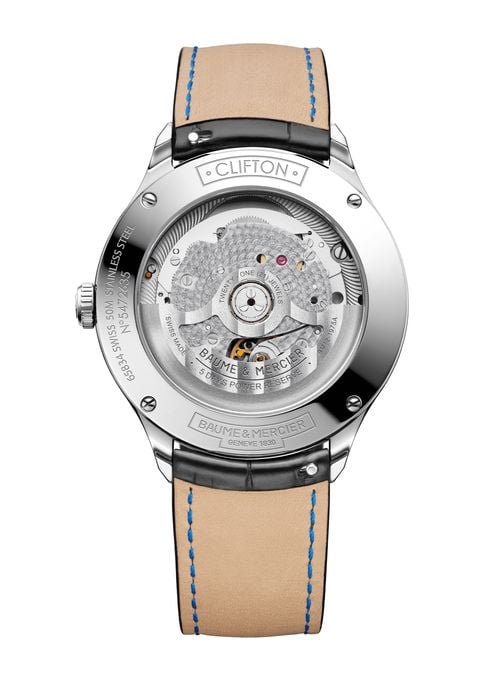 Instead, they went for acceptable no-frills finishing on the movement, a steel case, and made it a regular series production – and it's those specific details that make this piece a home run. Keeping with that same approach, they didn't go overboard with movement design either, focusing on core updates that improve on performance without creating an oversized caliber that requires a larger casing.
The Baume & Mercier Baumatic Clifton
Taking a step back from the caliber itself, there's still plenty to admire and appreciate. As I've hinted above, the case proportions of the Baumatic are perfectly reasonable for the dress watch category, coming in at 40mm in diameter and 10.3mm thick. Its case is mostly polished aside from its flanks, which works well for a dress watch, and the finishing complements its glossy white dial and applied indices nicely.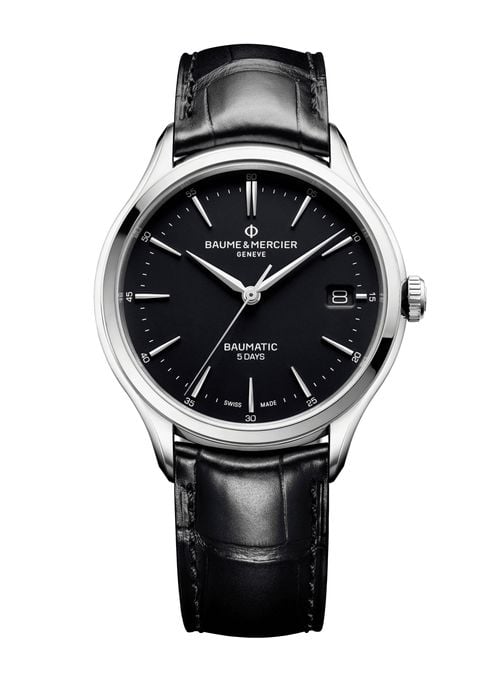 That crisp white dial has been dubbed "porcelain-like", per Baume & Mercier's documentation (whatever that means), though we know it is not porcelain, enamel, or lacquer. By adding a thin set of crosshairs to the dial (only used on the COSC-rated version), Baume's designers have given the Baumatic a hint of a vintage vibe as well to differentiate it from the sea of other dress watches out there (though it does bear a slight resemblance to the Jaeger LeCoultre Geophysic 1958 that launched in 2014). Considering how many budget-friendly watches I see on a daily basis that seem decent in concept and fail dramatically on a lack of attention to design detail, it's pieces like this that remind us all why so many startup brands fail whereas others are clearly in it for the long haul.
The only question that remains now is where these new silicon innovations go from here. It's obvious that we will see this technology migrate through the Richemont food chain over time, but where and to what extent is yet to be determined. Given that Panerai has been revamping their in-house calibers lately, we would have thought they would be a prime candidate, but that doesn't seem to be the case just yet. 
Either way, while they figure out what comes next, I take no issue whatsoever with being able to enjoy this level of advancement in manufacturing without having to part with $5-6k (or more). My only advice? If you like the watch, get in there before they change their mind and up the sticker price.
*All images courtesy of  Baume & Mercier