For vintage Rolex collectors, the style and condition of a dial are of great importance when assessing a timepiece. As the centerpiece of a watch, the dial is largely responsible for its overall appearance. Since each dial is like a tiny painting, much of the damage that one sustains throughout its life is likely to be permanent.
The Evolutions Of Vintage Rolex Dials
Beyond irreparable damage requiring the replacement of a dial, it was extremely common for Rolex service centers to replace dials once their tritium hour markers had ceased to glow. Consequently, it has become increasingly difficult to find vintage dials – especially sport model configurations – that are still in a pristine and unaltered condition.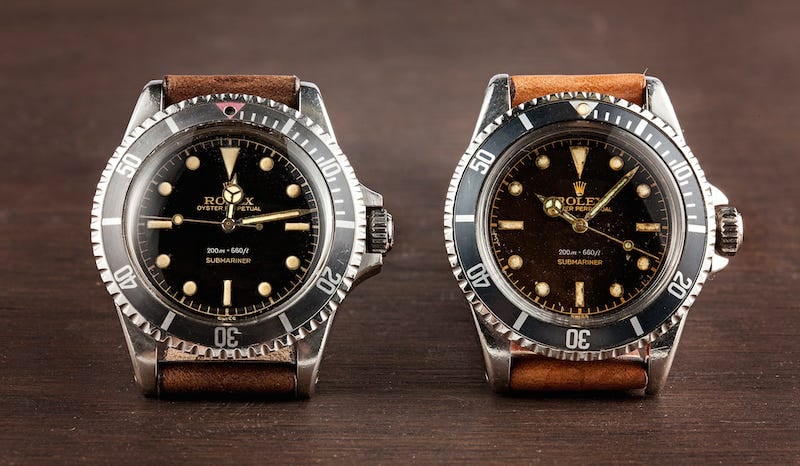 For vintage Rolex sport watches, dials fall into three main categories: gilt, matte, and gloss.
Gilt
Gilt dials were the first type of dial that Rolex used on their sport watches. These dials are easily identified by the gold text that appears on their surfaces. Unlike later-era sport dials in which the text, minute track, and Rolex logo are printed in a white, gilt dials have their markings done in a warm gold color against their gloss black surfaces.
Rolex fitted their sport watches with gilt dials during the 1950s and 1960s; however a few years prior to 1970, they switched to matte dials with white text on their surfaces. Due to their age and relatively short production run, gilt dials are the most rare and valuable among the different types of vintage Rolex sport dials, and collectors often seek them out for their warm and unmistakably vintage appearance.
Matte
The mid-late 1960s marked the end of gilt dials and the introduction of Rolex's matte dials. Unlike the gilt dials that they replaced, Rolex's matte dials have a flat, grayish-black surface, with white text and painted tritium hour markers. While not as rare as gilt dials, the flat finish of matte dials gives them a very utilitarian appearance that perfectly complements the look of certain vintage Rolex sport models.
Gloss
Rolex continued to fit their sport watches with matte dials until the mid 1980s, when they switched to gloss dials with white text and applied, white gold hour markers. Gloss dials are easily the most common; however the addition of applied indices gives the entire watch a much more luxurious appearance.
This switch marked the last dramatic change in the style of Rolex sport dials, and to this day, Rolex still fits their stainless steel sport watches with gloss black dials with applied white gold indices.
Rolex has stayed remarkably true to their original designs over the years, almost more so than any other manufacturer. As a result of this consistency, subtle differences (such as the color of text on the dial) can account for thousands of dollars in resale value. The subtle differences between the different types of sport dials gives vintage Rolex collectors the opportunity to own several similar watches, each possessing its own unique personality.