Engraved Yellow Gold and Steel Daytona ref. 116503
While four-time NASCAR champ Jeff Gordon is no stranger to winning, he did add a new title to his slew of trophies last month with his victory at this year's Rolex 24 at Daytona. He now joins an elite club of only four drivers to win both the Daytona 500 and the Rolex 24.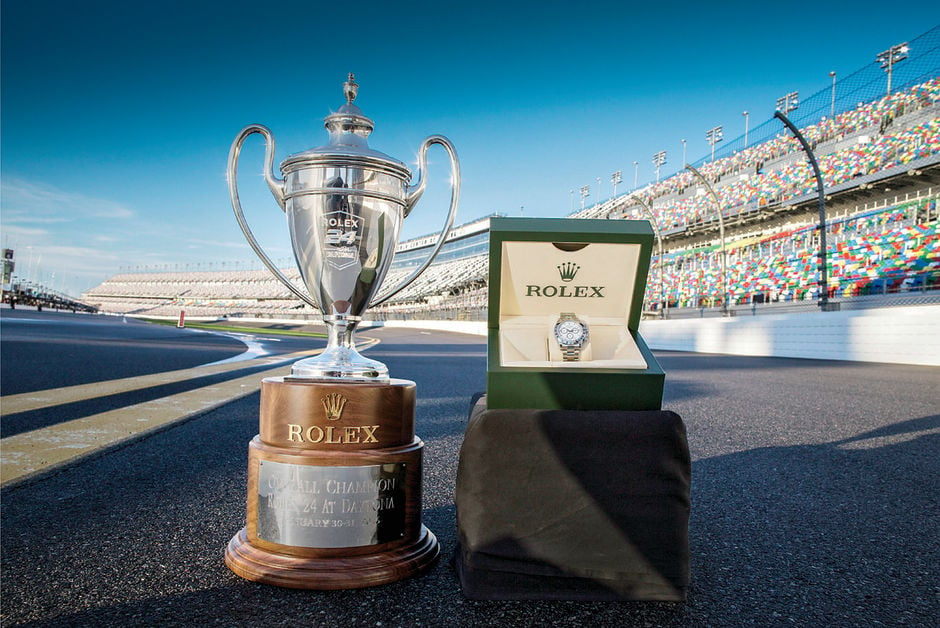 55th Edition of the Rolex 24 at Daytona
Jeff Gordon and his teammates, Ricky Taylor, Jordan Taylor, and Max Angelelli claimed a stunning victory with Wayne Taylor Racing's No. 10 Konica Minolta Cadillac Dpi-V.R. In fact, this was Cadillac's comeback after a 14-year absence. And the American carmaker came back strong indeed with its three teams leading the pack throughout the race. It was a close battle until the end. With seven minutes left, No. 5 Action Express Mustang Sampling Cadillac Dpi was in the lead with Filipe Albuquerque behind the wheel. Filipe Albuquerque's car then spun out due to a hit in the rear by Taylor in his No. 10, who would ultimately claim the checkered flag with a 0.671 seconds lead.
While Rolex 24 is already known as the nation's most difficult auto endurance race, this year's edition was even tougher thanks to 12 hours of terrible weather. As night fell, it was accompanied by rain and bitter cold, making the 3.56-mile circuit of the famed Daytona International Speedway a particularly difficult one to navigate. Only 41 of the 55 starting cars crossed the finish line.
This year marked Rolex's 25th anniversary with the famous endurance race, a relationship so significant that the event is often simply referred to as "The Rolex."
The Winners' Rolex Daytona
Along with the coveted Rolex 24 at Daytona trophy, each of the four teammates also picked up a brand new Rolex Daytona ref. 116503 engraved with "Rolex 24 Winner" on the back.
Commenting on the triumph, Ricky Taylor said, "After an intense race in tough conditions, it is such a relief to stand in Victory Lane as winners of "The Rolex". We take part in this race with the dream of winning the 24-hour marathon but also of one day putting a Rolex Daytona on our wrists. It really is the ultimate reward in motorsport and a reminder of our success. I'm very proud to be added to the accomplished list of Rolex 24 At Daytona winners."
However, awarding a two-tone yellow gold and steel Daytona was a surprising move from Rolex since it has always been stainless steel versions up until that point. Perhaps Rolex ran out of the steel Daytona ref. 116500LN with the black ceramic bezel? It is after all the hottest luxury sports watch right now. Jokes aside, it's interesting to note that even winning "The Rolex" after 24 hours of driving in treacherous conditions still doesn't land you the one chronograph everyone wants. Looks like Jeff Gordon and co. will have to wait in line like everybody else. And like we said they claimed a stunning victory with Wayne Taylor Racing's No. 10 Konica Minolta Cadillac Dpi-V.R.