Buying a Rolex, or any of the top luxury timepiece brands for that matter, makes a statement beyond that of someone who merely appreciates a fine watch. Whether it's admitted or not, wearers are also demonstrating that they can afford to drop several thousand dollars on an emotional purchase – something they want rather than need. Others will notice the piece on their wrist, recognize the name Rolex, instantly link it to the company's well-cultivated association with success and achievement, and make their minds up about the wearer before they have even opened their mouths.
This is one of the inescapable side effects of investing in a truly exceptional luxury watch, and why they continue to be the first port of call for many people once they have attained some important personal goal. But does spending Rolex watch money on a Casio G-Shock come with the same tacit undertones of boundless accomplishment?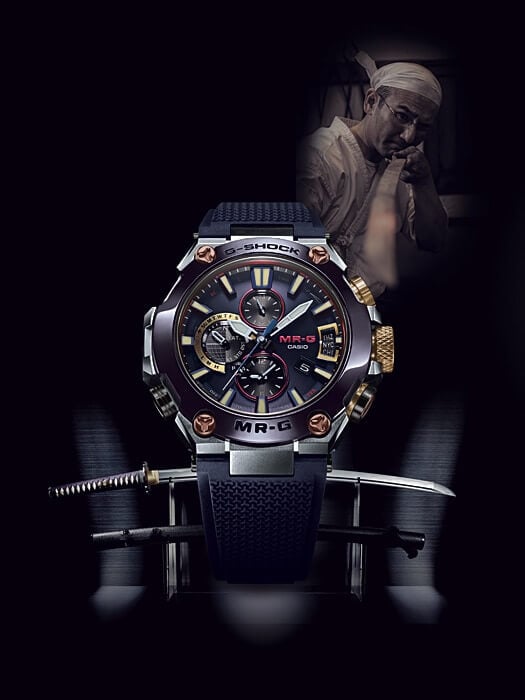 The Casio G-Shock Jyuryoku Maru Edition
To be fair, this isn't just any G-Shock. To be even fairer, at $4,300, it better hadn't be either. For a start, it will laugh off the kind of mistreatment you wouldn't even consider subjecting one of the usual suspects in luxury watch collecting to. The case, caseback, and clasp are all forged from titanium. Already insanely strong, the metal used on the G-Shock has been put through a deep hardening treatment that makes it five times tougher than normal. And you can't get much more titanium-er than that.
The bezel, which I have to admit is something of a stunner to look at, is made from Cobarion and Murasaki-gane metal. Obviously we all know what that is, but I'll explain anyway.
Cobarion is a new class of cobalt-based alloy that is twice as hard as steel and with the shine of platinum. It has reportedly outstanding resistance to wear and corrosion, and its lack of nickel makes it extremely biocompatible. The medical field has started using it extensively for artificial joints and dental prosthetics.
Murasaki-gane is one of the better known Japanese alloys, used in traditional metalsmithing for jewelry and small ornaments. It is created by blending copper with 5-7% pure gold. Together on the G-Shock's bezel, the two make a near-unbreakable combination, and the whole thing is given a deep violet Arc Ion Plating (AIP), providing a finish that is even harder than Diamond-like Carbon (DLC), in addition to providing a beautiful purple coloring.
Protecting the dial is a scratch-proof sapphire crystal with an inner AR coating for added clarity and readability, and on the back is a hand-engraving from master blade craftsman, Teruhira Kamiyama. The custom inscription in Japanese characters reads 'Jyuryokumaru' or 'gravity' in English.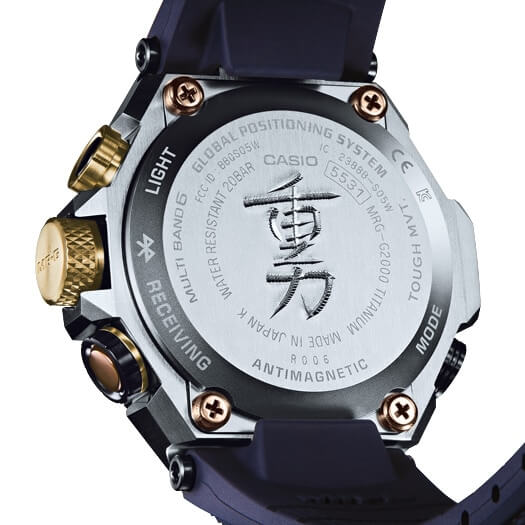 I'm Sorry, How Much?
In case you missed it above, the Jyuryoku Maru, limited to just 100 pieces, retails at $4,300. And yes, it is a Casio. What's more, it is not even the most expensive G-Shock you can buy. Take a look through the catalog and there are several examples in the elite MRG family selling for $5k and above. The honor for the priciest model ever made currently goes to the G-D5000-9JR, an 18k gold piece that will set you back around $69,500 for any of the 35 being produced.
But, are they worth it in comparison to a more traditional collector's choice at the same sort of price point? If we take the Jyuryoku Maru G-Shock and liken it to a similarly valued Rolex, for example, what can we get for the money?
Just a quick look through the pages here at Bob's Watches throws out any number of Datejusts – a model that pretty much wrote the rulebook for mechanical timepieces back in 1945. The first automatically winding, waterproof watch with a date function, it is perhaps the most recognizable form in horology, particularly in its Rolesor get up of yellow gold and steel. Never once out of production in more than 70 years, there are countless examples on the pre-owned market for the cost of our Jyuryoku Maru G-Shock, and a decent number that will run you much less.
Or, if you wanted the ultimate in simplicity and style, $4,300 buys you an awful lot of Rolex Explorer – arguably the model that kicked off the tool-watch genre. The 36mm ref. 14270, a highly-regarded and timeless sports watch, is well within budget. There are understandably Oyster Perpetual watches aplenty, commonly regarded as the entry level Rolex, and if you look hard enough, you can even pick up a ladies 29mm Yacht-Master, touted as the more luxurious take on the Submariner.
So, the question is, if you have $4,300 in your pocket to spend on a watch, do you go Casio or Rolex?
Head-to-Head
Features-wise, it is something of a no contest. Rolex has never really gone all-in for complicated watches in the first place, and those models at the lower end of the scale are strict time-only three-handers, with maybe a date function thrown in if you're lucky.
By contrast, the Jyuryoku Maru G-Shock has a day and date display, world time, a stopwatch, a countdown timer, an alarm, and airplane mode. On top of all that, it has Multi-Band 6 radio and GPS automatic adjustment, as well as Bluetooth connectivity to a cellphone app, meaning it is guaranteed to show the right time, no matter where you are.
Of course, all that performance needs to be fueled, and G-Shock customers will need to come to terms with the fact that they have spent $4k+ on a quartz watch. But looking at it with the head rather than the heart, the rechargeable battery inside the Jyuryoku Maru is solar charged, meaning it will likely have the same sort of autonomy as a mechanical perpetual movement, driven only by the motion of the wearer's wrist. Additionally, while rechargeable batteries do need to replaced eventually, chances are they will last longer than the service interval on a mechanical model, especially an older one.
The Casio G-Shock is tougher, more accurate, and packed with tons of useful features compared to any of our Rolex choices. So the decision is clear: get the Rolex.
As we said at the start, buying a luxury watch these days is an emotional choice. Traditional timepieces are made by (and bought by) people with passion – for the engineering, the design, and the sheer artistry that goes into them. Whoever heard of a Casio, at whatever price, being given as a graduation or wedding present, or being handed down ceremoniously to future generations?
When you buy a Rolex, you are also buying more than a century of heritage and craftsmanship. When you buy a G-Shock, you are basically buying all the stuff you already have on your smartphone, and putting it on your wrist rather than in your pocket.
Or, if you want to look at it from a purely financial standpoint, the Rolex is going to hold its value a whole lot better than the Casio. Plus, the Explorer, the Datejust, and the Oyster Perpetual can all be worn with just about anything, from a t-shirt to a business suit. The G-Shock doesn't have that sort of versatility, meaning you will need another watch to wear on more formal occasions, regardless of the fact you already paid $4,300 for one.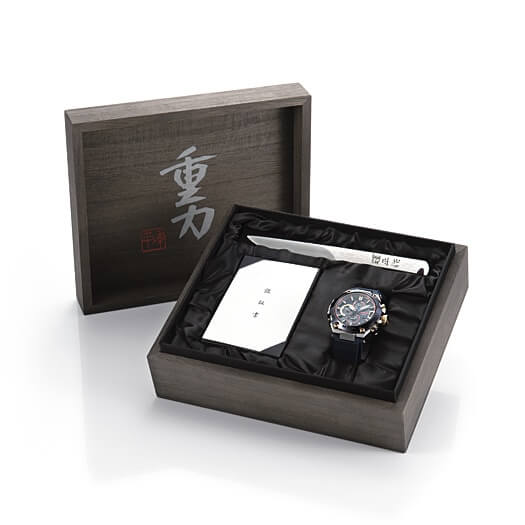 Conclusion
Don't get me wrong, the Jyuryoku Maru G-Shock is indeed an impressive feat. Its choice of materials is truly inspired, and it more than lives up to G-Shock inventor, Kikuo Ibe's dream of creating a "watch that never breaks." What's more, the range has a huge and fanatical fan base, and even at the extreme price, I'm sure this latest release will sell out in no time.
But personally, with that sort of money, I know where I'd be headed, and it would be down the path of springs and gears.