Nothing conveys status and wealth quite like a men's diamond Rolex watch. Unless it's a diamond-studded Rolex.
They have been the best friend of the women's range almost since the company was formed. The Art Deco period of the 20's and 30's saw Rolex produce a series of slim, elegant watches festooned with the stones, cementing their reputation as a luxuriously aspirational brand.
Today, there is an enormous variety of women's dress watches available that glisten with diamonds—from subtle accents on the indexes to examples that drip with gems from every surface.
However, diamonds are not just the preserve of the lady's range. Several of the most popular watches in the men's Rolex watch catalogue have been enhanced by their inclusion, adding a new level of exclusivity to one of the world's most prestigious purchases.
A Question of Image
Rolex is not a brand that sits well with the notion of flamboyance or 'bling'. Even their dressier men's watches have constantly favored grace over glitz.
Models such as the Datejust, the President or the Oyster Perpetual Date always identify as watches that are adaptable enough to match any occasion and pair with any outfit.
Some of that sense of versatility is lost in their diamond-decorated versions – they're designed to catch the eye rather than blend in and they're not natural choices for everyday wear.
The vast array of styles available run the gamut, from understated enhancements on the hour markers to the boldest expression pieces, it's impossible to miss. The choice depends on how big a statement the wearer wants to make.
It's not limited to the dress watches either. The Cosmograph Daytona has several versions set with diamonds, and during the 80's (when else?) the Submariner and GMT-Master II were released with diamond dials, complete with sapphires or rubies, in what became known as the Serti model. From the French word 'sertissage' meaning 'setting stones', the now discontinued Serti watches were still the same rugged and eminently functional tool watches they'd always been on the inside, but with a new outer level of grandiosity that was far more Gordon Gekko than Jacques Cousteau.
These are watches meant to be worn for special occasions. Once bezels or dials are shimmering with precious stones, they become all about high society rather than relaxing at the beach.
Diamond Dial Rolex
Unlike watchmakers such as Patek Philippe or Cartier, Rolex doesn't trust any outside firm to look after their precious stones, as you would expect from the notoriously insular Swiss brand. Their enormous compound in Chéne-Bourg in Geneva has a huge gem department that buys, tests and sets the diamonds, rubies, and sapphires used to decorate their most exclusive designs.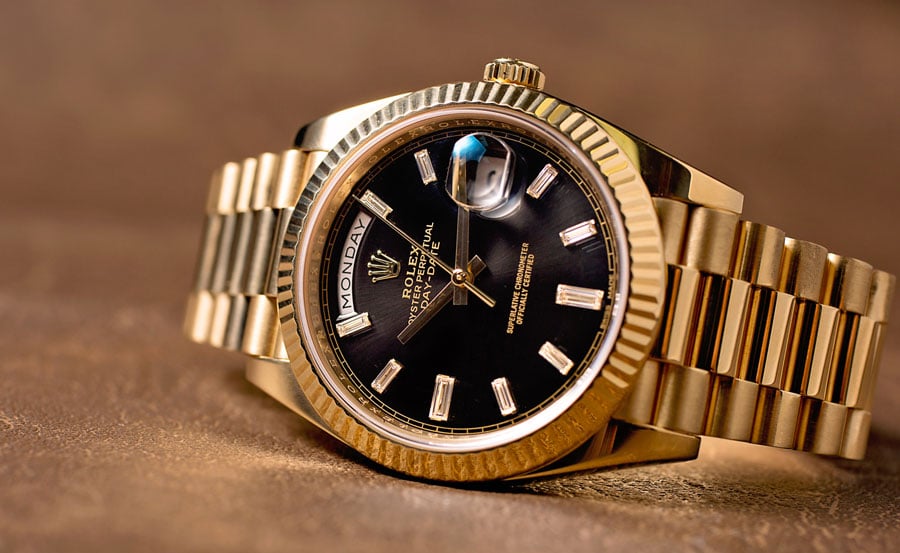 For a company that has built its reputation on a fanatical devotion to absolute quality and workmanship, the selection process for gemstones is particularly rigorous. Every diamond that comes in is x-rayed to ensure its authenticity.
In all the years Rolex has been testing, 20 million diamonds have passed through the x-ray machine, of which two have been found to be fake. Not two million. Two! Even with that minute ratio, they still test each and every stone.
Traditional jewelers then hand-select the best examples, which can be no lower than IF in clarity. Standing for Internally Flawless, it means no blemishes are visible under 10x magnification. As for color, only the four purist grades rated D-G, are used. Each stone is painstakingly set by hand into custom settings.
Buying a Pre-Owned Diamond Rolex
The market for pre-owned Rolexes has never been better, and it's possible to find a gem of a watch (pun intended) if you know where to look. But the rules for buying pre-owned stay the same, whether the model you're after is shining with precious stones or not.
First and most importantly, trust the seller. Haunt the many Rolex forums for recommendations from fellow enthusiasts over whom to spend your money with. Check the credentials of the vendor, particularly if they're online, and ask as many questions about your purchase as you need.
When it comes to the diamond models, there are many pre-owned versions that are aftermarket creations, lacking in the quality and attention to detail of the genuine article from the Rolex factory. If you're able to get your hands on the watch before you buy it, take a good look at the stones and settings.
If you can see any imperfections (known as 'inclusions' in the diamond world) with the naked eye, you're looking at a fake. Likewise, if there are any differences in size or color; a genuine Rolex won't have a bad stone.
With the settings, make sure each one is perfectly symmetrical and is exactly the same shape as all the others and that all the stones are evenly spaced.
When you look at the watch from the side, an authentic example will also have all the stones set at exactly the same height.
The Ultimate Expression
For men, it takes a certain level of confidence to wear a diamond Rolex. Whereas the majority of the brand's classic designs excel at remaining modest and unobtrusive, diamonds have been the most conspicuous symbol of luxury and status for centuries. Watches adorned with precious stones are for men who want to stand out rather than conform to their environment, and for those who appreciate the very best life has to offer.