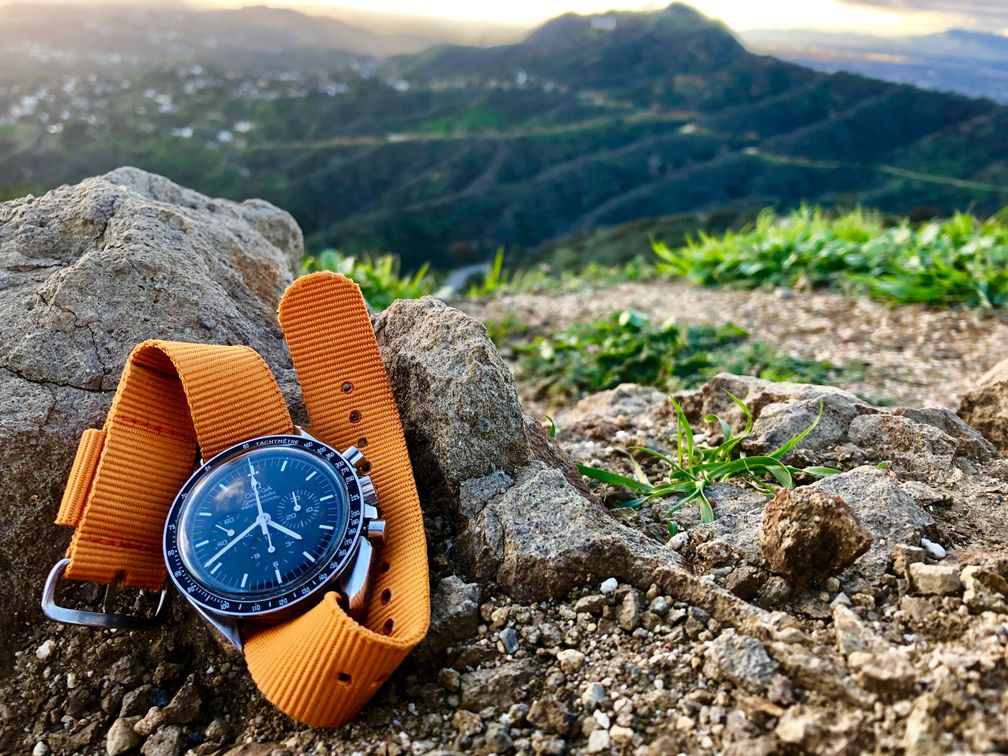 Happy Speedy Tuesday!
We are all familiar with the legendary Omega Speedmaster Moonwatch and the numerous stories of its NASA-approved durability; however as someone who owns a Speedmaster, rarely do I ever treat it like a proper sports watch. It's a mechanical chronograph, so it's inherently less impact-resistant than many quartz timepieces, and without a screw-down crown, along with with the added susceptibility of moisture intrusion due to also having chronograph pushers, I generally keep mine on a leather strap and grab my Garmin Forerunner or an inexpensive Seiko whenever I know that I am going to be doing something highly active (or aquatic).
By no means do I baby my Omega Speedmaster; however given that I own roughly a dozen other watches that would be less expensive to replace and significantly more difficult for me to irreparably damage, rarely do I wear my Speedmaster for anything remotely active – which is a shame. So, for a change of pace, I decided to wear my Moonwatch hiking.
The Watch Itself
The Speedmaster that I own is the ref. 3572.50 – the discontinued model from the early 2000s with the cal. 1863 movement, the Hesalite crystal on the front, and the sapphire display caseback. For all intents and purposes, it is the exact same, manually-wound Speedmaster Professional Moonwatch that we all know and love, just with a sapphire exhibition caseback.  
There's a few different nicknames for this configuration of Speedy – Hesalite Sandwich Speedmasters, Sapphire Back Moonwatches, etc. – I call them 'Mullet Speedmasters' since they remind me of that saying about the 1980s haircut: business (shatter-resistant Hesalite) in the front, party (sapphire and Geneva stripes) in the back. Absolutely none of these names are great, but at least we all know what watch I'm talking about here.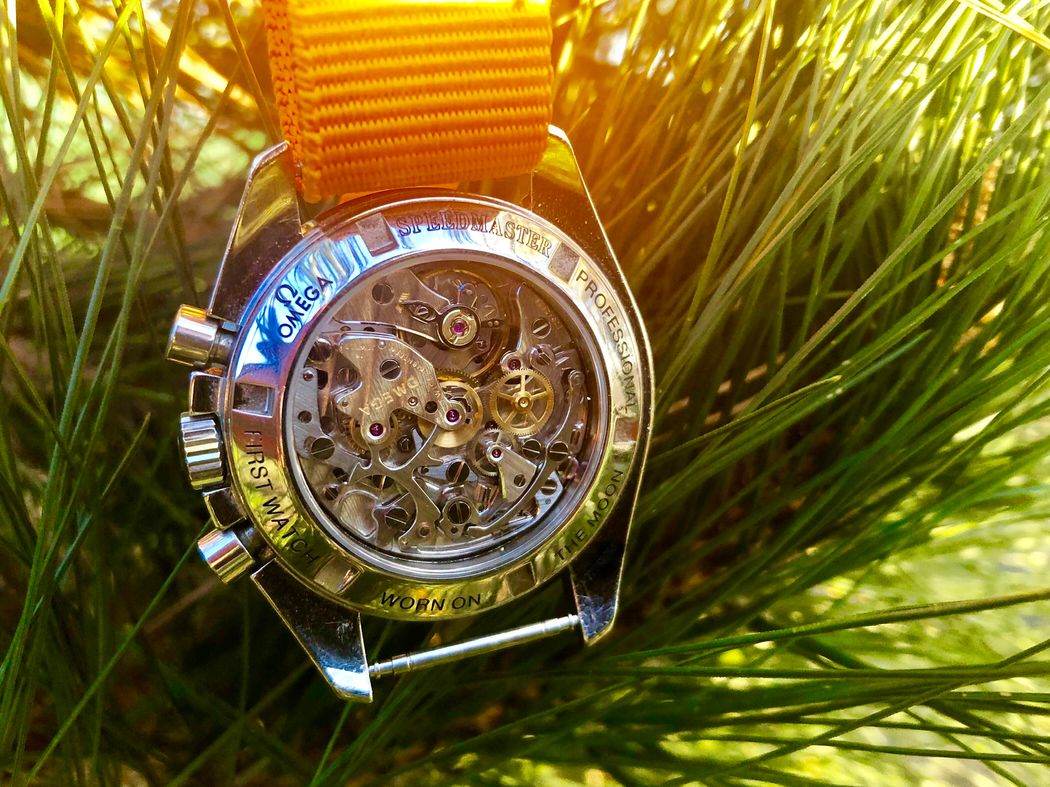 Now, given that it is a known (and proven) fact that Speedmasters look great on just about every possible strap, I decided that this would be an excellent opportunity to switch up the one on mine to try to give it more of a sporty look and feel and get myself into the whole 'Speedmaster as a sports watch' thing.
As my moonwatch normally lives on either a leather strap or on its factory bracelet, I figured I should be bold with my strap choice, go to the the far end of the aesthetic spectrum, and grab a bright orange, nylon one-piece, RAF-style strap for the day. I don't quite have the wrists to pull off a lot of orange on a watch, and this strap is not at all suited for office attire; however I found it to be pretty perfect for an afternoon of enjoying the outdoors.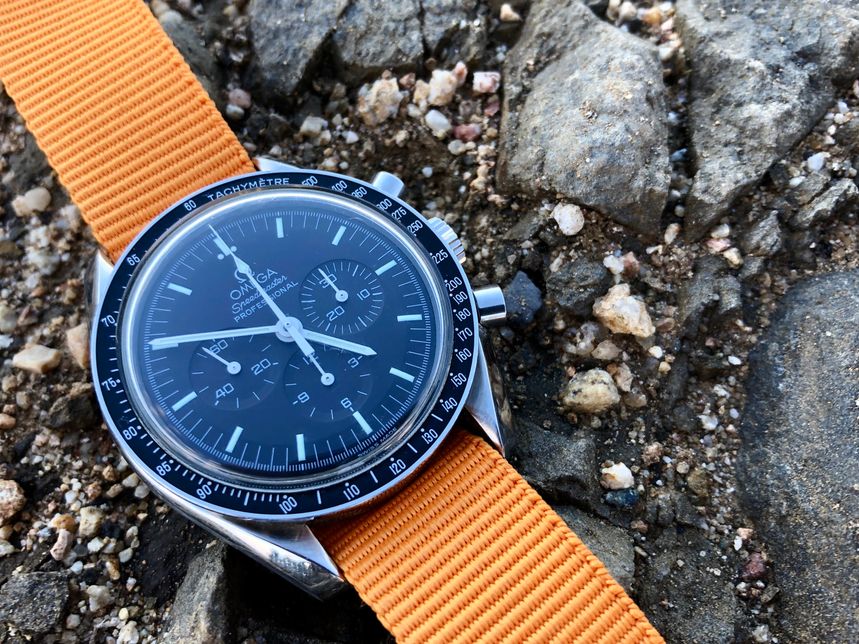 The Hike
We have been getting a lot of rain this year in Southern California, so it has been a bit difficult for me to enjoy the outdoors as much as I'd like. While certain places (like the various waterfalls throughout the Santa Monica and San Gabriel Mountain ranges) are amazing due to the high amount of rainfall that the area has received in the last couple months, other locations that are normally quite spectacular are more-or-less impassable and simply make for a miserable day of fighting your way through various plant-life and wading through impossibly thick mud.
However, despite the tumultuous weather, I'm fortunate enough to be able to enjoy the brief (partial) days of sunshine, as I live right on the edge of Griffith Park and its numerous miles of dirt trails that overlook the city of Los Angeles. A 4,310-acre piece of municipal land located at the eastern end of the Santa Monica Mountains, Griffith Park lacks the same 'wow-factor' of certain National and State Parks; however it is a wonderfully accessible playground for those that enjoy the outdoors.
I left my house on foot, and within just a few miles, I was well into the park, and on the precipice of hiking down (rather up) some not-so-rigorous, but pleasantly-beautiful trails, towards the summit of Mount Hollywood. For those not familiar with the geography, Mount Hollywood is a modest 1,625-foot summit that offers excellent 360-degree views of the Hollywood Sign, Griffith Observatory, downtown Los Angeles, and the San Gabriel Mountains.
Unfortunately, as this was a rather impromptu afternoon excursion that took place on the weekend about 50 miles from the Bob's Watches office, I couldn't have our photography dream-team of Justin and Liz with me, nor could I have our videographer, Chris accompany me up the mountain. Instead, all I had was my dog, a water bottle, and my phone, so unfortunately the photos may be a cut below what you are normally accustomed to here – my apologies.
Hiking in a Moonwatch
Now, I'm well aware of all of those guys out there who never take off their Speedmasters. There are numerous individuals who wear them through everything – including swimming and deployment in the armed forces. Additionally, the tests that NASA performed back in the day were actually quite rigorous, and although contemporary models do differ slightly than the ones that NASA actually put through testing, I've never had any doubts about the ability of my Omega to stand up to the rigors of daily use.
In use, I found the Speedmaster to be remarkably functional, which shouldn't at all be surprising given its remarkable pedigree. The Speedmaster is often regarded as one of the most legible chronographs in existence, and I found this to be entirely true, even throughout all the mixed lighting I experienced that day. The Hesalite crystal actually aids in visibility, as there is no sharp glare or blue tint like you get with sapphire; all you see is clear white numerals against a black background.
Despite its relatively meager water resistance, my Speedmaster did not leak or fog when it got wet while attempting to give my dog some water at the summit. I haven't had the watch serviced in the time that I've owned it, and although I did purchase it pre-owned, it is certainly overdue for a check up on its gaskets (at the very least). Despite the lack of maintenance, the watch keeps proper time, and has obviously still retained some degree of water resistance – at least enough for an afternoon of hiking.
As I was wearing a chronograph, I felt that it was almost obligatory for me to time something while hiking, even if it was just to say that I did – which ultimately 100% ended up being the case. Along part of the trail are signs with mile markers, and using them in conjunction with the chronograph, I was able to roughly calculate an average mile time for the ascent and descent. My Garmin does this automatically, and although this sort of data is entirely irrelevant when on a leisurely afternoon hike with my dog, I can still say that I managed to use the chronograph for at least something that day – and it performed exactly like it should.
A One-Watch Guy
Although I'm slowly coming to grips with the fact that I will never be a "one-watch" guy, the idea of it is still very much appealing to me. There is something beautifully simple, almost romantic about owning a single watch, making it a part of yourself, and wearing it through everything. Working with watches almost guarantees that this will never be a reality for me; however the question always remains" if i ever was to be a one-watch guy, what watch would it be?
For me, there have been a decent number of watches that – at one point or another – have been the timepiece that I would choose if I were a one-watch guy; however most of these are time-only watches with screw-down crowns, ample water resistance, and sapphire crystals. My Speedmaster has none of this; however if it were to be the only watch I could own for the rest of my life, I wouldn't necessarily be disappointed in the slightest.
Was wearing my Omega Speedmaster on a hike arguably useless? Absolutely. Was choosing to take photos of it and write about the experience even more useless? Quite possibly. However, it did remind me that many watches – especially the Omega Speedmaster – were originally designed to be legitimate tools worn and used every day. Just because we now have hundreds of options for inexpensive and near-indestructible quartz timekeepers, doesn't mean that this 'old technology' is any less capable than it was when it was first invented decades ago.
Whether you use it as a sports watch or a dress watch, the Omega Speedmaster is a fantastic timekeeping companion, and I highly recommend that you switch up the strap or bracelet and try wearing it in a different way than you normally do in your day-to-day life. You don't need to bust out an orange nylon strap and hike up a mountain, but the change in routine can show you a whole new character in the watch, and remind you of exactly why the Omega Speedmaster is one of the most universally-loved watches in existence.