Big watches. You've seen them on magazine covers. You've seen them in movies. You've seen them on SportsCenter and you most certainly have seen them in rap videos. Large-face watches have dominated the market over the past decade, but recently there has been an awakening.
A resurgence of interest in something that had recently been neglected, but never forgotten – small to mid-sized watches – and we couldn't me more excited about it.
To be fair, there's nothing wrong with owning a larger watch but let us remember that subtlety never went out of style. And, although Rolex has made a name for itself in dive watches, they started off as a luxury watch company specializing in small to mid-sized wristwatches. The iconic elegance of these sleek Swiss timepieces are something everyone can appreciate, and we're ready to see these undersized testaments to Rolex's engineering mastery pulled back into sharper focus. But first, let's take a look at a few small to mid-sized Rolex watches we hope to see make their re-introduction into the market.
The Rolex Chronometer 4448
Featuring a rose gold casing and a beautiful patina, this 34mm Rolex Chronometer 4448 is a perfect example of an understated watch worth boasting about. This watch needs no introduction, yet commands attention with its finely crafted details and undeniable style.
The Rolex Date 15200
Whether you're pairing your Date with a pair of jeans and a t-shirt, an Italian wool suit, or a tuxedo, the brushed steel finish and stunning white dial make this the watch that can do it all. The 15200 is a mid-sized watch that comes in at 34mm and features an Oyster case paired with a sleek, flat-link Oyster bracelet and Fliplock clasp.
The Vintage Rolex Explorer 1016
The ref. 1016 has one of the longest uninterrupted lifespans of any reference, and is one that has gone through the least number of upgrades or improvements. While Rolex's sports range underwent massive changes in style, the Explorer soldiered on unadorned, upholding the brand's tool-like origins pretty much single-handedly. A testament to its timeless appeal, this 35mm watch is the perfect example of what every adventurous and refined mid-sized watches aspire towards.
The Rolex Oyster Perpetual 3313 Bubbleback
One of the first automatic winding Rolex watches, the Bubbleback is Rolex history personified. It is also one of the oldest vintage models in the Rolex catalog. Its signature feature is, of course, the Bubbleback case, characterized by a thicker, protruding case. The reference 3133 pictured here features a two-tone stainless steel case with a smooth yellow-gold bezel. Mid-sized watches like the Oyster Perpetual 3313 are timeless, appealing to both collectors and fashion icons alike.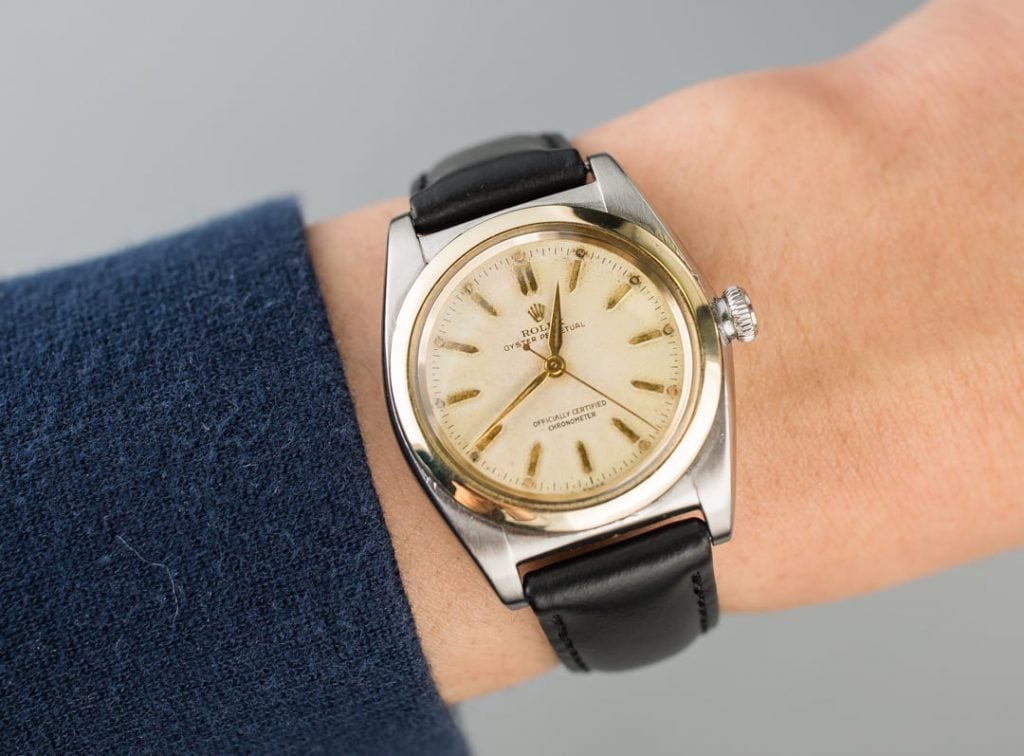 Mid-Sized Watches Is Here To Stay
Trends come and go, but sophistication and refined style never go out of style. We're excited to see these classic references coming back into the public eye. Are there any watches you think we missed? Any personal favorites you want featured? Let us know and join the discussion below!