In an era replete with microbrands, all being founded via similar crowd-funding strategies, coming across a small, independent watchmaker (primarily active in after-sales servicing), who has created his own luxury watch on the side, is pretty rare. The Malchert SCHLOSSBERG watch is the first offering from Daniel Malchert of Quedlinburg, a fourth generation master watchmaker with a serious resumé, and an inspirational hometown
The Malchert Schlossberg
Quedlinburg is, if you didn't know, a picturesque UNESCO World Heritage City in Germany. It is overlooked by the famous Schlossberg, which is an ancient German castle that houses a library almost 1,000 years old within its walls. The castle, and its palpable heritage, informs the people of this city, and seems to have imbued them with a keen awareness of posterity – of the importance of that which we leave behind.
The Malchert family was an early adopter of watchmaking in the area, and their story begins with Daniel Malchert's great grandfather Georg. Georg Malchert learnt his craft in Berlin before moving to Quedlinburg in 1919 and opening his own watch repair shop on the same street that Daniel's workshop stands today. His son, Georg Junior, also took up the tweezers as a lifelong career.
In 1955, having earned his stripes in Germany's famous watchmaking town of Glashütte, Georg Malchert II took the reigns of the business. At that time, due to the Soviet control of East Germany, the Malchert business had to operate under the state-owned trading organization (HO).
Following the fall of communism, Daniel's father Axel reopened the business under its original family name. Daniel too trained in Glashütte, where he earned a prestigious position at NOMOS Glashütte, leading the production of the specially-commissioned tourbillon movements NOMOS produced for Wempe. But the call of home was too strong to ignore, so the fourth generation of the Malchert family returned to Quedlinburg, having forged industry connections that would facilitate the supply of the components he needed to launch his first watch.
The Malchert SCHLOSSBERG watch is typically German in construction. The movement uses a classic 3/4 plate, which the Germans favor for robustness, a reduction of friction (due to less movement of components between the plates), and therefore improved timekeeping. The large, protective plate is finished by hand. In order to achieve the attractive frosting, Malchert rubs the three-quarter plate delicately against a roughened solution of oil and diamond paste. Then the edges of the plates are chamfered and given a high polish by hand.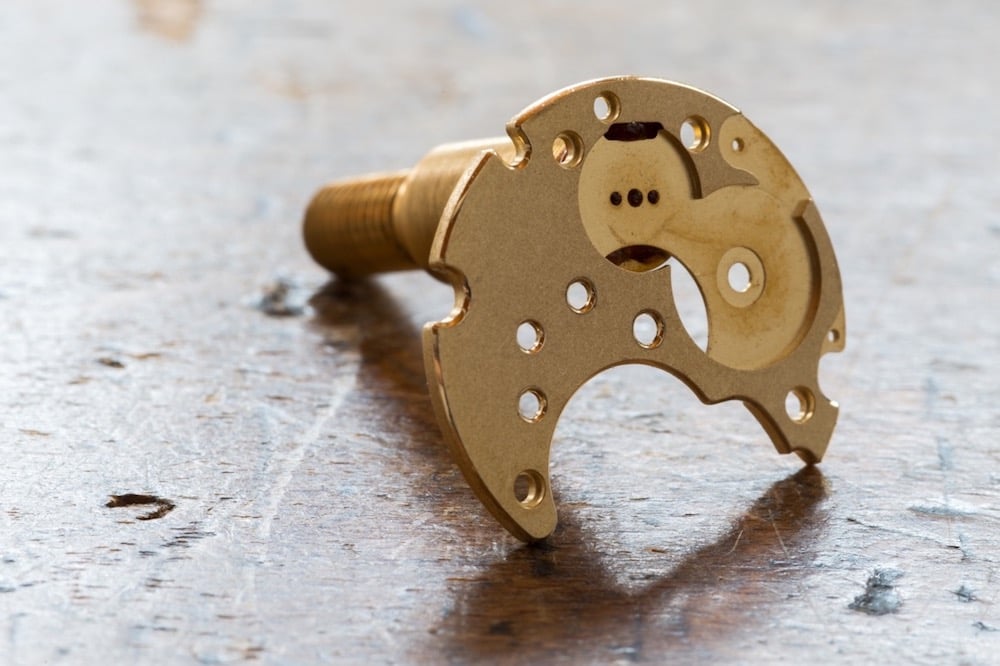 The slower-than-average 21,600vph operating speed means that the balance wheel moves less times than normal (3 complete oscillations per second, or, if you prefer, at a rate of 3Hz). This means the power supply needed for this watch to run for a sufficient length of time between winds is reduced. This is useful because with such a slim movement, the mainspring that powers the watch cannot be very thick. As a result, the power reserve of this simple, time-only caliber is 43 hours.
In addition to being finished, the plates are hand engraved by a local master with Daniel Malchert's logo and brand name. He also takes pains to black polish several functional components, most notably the click spring (three of which can be seen shellacked to a polishing chuck below) and the click, which can be seen in action as they engage with the ratchet wheel (the very large, snailed wheel that visibly rotates when the crown is turned).
The dial is also quintessentially German, with a simple and highly legible layout. The watch has a similar vibe and proportions to those of Malchert's former employers, NOMOS Glashütte. Were it to join the NOMOS line-up, it would finally offer a much-desired halfway house between the stuffy classicism of the Ludwig, and the playful, but thoroughly feminine Minimatik (it is angularly beautiful, but dimensionally unwearable for many men).
The Malchert SCHLOSSBERG is a very modern watch, given a traditional vibe thanks to its rather unusual handset. In fact, perhaps the most touching story to come out of the brand can be found in the origin of the hand-finished and heat-blued minute hand. It is, according to family legend, inspired by a design that the young Daniel accidentally happened upon while searching through his grandfather's spare parts. A message from the past was all the impetus Daniel needed to start designing a watch that would have looked as at-home in the days of his grandfather, as it does today.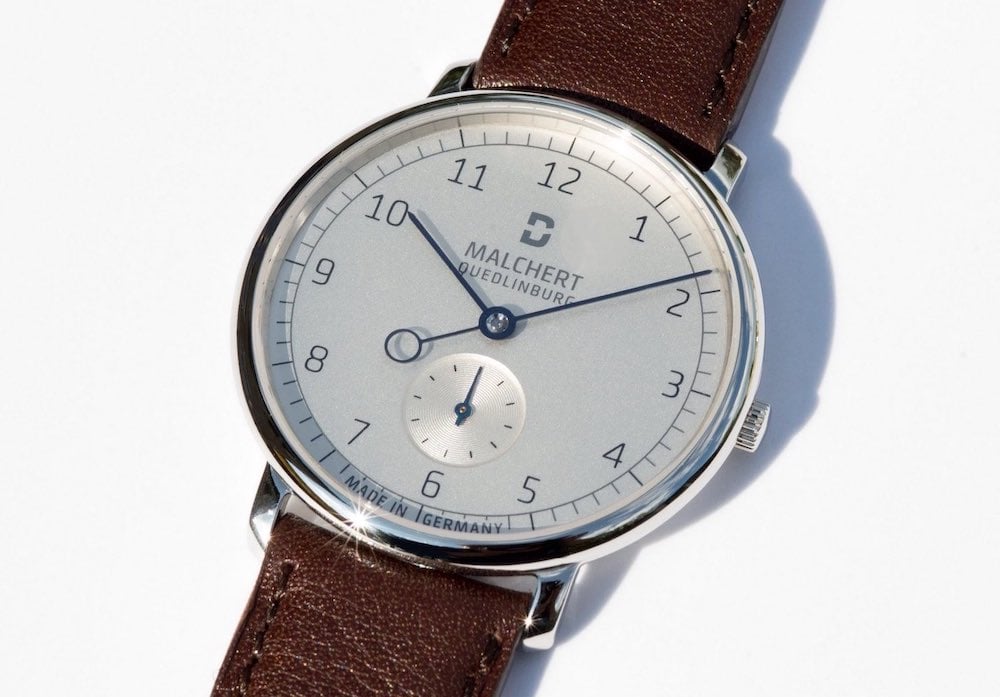 For a well proportioned dress watch (36mm wide by 6.5mm thick), that boasts an eminently versatile style, it is a champion. But with such refinement comes a cost. These small run timepieces by independent masters are not cheap, and in order to get one of these rare and exclusive German watches on your wrist, you'll need to shell out around €3,000. Is it worth it? Relatively speaking, yes it is. For this kind of timeless design and traditional, reliable mechanism, you can't go far wrong with the Malchert SCHLOSSBERG.
*All images courtesy of Daniel Malchert