One of the things I always love doing to pass the time is digging through random categories in the pre-owned watch space. Because so many watches are released year after year, it's easy to forget about things that you may well have been enamored with in the moment before its space in your memory was taken up by the "next big thing".
On one of these recent hunts – prompted by my story on the JLC Master Ultra Thin Perpetual Calendar – I fell down the rabbit hole of sub-$15k pre-owned perpetuals, and what an interesting journey that was… You might be surprised to see which big luxury watch brands have pieces that have toppled down depreciation mountain over the years. We're not talking about hundreds and hundreds of different models here, but these five that I've selected certainly cover a healthy assortment of styles and brands.
IWC 3756 GST Perpetual Calendar Chronograph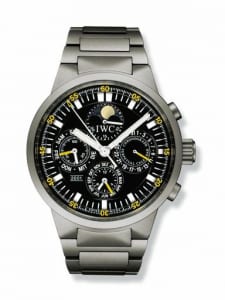 Of the pack this is EASILY a personal favorite, for a wide range of reasons. It's a perpetual calendar chronograph with a steel case and integrated bracelet that has a very similar vibe to past versions of the Aquatimer. It measures 43mm across and is available in white, blue, silver, black, and salmon dial variants. There aren't many perpetuals out there (new or old) that have this more "tool watch" sort of aesthetic, and though a little chunky, this one has aged quite well since hitting the market in 2001.
Some will argue that it's a "lesser option" from IWC, on account of it using a perpetual calendar module on top of a Valjoux 7750 chronograph caliber, but considering the fact that the comparable Portugieser with its 8-day power reserve is much more bulky and had movement issues, it's not hard to side with the GST if its aesthetics appeal to you. Also, at around the $7-$9k price range for a perpetual chrono, this thing is an incredible value.
Audemars Piguet Quantieme Perpetual Calendar Moonphase
Interestingly, this AP perpetual calendar continues to fly under the radar of many collectors and enthusiasts. First launched in 1978 and discontinued in 1993 (superseded by an updated caliber that adds a leap year indication), only 7,291 watches using this cal. 2120/2800 were ever produced. Sure, it's cased in yellow gold and measures a very modest 36mm across, but the fact that you can get into an incredibly slim perpetual calendar from AP for around the $11-$12k mark still blows my mind.
This caliber was so thin for its time, it effectively rewrote the perpetual calendar rulebook – some of these pieces measure less than 4mm thick! With smaller cases and yellow gold falling back into favor, I'd be shocked if we didn't see at least modest value increases in these pieces in the coming years.
Glashutte Original Karree Perpetual Calendar Moon
I'd be willing to make the argument that this Glashutte Original perpetual calendar is the piece in this list with the most broad-scale appeal. Sure, it's a square case (which won't appeal to everyone); however the layout of its calendar indications and tastefully executed two-tone silvered dial give it an especially timeless feel.
Those who know FP Journe's catalog – in particular the Octa Quantieme Perpetuel – will see some fairly clear similarity in dial layout and coloration, but design inspiration is a separate topic altogether. If you're in the market for a clean, dressy, and compact perpetual calendar with a little personality (and again under $12k), it's hard to go wrong here.
Breitling Transocean 1461 Perpetual Calendar Moonphase Chronograph
Coming in as one of the most affordable perpetual calendars on the pre-owned market these days, the Transocean 1461 is a mighty sharp unit, though with one flaw when compared to the others on this list; it isn't quite a true perpetual calendar.
The "1461" in its name refers to the number of days it will run without correction. The geeky few in the room by now have made the correct assumption that this means its caliber does not account for leap years. Sure, this is a bit of a shortcoming, but it's still quite an interesting and complicated piece – not to mention one that looks much more contemporary than any of the other contenders on this list.
Jaeger-LeCoultre Grand Reveil Perpetual Calendar Alarm
Aesthetics aside (yes, we know she ain't pretty by today's standards), this JLC is a pretty crazy value when you look at its specs. Perpetual calendar? Check. Alarm? Check. Enamel dial? Check. These can range dramatically in price (white gold versions pulling between $20-30k), but the yellow gold examples can occasionally sneak below the $15k mark.
In September of last year, a version of this watch on its full yellow gold bracelet sold in the Christie's Online Only auction for just a touch over $10k. Now just imagine, what would a JLC of this specification run you if a modern version was made available today? 10x that price? More?