Today Rolex is known as a highly vertically-integrated watch manufacturer that makes almost every single component in-house; however this was not always the case. In fact, the Swiss watch industry was deeply rooted in the system of établissage, whereby manufacturing work is divided into small, specialized, independent units, and components only come together at the final stage of production under one brand name.
As a result, Switzerland's landscape was peppered with specialized movement makers, bracelet manufacturers, case makers, dial producers, engravers, enamellers, and other specialties for centuries. Today we're taking a closer look at Singer, a prominent dial manufacturer of the 20th century and the company behind the iconic Rolex Daytona "Paul Newman" dial design.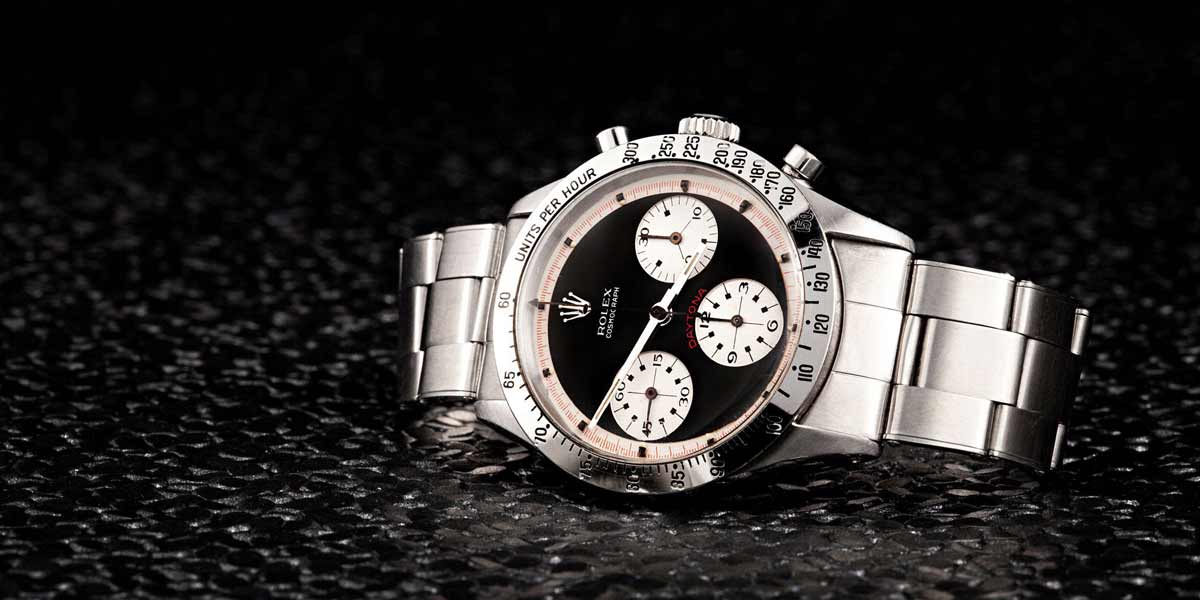 Rolex and Singer Dials
Founded in La-Chaux-de-Fonds, Switzerland  in 1919, the Jean Singer & Cie manufacture quickly rose up the ranks to become a choice dial provider for some of the watch industry's top names. Singer's client list consisted of brands like Heuer, Omega, Universal Genève, Tudor, and of course, Rolex. Along with Singer, Rolex also outsourced dials from other dial manufacturers, including Stern (of Patek Philippe fame), Beyeler, Lemerich, and others.
Singer produced dials for several Rolex models, such as the Submariner, Datejust, and Daytona. The company was even responsible for the dial of the Yacht-Master prototype from 1965 (once owned by Eric Clapton). Singer dials made for Rolex watches are clearly marked on the back with an embossed Singer logo.  
The Rolex "Paul Newman" Daytona Dial
Perhaps the most famous dial designs to come out of the Singer workshops and be fitted into Rolex watches are those that were once officially called "exotic dials" – which are now more commonly known as "Paul Newman" dials. These "exotic dials" were made for Daytona chronographs starting in the 1960s, and they picked up the "Paul Newman" nickname later on because the famous actor wore a Daytona with that particular style of dial.
The main traits that differentiate a "Paul Newman" dial from a standard Daytona dial include an Art Deco style font for the numerals, hash marks with square tips in the sub-dials, and the use of 15/30/45/60 numerals (rather than just 20/40/60) in the running seconds sub-dial. Additionally, there is a small step in the dial around the periphery, between the outer minute track and the central portion of the dial.
There are two interesting things to note about these Singer "exotic dials" made for the Rolex Daytona. First, they were not at all successful; the vast majority of buyers opted for standard dials, as the "exotic dials" proved to be a little too exotic for the era.
The fact that vintage Daytona watches with "Paul Newman" dials are the most coveted and expensive vintage sports watches in the secondary market today is an incredible comeback story. Let's not forget that Paul Newman's own "Paul Newman" Daytona still holds the record for the most expensive wristwatch ever sold at auction, selling for a whopping $17.8 million in 2017.
The other intriguing point about Singer's exotic dials is that they were not exclusive to Rolex. As mentioned, Singer had a long list of clients and similar dials were fitted into other watches such as ones from Vulcain, Wakmann, Nivada, and Lip.
Today, Jean Singer & Cie remains as one of the last independent dial manufacturers in Switzerland. In 2000, Rolex purchased the dial producer, Beyeler and now makes all of their dials in-house. While Singer and Rolex may no longer have any business together, their historically important relationship not only paved the way for today's thriving vintage Daytona market, but it was also responsible for the world's most expensive wristwatch.