Your Rolex watch has been running fine for several years now, but you're the responsible type. You have the oil changed in your car every 3,000 miles and have the tires rotated. You have your furnace checked every two years, and you paint your house every seven.
And so it is with your Rolex. Around every five years, you want to have it cleaned, lubricated, and regulated back to factory specs. So you take it to your authorized dealer for service, and they do a fine job, of course. And that fine job includes polishing the case. Your watch both looks and runs brand-new.
But here's where the controversy begins. The scenario just described here horrifies some collectors. You see, the scrapes and dings, the darkened lume and faded bezel, the warm patina, and all the marks of the watch's life well lived are now completely gone. And in the case of many vintage watches, so is a fair chunk of the value. So, should you polish your Rolex watch or not?
The Polishing Paradox
The question of whether or not to polish a watch is a difficult and personal one – not unlike the decision as to whether or not a person should get a facelift or use age-defying skin cream. Car collectors must also make the decision as to whether or not to keep their vehicles in tip-top shape both cosmetically and mechanically; however, there seems to be much more of a uniform consensus when it comes to cars compared to watches.
Let's take a closer look at the car question for a minute. If you've ever been to a vintage car show, you know that everybody is gathered around the '55 Chevy or well-aged Ford Sunliner that's either all-original or has been restored to perfection. Either way, the paint is gleaming and the engine bay is spotless. Anything else is a work in progress and is stated as such by the owner because no car guy wants to own up to a run-down, scratched up, paint-faded, rusted-out, ugly ride.
And yet, dollars to donuts, you'll find one of those very same guys – one of those owners with a pristine 60-year-old car – wearing an old Submariner or GMT-Master with a scratched case, a stretched bracelet, and a faded bezel insert. So what gives? Why is a Sunliner from 1955 different from a Submariner from the same year? Why would a connoisseur treat the maintenance and upkeep of one any different than the other? So, should you get that case polished when you send your prized Rolex in for service?
The Risks of Polishing a Rolex Watch
As any Rolex watch owner will likely tell you, the surface of the watch comes alive thanks in part to a sublime mix of brushed and high polish finishes on the case and bracelet. Furthermore, the edges, such as those found on lugs or crown guards, are often intricately beveled and chamfered to an exacting standard.
When a watch undergoes polishing or buffing, a thin layer of metal is removed in the process. Therefore, with polishing comes the risk of both altering the finishing and forever changing the actual shape of the watch and its components. You may have heard the term "crisp lugs" when describing Rolex watches, which refers to unpolished or lightly-polished examples that still have much of their original form. Conversely, over-polished watches typically have thinner and rounder lugs with little to no edge definition between the top of the lug and the side of the case. Unlike a mistake on a painting that can always be covered up, a bad polishing job is irreversible.
As a result, an over-polished vintage Rolex is valued much less than an untouched one in the eyes of many buyers. Most serious collectors will always value originality over flawless condition and the fewer modifications and restorations, the better. Consequently, a scratched up vintage Submariner that's never been polished will always command higher prices than a newer-looking vintage Sub that's had all its scratches and dings buffed out. So, not only does polishing a watch remove a thin layer of metal but it can also remove a few zeros from the value of the timepiece when it comes to the ultra-collectible vintage Rolex models.
Click here for our Ultimate Buying Guide on Vintage Rolex Watches.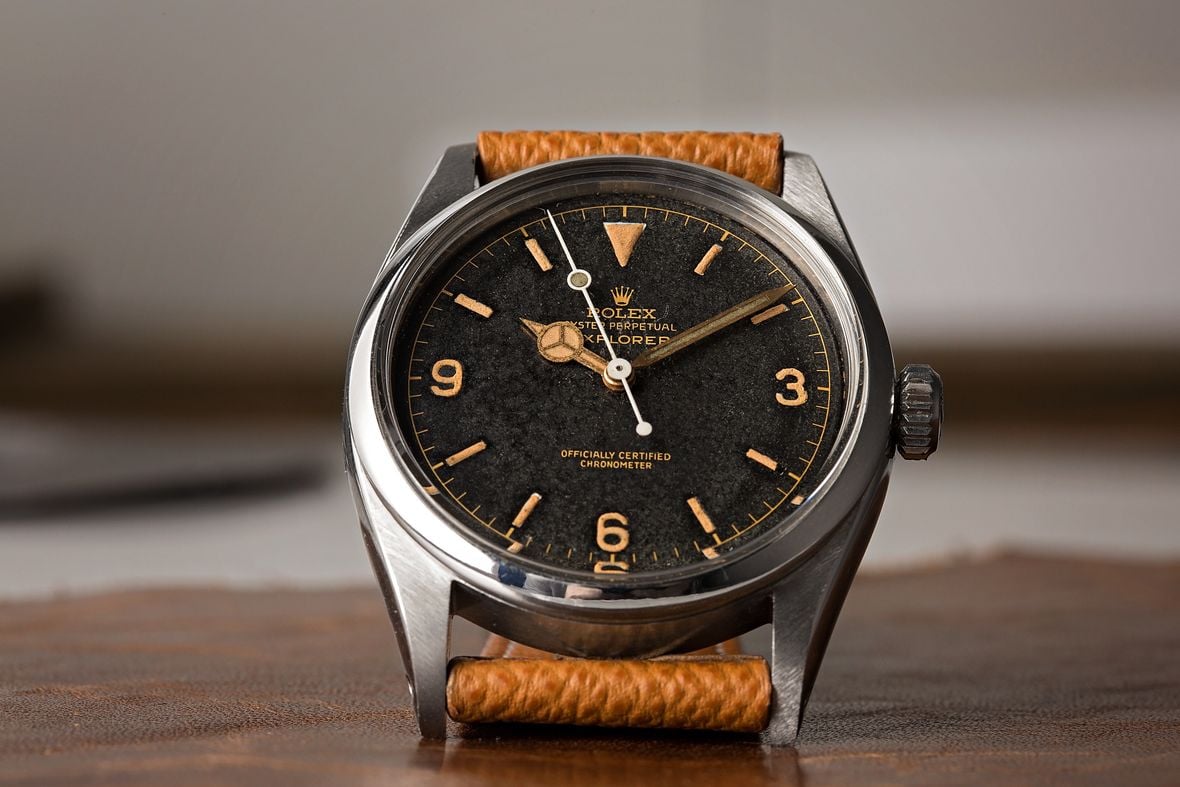 If You Do Decide To Polish, Only Trust an Expert
If you're not too bothered about the long-term value and collectability of your Rolex and would prefer to have an almost-new looking watch to wear right now, then polishing is the way forward. However, it is crucial that you only trust an expert to do the job. Polishing correctly requires great skill, experience, and specialized equipment.
According to Rolex, in-house polishers require a three-year apprenticeship and five years on the job to master polishing techniques. A few seconds too long against a polishing wheel can take it too far, comprising the shape of the case or bracelet; too little time or pressure can simply result in even more scratching.
Yet, some Rolex watch owners prefer not to have their watches polished by an authorized Rolex service center but rely on independent outlets that specialize in vintage watches. Remember, Rolex is not in the business of selling vintage watches, thus the value of an older model is not the focus of the company. Therefore, Rolex will service a watch to make it look and function like new, which results in the polishing and refinishing of its components.
Regardless of whether you decide to have your Rolex watches serviced by an authorized service center or an independent outlet, make sure you clearly state your preferences on polishing, indicating which parts you want polished and which parts to want to leave in their unrestored condition.
Also, it is important to note that a few scratches here and there don't warrant a full polishing service. Many people are fine letting their watches accumulate small marks from normal wear, while other owners prefer to buff these out themselves at home using specialized cloth, papers, pastes, or sticks. Rolex recommends having its watches serviced every five to 10 years and unless you explicitly state otherwise, polishing the watch is part of the service.
The Advent of Modern Materials
For a number of years, Rolex has taken design and development steps to lessen the effects of aging. Better lume in the form of Chromalight. The use of 904L stainless steel, a material more durable and scratch-resistant than previously used steels. Sapphire crystal instead of plastic. Scratch and fade-resistant Cerachrom bezel inserts rather than anodized aluminum.
All these improvements mean that in 30 or 40 years, the watch you buy new today will have gathered less wear and patina than the same model from 30 or 40 years ago now carries today. Is this good or bad? Well, you have to decide that question for yourself. If you are a collector or aficionado, you may answer one way. If you want a fresh-looking mechanical marvel on your wrist, you may answer another.
How to Detect If A Vintage Watch Has Been Polished
Let's say you're in the market for a vintage Rolex watch and prefer to buy one that's not been polished or at the very least, only lightly polished. How do you know what the seller is advertising is true? Although it's difficult to know for certain, there are a few things you can examine.
– Check the lugs to see that they're thick, beveled, and have sharp edges rather than rounded ones.
– Lug holes should be precisely cut with sharp edges, while polishing causes the holes to lose their sharp edges and become rounder.
– If the watch is vintage by age (more than 30 years old) but looks suspiciously shiny and new, this may be a red flag.
– The presence of scratches and nicks is a good sign that the watch hasn't been recently polished.
– Dents with smooth edges can be a sign that they've been polished over.
– Uneven or misshapen surfaces are usually signs of a previous bad polishing job.
Remember that it is quite rare to come across a vintage Rolex that has never been polished. Many owners dutifully sent their watches in for servicing and more likely than not, the watch underwent a polishing at some point or another during its history. It's more realistic to look for vintage watches that were skillfully polished, complete with crisp edges and close-to-original silhouettes.
When and When Not To Polish
Some Rolex owners prefer not to polish their vintage watches to keep the original integrity of the watch but are perfectly fine with having modern watches polished to keep them looking as new as possible. It really is a matter of personal preference.
However, if you have a factory-original vintage Rolex that has never been polished, now is not the time to start. It's worth mentioning again that untouched Rolex watches are much more valuable within vintage collecting circles than restored ones. These timepieces may look beat up and worn out to the untrained eye but to passionate collectors of old watches, these are vintage beauties that are becoming harder to find in original condition.
It's quite common for people trying to sell their Rolex watches to have them serviced, buffed, and polished first, thinking that they'll get a better price because of it. Unfortunately, this can sometimes have the opposite effect on the value of the watch – not to mention the additional cost of the service and polishing itself.
If you're looking to sell your pre-owned watch to Bob's Watches, we always advise against having it polished beforehand. If it is a model that should be polished, we can always have it done on our end, but polishing the wrong vintage watch can take hundreds or even thousands of dollars off its resale price. Lastly, when it comes to your own personal watches, if you are unsure as to whether or not you want to have it polished, sometimes waiting till you're sure is the best way to proceed. Remember, you can always have a watch polished, but you can never un-polish one.