Rolex is the most popular luxury watch brand in the world, and the Submariner is arguably the most iconic sport/dive watch ever created – by any manufacturer. The Submariner is elegant, practical, and built to last for many generations. Few watches can compare to the Rolex Submariner in the $7,000 to $10,000 price range, and as a result, they have become quite popular in recent years.
Rolex has been selling Submariners for over six decades, and the majority of the ones sold are still in existence. There are a lot of Submariners being worn these days; however opting for a vintage model over a new one, is a great way to enjoy this legendary dive watch, while still being unique in your selection.
Rolex Submariner 16800
It should be noted that not all vintage Submariners are going to be practical for everyday use; some may be fragile, others extremely rare or valuable. However, there are many great vintage Submariner options that will hold up to the rigors of daily life without breaking the bank. One, in particular, is the Rolex Submariner, reference 16800.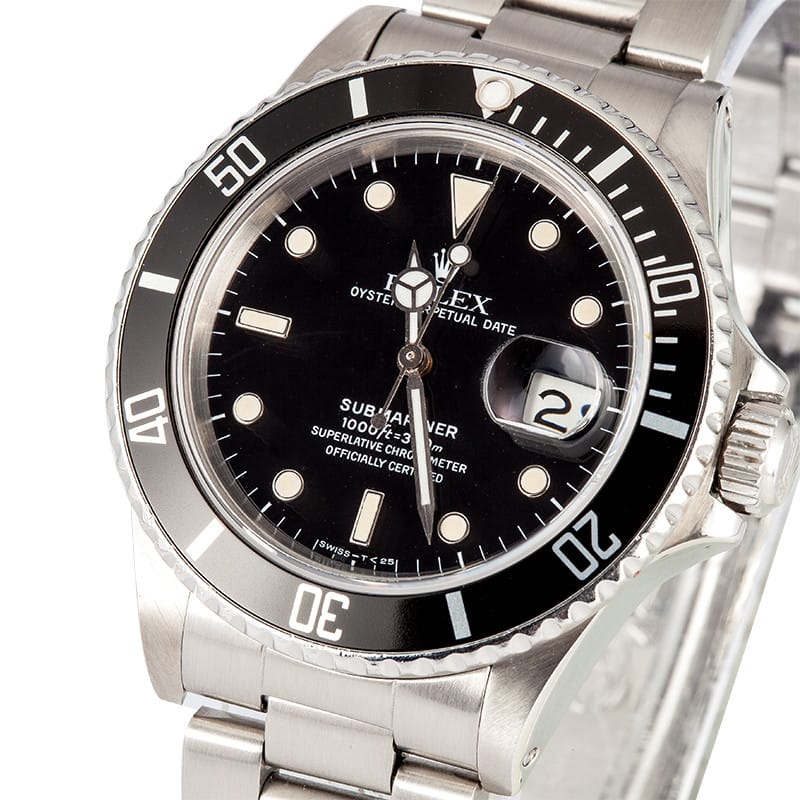 The reference 16800 Submariner was first released in 1978 as an update to the reference 1680. It remained in production for a full decade until it was later replaced by the reference 168000. While it improved substantially upon its predecessor, the reference 16800 is known as a "transitional" Submariner because it paired new features and specifications with characteristics from the previous generation.
Under the Hood and the Water
This model introduced Rolex's caliber 3035 movement, and added a quickset date function to the Submariner. The reference 16800 was also the first Submariner to feature a sapphire crystal (instead of acrylic), and the first to benefit from the improved depth rating (from 200 meters to 300 meters). Although minor, the addition of these features gave the reference 16800 Submariner water and scratch resistance that remains consistent with contemporary standards.
The Rolex 16800 was a huge step forward for the Submariner line; however it retained certain key traits that linked it to its predecessors. Most notable among these, was the matte dial with painted hour markers. Some, very late examples of the 16800 were fitted with gloss dials and hour markers outlined in white gold. These are considered "less transitional" than earlier models, and much more closely resemble the reference 168000 Submariner that followed.
Vintage
Choosing a vintage Submariner over a new one is a great way to maintain exclusivity and ensure that your Rolex Submariner is unique. While not all vintage Submariners are practical for everyday use, the reference 16800 is a fantastic option that boasts contemporary specifications and durability. Best of all, they can often be purchased for less than the price of a new Submariner!