With daunting precision and regal aesthetics, Rolex has been an equestrian's necessity since 1957. Rolex DateJust watches have been featured in tournaments worldwide, including the Spruce Meadows "Masters" tournament, the Rolex Fei World Cup Final, and the Alltech Fei World Equestrian Games. Equestrian champions such as Meredith Michaels-Beerbaum, Gonzalo Pieres Jr., Zara Phillips, and Isabell Werth have worn and continue to wear these timeless watches, for precision, elegance, and quality is their game.
Made for Equestrians
The Datejust model is the watch model purchased by equestrian racers. Rolex has released four new Datejust models this year: The Datejust II, the Festive Collection Datejust with 262 diamonds striped across the dial, a Lady-Datejust, and a Datejust Lady 31. The Datejust II is a reinterpretation of a classic, masculine Rolex model. Its 904L, 41 mm steel case is carefully devised from corrosion-resistant material. The bezel is smooth in texture, and the dial consists of a beautifully crafted silver sunray finish with smooth white markers. The 904L steel Oyster bracelet comes with an Easylink extension system. The Datejust II is also water resistant up to 100 metres/330 feet, but its defining characteristic is its high-performance shock absorbers.
For addition information on the Rolex Datejust watch:
Rolex DateJust price
Rolex DateJust stainless steel
Rolex DateJust review
Used Rolex DateJust
Rolex watches
Rolex DateJust 31mm
Rolex DateJust ii
The Festive Collection Datejust comes with a black lacquered dial. Ten diamond-set hour markers and 18 ct pink gold hands make this watch teeming with embellishments. The bezel features 60 baguette-cut diamonds, one for each second, and 120 diamonds on its edge, displaying the elegance of its wearer.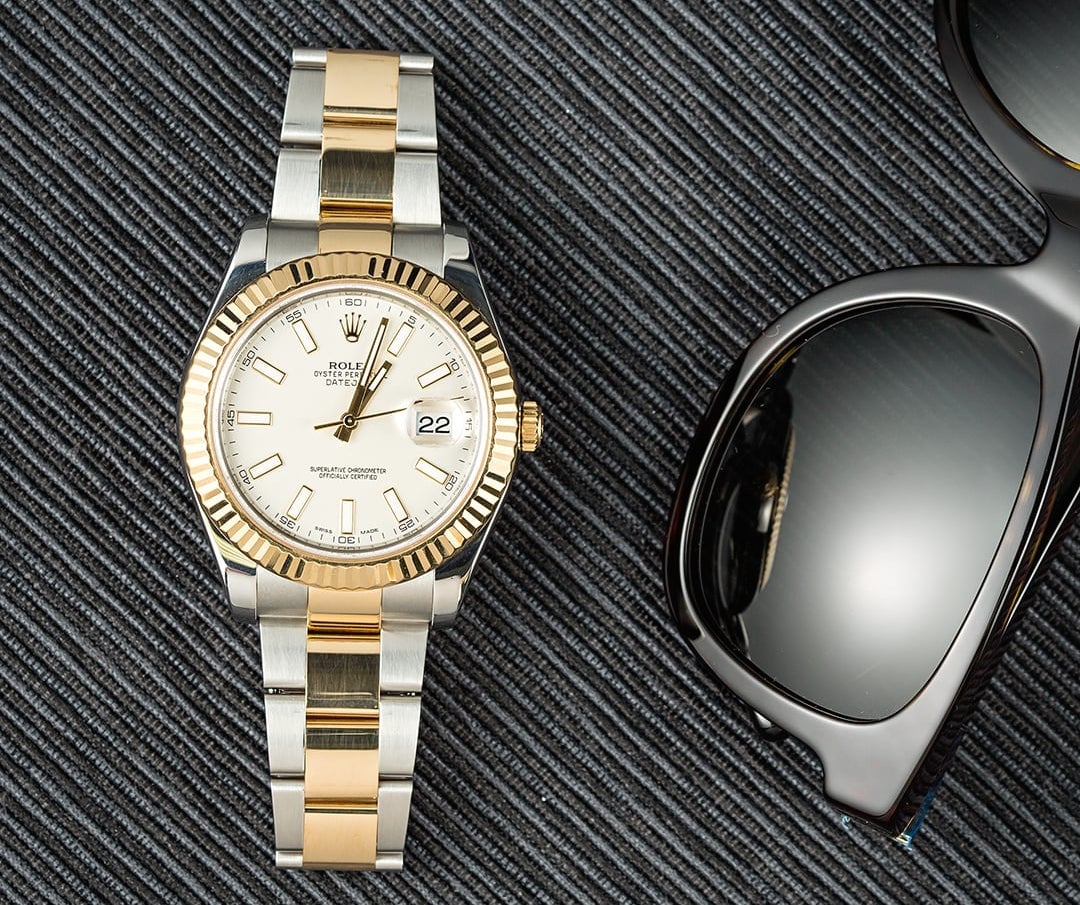 The Rolex Lady DateJust and DateJust Lady 31 both feature yellow or white 18 ct gold dials with certain numerals or numbers highlighted by precious stones. The Lady DateJust is yellow gold with a President bracelet and fluted bezel, worthy of an award. The 18 ct gold, Roman numeral dial features a larger VI numeral with 11 rubies. The Datejust Lady 31 is an Oyster bracelet watch featuring a dial with 8 diamonds and large 6 and 9 numbers with 16 rubies each. There is also a white gold and diamond version of these models, the only difference being sapphires in place of rubies.
Equestrians and champions everywhere have shared the tradition of wearing a Rolex Datejust. The Datejust II encompasses classic appeal, the Festive Collection Datejust glorified embellishment, and the Lady Datejust and Datejust Lady 31 sophistication with contrast.  A Rolex Datejust defines its wearer, provides precision and functionality, and exudes elegance, befit for any equestrian.