By the late 1960s, Rolex had already built a strong reputation for manufacturing wristwatches that could withstand the demanding conditions of the ocean. However, due to new experiments with saturation diving – a method in which helium is used to replace nitrogen in the air mixture, enabling commercial divers to work at greater depths and stay down longer – a new kind of dive watch was required, one that could survive the unique rigors of this kind of deep sea diving.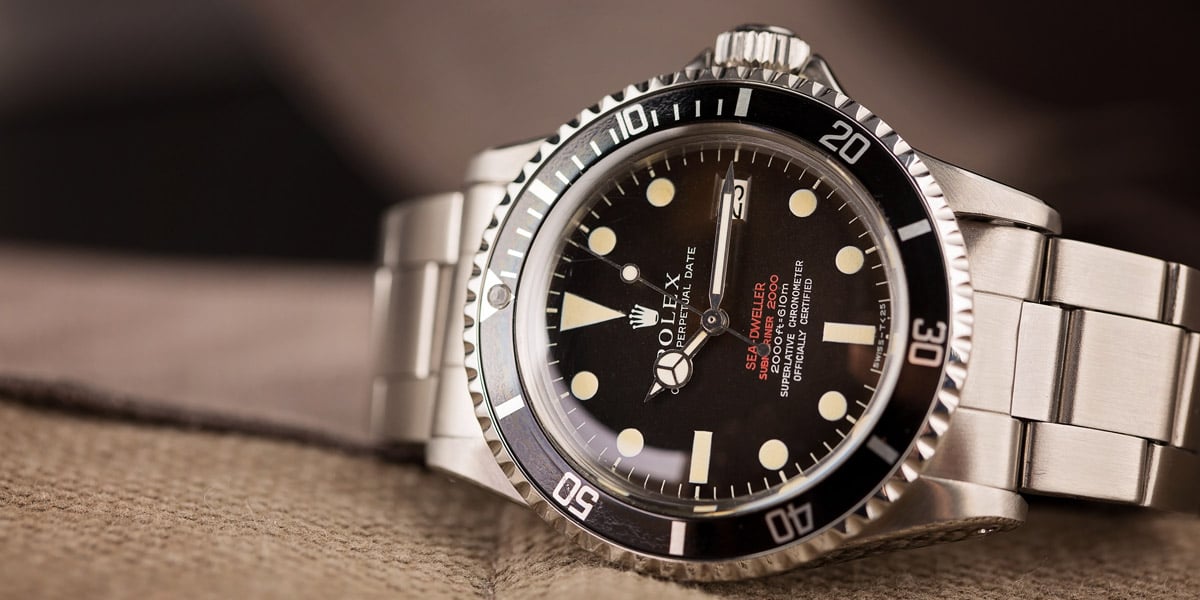 The Rolex Double Red Sea-Dweller
The extended periods of time spent in pressurized chambers would force helium molecules into the cases of the divers' watches. Upon decompression, the trapped helium would expand, often generating enough force to cause the crystals to pop off their respective watches. Rolex's solution to this problem was the Sea-Dweller, which incorporated a gas release valve into the side of the case, allowing trapped helium to safely exit the watch during decompression. Although a number of early prototype Sea-Dweller watches were manufactured, the Rolex Sea-Dweller made its official debut in 1967 with the reference 1665.
Rolex Double Red Sea-Dweller in the 80's
Production of the reference 1665 Sea-Dweller lasted into the early 1980s, during which time it underwent a number of minor changes. For the first ten years of its production, Rolex manufactured the reference 1665 Sea-Dweller with both the Submariner and Sea-Dweller names printed in red ink on its dial. These "Double Red Sea-Dweller" watches (often abbreviated as DRSD) frequently had their dials replaced by Rolex Service Centers with later-era versions that had all white text and lacked the Submariner name entirely. As a result of this practice, original "Double Red" dials have become quite rare and valuable among collectors today.
Finding a Double Red Sea-Dweller
Although it is not an impossible task to track down a Double Red Sea-Dweller, it has become increasingly difficult to find one with its original dial still in pristine, unaltered condition. This particular reference 1665 Double Red Sea-Dweller has managed to survive all these years without its dial sustaining any inadvertent damage from bent hands, moisture intrusion, or careless watchmakers. Furthermore, the tritium hour markers have developed a rich, patina, which only adds to this watch's well-preserved, unmistakably vintage aesthetic.
The reference 1665 Double Red Sea-Dweller was the first commercially available iteration of Rolex's most capable line of professional sports watches, and marked a lot of firsts – both for the Rolex brand and the dive watch industry as a whole. Its rich history, timeless design, and unmistakably vintage aesthetic has made the Rolex Double Red Sea-Dweller a true classic and a popular target for serious collectors looking to own an iconic piece of dive watch history.