Given that Rolex is the world's most famous luxury watch brand, it probably comes as no surprise that the Swiss watchmaking giant currently only makes chronometer-certified watches. In fact, Rolex goes a step beyond the industry-standard Contrôle Officiel Suisse des Chronomètres (COSC) certification with its own "Superlative Chronometer" standard. Since 2015, every Rolex watch is guaranteed to be accurate within -2/+2 seconds per day, and almost all models bear the "Superlative Chronometer Officially Certified" label on the dial.
However, it wasn't always this way. For instance, several of Rolex's earliest sports watches (most of which are now highly collectible) were not chronometers. Think vintage Daytona chronographs and early pre-crown-guard Submariners. Also, some of the longest-running references in Rolex's archives never ran on chronometer-rated movements. Perhaps surprising to some, a handful of models held on to their non-COSC certified movements as late as the mid-2000s. From manual to automatic movements, read on as we take a look back at some of Rolex's non-chronometer watches.
Non-Chronometer Submariners: 5513, 14060, and 14060M
Key Features
Steel 40mm time-only dive watches with rotating timing bezels
Submariner 5513: 1962 – 1989, Caliber 1520 or 1530 automatic movement
Submariner 14060: 1990 – 1999, Caliber 3000 automatic movement
(Non-COSC) Submariner 14060M: 1999 – 2007, Caliber 3130 automatic movement
The brand introduced the Rolex 5513 in 1962 as a more affordable alternative to the chronometer-certified Submariner ref. 5512. Although the two watches were almost identical on the outside, reference 5513 relied on Caliber 1520, which was not COSC-rated. As a result of its more budget-friendly movement, reference 5513 lacked the additional "Superlative Chronometer Officially Certified" text on its dial.
Production of the reference 5513 lasted until 1989 when Rolex finally replaced it with the reference 14060 in 1990. However, even the updated version of the no-date Submariner did not receive a chronometer-certified movement. The Submariner 14060 may have been the first no-date Submariner with a sapphire crystal, Triplock winding crown, and water resistance to 300 meters, but inside the case remained a non-chronometer movement – Caliber 3000.
After a decade of producing the Submariner 14060, Rolex replaced it with the Submariner 14060M, where the "M" stands for "modified" in reference to the newer Caliber 3130 powering the reference. Yet, the first-generation Submariner 14060M watches also housed two-line dials, despite the updated movement. Likely due to the additional costs associated with submitting the movements for third-party testing, the first Submariner 14060M watches were not officially qualified as chronometers.
In short, the no-date Submariner was only available as a non-COSC rated watch from the time that Rolex discontinued the Rolex 5512 reference (in 1980) until late 2007 when the reference 14060M was finally given the same chronometer-rated status of the Submariner Date models.
Non-Chronometer Air-Kings: 5500, 14000, and 14000M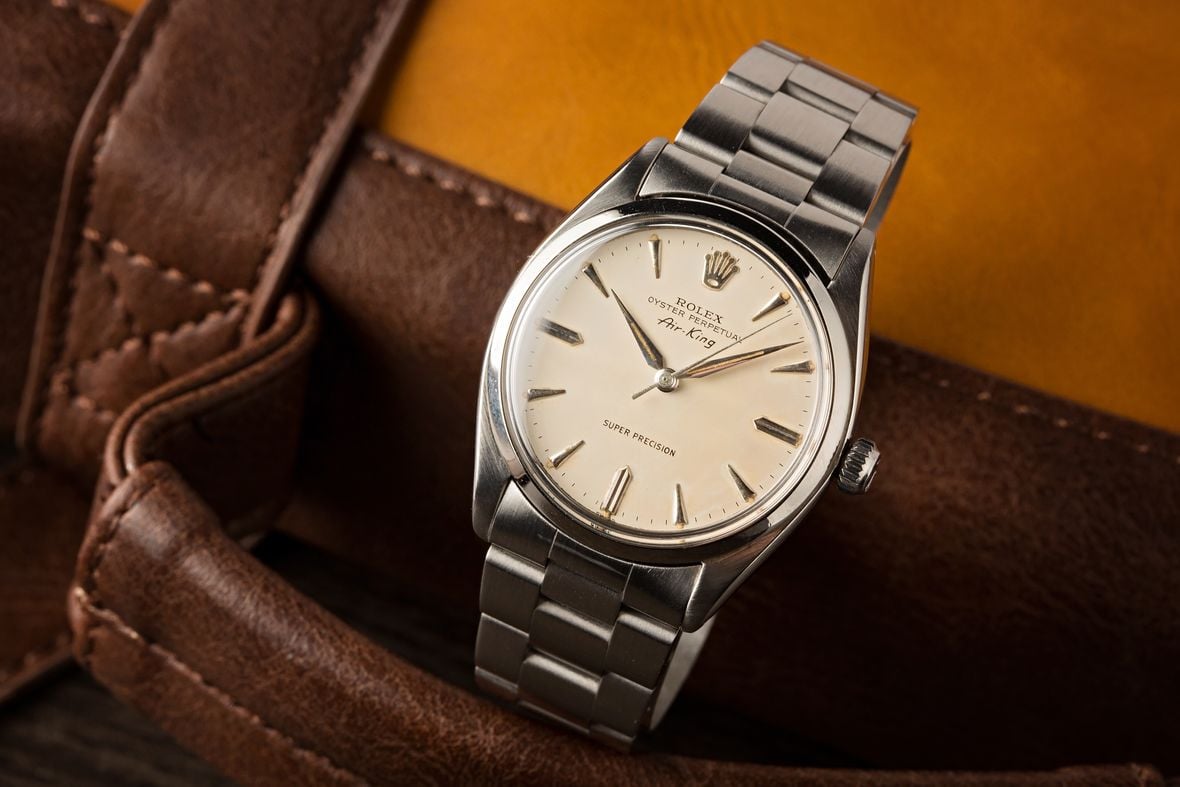 Key Features
Steel 34mm time-only watches
Air-King 5500: 1957 – 1989; Caliber 1520 or 1530 automatic movements
Air-King 14000/14010: 1990 – 2000; Caliber 3000 automatic movements
Air-King 1400M/14010M: 2000 – 2007: Caliber 3130 automatic movements
The Air-King was originally created to be a reliable, no-frills watch that could occupy an entry-level spot in Rolex's lineup. The reference 5500 was introduced in 1957 and remained largely unchanged for the entirety of its more than 35-year production run. The Air-King was able to achieve its lower price point by using the non-chronometer-rated Caliber 1520 or 1530 self-winding movements.
Consequently, Air-King ref. 5500 watches do not have the words "Superlative Chronometer Officially Certified" printed on the dials but are instead branded with "Precision" or "Super Precision." Although not a hard and fast rule, generally speaking, Precision dials denote the presence of Caliber 1520 inside the case while Super Precision dials mean there's a Caliber 1530 movement powering the watch. Some of the earliest examples of the 5500 have absolutely no text printed on the lower half of their dials. These "pre-precision" Air-King dials are some of the cleanest dial designs that Rolex has ever put forward, and are emblematic of an earlier and less standardized time in Rolex's history.
Much like the no-date Submariner, the Air-King did not receive a chronometer-certified movement when Rolex released a subsequent generation of Air-King watches. In 1990, Rolex released the Air-King 14000 with a smooth bezel and the Air-King 14010 with an engine-turned bezel. Both models boasted scratch-resistant sapphire crystals protecting the dials, which still were only marked with "Precision." A decade later, these two references were replaced by the Air-King 1400M and 14010M references, which both ran on non-chronometer Caliber 3130 movements.
It was not until 2007, with the introduction of the reference 1142xx series, that the Air-King finally became a certified chronometer and had the accompanying, "Superlative Chronometer Officially Certified" text added to its dial.
Oyster Precision 6426
Key Features
34mm time-only watches
The mid-1950s to mid-1980s
Caliber 1210 or 1220 manual-winding movements
The vintage Oyster Precision 6426 is just about the simplest Rolex watch you'll ever see. Produced from the mid-1950s until the mid-1980s, this long-running Rolex reference sports a steel case measuring 34mm, a straightforward time-only dial, and—not often seen in Rolex's lineup – a manual-winding movement.
That's right, these Rolex timepieces don't run on the famed "Perpetual" movements but rather, on hand-wound Caliber 1210 or 1220 movements, which emphasizes the vintage vibe of the watches. Plus, the "Precision" text on the dial lets us know that the ref. 6426 isn't a chronometer. Depending on the production era, Rolex Oyster Precision 6426 dials (which are generally silver, black, or blue) can have radium or tritium lume, in addition to dauphine or pencil hands.
Oysterdate Precision 6694
Key Features
34mm time and date watches
Early-1960s to late-1980s
Caliber 1215 or 1225 manual-winding movements
Similar to the Oyster Precision 6426 in terms of size and straightforward looks, the Oysterdate Precision 6694 has the additional benefit of a date window as 3 o'clock – complete with a Cyclops magnification lens above it. Rolex Oysterdate 6694 watches were mostly fitted with black or silver dials, but there are also examples with blue, champagne, and white ones.
Rolex began producing the Oysterdate Precision 6694 around the early-1960s and only discontinued the watch in the late-1980s. In fact, the Oysterdate Precision 6694 has the distinction of being Rolex's last manual-wind watch.
The Appeal of Non-Chronometer Rolex Watches
Today, every single watch in Rolex's catalog contains a chronometer-certified, in-house movement. Even modern Cellini watches are certified chronometers even though their dials do not include the familiar "Superlative Chronometer Officially Certified" text that appears on all the other Rolex watches.
As previously mentioned, many of Rolex's very early watches are not certified chronometers. Furthermore, as we've illustrated, a number of non-chronometer watches managed to remain in production for numerous decades without ever receiving a COSC-rated movement. Although non-chronometer-certified Rolex watches may not promise quite the same degree of timekeeping as their COSC-rated counterparts, many collectors prefer them to chronometers.
While the "Superlative Chronometer Officially Certified" text on the dial of Rolex watches is intended to be a hallmark of precision and therefore viewed as a badge of honor, many collectors appreciate and indeed covet the aesthetics of the less text-heavy non-COSC dials. This explains why two-liner Rolex dials often command higher prices than their four-liner dial counterparts of the same reference.