The Rolex Submariner ref. 116619 is a highly desirable sports watch known as the Smurf. This watch came to market in 2008 and was one of three all-gold Submariner models to debut that year.  A completely brand new Submariner model, the reference 116619 boasts its own set of notable features that set it apart from other Rolex sports watches.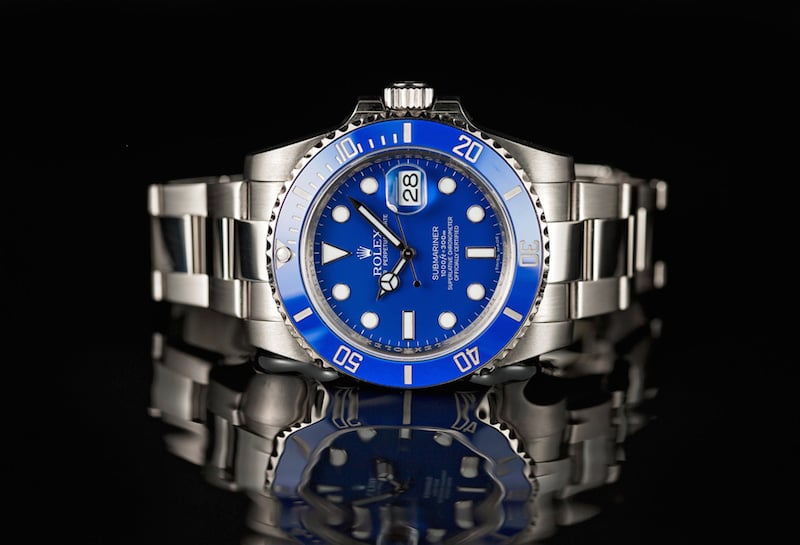 Notable Features on the Rolex Smurf:
The Rolex Submariner 116619, is crafted entirely out of 18 karat white gold.  Precious metals add a weight that is unlike any other metal option.  In fact, many Smurf owners will agree that their first impression of the Submariner 116619 was its distinct weight and feel.  The quality and value are apparent from the moment this reference touches your wrist.  The Submariner Smurf is an excellent option if you're in the market for a truly unique white gold sports watch.
The impressive all-gold finish is constructed entirely out of white Rolex gold, which is forged in the Rolex foundry using only high-quality metals.  Often referred to as "Grey Gold", Rolex gold does not need to be re-plated after years of wear and scratches and offers a consistent finish from its core to the surface.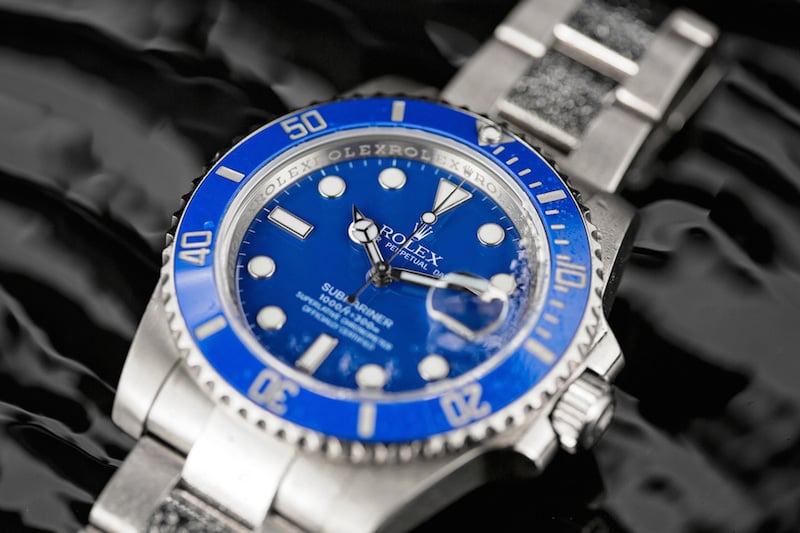 Next, is the unique, all-blue Cerachrom unidirectional bezel. Virtually corrosion and scratch-resistant, the ceramic bezel will withstand years of exposure to salt water. Platinum inserts complement the white gold case and Oyster bracelet, proving that Rolex left no detail out when developing the Rolex Smurf.
Much to the delight of Rolex aficionados, the Smurf also introduced a unique lacquered blue dial to the Submariner line.  Unlike any other dial in the Rolex catalog, the Smurf dial offers an attractive, almost wet-looking sheen that celebrates the nautical history of the Submariner divers watch.  This particular dial features larger luminous markers and wider hands, creating what is known as the "Maxi Dial".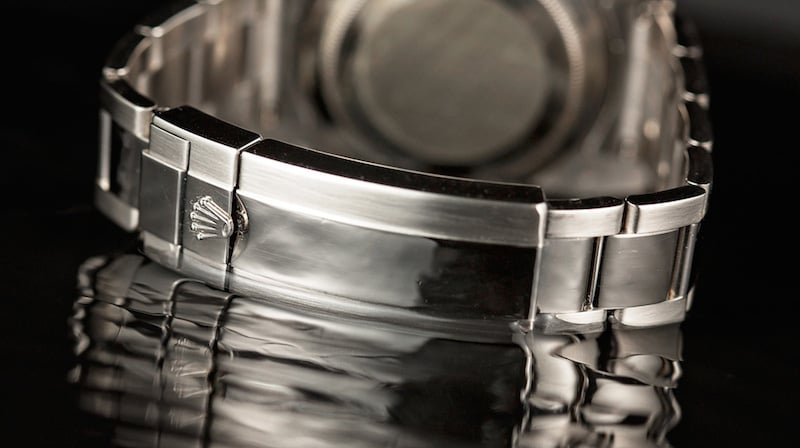 While the Rolex Smurf offers a traditional 40mm Oyster case, it will fit larger on the wrist with a measurement of 48mm from lug to lug.  Also referred to as the Rolex "Super Case", the newer 40mm Oyster case offers a bold and modern fit.  White gold, solid end links, and broad lugs add to the impressive stature of the Smurf on the wrist.  The Oyster bracelet is also worth mentioning.  Each link is solid and utilizes an attractive satin and high-polish dual-tone finish.  A newer Glidelock clasp also debuted with the Rolex Smurf, allowing the wearer to adjust the length up to 5mm without the use of tools.
The original Rolex divers watch, the Submariner has since become a coveted collector's item among professional divers and avid collectors alike.  As Rolex continues to improve upon the design of the Submariner in coming years, it will be exciting to see what they come up with next.