In regards to timepieces, "in-house" is a designation that carries great weight throughout the industry. When aspects of a watch's production are performed in-house, the company generally retains a greater level of control over the design and production process. While a number of companies produce their own movements, Rolex is one of the few that takes the "in-house" designation one step further, and there are actually a number of proprietary Rolex materials that the brand produces entirely in-house.
Here is a quick and handy guide to some of the proprietary materials that get used in the construction of Rolex watches.
Rolex Materials: Metal Alloys
Rolex owns and operates its own foundry that produces all of the gold, platinum, and stainless steel alloys that are used in its watches. This ensures that the materials on the out side of the watch that are constantly exposed to the elements are only of the highest levels of quality and durability.
GOLD
On contemporary Rolex watches, all of the gold – regardless of color – is a proprietary, 18-karat alloy that is specially engineered by Rolex for optimum strength, color, and long-lasting luxury. Rolex's rose gold alloy is known as Everose, and it is a special blend of pink gold that will not lose is warm hue due to exposure to saltwater, chlorine, or sunlight.
PLATINUM
Rolex's platinum alloy is 950 Platinum, which consists of 950 thousandths of platinum combined with ruthenium (a chemical element in the platinum group). This results in an alloy that is durable enough for everyday use, while still retaining all of platinum's remarkable luster and brilliance.
OYSTERSTEEL
Today, the vast majority of manufacturers use 316L stainless steel for their watches; however, Rolex now exclusively uses a special blend of 904L stainless steel – officially known as Oystersteel, which is harder and more corrosion resistant due to higher levels of chromium, molybdenum, nickel, and copper. Just like Rolex's specially engineered gold alloys, Oystersteel is manufactured entirely in-house to ensure that it meets the brand's impeccably high standards.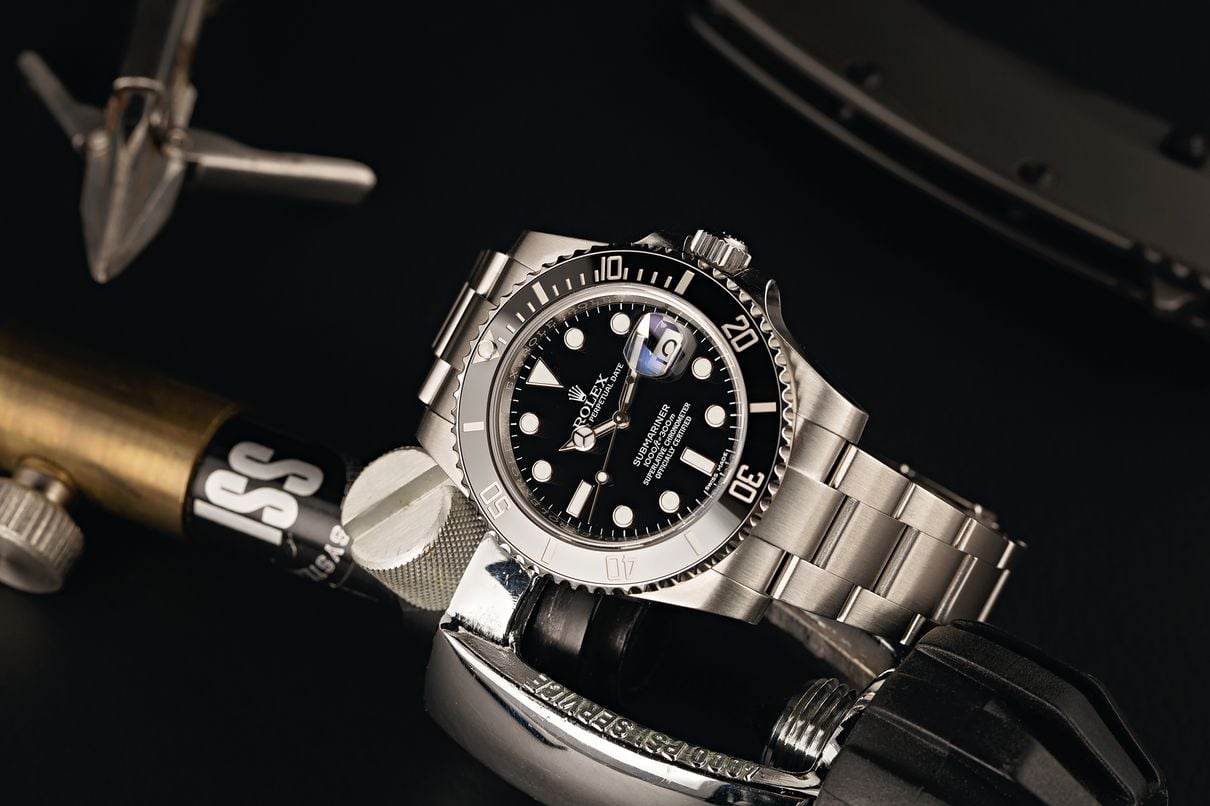 Rolex Materials: Inside & Out
Beyond the metal alloys that make up the the outer case and bracelets of its watches, Rolex also creates a number of technologically advanced materials that are used both inside and outside of its watches. These highly-specialized proprietary Rolex materials range from incredibly durable ceramic compounds, to specially formulated luminous paint.
CERACHROM
To remedy issues of scratched and faded bezels, Rolex invented a new type of ceramic material called Cerachrom. Rolex says that a single bezel made from this extremely hard compound takes roughly forty hours to produce; however, from a longevity standpoint, it is substantially superior to bezels made from traditional materials such as aluminum or acrylic. Cerachrom is nearly impossible to scratch, and its color is entirely immune to the effects of UV exposure, chlorine, and saltwater.
PARACHROM
Another Rolex-exclusive material is the blue Parachrom that gets used for the construction of its hairsprings. Parachrom is a proprietary alloy made from niobium, zirconium, and oxygen. It took five years for Rolex engineers to develop this material; however, it is entirely unaffected by magnetic fields and is ten times more shock resistant than traditional hairspring alloys.
SYLOXI
While it is blue Parachrom that gets used in many of Rolex's men's models, many of the brand's latest women's watches come equipped with movements that rely on Syloxi hairsprings. Essentially an advanced silicon hairspring (which are already naturally both antimagnetic and shock-resistant), Rolex calls the material "Syloxi" because it is silicon covered by an oxide layer, which increases its resistance to changes in temperature.
CHROMALIGHT
One of the more-noticeable Rolex materials is the blue luminescent paint used on the hands and hour markers of many newer Rolex watches. In 2008, Rolex announced its own proprietary luminescent material known as Chromalight. While it boasts a slightly longer glow time than its predecessor, the most noticeable change has been the striking blue glow that it brings to the faces of many new Rolex models, rather than the green colored glow found on older references.
The "in-house" designation generally implies that a company has mastered that specific aspect of production. Several times throughout history, Rolex has found itself hindered by the physical limitations of available materials. Rather than accepting these constraints, Rolex invents new materials, allowing them to continue to push the boundaries of watchmaking.