Rolex knows a thing or two about icons. It has been said that had the brand made nothing else but the Rolex Submariner, there is a good chance that it would still be just as highly regarded among its peers as it is today.
Why? Because the Submariner is more than just a blueprint of the ideal dive watch. It is a trailblazer in the field of perfection. Its aesthetics have been changed over the years, tweaked here and there, refined in line with tastes and trends, but only ever so slightly. The watch at its core never deviated. Simply because it never had to. The brand got it right the first time and was smart enough to know a winning combination when it saw it. 
The material design of a watch is one thing, but its color is another. While Rolex played it safe with the format of the Submariner, it was more than happy to experiment with its color on occasion.
Perhaps the most successful (non-black) dial that Rolex has ever produced is its sunburst blue dial. Blue Submariner watches have existed in Rolex's catalog since the early seventies and have consistently been favorites among collectors due to the fresh aesthetic that they bring to the brand's iconic dive watch.
Since 2019, the prices for pre-owned blue Rolex Submariner watches have soared. When looking to purchase a Rolex from their vast collection of watches, it is easy to see why this is a top choice.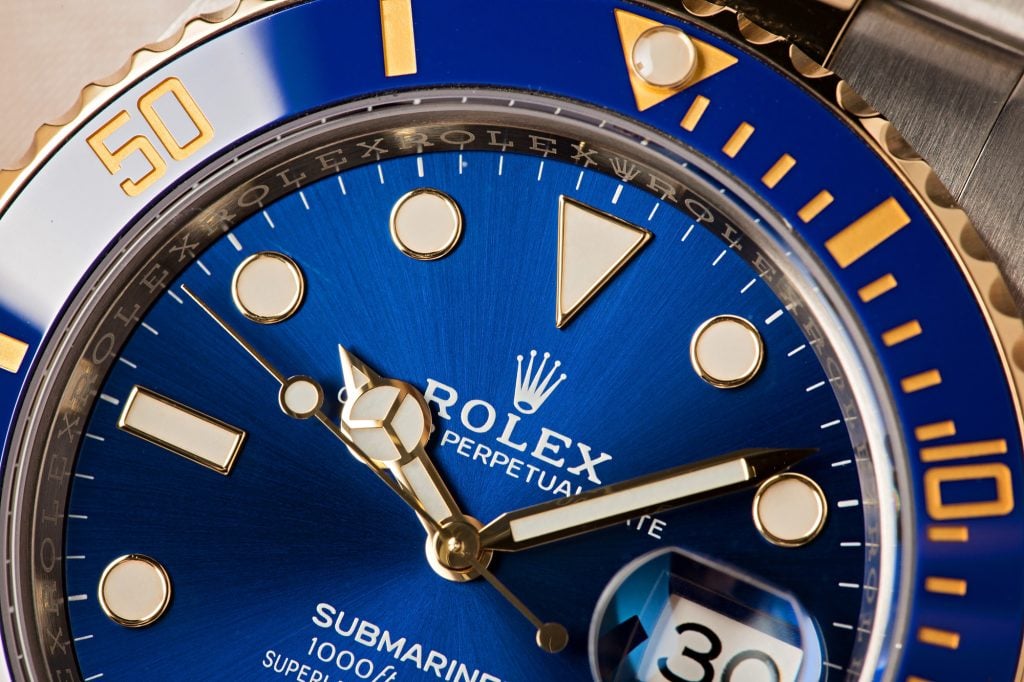 Blue Rolex Submariner Watches
Blue bezels on Submariner watches are only available on yellow gold, white gold, or two-tone yellow gold and steel (a.k.a. Yellow Rolesor) models. Rolex does not make a steel Submariner with a blue bezel. 
Submariner Blue References:
Yellow Gold Submariner ref. 1680/8
Yellow Gold Submariner ref. 16808
Two-tone Steel and Yellow Gold Submariner ref. 16803
Yellow Gold Submariner ref. 16618
Two-tone Steel and Yellow Gold Submariner ref. 16613
Yellow Gold Submariner ref. 116618LB
Two-tone Steel and Yellow Gold Submariner ref. 116613LB
White Gold Submariner ref. 116619LB
Yellow Gold Submariner ref. 126618LB
Two-tone Steel and Yellow Gold ref. 126613LB
White Gold Submariner ref. 126619LB
One way to identify a blue Submariner if you don't have the watch in hand or pictures to browse is to look at the reference number. The letters "LB" stands for "lunette bleu," which is French for "blue bezel."  
Submariners with blue bezels often have matching blue dials too, but not always. For example, some vintage and older blue Subs are furnished with "Serti" dials in champagne or silver. Serti is the name given to Rolex dials with diamond (and other precious gemstones) hour markers. Vintage blue Submariners with Serti dials have blue sapphires at 6, 9, and 12 o'clock accompanied by diamonds for the rest of the hours (except for 3 o'clock, which is home to the date window.)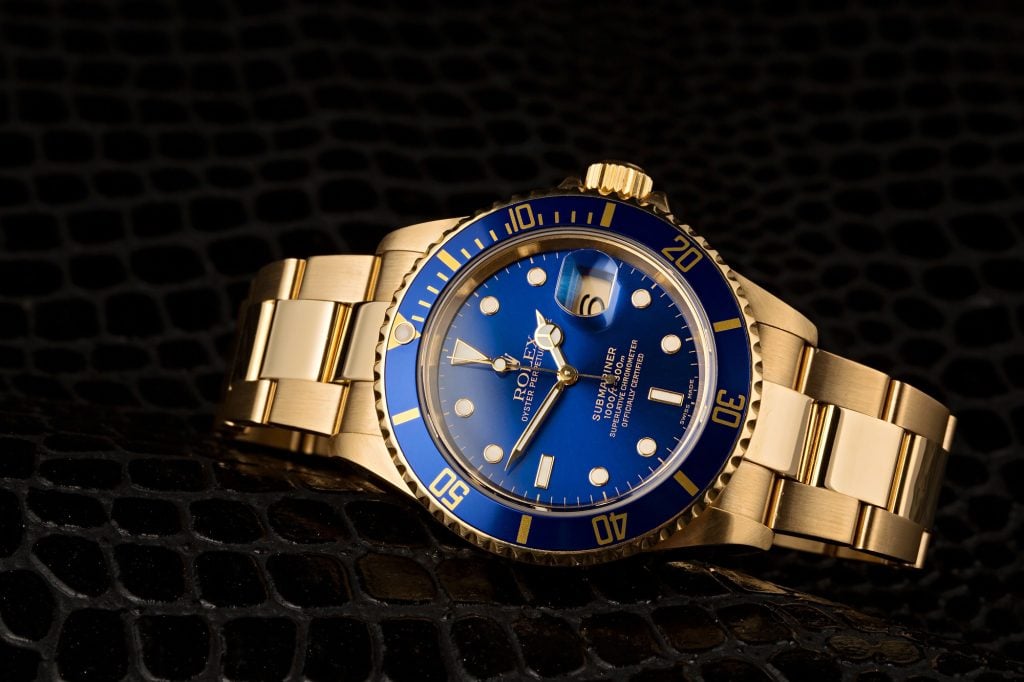 A Classic In The Making
Since its release in 1953, the Submariner has been an emblem of the brand and of horology in general. It is a genuine icon of design, emulated by practically every other watch manufacturer at one point or another. Beyond our industry, it is discussed in design circles as a masterpiece and regarded in fashion quarters as the holy grail: a permanent fixture on the wrists of the rich and famous. It also holds the distinction as the most counterfeited watch in the world. There are now more fake Submariner watches in existence than the real thing.
During its six-plus decades of history, the Rolex Submariner has undergone a myriad of changes and upgrades and has been made available in a host of different metals and color schemes. While still one of the most accomplished dive watches around, its true value (and the reason for its meteoric rise in status) has been its versatility. A Submariner can be worn with anything, and it is such a recognizable symbol of good taste, it opens doors and can get you in almost anywhere.
The onset of the 1970s saw the Submariner's first foray into the color blue. In its third decade as the world's premier dive watch, it was a striking 18k yellow gold reference that aimed to catch the eye of a new and affluent audience looking for that latest status boost. A solid yellow gold case paired with a contrasting blue dial and bezel burst onto the scene in 1971. Spurred on by the success of this earliest divergence from the traditional monotone color profile, Rolex has gone on to release several variations in different combinations.
The First Blue Submariner
That first blue reference, the Submariner ref. 1680/8, was an intelligent combination of showy and workmanlike, a best-of-both-worlds mix that caught the imagination as much as the eye. Despite being rendered in exquisite 18k yellow gold with all of its luxurious connotations, the reference 1680/8 still offered users the exact same professional dive watch capabilities and 200-meter depth rating as the rugged stainless steel version. The blue version of the 1680/8 followed a few years after the black edition debuted in 1969.
The metallic tones of the ref. 1680/8 were complemented by a blue sunburst dial that seemed to change color in different lighting conditions with rays radiating out from the center. Surrounding that sunburst dial, the blue anodized aluminum bezel insert gave the exterior a similar sparkle, turning Rolex's rugged date-displaying dive watch into what can only be accurately described as a true statement piece.
These days, it's not uncommon to find vintage Submariner 1680/8 models that were once bright blue now transformed into glorious shades of purple, violet, and lighter blues.
There is something almost magical about a solid gold Rolex sports watch. Sports models generally feature larger cases, additional functions, and bolder designs. When rendered in stainless steel, these traits give Rolex sports watches a rugged and utilitarian appearance. However, when crafted from solid gold, they take on an unapologetically luxurious and in-your-face aesthetic. And when you combine a solid gold Submariner with a striking blue dial and bezel, you get a watch that is often considered to be the poster child of the modern luxury sports watch.
Blue Submariner Watches in Steel and Gold
The blue Rolex Submariner was a popular favorite during the 1970s, but with blue dials and bezels exclusively offered on the solid 18k gold version, the price of a blue Submariner was outside the realm of possibility for a decent percentage of buyers. However, in 1984, Rolex released the first two-tone Submariner (ref. 16803), offering it with the option of either a black or blue dial and bezel. This expanded the availability of blue Submariner watches to a significantly wider range of potential buyers.
While Rolesor (Rolex's signature term for the use of stainless steel and gold components on a single watch) may not seem to be the kind of material combination one would immediately think of for a diving tool, gold's extreme resistance to saltwater corrosion (even superior to that of steel) actually makes this fusion surprisingly apt. The yellow gold parts provide the watch with a lot of the same luxurious flash as a solid gold model, without nearly the same weight or cost that is typically associated with a gold luxury timepiece. 
The first generation of two-tone blue Submariner watches also brought with it a number of other updates to the collection, such as scratch-resistant sapphire crystals, unidirectional rotating bezels, and an increased depth rating of 300 meters. These same enhancements were also featured on the solid gold version of the blue Submariner (ref. 16808), signaling a major step forward for Rolex's iconic dive watch. However, by the late 1980s, a new movement resulted in the Submariner receiving yet another update, and Rolex launched a new generation in 1988 that largely retained the same core design of its predecessors, but now featured the updated Caliber 3135 movement. 
Just like before, blue dials and bezels were exclusively offered on the two-tone and solid gold versions of the Submariner Date, and although the new ref. 16613 and ref. 16618 appeared virtually identical to the two-tone and 18k gold models (respectively) from the previous generation, the new editions with the updated Cal. 3135 movement would remain in production for more than two decades until Rolex finally gave the Submariner a major overhaul in 2008.
Regardless of the specific reference, blue Submariners in steel and gold are often nicknamed the "Rolex Bluesy." 
White Gold and Blue Cerachrom Bezels
Although the reference 1661x series of Rolex Submariner watches represented only a minor aesthetic update compared to the previous generation, these models would go on to define Rolex's legendary dive watch for more than twenty years. However, starting in 2008, Rolex began to roll out a new generation of Submariner watches, including an all-new blue model crafted from solid 18k white gold.
While the new generation was powered by the same Caliber 3135 movement, virtually everything else about the watch had been changed. The Submariner's 40mm case now featured thicker lugs and larger crown guards for a much larger and more angular overall appearance–better known as "Super Cases" in some collecting circles.
Additionally, while the bezel inserts on the previous generation were made out of anodized aluminum, the bezels on the new generation were constructed from a single piece of Cerachrom, Rolex's proprietary ceramic material that is virtually impervious to scratches and the fading effects of UV light. 
Like before, the new solid 18k yellow gold Submariner was offered with either a black (ref. 116618LN) or blue (ref. 116618LB) dial and bezel. However, joining the lineup for 2008 was the reference 116619LB, which also featured a blue dial and blue ceramic bezel but was crafted entirely from solid 18k white gold. Quickly picking up the nickname the "Smurf" due to its white and blue color profile, the blue dial fitted to the ref. 116619 is a glossy flat blue style, which sets it apart from the sunburst blue style found in the two-tone and yellow gold versions of the blue Submariner.
One year later in 2009, Rolex released an updated version of the blue Submariner in its signature two-tone steel and gold Rolesor finish. Just like with the solid gold editions, the new two-tone Submariner watches were offered with either black or blue dials and bezels, with the blue version labeled the ref. 116613LB, where LB stands for "Lunette Bleu" (meaning "blue bezel" in French). Additionally, just like the updated solid gold editions, the new two-tone blue Submariner featured a bezel insert constructed from a single piece of its proprietary blue Cerachrom material.
41mm Blue Rolex Submariner Watches
In September 2020, Rolex discontinued all existing Submariner models and released an entirely new generation of its iconic dive watch. At a glance, the new Submariner models appear very similar to the previous generation; however, in addition to being powered by the all-new Caliber 32xx series of movements, the new series of Submariner models also feature slightly larger 41mm cases.
Just as before, blue dials and bezesl are only offered on the solid gold and two-tone versions, with the new models known as ref. 126618LB and 126613LB (respectively). One minor difference between the previous blue Submariner dials and the updated ones found on the 41mm generation is the color of the text. On the previous 40mm series, the blue dials featured yellow gold writing, while the blue dials on the new 41mm Submariner watches feature white text. With that in mind, despite the minor updates to the blue dials of the two-tone and yellow gold Submariner watches, possibly the most significant aesthetic update is found on the white gold version of the updated 41mm generation.
While the first white gold Submariner, the ref. 116619LB "Smurf" was fitted with a glossy blue dial to match its bright blue Cerachrom bezel insert, the updated 41mm white gold ref. 126619LB is fitted with a standard black dial despite still having a blue ceramic bezel. Due to the fact that it does not have a blue dial like its white gold predecessor, the newer white gold blue Submariner is not known as the "Smurf." It seems that the nickname "Cookie Monster" is the most prevalent these days when talking about the Submariner 126619LB.
The Blue Submariner: A Premium Option
While it is true that all of the very first Rolex Submariner watches were made from stainless steel and fitted with black dials and matching black bezels, blue Submariner watches have been part of Rolex's catalog since the early-1970s. Even the very first generation of the Submariner Date was offered with the option of a blue dial and bezel; however, despite being available for the last half-century, the color blue has always represented a premium option within the Rolex Submariner collection. 
Not once has a blue dial or bezel ever been fitted to a standard stainless steel Submariner watch, and for the first decade and a half that the color blue was available within the Submariner collection, it was exclusively offered on the solid 18k yellow gold editions of Rolex's iconic dive watch. To this day, blue dials and bezels can only be found on two-tone and solid gold Submariner watches and the color immediately distinguishes the watches that feature it as premium renditions of Rolex's iconic professional dive watch. 
At retail, the official prices of current-production blue Submariners are as follows:
Yellow Rolesor Submariner ref. 126613LB MSRP: $14,700
Yellow Gold Submariner ref. 126618LB MSRP: $37,950
White Gold Submariner ref. 126619LB MSRP: $40,650
However, thanks to the demand for blue Subs, market prices are slightly higher than retail. Expect to pay over $18,000 for a reference 126613LB, over $40,000 for a reference 126618LB, and over $42,000 for a 1266189LB.
For less expensive blue Submariners, look to older discontinued references such as the Cerachrom 11661x series from the 2010s or the aluminum 1661x series from the late-1980s and 1990s. Despite the fact that Rolex prices the LB and LN versions the same at retail, blue versions of the Submariner generally command higher prices than black versions on the secondary market.
Blue Rolex Submariner references are standout, playful versions of a genre-defining timepiece. Possibly the most iconic watch ever made, the Submariner feels like it's always been with us, and the addition of a bold yet versatile color profile gives it a welcome, contemporary freshness that has been a favorite among collectors and enthusiasts for the last fifty years.