Stanley Cup Finals 2017 is here! Hockey fans from all over the world will be watching closely as the Nashville Predators take on the reigning champions, the Pittsburgh Penguins. And in true Bob's Watches fashion, we did some digging around to see what NHL players wear on their wrists when they're off the ice.
1. P.K. Subban
This is the first time in franchise history that the Nashville Predators make it to the Stanley Cup Finals. This is due in large part to new team member, P.K. Subban, who is widely regarded as one of the league's best defensemen right now. P.K. Subban, who previously played for the Montreal Canadiens, joined the team in June 2016, after he was traded for Shea Weber. While the trade was controversial, it has paid off for the Nashville Predators. Now, Music City has caught hardcore hockey fever.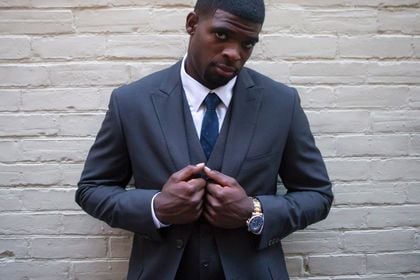 Aside from his epic hockey skills, the defenseman is also famous for his philanthropy, energetic persona, and fashion style. Just as at ease in a suit as he is in his jersey, P.K. Subban is pretty much always impeccably dressed. To top off his look, he has a two-tone Submariner ref. 116613LB gleaming away on his wrist. The Rolesor two-tone steel and yellow gold Submariner ref. 116613LB sports a flamboyant blue dial and matching Cerachrom ceramic bezel. And P.K. Subban wears it so well.
2. Sidney Crosby
Standing in the way of the Nashville Predators' claim to the Stanley Cup are the current champs, the Pittsburgh Penguins. At the helm of the team is captain Sidney Crosby. Nicknamed "Sid the Kid", the two-time Stanley Cup champ is considered, by most, as the greatest hockey player of his era. He's also won two Olympic gold medals, in addition to leading team Canada to win the 2016 World Cup of Hockey.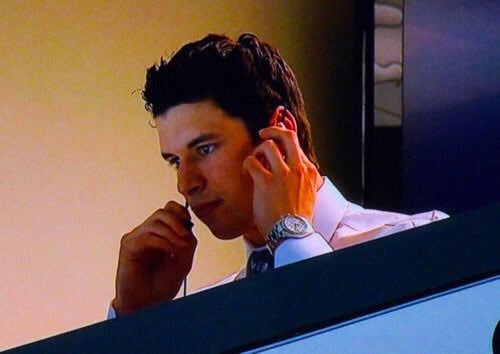 A natural born leader, some may be surprised to hear that Sidney Crosby is also famous for being a superstitious guy. His habits include always eating the same pregame meal and always going through the exact same pregame warm-up. So perhaps he thinks his Rolex is a good luck charm? Lucky or not, his Rolex Daytona ref. 116520 chronograph is a sweet choice nonetheless. While the Daytona ref. 116520 is no longer in production it is still a very popular model by the Swiss watchmaking giant. Plus, Sidney Crosby's pick of white dial on his Daytona is a classic one.
3. Erik Karlsson
Captain of the Ottawa Senators, Erik Karlsson, lost out on his chance for the Stanley Cup this year when his team was defeated by Sidney Crosby's Penguins. It was a close battle though, which eventually ended with a double overtime of Game 7. The Swede has won the James Norris Memorial Trophy—reserved for the league's best defenseman—twice, once in 2012 and again in 2015.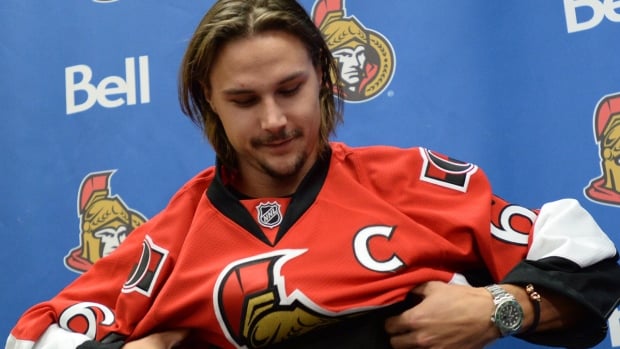 Like the league's other leading defenseman, P.K. Subban, Erik Karlsson also wears a Submariner. One of Erik Karlsson's choice of Submariner goes by the name Kermit! The reference 16610LV gets its "Kermit" nickname from its black and white Maxi dial and green aluminum bezel insert, which gives it an appearance that is somewhat reminiscent of Sesame Street's famous frog character. A beast of a watch for a top hockey player.
Judging by the games that have led up to this point, this year's Stanley Cup Finals should be a thrilling one to watch. Who do you think will win, the Predators or the Penguins? And just as important, which of the above three Rolex watches worn by these NHL players do you like the best? The two-tone Submariner ref. 116613LB, the steel Daytona ref. 116520, or the green Submariner ref. 16610LV?