Flaunting a combination of yellow gold, stainless steel, blue ceramic, and matching sunburst blue dial, the Rolex Submariner ref. 116613LB "Bluesy" is one of the brand's most striking modern sports watches. A two-tone Submariner is not an understated watch by any stretch of the imagination – but paired with a bright blue Cerachrom bezel and a blue dial that dances in the light, and you've got a watch that commands attention.
We couldn't help but notice that NFL quarterback Russell Wilson, Masters champion Hideki Matsuyama, and Grammy award-winning rapper Queen Latifah regularly sport Submariner ref. 116613 watches on their wrists. However, did you know that the Submariner 116613LB did not always feature a sunburst blue dial? Find out when and why Rolex made the switch, along with other key information about the watch, by reading our handy guide to the Submariner Reference 116613 with a blue sunburst dial.
Rolex Submariner Reference 116613LB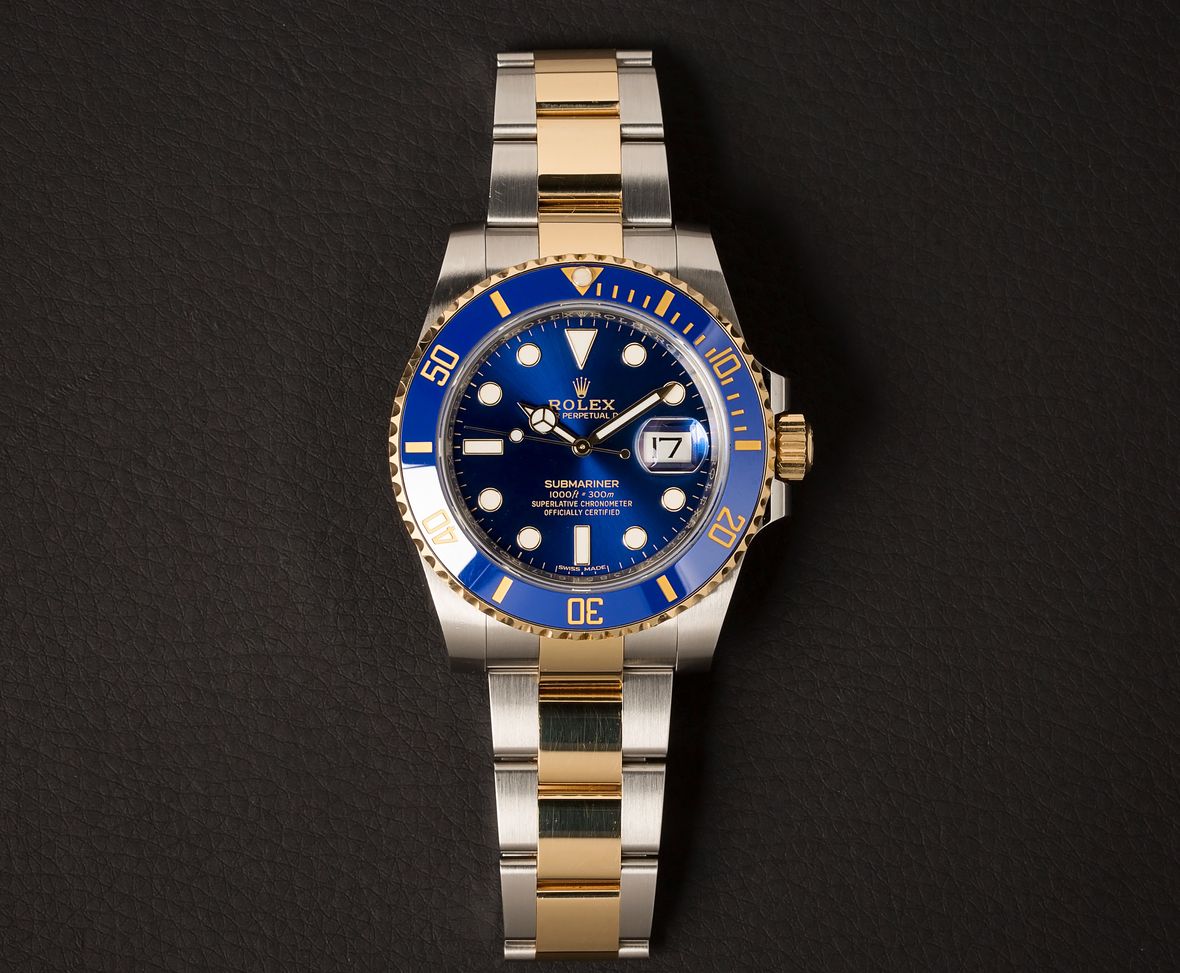 Submariner 116613LB Key Features:
– Reference Number: 116613LB
– Production Years: 2009 – 2020
– Case Size: 40mm
– Materials: Stainless Steel & 18k Yellow Gold
– Functions: Time w/ Running Seconds, Date Display
– Dial: Blue w/ Luminous Hour Markers
– Bezel: Unidirectional, Blue Cerachrom Insert w/ 60-Minute Scale
– Crystal: Sapphire (Flat w/ Cyclops Lens)
– Winding Crown: Triplock
– Luminescence: Chromalight
– Movement: Rolex Caliber 3135 (automatic, 48-hour power reserve)
– Water Resistance: 300 Meters / 1,000 Feet
– Strap/Bracelet: Oyster Bracelet w/ Glidelock Clasp
Click here for our Ultimate Buying Guide on the Rolex Submariner.

About the Rolex Submariner 116613LB
The Submariner 116613LB features a 904L stainless steel and 18k yellow gold Oyster case that measures 40mm in diameter. While the preceding Submariner ref. 16613LB also had a 40mm case size, the newer reference wears notably larger on the wrist thanks to its "super case" silhouette characterized by fatter lugs, a wider bezel, and thicker crown guards. Plus, emphasizing the bolder style of the Submariner 116613LB are the noticeably larger lume plots on the blue dial and the sleek finish of the blue Cerachrom ceramic bezel.
Although the Submariner is very much a stylish luxury timepiece, it remains true to its dive watch functionality by offering a 300-meter water-resistance rating and a highly luminous dial. Similar to all modern Subs, the 60-minute marked bezel of the reference 116613 is unidirectional to prevent underestimating dive times. Since this is a two-tone Submariner, the bezel markings appear in yellow gold to match other gold elements of the watch.
Shielding the dial of the Submariner 116613LB is a scratch-resistant sapphire crystal, complete with the obligatory Cyclops lens magnifying the date window at 3 o'clock. To match the case, the three-link Oyster bracelet is also two-tone with 18k yellow gold center links framed by stainless steel outer links. The Submariner ref. 116613 runs on Rolex's in-house-made Caliber 3135 movement, which is automatic-winding, chronometer-certified, and offers users a 48-hour power reserve.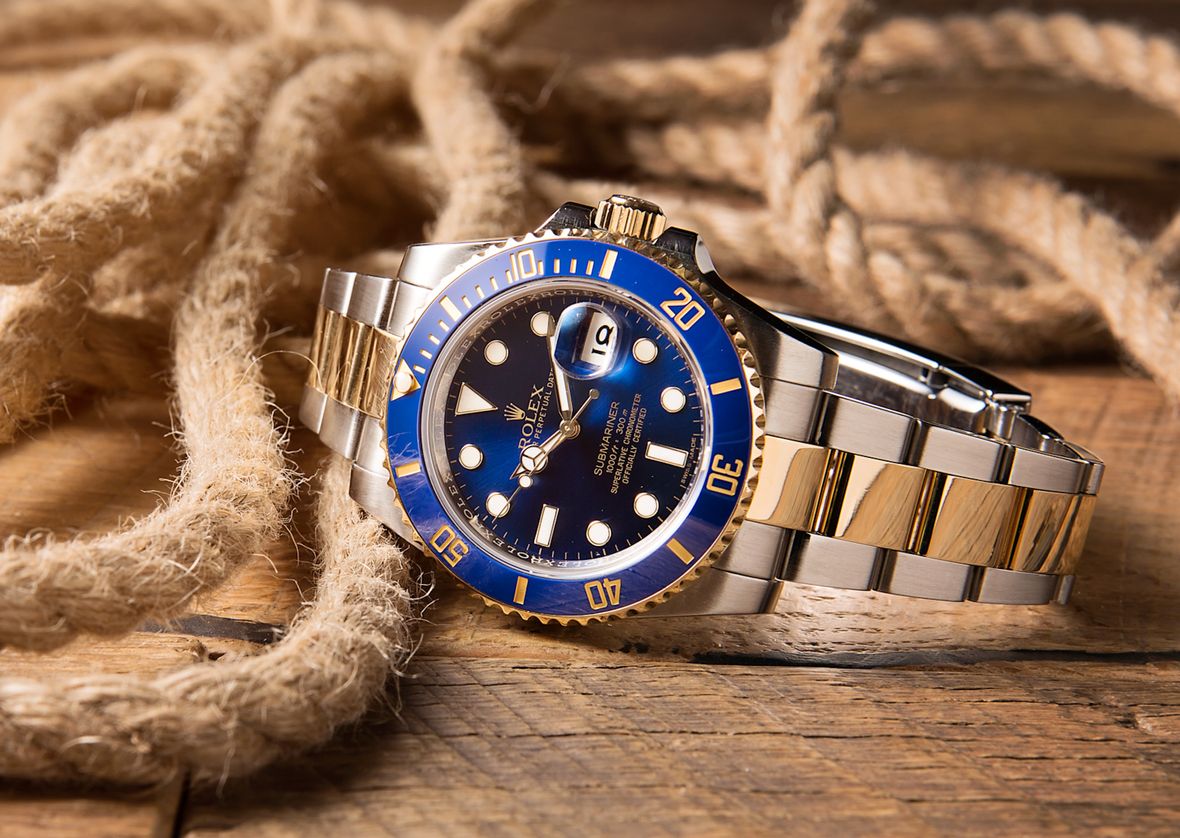 Rolex Submariner 116613 "Bluesy" History
– 2005: Rolex debuts the Cerachrom ceramic bezel on the GMT-Master II
– 2008: Rolex releases the first Submariner models (in gold) with Cerachrom bezels
– 2009: Rolex introduces two-tone Submariner models with Cerachrom bezels
– 2013: Rolex switches to sunburst blue dials on the Submariner ref. 116613LB
– 2020: Rolex discontinues all 40mm Submariner models
2005 was a landmark year for Rolex as it was then that the company unveiled its now-famous Cerachrom bezel. Cerachrom is Rolex's proprietary ceramic material and the cutting-edge bezel, which is both resistant to scratching and fading, made its debut on the GMT-Master II collection. A few years later, Rolex launched a new generation of Submariner watches all fitted with Cerachrom bezels. Rolex kicked off the ceramic bezel Submariner collection with the yellow gold 116618 and the white gold 116619 in 2008 and the two-tone Submariner models with Cerachrom bezels followed the year after.
As you may or may not already know, Rolesor is the name Rolex gives to its watches that combine gold and steel. And two-tone yellow gold and stainless steel Rolex watches are called yellow Rolesor. The yellow Rolesor Submariner watches with Cerachrom bezels that were launched in 2009 carried the reference number 116613 and like all two-tone Subs that came before it, it was available in either black or blue. The reference 116613LN has a black bezel and dial while the ref. 116613LB has a blue bezel and dial. The letters LN and LB stand for "lunette noir" and "lunette bleu," which is French for "black bezel" and "blue bezel."
While all Submariner 116613LB watches have blue dials, the earliest examples of these "Bluesy" Subs featured a shade that was not iridescent as the sunburst dials of the preceding reference 16613. Rolex opted instead for a flat shade of blue to match the tone of the blue Cerachrom bezel. However, following a mixed reaction from the public, Rolex switched back to the traditional sunburst-style dial within just a few of years of production. As of 2013, the Rolex Submariner 116613LB featured sunburst blue dials rather than the initial flat blue dials.
In 2020, Rolex introduced a brand new lineup of Submariner watches with larger 41mm cases, signaling the end of not only the reference 116613LB but also all Submariner watches with 40mm cases. Therefore, the blue-dial variant of the two-tone Submariner 116613 was in production for 11 years and the Submariner 116613LB with a sunburst blue dial was manufactured for just seven of them. The newest version of a two-tone Submariner with a sunburst blue dial is the ref. 126613LB with a 41mm case.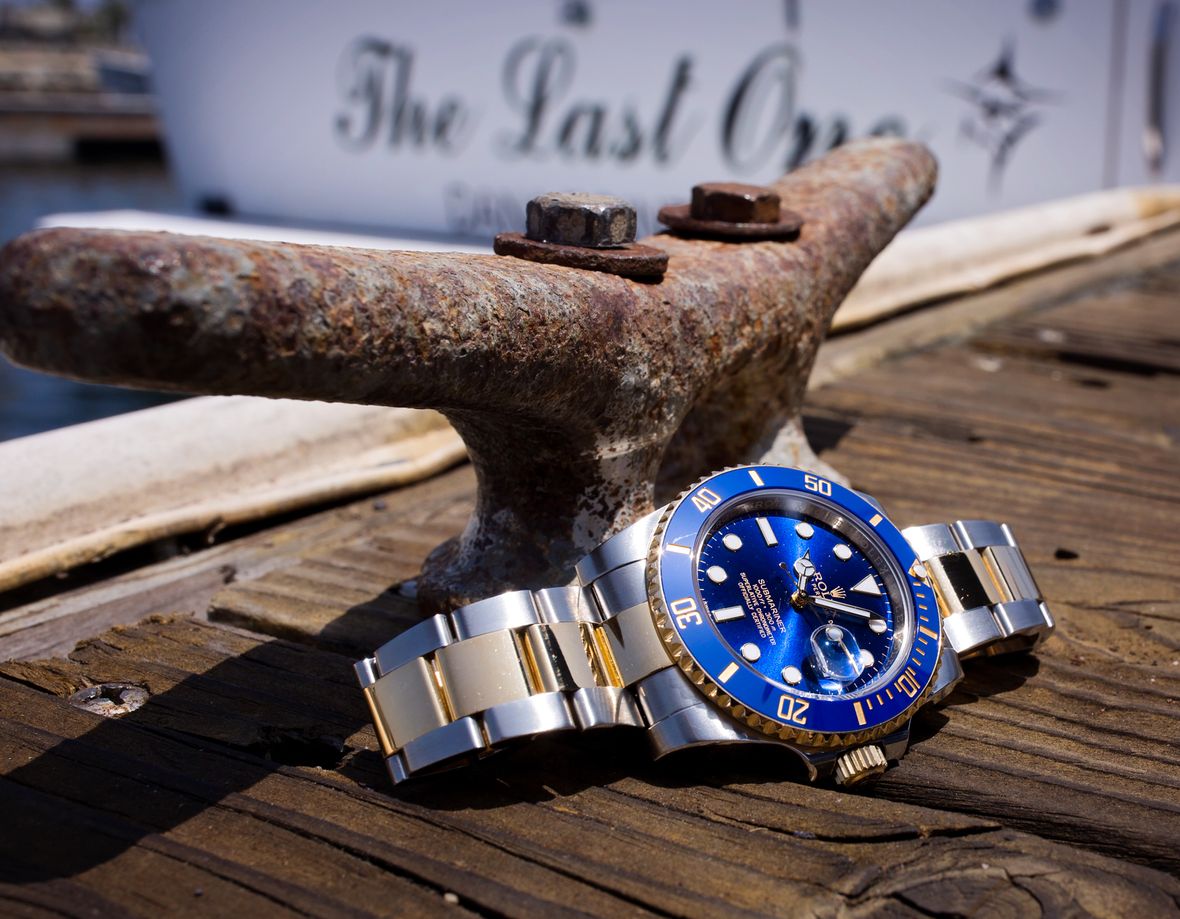 Submariner 116613LB: Flat Blue Dial vs. Sunburst Blue Dial
– 2010 – 2013: Rolex Submariner 116613LB with flat blue dial
– 2013 – 2020: Rolex Submariner 116613LB with sunburst blue dial
A mainstay of Rolex's lineup since the 1980s, every generation of the two-tone Rolesor Submariner has offered the choice between black or blue dials and bezel inserts. While black makes for a slightly more formal and versatile appearance, the blue version adds a nautical aesthetic that serves as an ever-present reminder that Rolex designed the Submariner for serious aquatic use.
One of the hallmark traits of the Rolesor Submariner with blue dials was its sunburst finish, which consists of subtle lines radiating out from the center, giving it a somewhat iridescent quality that shifts its color in a prismatic fashion when it catches incoming light from different angles. So it was a surprising move on Rolex's part when the Submariner ref. 116613LB made its debut at Baselworld 2009 with a blue dial that was no longer sunburst but flat – similar to the dial found on the white gold "Smurf" Submariner 116619LB.
The reasoning for the adjustment was that the flat blue dial better complemented the shade of the blue Cerachrom bezel. While some appreciate the look of the flat blue dial, most lamented the disappearance of the dynamic sunburst blue option. People missed the sunburst option so much that Rolex brought back the sunburst blue dial to the reference 116613LB in 2013 where it remained until the watch's production run came to an end in 2020. It's also important to mention that the flat blue dial was available with diamond hour markers while the sunburst blue dial was not.
The style and finish of the blue sunburst Submariner dial are very similar to the silver or champagne-colored dials frequently found in several of Rolex's other, non-sport watch lines; however, its rich blue color and contrasting white hour markers outlined in yellow gold create the illusion of a greater depth when the dial is installed inside a watch.
How Much Does the Rolex Submariner 116613LB Blue Sunburst Cost?
– Pre-owned Submariner 116613LB starts at $15,000+
– Pre-owned Submariner 116613LN starts at $14,000+
Since Rolex no longer manufactures the Submariner reference 11613LB, this two-tone dive watch can only be sourced from the secondary market. A pre-owned Submariner 116613 in blue (LB) is usually slightly more expensive than the black (LN) variants that are otherwise entirely identical except for the color of their dials and bezels. This is especially interesting given that the two watches retailed for the exact same price while they were still in production.
Prices for a pre-owned Rolex Submariner ref. 116613 watches with blue dials start at over $15,000 while those with black dials start at just over $14,000. Given that pre-owned stainless steel Submariner 116610LN watches start at around $13,000, a pre-owned Submariner "Bluesy" is a great deal considering the addition of 18k yellow gold and the distinctive blue colorway.
For comparison's sake, a pre-owned Rolex Submariner 116618LB in full 18k yellow gold and with a blue Cerachrom bezel and sunburst blue dial will set you back about $40,000. If you're looking to own a more premium version of Rolex's legendary SCUBA divers' watch but don't want to commit to a solid gold timepiece for everyday wear and use, then the Rolex Submariner reference 116613LB with a sunburst blue dial is an excellent option that combines durable stainless steel and brilliant 18k yellow gold to create an appearance that is both rugged and luxurious.