The history of the Rolex chronograph goes back to 1937. That year, Rolex punched the chronograph START button in a big way, with no fewer than five chronos in their catalogue. They started with single-pushers, and quickly evolved to the two-pusher scheme.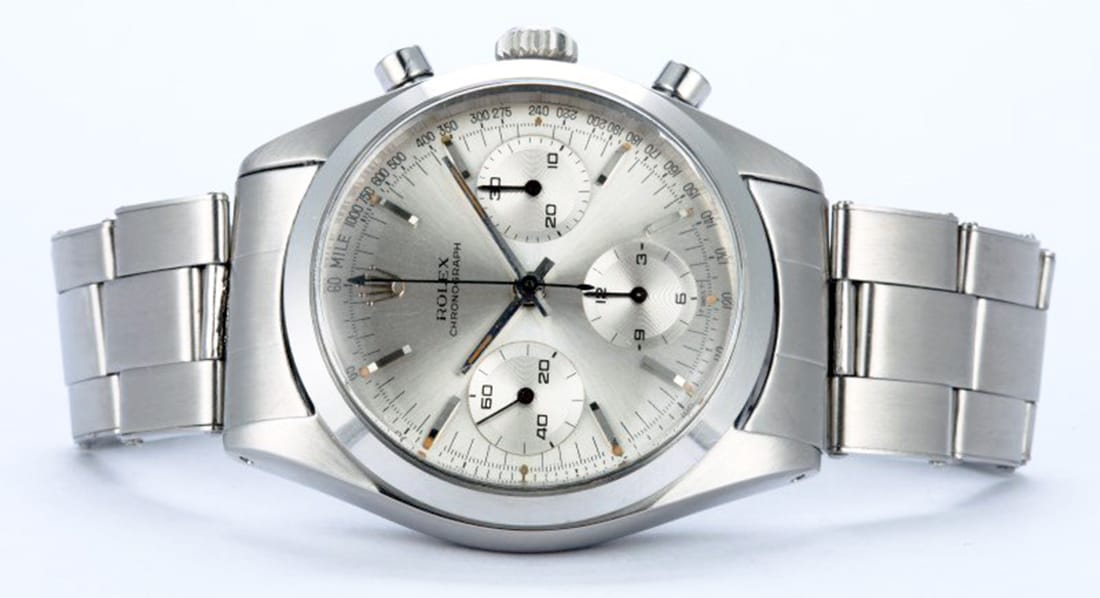 Through WWII, the Rolex chronographs struggled to gain a foothold with the buying public, even though the first Oyster chrono had appeared mid-war. However, in 1949, Rolex released their ref. 5034. The 5034 featured Rolex's first three-register dial, and the Rolex chronograph was off and running.
Before the Daytona
Over the ensuing decade and a half, several more references appeared, culminating in 1964 with the ref. 6238. (Actually, that line culminated with the 6239, but that reference sported the name "Cosmograph" on the dial. We're talking PRE-Cosmographs here.) The 6238 saw production for a relatively short time. It was only in the Rolex catalogue from 1964 through 1967, and in fact, was in the catalogue along side.
The 6238 featured an internal tachymeter track at dial's edge. The pre-Daytona bezel was smooth, the last of its kind on the Rollie chronos. The watch was typically available in stainless steel, although you'll find an example in yellow gold here & there. And notice, both steel and gold versions came stock with that wonderful stepped, riveted bracelet that Rolex lovers love to hate (or is it hate to love?).
The 6238's Oyster case calipered at 36mm and came equipped with a domed acrylic crystal. The dial was either silver or black. (Some reports mention an early short production run of the two-tone dial style that went on the Paul Newman-style Daytonas a few years later.) Under the hood was the famous hand-cranking Valjoux 72 chronograph movement. Pump pushers activated the timing function.
A couple of fun facts about the 6238? George Lazenby wore one as James Bond in the 1969 movie, "On Her Majesty's Secret Service." That particular movie prop watch eventually sold for $41,000.00 at auction at Christies London on December 16, 2003.
Besides EON Productions (producers of the James Bond movies), other institutional customers include the Peruvian Air Force. The 6238 made up the lion's share of the roughly 1000 timepieces delivered to the FAP from the early 1960s to the early 1980s
Use that tidbit to make a bar bet at your next watch get-together.