The Rolex GMT-Master II is what the brand calls its 'cosmopolitan watch.' Combining the sheer functionality of being able to track three time zones alongside sleek, elegant modern refinements, this timepiece is made for international travelers and the jet-set crowd.
While the bezels of the Rolex GMT Master II tend to steal all the attention, it's the different metals that elevate this watch and make it the perfect timekeeping companion from the airport to the boardroom to client meetings and dinner dates. Below, we'll explore the history and elegant sensibilities of the iconic two-tone Rolex GMT-Master II collection.
Rolex GMT-Master II Two-Tone
Two-Tone GMT-Master II Key Features:
– Production Years: 1989 – Present (approx.)
– References: 16713, 16713T, 116713LN, 126711CHNR
– Case Size: 40mm
– Materials: Rolesor – Stainless Steel & 18k Gold (Yellow or Everose)
– Functions: Time w/ Running Seconds, Date Display, GMT Functionality
– Dial: Black or Brown w/ Luminous Hour Markers
– Bezel: Bidirectional, Aluminum or Cerachrom Insert w/ 24-Hour Scale
– Crystal: Sapphire (Flat w/ Cyclops Lens)
– Movement: Rolex Caliber 3185, Caliber 3186, or Caliber 3285
– Water Resistance: 100 Meters / 330 Feet
– Strap/Bracelet: Oyster or Jubilee Bracelet
 Click here for our Ultimate Buying Guide on the Rolex GMT-Master II.
Rolex GMT-Master II Two-Tone Evolution
The dual time zone Rolex GMT Master has a long, rich, and well-recorded history. This Rolex model was first conceived in the mid-1950s to help intercontinental pilots keep regular sleep schedules so they could safely fly their routes. Pan American World Airways even teamed up with Rolex to develop this watch, but it was later redesigned to house a new and improved movement and increased capabilities.
Essentially, while the GMT Master could keep track of two time zones with the use of its GMT-hand and rotating bezel, the GMT-Master II could display two time zones with just its two hour hands. The GMT-Master II is able to do this because the local 12-hour hand and 24-hour GMT-hand move independently of one another, allowing you to display two different time zones on just the dial and freeing up the bezel for quick access to a third if need be.
While the Rolex GMT-Master II was built as a workhorse – a tool for those traveling and working internationally across multiple time zones – it eventually received refinements like many other Rolex sport and tool watches have over the years. We all realize Rolex is well-known for evolutionary rather than revolutionary improvements, outfitting its watches with new movement upgrades, sleeker profiles, additional bracelet options, and new precious metal configurations.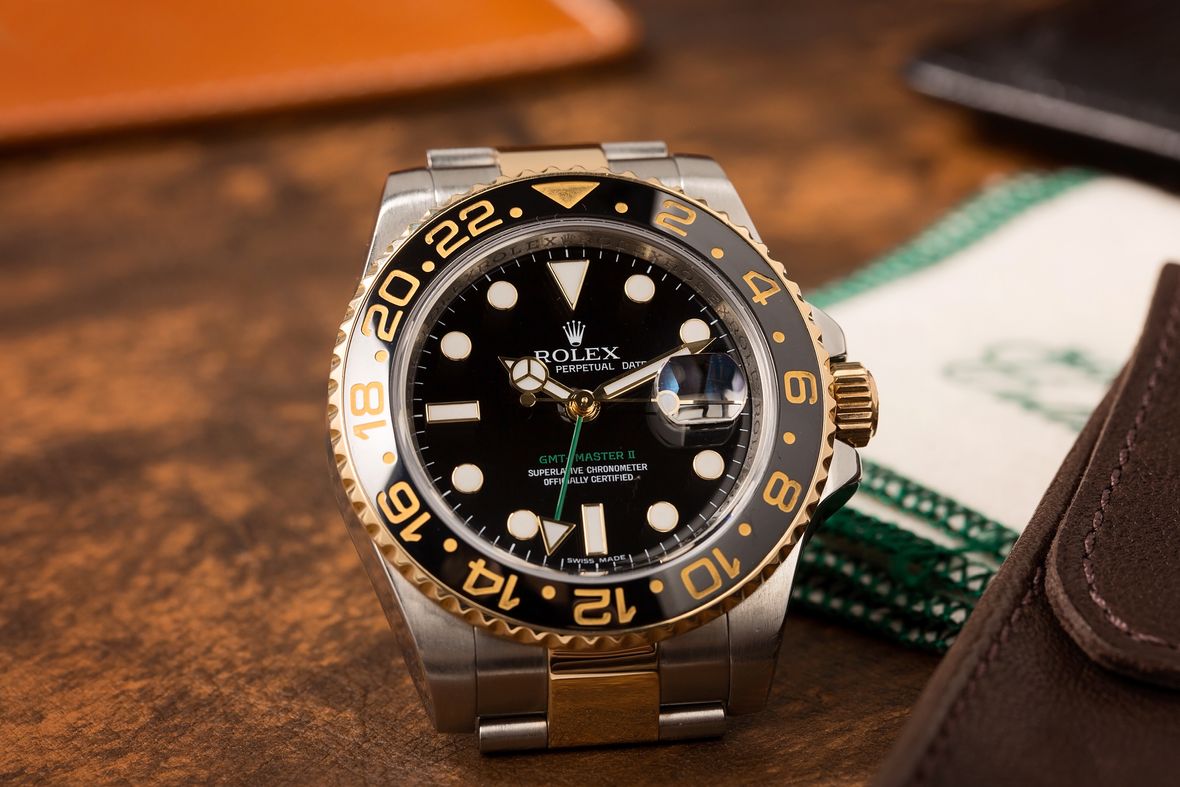 Two-Tone GMT-Master II History
The very first GMT Master II was unveiled in 1982 and was exclusively offered in stainless steel, but it did feature an all-new black and red 'Coke' bezel insert. It wasn't until 1989, when Rolex upgraded the model again, that we would be introduced to a two-toned GMT-Master II – the 16713. Two-tone steel and gold GMT-Master watches had been part of Rolex's catalog since the second generation of Rolex's multi-time zone pilot's watch, but the first GMT-Master II in a steel and gold finish didn't make an appearance until the end of the 1980s.
It's also important to point out that while the full-steel GMT-Master 16710 featured the newer black and red 'Coke' bezel as well as the classic red and blue 'Pepsi' bezel and a solid-black bezel, the 16713 was outfitted with either an all-black bezel or a brown and gold 'Root Beer' bezel. Additionally, Rolex continued to lean into the luxury side of things on these steel and gold watches with details like the gem-set Serti dials. Today, these Serti Dial GMT-Master II ref. 16713 watches are quite collectible – with aficionados adoring the round diamonds paired with baguette and triangular rubies for the hour markers.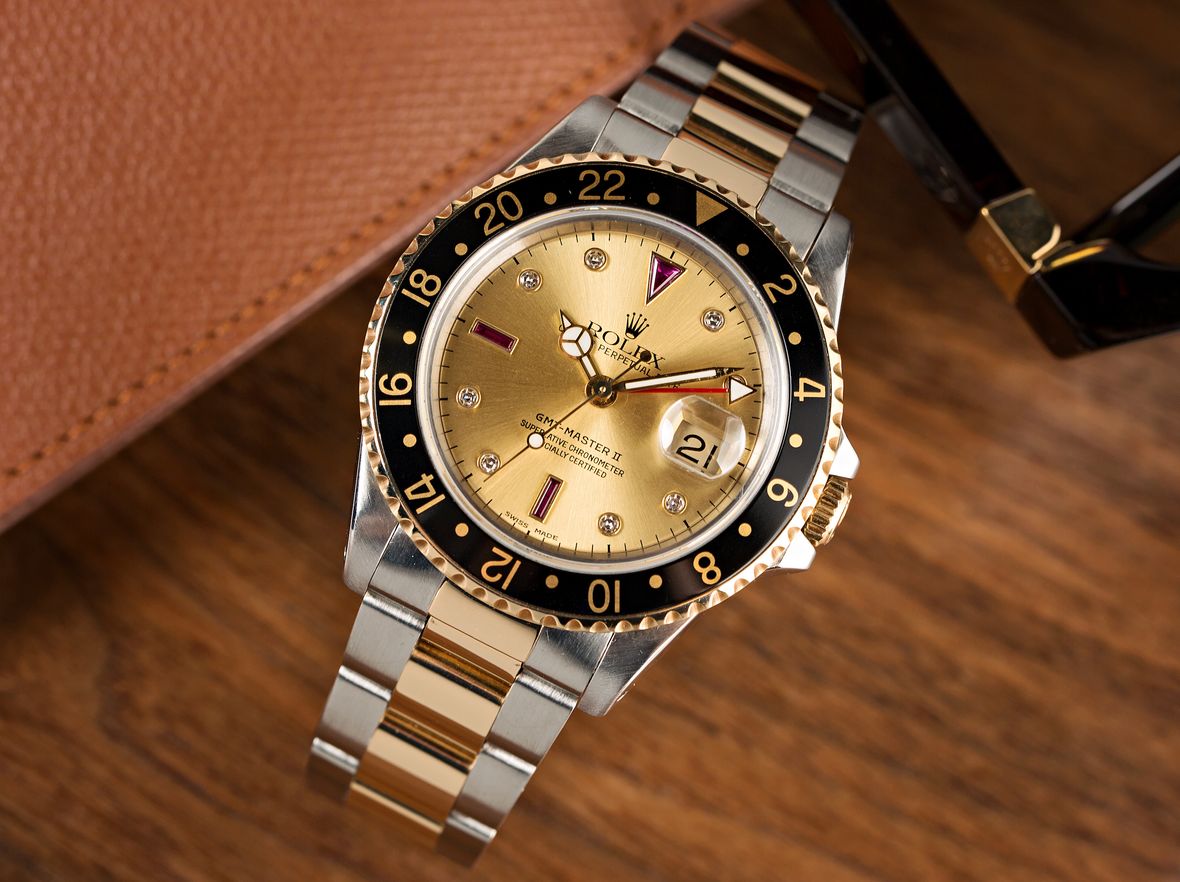 Additional Updates and Options
The dial and hands of the two-tone Rolex GMT Master II sported Tritium indices until the late 1990s when Luminova replaced it. Then around 2000, the updated Super-LumiNova came along (with the dial signatures changing from "Swiss" to "Swiss Made") and shortly the drilled lug holes disappeared. The lume-bearing indices, as well as all hands, remained 18K yellow gold throughout this time. However, solid end links also appeared on the bracelet around 2000, and then in 2003, we saw the laser-etched crown logo start to appear at the six o'clock location on the sapphire crystal.
Finally, right around 2006, just at the end of the long reign of the two-tone ref. 16713, the watch received an updated movement. The Caliber 3186 replaced the previous Caliber 3185, introducing Rolex's blue Parachrom hairspring and an updated jump-hour mechanism for smoother adjustment of the local hour hand.
During its production period, the two-tone GMT-Master II ref. 16713 was available with either an Oyster bracelet or a two-tone Jubilee bracelet. While the Oyster was typical of the Rolex sport watches, the Jubilee gave the watch a dressier, more refined look that many collectors began lusting over – especially if they had opted for the more luxurious steel and gold edition. The two bracelets give the watch two very different looks – one sportier and more classic, the other dressier and more elegant.
New Bezels, Bracelets, Movements, and Everose Gold
When the updated two-tone GMT-Master II ref. 116713LN replaced the ref. 16713, it relied on the same movement, b but virtually everything else had been updated. The new "Super Case" featured a thicker lugs and crown guards, the hour markers on the dial and hands were now larger (known as 'Maxi' style), the bezel insert was now constructed from Rolex's proprietary Cerachrom ceramic material, and it included a redesigned bracelet with completely solid links and a new machined clasp. Additionally, the GMT hand and the "GMT-Master II" name now appeared in bright green.
We saw the GMT-Master II continue to embrace these dressy refinements in recent history, finally introducing its proprietary rose gold alloy, Everose to the collection with the two-tone GMT-Master II ref. 126711CHNR. The reference 126711CHNR combines durable stainless steel with the warm hues of 18k Everose gold, pairing the two-tone case and bracelet with a bi-colored brown and black 'Root Beer' bezel made from Rolex's proprietary Cerachrom ceramic material. It's also important to note that the Everose gold version is currently the only two-tone GMT Master II available and at the present time, Everose gold has entirely replaced yellow gold in the brand's GMT-Master II lineup.
With this latest iteration of the Rolex GMT Master II, all the models (including the two-tone versions) were upgraded with the new-generation Caliber 3285 movement, the development of which required an impressive ten new patents. One of the most buzz-worthy upgrades to the Cal. 3285 was the Chronergy escapement, which features a skeletonized structure and allows for more efficient operation and a longer 70-hour power reserve.
Rolex GMT-Master II Two-Tone Frequently Asked Questions
Below are some of the most commonly asked questions about two-tone Rolex GMT-Master II watches.
What is a two-tone GMT-Master II?
When a GMT-Master II, or any watch for that matter, is referred to as 'two-tone' that means the watch case is forged out of two different metals. In the case of the GMT-Master II, it is 904L stainless steel and 18k gold (either yellow or Everose). Rolex's specific term for two-tone watches is Rolesor, so you will also frequently hear these models referred to as Yellow or Everose Rolesor GMT-Master II watches. The Rolex GMT Master II is also always outfitted with a matching two-tone bracelet, which is either an Oyster bracelet or a Jubilee depending on the specific model.
How much does a two-tone GMT-Master II cost?
The current two-tone Rolex GMT-Master II ref. 126711CHNR costs $14,800 when purchased brand new at retail, but this ultra-desirable model typically has waiting lists and trends hands for values in excess of their retail prices on the secondary market, with most selling for closer to $20k. On a pre-owned level, the most affordable models are generally ref. 16713 watches, with prices starting out at around $12,000, which only represents a very minor premium compared to the full-steel models from this generation.
Where can I find a two-tone GMT-Master II?
Today, Rolex only sells the two-tone GMT-Master II ref. 126711CHNR. However, these watches are so highly sought after, that there is generally a waitlist to get one. The secondary market is a great option for collectors who want to get their hands on a two-tone GMT-Master immediately – or for those that want their choice of discontinued models, as you can have the opportunity to buy current-production watches (like this ref. 126711CHNR) as well as other models that have not been available at a retail level for a number of years.
The secondary market has proven more appealing to many collectors in recent years because of all the options it provides. With Rolex only offering one version of the two-tone GMT-Master II, collectors who wanted a steel and 18k yellow gold model will need to turn to the pre-owned market, as did collectors who didn't have the patience for years-long waitlists with no promises of ever actually receiving one before the model gets discontinued.
Does the two-tone GMT-Master II hold good value?
The two-tone GMT-Master II holds great value. The Rolex GMT-Master II is one of the world's most desirable watches and nearly all examples of it are worth more than their original brand-new retail prices. Both current-production models and older discontinued references alike are all worth more than their original owners paid for them, so not only do they hold good value, but some are even able to appreciate in value.
What's great about a two-tone GMT Master II is that you have the added value of gold built into the watch, but even more important than the value of the gold itself is the fact that these watches cannot be purchased brand new without spending a lot of time on a waiting list. This virtually guarantees that you will always have a buyer should you wish to sell your two-tone GMT-Master II, and there is a pretty good chance that you will get as much or even more than you originally paid for it.