Vintage Rolex watches are often celebrated for their intentional designs, and few models are more purpose-built than the Rolex Sea-Dweller. First launched in 1967, the Sea-Dweller is a professional dive watch that's specifically designed to contend with the unique challenges of saturation diving, and the reference 1665 is the very first Rolex Sea-Dweller model that was ever released to the public. As the inaugural execution of the brand's saturation diver's watch, the ref. 1665 will always hold a special place in Rolex's history; however, it also features a number of unique features that help set it apart from all other Sea-Dweller references.
Want to learn more? Here's a closer look at the vintage Rolex Sea-Dweller ref. 1665 and why it is a favorite among so many collectors.
Rolex Sea-Dweller 1665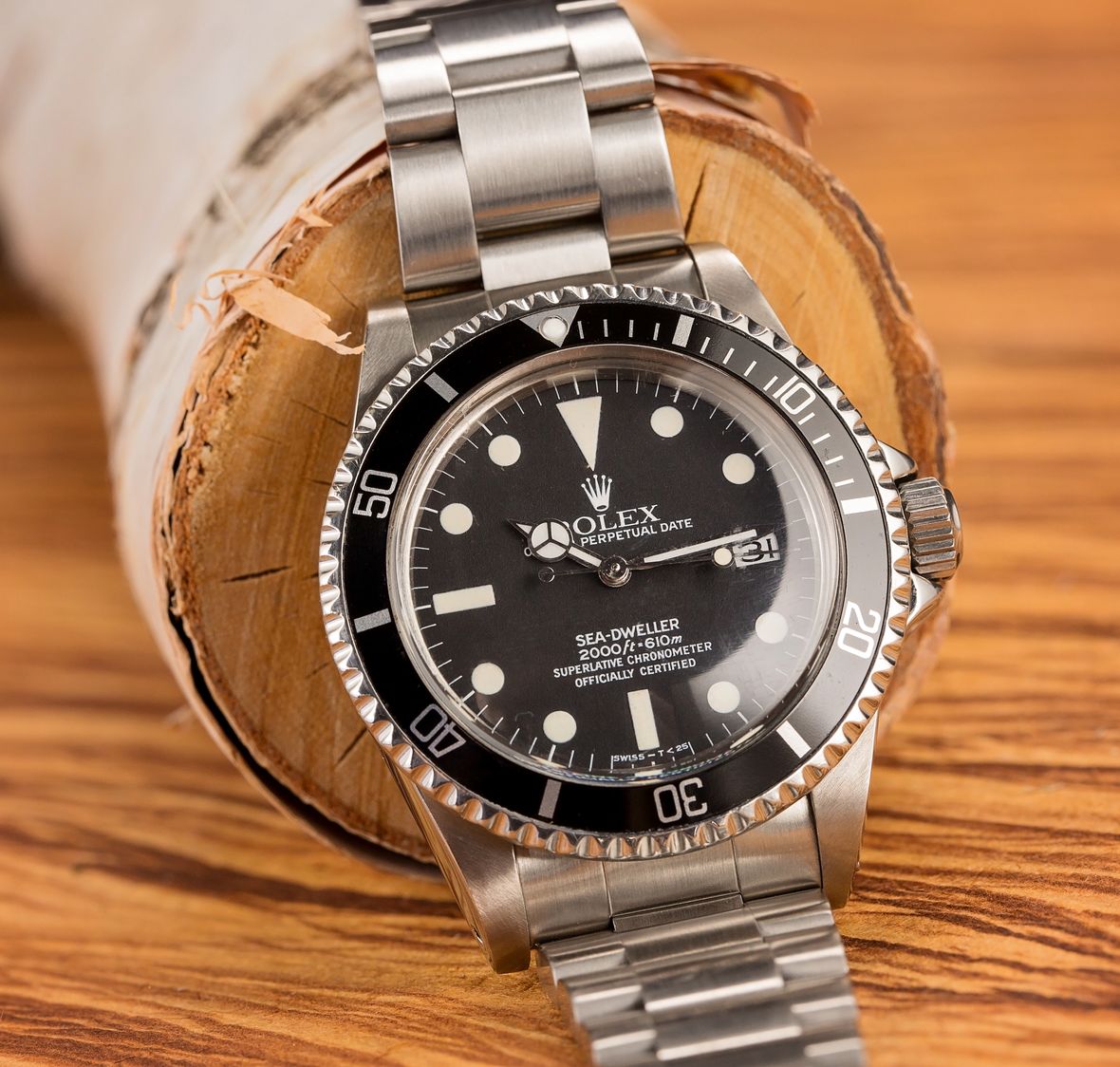 Sea-Dweller Reference 1665 Key Features:
Reference Number: 1665
Production Years: 1967 – 1983 (Approx.)
Case Size: 40mm
Materials: Stainless Steel
Functions: Time w/ Running Seconds, Date Display, Helium Escape Valve
Dial: Matte Black w/ Luminous Hour Markers
Luminous Material: Tritium
Bezel: Bidirectional, Aluminum Insert w/ 60-Minute Scale
Crystal: Acrylic (Domed)
Movement: Rolex Caliber 1575
Water Resistance: 610 Meters / 2,000 Feet
Strap/Bracelet: Oyster Bracelet (Stainless Steel)
Price: $22,000 – $100,000+ (Pre-Owned)
Availability: Pre-Owned Market Only
Click here for our Ultimate Buying Guide on the Rolex Sea-Dweller.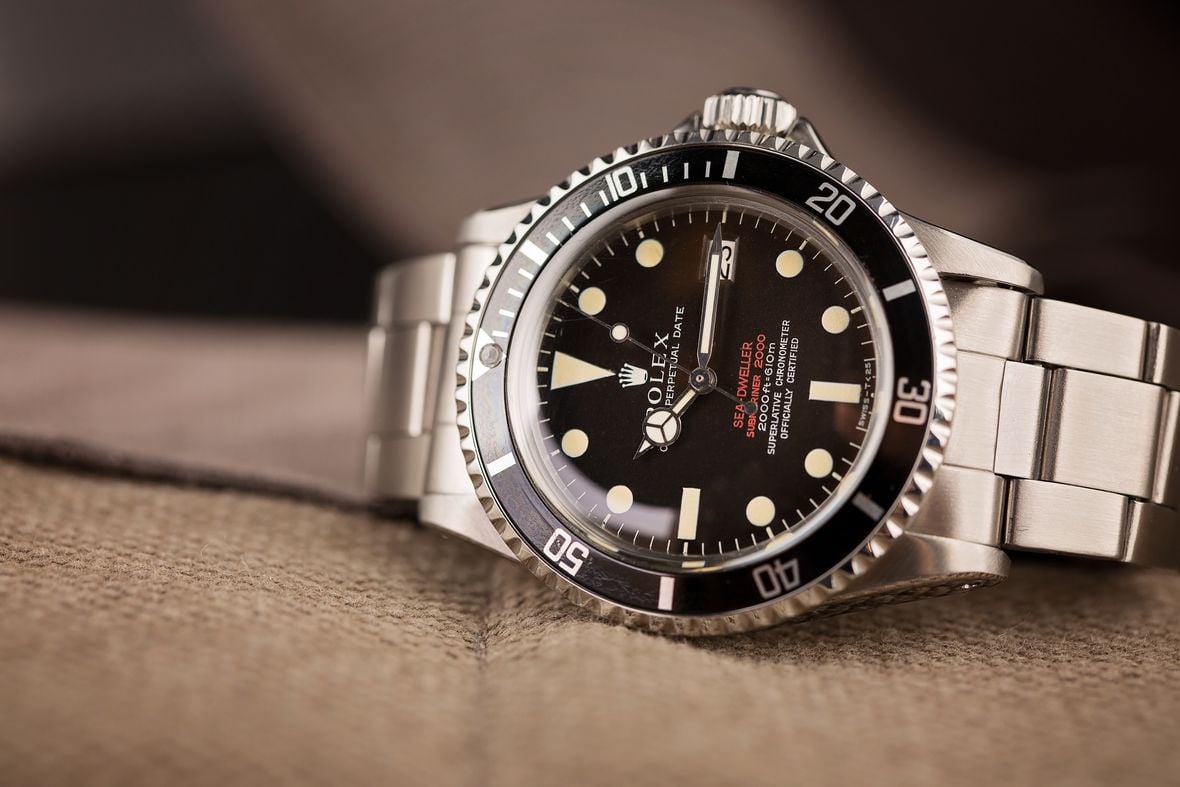 What Makes the Rolex Sea-Dweller 1665 So Special?
The biggest difference between the Rolex Sea-Dweller and the Submariner is that the Sea-Dweller features increased water resistance and a helium escape valve, which enables it to let trapped helium molecules safely exit the case without damaging the watch. This fascinating piece of technology was developed by Rolex during its early partnerships with the U.S. Navy and the French deep-sea diving company COMEX, and it has been the defining feature of the Rolex Sea-Dweller collection ever since. Not only is the reference 1665 the very first Sea-Dweller that Rolex ever produced, but it also represents the first time that a helium gas escape valve ever appeared on a Rolex watch.
In addition to being the very first Rolex Sea-Dweller, the ref. 1665 is also the only version of the Sea-Dweller to ever feature an acrylic crystal. All subsequent models feature flat crystals made from scratch-resistant synthetic sapphire, but the Sea-Dweller 1665 is fitted with a domed crystal made from thick plexiglass, which offers an unmistakably vintage overall look and feel. Beyond that, the reference 1665 is the only version of the Sea-Dweller to ever feature a 610 meter depth rating, and it also happens to be the only Sea-Dweller model that has a movement without a quickset date.
Rolex Sea-Dweller 1665 Dial Variations
Despite being a single reference number, a surprising amount of variation can exist among Rolex Sea-Dweller 1665 watches, which makes them popular targets for many of today's collectors. Although all examples feature 40mm stainless steel cases, black bidirectional timing bezels, and domed acrylic crystals, a variety of different dials can be found in surviving reference 1665 watches.
The very first examples of the ref. 1665 are known as "Double Red Sea Dweller" (DRSD) watches because their dial features two lines of red text that read "SEA-DWELLER" and "SUBMARINER 2000." The "Double Red" version of the Rolex Sea-Dweller ref. 1665 was produced from approximately 1967 until 1977; however, many of these Double Red Sea-Dweller dials were replaced with later-era versions that featured all white text during repairs and routine servicing. Consequently, only a fraction of the number of original Double Red examples still remain in existence today, and the DRSD is an extremely popular vintage Rolex watch among serious collectors.
After 1977, Rolex switched to a dial with all white text for the Sea-Dweller ref. 1665, and the "SUBMARINER 2000" line was eliminated entirely. Nicknamed the "Great White," this style of Sea-Dweller dial remained in production until the reference 1665 was finally discontinued in 1983. With that in mind, not all of these Sea-Dweller 1665 dials are the same, and there exist numerous different variations, which have been categorized as Mark I through Mark 4.
Furthermore, Rolex also produced special versions of the Sea-Dweller ref. 1665 that were issued to COMEX divers, and some of these special edition examples feature dials with the COMEX logo printed upon them. Beyond that, there are also special order Sea-Dweller 1665 watches that were produced for royal families in the Middle East, and they often feature dials with unique crests or text, such as the "Khanjar" and "Qaboos" dials. As you might imagine, these special order Sea-Dweller dials are incredibly rare and exponentially increase the value of the watches that are fitted with them.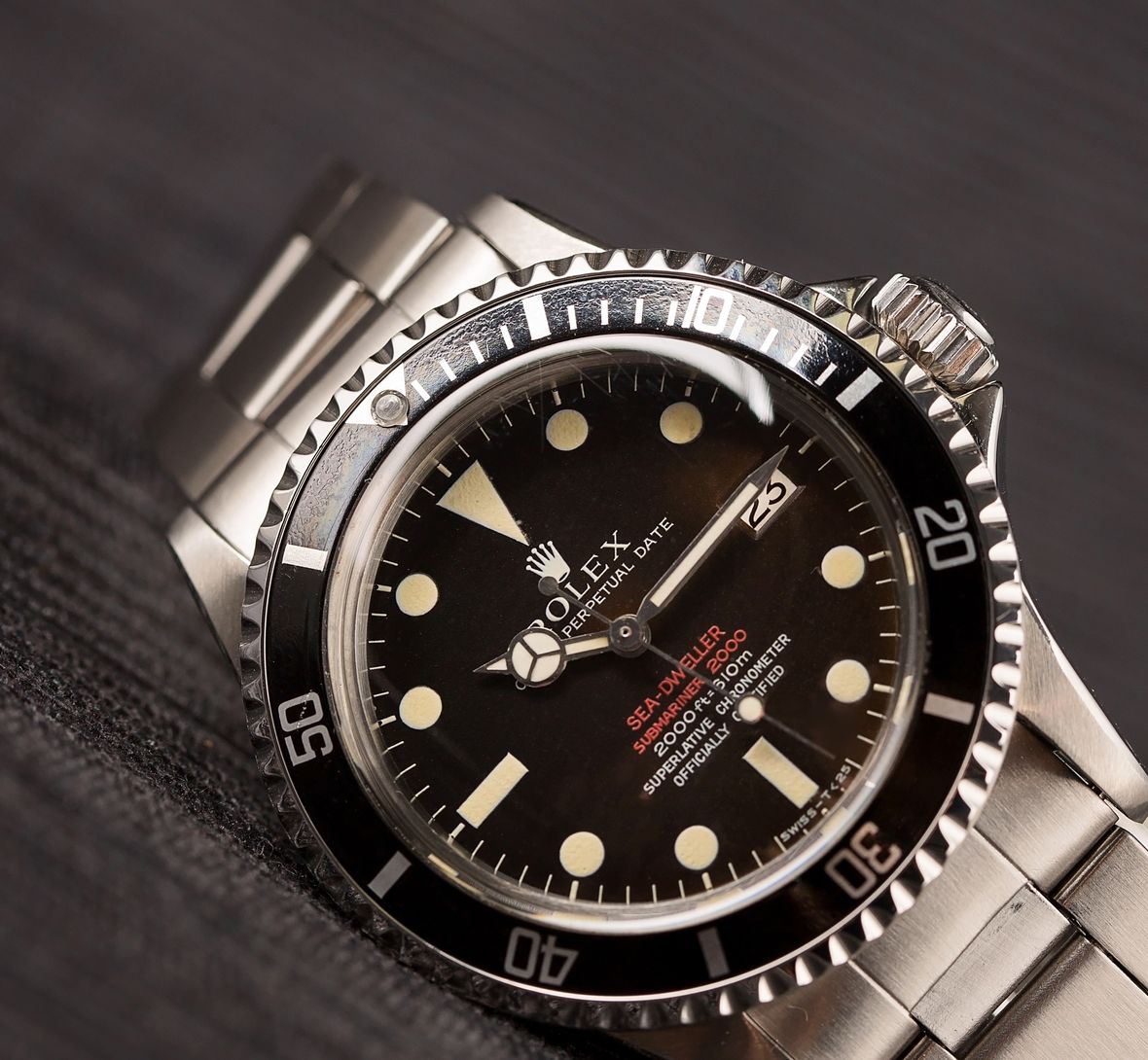 How to Buy a Sea-Dweller ref. 1665
Given that the Rolex Sea-Dweller ref. 1665 has been discontinued for multiple decades, the pre-owned market is now the only place where you can buy one. Although they are not quite as common as their vintage Submariner siblings, Rolex Sea-Dweller 1665 watches are still readily available on the secondary market, although it may take a little bit of searching to find an example that checks all the right boxes in terms of dial type and overall condition.
Additionally, due to the variety of different dials, Rolex Sea-Dweller reference 1665 watches can be found at an incredibly wide range of prices. On the low end, pre-owned prices start out at a little bit over the $20k mark but quickly shoot up to a minimum of around $50k to $65k if you are interested in one of the early versions with a Double Red dial. With that in mind, a COMEX Sea-Dweller 1665 will easily be the most expensive (as will any of the special order pieces from the Middle East), with prices guaranteed to be somewhere in the six-figure territory – and that is if you are lucky enough to even be able to find one available for sale.
The Rolex Sea-Dweller ref. 1665 is one of the most important dive watches that the brand has ever put forward. Not only was it the very first Sea-Dweller that was released to the public, but it was also one of the very first commercially available professional dive watches to ever feature a helium escape valve. On top of that, its domed acrylic crystal makes the ref. 1665 unique among all other Sea-Dweller references, and is the only one that truly offers a definitively vintage overall aesthetic. Whether you appreciate the watch for its important role in history or simply because you want a purpose-built tool watch from the golden era of mechanical timepieces, the Rolex Sea-Dweller 1665 is a true vintage classic and makes a fantastic addition to any luxury watch collection.