When it comes to vintage dive watches, it is hard to beat the classic purpose-built elegance of the Tudor Submariner 7928. These days, Tudor watches have their own distinct design language, but for a significant portion of the brand's history, Tudor's watches shared case components with their Rolex siblings, and it is these models that are often the most interesting for watch enthusiasts to study and collect.
With prices for vintage Rolex Submariner watches continuously on the rise each year, a lot of collectors have been turning their attention to vintage Tudor Submariner models, which can often be purchased for significantly more reasonable sums compared to their Rolex-branded counterparts. As prices for vintage Rolex classics like reference 5512 and 5513 Submariner watches become increasingly unattainable, models like the Tudor Submariner 7928 offer a lot of value for collectors who are looking to own a legitimate piece of dive watch history.
Vintage Tudor Submariner 7928
Tudor Submariner 7928 Key Features:
Reference Number: 7928
Year of Introduction: 1959
Case Size: 39mm
Materials: Stainless Steel
Functions: Time w/ Running Seconds, Rotating Timing Bezel
Bezel: Bidirectional, Black Aluminum Insert w/ 60- Minute Scale
Dial: Black w/ Luminous Hour Markers
Luminous Material: Radium or Tritium
Crystal: Acrylic (Domed)
Movement: Caliber 390 (Self-Winding)
Water Resistance: 200 Meters / 660 Feet
Strap/Bracelet: Stainless Steel Oyster Bracelet
Approx. Price: $9,000 – $45,000 (Pre-Owned)
Click here to learn more about the history of Tudor watches.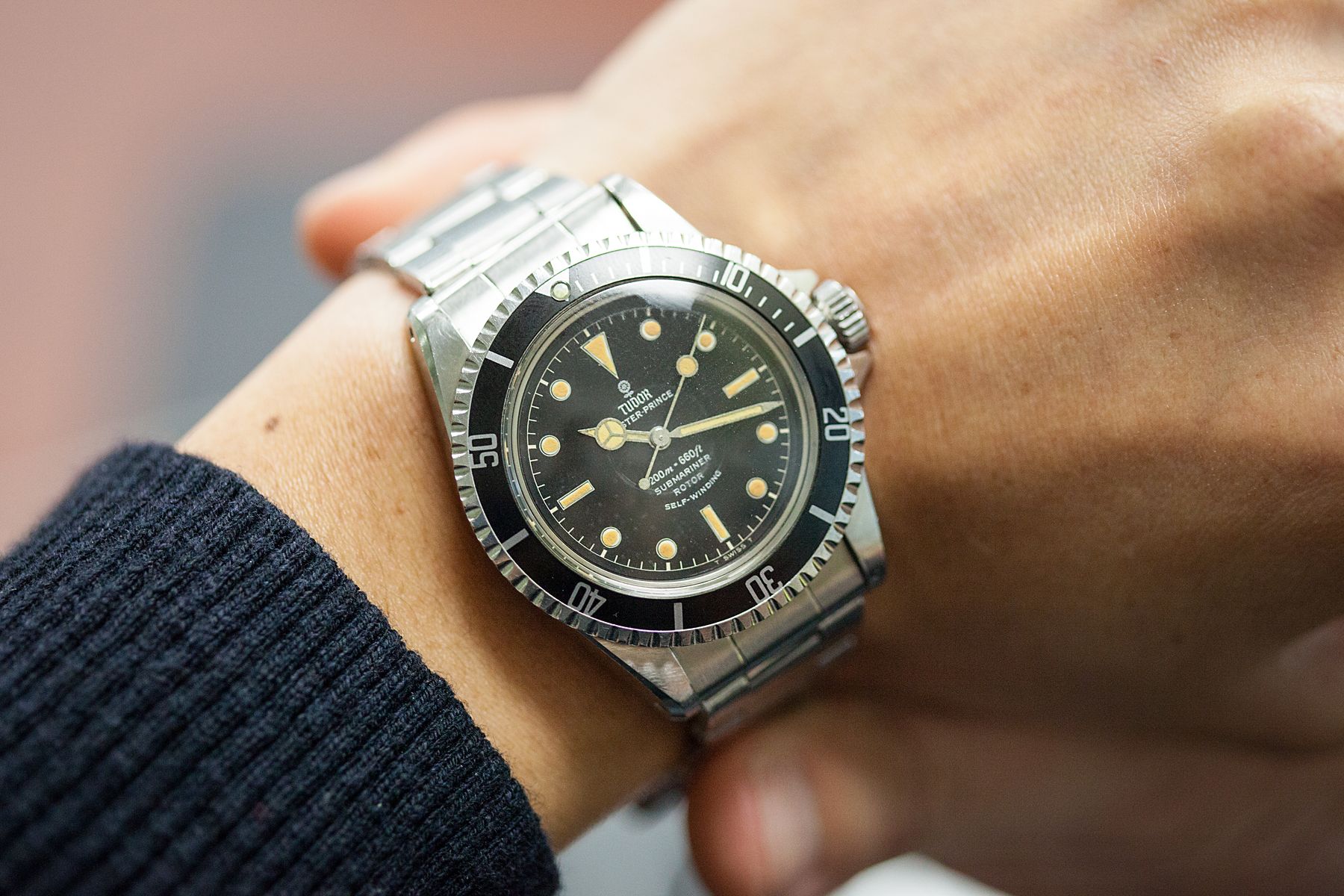 About Tudor Submariner Watches
Tudor actually functions as a separate company from Rolex, despite the fact that Tudor is owned by the greater Rolex parent company. Original Rolex founder Hans Wilsdorf wanted to create a company that could create a product that was as durable and reliable as a Rolex but at a more affordable price point. Originally, Tudor was able to achieve this by using Rolex cases fitted with third-party movements, which allowed its watches to offer all of the same water resistance as their Rolex siblings. As a result of this brand positioning, Tudor watches have always symbolized affordable quality, and long-lasting performance.
The Tudor Submariner is a great example of the brand's on-going commitment to offer high-quality alternatives to Rolex's products, and for almost as long as Rolex has been selling dive watches, Tudor has also been creating timepieces specifically for scuba divers and the underwater world. In terms of water resistance, it is here where the difference between the Tudor and Rolex watches becomes virtually negligible.
Tudor watches were required to meet very strict standards of quality in order to be sold by Rolex's retail network, and their shared case components guaranteed identical water resistance. In fact, the only real tangible difference between vintage Tudor and Rolex dive watches was the type of movements. Although the Rolex might be more accurate, the Tudor Submariner was still required to be water-resistant to the same depth as its Rolex-branded counterpart.
The Details Of The Tudor Submariner 7928
The Tudor Submariner reference 7928 could essentially be seen as the Tudor equivalent of either a reference 5512 or 5513 Rolex Submariner. Just like the Rolex ref. 5512, the Tudor Submariner 7928 arrived in 1959 and introduced a larger case with crown guards to Tudor's dive watch collection. Additionally, just like its Rolex-branded sibling, the Tudor ref. 7928 offered a no-date display with Mercedes-style hands and a black rotating timing bezel, and early examples can even be found with chapter ring dials and square crown guards.
However, one rather notable difference is the dial text on the vintage Tudor Submariner 7928. Below the depth rating and the Submariner name are the words "Rotor" and "Self-winding" with the final line of text printed in an upward-facing curved script. Sometimes referred to as "Smiley Dials" due to their last line of writing looking like a big smile, this unusual design detail is unique to Tudor and you will not find it on vintage Rolex dials from the same era.
Additionally, just like its Rolex-branded cousins, surviving examples of the Tudor Submariner ref. 7928 can be found with a surprising range of variation in regards to its dials, bezels, hands, and crown guards, and the ref. 7928 holds the title of being the most diverse single reference in Tudor's vintage Submariner lineup. This further adds to the excitement for today's collectors and makes the ref. 7928 a popular target for vintage Tudor enthusiasts.
The Value Proposition of Tudor Submariner Watches
With the exception of its movement, the vintage Tudor Submariner 7928 checks all of the same boxes as some of Rolex's most celebrated vintage dive watches, yet it can often be purchased for a fraction of the price. Granted, vintage Tudor Submariner watches are still fairly expensive timepieces, as they come from one of the world's most respected watch manufacturers and offer a fascinating history that includes everything from aquatic exploration to military use. However, everything is relative, and when you compare the price of vintage Tudor Submariner models to those produced by Rolex, the term "value proposition" does inevitably come to mind.
While Tudor is undoubtedly Rolex's more affordable sibling company, the brand has more than enough merits to stand on its own two feet. Tudor Submariner watches have been issued to members of numerous military branches including the Marine Nationale during the glory days of the mechanical wristwatch, and while they may never reach quite the same eye-wateringly expensive values as vintage Rolex watches, that is precisely what makes them so enjoyable to collect.