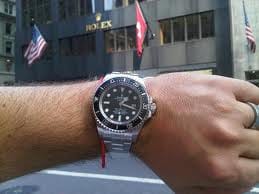 ROLEX WATCHES IN ANAHEIM: BUY CERTIFIED ROLEX WATCHES
Anaheim is conveniently located a few miles from Bob's Watches, the world's largest pre-owned Rolex exchange.  We take the guesswork out of shopping secondhand with a transparent process and competitive prices.  You can rest assured that you are getting the best deal when buying a Rolex watch from Bob's Watches in Anaheim, CA.  You don't have to wonder if your watch is genuine, either. Every timepiece in our inventory is certified pre-owned by WatchCSA. You have nothing to lose when you shop at Bob's Watches. Browse our entire inventory now [www.bobswatches.com], or call us today to set up an appointment to find the Rolex watch of your dreams in person: (800) 494-3708
No other brand matches Rolex's reputation for class, prestige, and elegance. That's why some of the world's most noted dignitaries and public figures choose Rolex, and Bob's Watches is your premier one-stop pre-owned Rolex shop.
BUY ROLEX WATCHES IN ANAHEIM
Bob's Watches is the best place to buy Rolex watches in Anaheim, hands-down. Why? We offer the largest selection of certified pre-owned Rolex watches on the market today. Every Rolex for sale is in stock and ready to ship to your door the next day. We stand by the quality and authenticity of every Rolex watch we sell because every watch is certified genuine by WatchCSA to protect our valued customers. We also ship every order overnight, making it easier than ever before to buy a Rolex watch.
Have questions? Contact our team of experienced customer service representatives or speak to one of our in-house Rolex experts. We are happy to answer any questions you might have before you buy. At Bob's Watches, you will get the best price – better than any local jewelry shop or online platform. With decades of combined Rolex experience, we have the knowledge and resources to beat any price on the market.
SELL ROLEX WATCHES IN ANAHEIM
Are you ready to sell your Rolex watch in Anaheim?  Click here [https://www.bobswatches.com/sell-rolex-watch] or call us today to get started: (800) 494-3708.  Selling your Rolex for the best price is easy and convenient when choosing Bob's Watches.  There are no pushy salesmen, and there is no need to haggle.  Our innovative Rolex exchange concept is completely transparent, and we are prepared to offer you fair market value for your Rolex without the stress.  No other company will match our price.
Bob's Watches is the world's #1 most trusted pre-owned Rolex exchange. We make selling your Rolex watch safe and easy with fully-insured and pre-paid shipping labels and premier customer service. You have nothing to lose when you choose Bob's Watches.
ANAHEIM LOVES BOB'S
Anaheim is the second-largest city in bustling Orange County and is home to horology enthusiasts of all walks of life. Shop Rolex watches in Anaheim online or in-person: https://www.bobswatches.com/rolex/
WHY CHOOSE BOBS?
Bob's Watches is the #1 trusted pre-owned Rolex dealer in the world
Bob's Watches boasts an "A" rating with the Better Business Bureau
You can save time and money when you shop at Bob's Watches
Bob's Watches offers fully-insured FedEx shipping on all orders
Shop without the stress of haggling
3-Day money-back guarantee
ANAHEIM IS HOME TO THE LARGEST TOURIST ATTRACTION IN SOUTHERN CALIFORNIA
Anaheim is in Southern California and is home to some of the largest tourist attractions in the entire world. All walks of life make their way through Anaheim, wearing some of the most remarkable timepieces ever made. Bob's Watches is at the heart of it all, bringing you the best deals on pre-owned Rolex watches.
TOP ANAHEIM ATTRACTIONS
Disneyland
Disney's California Adventure
Anaheim Stadium
Downtown Disney
Anaheim Packing District
Honda Center
Anaheim Convention Center
Anaheim Garden Walk
Yorba Regional Park
Center Street Promenade
ABOUT ANAHEIM
Anaheim is located just outside of Los Angeles in Orange County.  Tourists all over the world flock to the popular Southern California city because of its famous attractions and proximity to the beach.  Many famous people hail from Anaheim, including Gwen Stefani, Leo Fender, and Milo Ventimiglia.  It's a hub for culture, fashion, and entertainment – where an excellent Rolex watch is a must-have.  Hop on the freeway and visit Bob's Watches to find the perfect luxury watch for your wrist.
USED ROLEX ANAHEIM AT BOB'S WATCHES – THE ROLEX EXCHANGE
With Bob's Watches in your own backyard, buying and selling Rolex watches in Anaheim has never been easier!  Even for customers around the country, the process is simple, quick, and safe.  It all begins with a free, no-obligation quote.  Our team of Rolex experts will take care of the rest.
We offer the best prices on the used Rolex market, hands down.  We are also one of the only companies in the industry that keeps every Rolex watch listed on our site in stock.  That means that every Rolex is ready to ship to your door right now and can arrive as soon as tomorrow with our free, fully-insured overnight delivery.
We trust WatchCSA to certify each Rolex watch so that we can offer you a 100% guarantee that the timepiece you are about to invest your hard-earned money on is authentic. With this promise and the best prices on the market, you can shop with confidence when you choose Bob's Watches.
Discover all that Anaheim, CA. has to offer and look stylish at the same time with a high-quality luxury watch on your wrist. There is no better place to shop for the Rolex of your dreams than at Bob's Watches [https://www.bobswatches.com/rolex/]. If you're interested in selling your pre-owned Rolex, we will offer you the best price in the industry.
You have nothing to lose when you choose Bob's Watches because we offer a 3-Day money-back guarantee.  We make the process of buying and selling Rolex watches easy and offer the best prices in the industry.
Call us today to schedule your appointment to shop our inventory: (800) 494-3708
BY APPOINTMENT ONLY