Inside the Rolex Explorer II 1655
From the Caves to Hollywood: Inside the Rolex Explorer II 1655
Not all vintage Rolex references that are highly regarded today had successful receptions when they first debuted. Just look at the mega-collectible "Paul Newman" Daytona: when these "exotic dial" chronographs first started to appear at dealers, most people thought they were ugly, and some even went so far as to have their exotic, "Paul Newman" dials swapped out for standard ones during routine servicing.
In regards to vintage Rolex watches, oftentimes it is the initial cold response to a particular model that ultimately leads to a greater level of rarity and desirability for future collectors. Today we are taking a look at the very first Rolex Explorer II, and a personal favorite of mine: the reference 1655.
Introducing the Explorer II 1655
In 1971, Rolex introduced the very first version of the Explorer II: the reference 1655. At the time of its release, Rolex watches were not regarded as the status symbols that they are today, and the Explorer II 1655 was aimed specifically at speleologists, intended to be much more of a 'tool watch' than a luxury item.
As a company that built its reputation producing high-end watches that were viewed as items of necessity rather than premium-priced accessories, this approach was very much in-line with Rolex's roots. The Explorer II 1655 was only ever manufactured in stainless steel, with absolutely no solid gold or two-tone options available. Additionally, like many of Rolex's other sports watches, the reference 1655 Explorer II was exclusively offered with a black dial.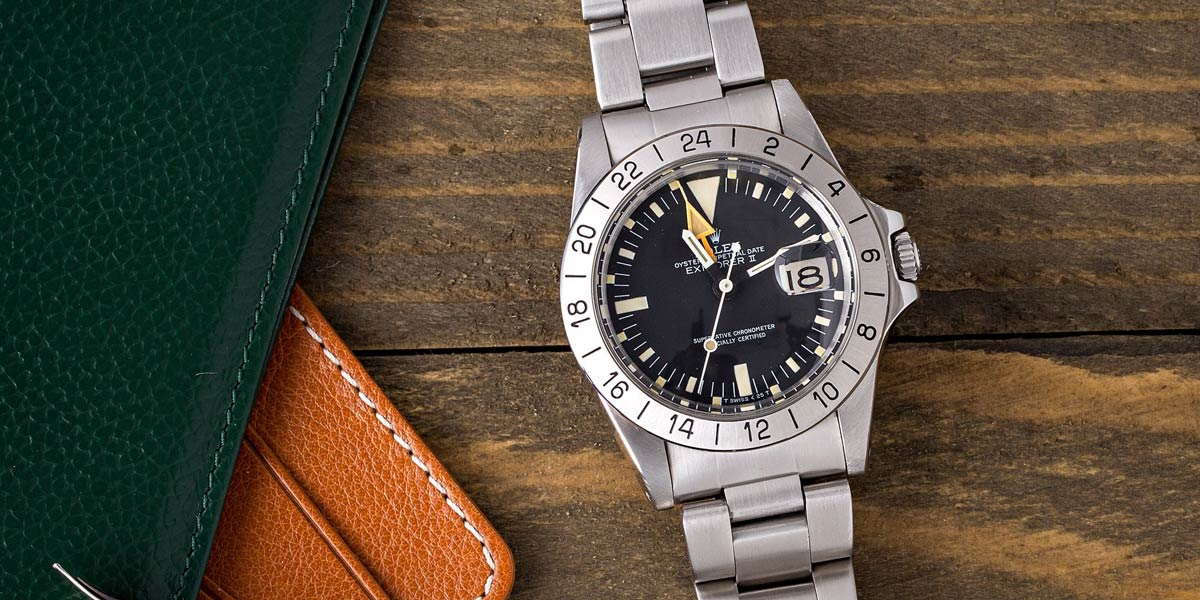 The large orange 24-hour hand on the Explorer II 1655 was intended to serve as a prominent AM/PM indicator.
The Movement
The Rolex Explorer II 1655 is powered by the 26-jewel Caliber 1575 movement, and the watch features a number of characteristics aimed specifically at cave exploring. Among these are a date function, a stationary bezel with 24-markings, a 100-meter depth rating, and a large, brightly colored 24-hour hand.
The idea behind this unique set of features was to create a watch for cave explorers working for days in total darkness, who Rolex claimed would "soon lose all notion of time: morning, afternoon, day, or night."
Powering the Rolex Explorer II 1655 is the Caliber 1575 movement.
A 15 Year Production Run
The Rolex Explorer II 1655 experienced relatively poor sales upon its initial introduction, and remained in production for about fifteen years until it was discontinued in 1985. Its narrow and highly-specific target demographic, coupled with a dial that many collectors at the time deemed to be "cluttered" and "illegible" hindered its popularity, and relatively few examples were sold.
During its 1971 to 1985 run, the reference 1655 went through five slight dial changes, four bezel variants, and two different second hands. All changes were very minor; however as was the case with the "Paul Newman" Daytona, none of the changes managed to stimulate Explorer II sales, and reference 1655 watches lingered on dealer shelves. Even celebrity endorsements (including one from the "King of Cool") fell short of drastically increasing the popularity of the watch. While it is now highly collectible, the Rolex Explorer II 1655 experienced relatively poor sales when it was first released.
Pictures Or It Didn't Happen
Both Olympic ski champion, Jean-Claude Killy and actor, Steve McQueen had their names associated with the Explorer II 1655. Both men were featured in numerous advertisements for the watch; however Steve McQueen never actually wore the reference 1655.
There are many pictures of McQueen wearing a reference 5512 Submariner, but there are no known photos of him wearing an Explorer II 1655 - including the photos that were used for the advertisements.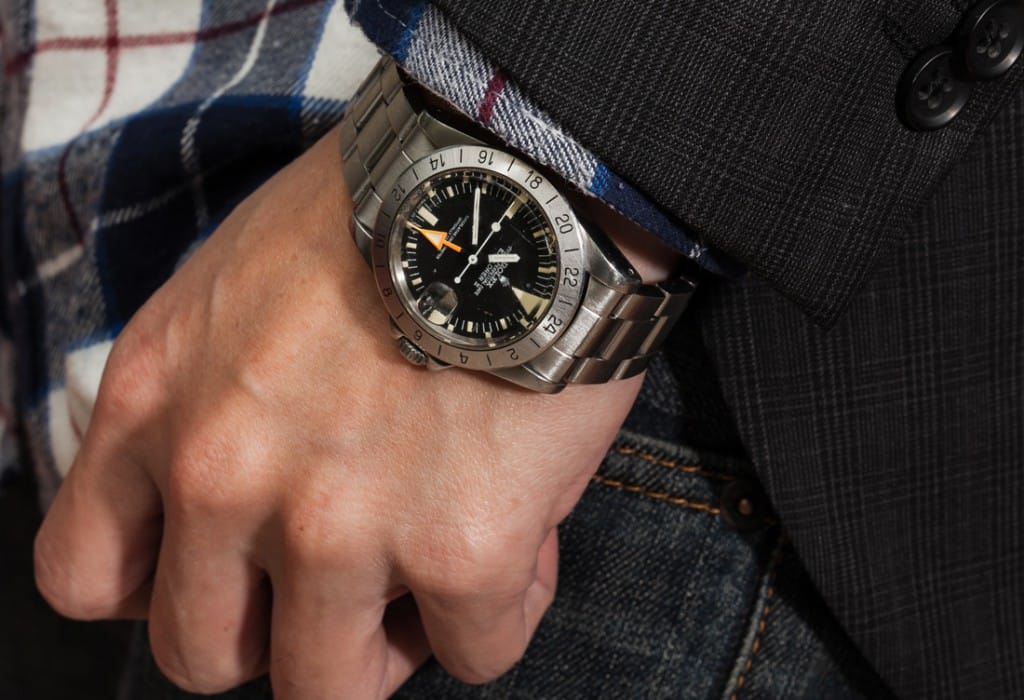 Although it is frequently called the "Steve McQueen" Rolex, the famous actor never actually wore an Explorer 1655 in real life.
As it stands today, the Rolex Explorer II 1655 is somewhat of an oddball in Rolex's history. It was made explicitly for cave explorers, yet promoted by actors and professional athletes. Its sales were disappointing while in production; however it is now one of the more desirable and rare vintage Rolex references.
Even the watch's unusual dial and prominent 24-hour hand - which were previously criticized - have now become the defining characteristics that give the reference 1655 such value among vintage collectors. The most recent version of the Rolex Explorer II (the 42mm reference 216750) even goes so far as to bring back the large, bright orange, arrow-shaped 24-hour hand as a nod to the original version from the early 1970s.
It seems that nearly every watch Rolex makes is a classic - even when they miss, they hit the mark… it just may take a few decades to catch on! It may have initially been unpopular, but now the Explorer II 1655 is among the most collectable vintage Rolex references.