A Guide to Buying a Rolex Submariner
The recent surge in interest in high-end watches, both new and used, has definitely affected the market for vintage Rolex timepieces. Should you invest in a used Rolex and, if so, is there one reference or type that is a better choice than another?
It is difficult to make any definitive statements about Rolex watches because there are so many types and styles to choose from. What speaks to one person may leave another cold. However, there are certain vintage Rolex watches that have stood the test of time and have influenced a vast number of purchasers. One of these is the classic Rolex Submariner - the archetype of the modern dive watch.
In order to understand the value of the Rolex Submariner and why so many people choose to invest in this vintage watch, it may be helpful to sketch in a little of the background on this classic timepiece. With this information, you may be better prepared to purchase a Rolex Submariner and to choose the right model for your particular taste and style.
The History of the Rolex Submariner

The Rolex Submariner is the product of decades of precise technological refinement. The rich Submariner history of this timepiece makes it an interesting watch that collectors have fallen in love with.  The Rolex Submariner evolved from earlier efforts to make a watch that was truly water-resistant. Rolex experts worked for many years to perfect the submersible features of this watch, and the original Submariner debuted at the 1954 Swiss Watch Fair. The "Submariner" name is in keeping with the minimalist Rolex nomenclature found with the DateJust and other models.
The Rolex Submariner is known for its resistance to water and was the first watch ever designed for deep sea diving. Submersible up to 980 feet or 300 meters, the Rolex Submariner far outperformed the earlier "waterproof" watch models whose maximum sustained water resistance only went to 200 meters or 660 feet of pressure. This incredible resistance to water pressure meant that deep-sea divers could wear the Rolex Submariner on all but the very deepest dives.
Famous Rolex Submariner Wearers
One thing that creates the fission of popularity for various Rolex watch models has always been the celebrities or noted people who choose to wear them. The Rolex Submariner certainly stands out in that category, having been featured in eleven James Bond movies and worn by Bonds including Roger Moore, Timothy Dalton and even Sean Connery.
Back in the real world, the Rolex Submariner got a workout on the wrist of Norwegian anthropologist Thor Heyerdal during his Ra II 1970 expedition and withstood more than 1,000 dives during his Moana sea expedition. During this time, the Submariner proved its true worth, withstanding temperatures of 45 degrees below zero Centigrade. This led to the French diving company COMEX choosing the Submariner as its standard issue for saturation divers as well as the British Royal Navy making it the choice for its frogmen.
The Real Deal: Features of the Rolex Submariner
The Submariner has changed its looks over the years, so it pays to know the features of various time periods when you are shopping for one of these vintage watches. Today's Submariner features the "cathedral" or "Mercedes" hands with the characteristic rounded piece near the point of the hand. Early models in the 1950s featured the "pencil" hands that were much smaller and plainer. The newer models also feature the name "Submariner" on the dial and have two options for the winding crown, a small and an oversized piece.
One of the most important features of the Submariner is the unidirectional bezel that allows divers to track immersion time. The bezel rotates in a counterclockwise manner so that time is always "made shorter." A diver can easily keep track of the amount of time underwater with this feature.
The Submariner is part of the Oyster Perpetual line of self-winding watches. A perpetual rotor operates when the watch is moved even slightly and continues to keep time for up to three days.
The Submariner comes in three forms: stainless steel, two-tone and gold. The stainless are the least expensive watches while the gold are the most expensive, with two-tone falling in between.
Stainless Steel Models
The Black Rolex Submariner Model #16610. This watch is an excellent choice for an entry-level Rolex. Its simple, clean lines and sharp back face with luminescent hands make it a great timepiece for almost any wear. The stainless steel bracelet and case are striking, and the price of this watch usually ranges from $4,500 to $6,000, depending on the age and condition. The 16610 was produced from 1989 to 2010.
The Black Rolex Submariner Model #14060. Practically a clone of the 16610, the 14060 has no date, making it the watch of choice for serious collectors. Many enthusiasts prefer the no date functions as they believe them to be more visually balanced. There are fewer of these watches, which were produced from 1990 to 2002, than of other models, making them slightly higher in price $4,300 to $5,500.
The Rolex Submariner Green Anniversary Model #16610LV. This watch features a variety of sleek engineering tricks such as automatic winding and luminous markers. This stainless steel oyster with 31 jewels and quickset was produced between 2003 and 2010 to commemorate the 50th anniversary of the Submariner. Today, this lovely collectible watch can be found for as little as $6,300, although some models may run as high as $8,500.
The Rolex Submariner Green Dial Model #116610LV. Like the 16610LV, this watch was designed to commemorate the 50th anniversary of the Submariner. Known as the "Rolex green Submariner," this watch, which is currently in production by Rolex, features a green bezel and Maxi dial. This model has become something of a rage among collectors and currently sells for between $8,000 and $9,500 for a used model.
The Rolex Submariner Ceramic Bezel Model #116610. This model is currently in production by Rolex and features a waterproof 40mm stainless steel case, a signature screw down crown and a handsome black dial. The dial features white LumiNova hour markers for a striking appearance. The current pre-owned prices for this watch range from $8,000 to $9,500.
Two-Tone Models (18k and Steel)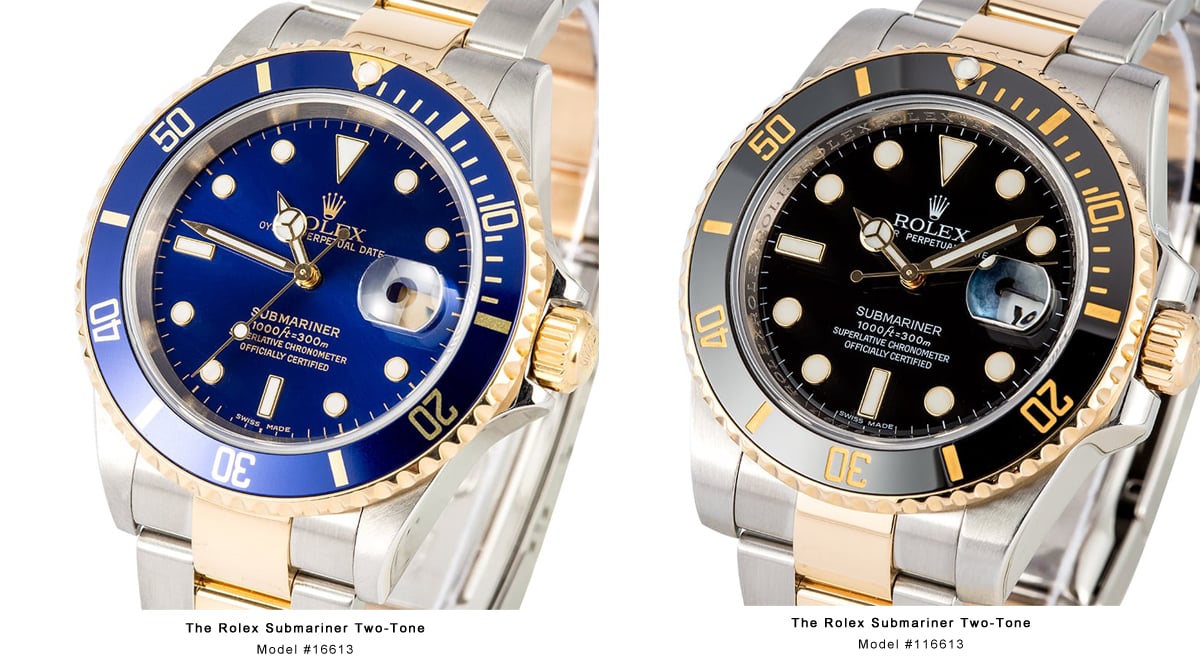 The Rolex Submariner Two-Tone Model #16613. This beautiful two-tone watch features an easy rotating ceramic diver's bezel, true to the watch's original purpose. It also features a 31-jewel movement and self-winding technology, making it a truly worry-free and useful timepiece. With a sapphire crystal this watch comes with a number of dial and bracelet options. Buyers can search for a dial in black, silver, and blue as well as luminous hour markers. This model was produced from about 1988 to 2010. These watches can be found on the resale market today for between $6,000 to $9,000, depending on age and condition.
The Rolex Submariner Two-Tone Model #116613. This lovely watch has a brilliant blue face with luminous hands and markers. The handsome bracelet is made with 18-karat yellow gold mixed with steel for an interesting look. The ceramic bezel two-tone Submariner can cost as little as $9,000 to as much as $12,500 on the used market.
Solid 18k Gold Models
The Rolex 18K Gold Submariner Model #16618. This watch was designed in 1990 and it has remained one of the most valuable of all Rolex watches to this day. Featuring a solid 18-karat gold oyster bracelet as well as a rotating diver bezel and white markets with a screw-down crown, this watch is truly a fashion statement as well as a strong timekeeper. A good pre-owned 18K gold Submariner will cost between $14,000 and $22,000. These models were produced between 1990 and 2010.
The Rolex 18K Gold Submariner Model #116618. Designed in 2007, this watch is the king of Rolex Submariners. The black dial with white, luminous hour markers, the Oyster bracelet made from 18-karat yellow gold with Glidelock clasps and the other lovely features make this a classic that is still in production. Plan to spend between $25,000 and $30,000 for this model.
The Rolex White Gold Submariner Model #116619. Think of the 116618, but in white gold. This watch, which is also priced $25,000 and $30,000, is pressure proof up to 1,000 feet and is currently in production.