A yellow gold Lemania chronograph made c.1946 and owned by the great Winston Churchill will be offered for sale by Sotheby's in London on April 25 during the auction house's Watches sale. Of course with all things Churchill-related, the watch has an interesting history. In 1946 the great statesman delivered two significant historical speeches, one of which was at the University of Zurich. In this famous address, he proposed "a kind of United States of Europe", based on improved relations between the French and the Germans, ending with the invocation, "Let Europe Arise".
Winston Churchill's Watches
Churchill had been staying in Switzerland for three weeks at the lavish Villa de Choisi in the Canton of Vaud. During an official visit to the city of Lausanne, Churchill was greeted by an adoring populace who gifted him with the watch. It is inscribed "Le canton de Vaud A son hote illustre Mr. Winston Churchill aout-september 1946", which means "From the Canton of Vaud to its famous guest Mr. Winston Churchill August-September 1946". Churchill kept the watch all his life. Lemania watches are high prized by vintage collectors. In 1932, Lemania, Omega, and Tissot merged to form SSIH group, and the brand is now part of Breguet.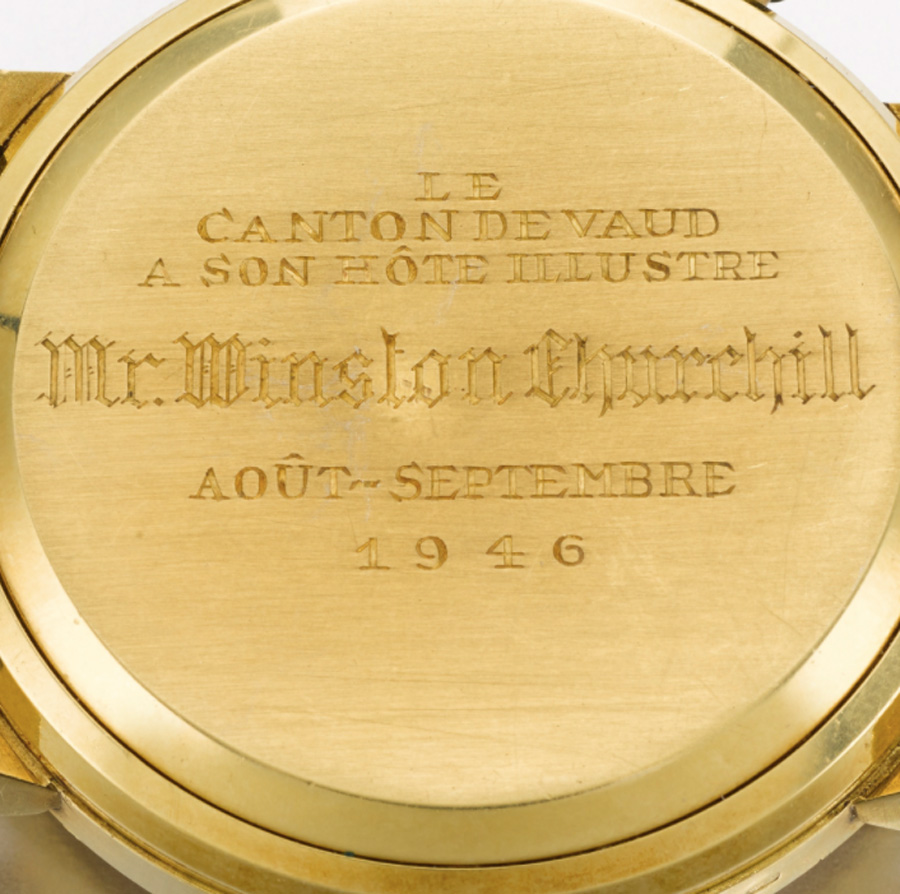 Expectations
The Churchill watch, which is expected to fetch up to $30,000, isn't the only important piece in the auction. There is, of course, a princely panda dial Rolex "Paul Newman" Daytona 6265, made c.1971, that's expected to go for up to $150,000. It is being consigned directly by the family of its original owner who bought it new in December 1973. There's also a c.1979 Daytona 6263 "Big Red" estimated at up to $25,000.
And this marks the first major auction house appearance of the new cerachrom Daytona 116500LN, estimated at up to $18,000. There's a three-year waiting list for the watch, but you can score one from Bob's Watches for $16,295 – no waiting or bidding necessary…