Did you know Donald Trump is a Rolex man? He owns a gold Rolex President, the watch that earned its nickname because heads of state like Eisenhower and LBJ favored it. It is safe to say that Rolex is a brand that he admires with a blue chip reputation and unassailable quality. Although a quiet controversy is brewing, the UK could soon see some very frosty times ahead for Trump–Rolex relations.
The Scottish Open is Set to Change Venues in 2019
An issue is one of the major events on the golf circuit, the Scottish Open, a golf tournament on the European Tour. The Scottish Open is one of the most lucrative events on the Tour and Rolex is now a major sponsor. In 2019, however, the Open is set to change venues and the new top contender is the Trump International Golf Links in Aberdeen. Maybe he will even sponsor the top players that will attend the Scottish Open.
Take Your Swing, Rolex
While Donald, of course, has his critics at home, in Europe they're even more vociferous. If Trump International does indeed land the tournament, there's bound to be plenty of controversy on tap. Rolex will have to decide how to proceed. Do they ignore the rabble rousing and carry on as planned, or do they pull out and risk the wrath of the President of the United States? If they do nothing, many will see it as tacit approval of the often unpopular tycoon turned politician. Rolex certainly doesn't want to get anywhere near a boycott situation, and there are bound to be protests if the Scottish Open gets stamped with the Trump brand. The London Guardian is already speculating about the likely outcome reporting that Rolex would need to approve the Trump plan, though doing so could expose them to criticism at best, and direct conflict in a worst-case scenario. So what course (ahem) should they take?
Trump vs Rolex
It may be time for Geneva to use its notorious stealth and guile. The best plan would be for them to very quietly see to it that the Scottish Open is played at a less controversial venue, and leave no fingerprints on the corpse. Rolex is skilled at making moves away from the public eye, and if ever a situation called for opaque persuasion, this is it. Trump may of course still cry conspiracy. He has his heart set on hosting the tournament.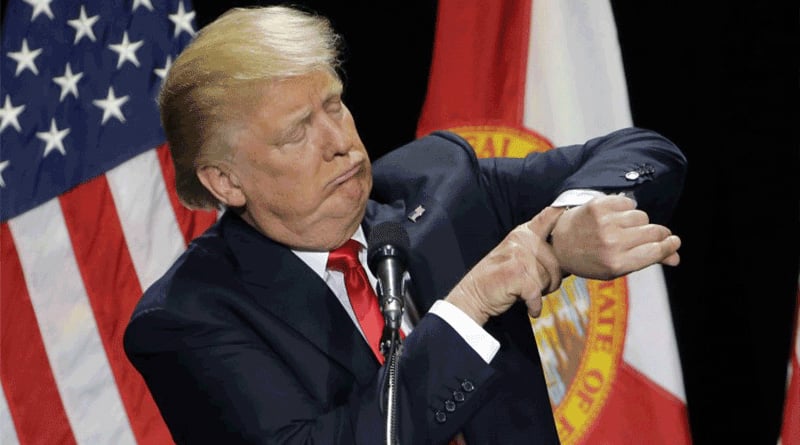 On a visit to Aberdeenshire in 2015 he stated, "The Scottish Open is coming. The Scottish Open wants to be here forever, they think this is the best course they've ever seen." He shouldn't count his strokes just yet. A prestigious World Golf Championship event was removed from Trump's course on the outskirts of Miami last year after incoming sponsors got very cold feet. Is a new ice age looming ahead….?