Cartier is a French luxury fashion house that came about over 170 years ago in 1847. The brand originally designed and sold men's watches. Today, Cartier has become a household name for its high-end jewelry, watches, and accessories.
No matter your style or taste, Cartier has a watch model you will love. One such model is the Cartier Roadster. The Roadster is a racing watch that takes inspiration from European automotive design.
This watch is ideal for car enthusiasts. But its timeless and elegant yet sporty design makes this model one of the best luxury watches in Cartier's lineup. And that is why we wanted to bring you this guide.
Are you planning to purchase a Cartier watch this year? We strongly recommend considering the Cartier Roadster for men and women. Keep reading to learn why.
A Brief History of the Cartier Roadster
Cartier launched its line of Roadster watches in 2001. This was nearly 100 years after the launch of its very first watch design – the Santos-Dumont line of watches, which came out in 1906.
As we mentioned, the Roadster line's design is inspired by automotive design. Cartier took inspiration from the classic 1950s Porsche 356 when creating its signature Roadster watches.
The watch features vintage-inspired elements that make for a timeless dress watch you can wear through the years. It also has automotive-inspired sleek lines and generous curves for a splash of sportiness and modernity.
After the initial release of the Roadster, Cartier put out a handful of new models in the line. This includes the Roadster Chronograph, the Roadster GMT, the Roadster XL, and the Roadster S.
Despite the Roadster's popularity with both men and women, Cartier discontinued the line in 2011. Buying a watch new from the Roadster line is no longer possible.
But the good news is that you can pick up a used version at Bob's Watches.
Cartier House Codes
House codes are the signature design elements luxury brands include in their products. And Cartier is no different. Almost all Cartier watches, including the Roadster, feature the following house codes:
The silver dial face
Chunky black Roman numeral time stamps
The Cartier brand signature, hidden at the 7 or 10-hour stamp
A blue sapphire or spinel in the watch's crown
A case back engraved with the Cartier brand signature
Another feature the Roadster shares in common with other Cartier watches is its barrel-shaped design. The square-ish watch face features curved sides for a look that is unique only to Cartier.
Types of Cartier Roadster Watches
The Cartier Roadster comes in models for men and women. The standard sizes measure 43mm by 38mm (for men) and 36mm by 30mm (for women). The only other difference between the men's and women's watches is that the ladies' line comes with diamonds around the dial.
Depending on the watch number, you can purchase an automatic or quartz model. You can get your Roadster in stainless steel, yellow gold, white gold, or rose gold. Depending on the watch, you may also have access to features like a time watch, GMT capabilities, and more.
Learn more about some of the most popular types of watches from the Cartier Roadster line.
The Roadster Chronograph
Cartier's chronograph model of the Roadster is arguably the most popular in the line. It is the sportiest of all the Roadster models, featuring two-tone metal and automotive movement.
But what is a chronograph watch, exactly? Chronographs are watches and other timepieces that have stopwatch features. The Roadster Chronograph, for instance, has a digital minute tracker built into the dial.
The Roadster GMT
The GMT in Roadster GMT stands for Greenwich Mean Time. GMT does not follow daylight savings time schedules. Instead, GMT refers to the time it is at the Royal Observatory in Greenwich, London, UK.
GMT watches allow you to set multiple time zones in your watch. In the Roadster GMT's case, that just means there's another hour hand that rotates only half as fast as the other. It measures time in terms of 24, not 12 hours.
The Roadster GMT's design features stainless steel metal. It has automatic watch hands.
The Roadster XL
The Roadster XL is also a chronograph watch. The difference is that it features a 49mm wide watch face.
These watches are typically meant for male wearers, though women can also buy XL watches for a bulky look. However, we recommend going for a regular Cartier men's watch instead.
Also, most vintage watches were made in XL sizes. If you prefer a retro look, the Cartier Roadster XL will amplify the vintage vibes inherent in this watch line already.
The Roadster S
The Roadster S is the most affordable model in the Cartier Roadster line. It is a stainless steel automatic watch. And it features the same date feature as the other watches in this line.
The highly coveted Roadster S 3312 costs about $2,400–$3,600. You can often find it for even less on the used market. That is why this is one of the best entry-level luxury watches you can buy today.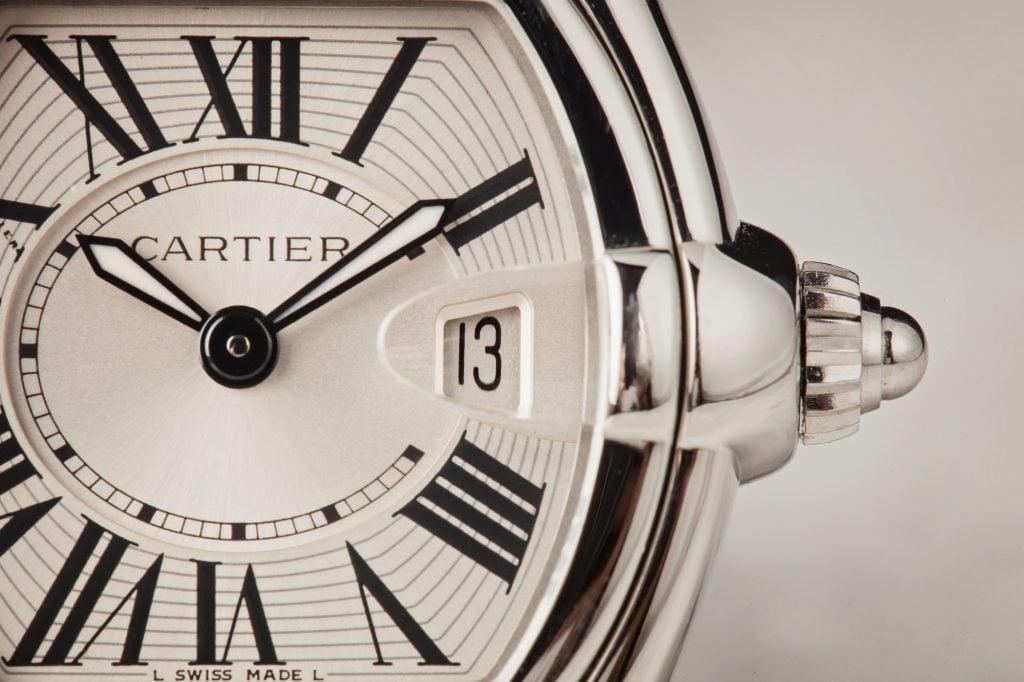 The Best of the Cartier Roadster Men's Collection
The original Cartier Roadster watches were men's models. Yet, these watches are often considered unisex. Women can purchase smaller men's watches without looking like they are wearing their boyfriends' timepieces.
If you are searching for the best Cartier Roadster watches from the Men's collection, here are a few to consider.
The Roadster W62018Y5
This model is a 37mm by 31mm pure yellow gold Cartier watch for men. There is also a smaller version for women. Both came out in 2010, only one year before Cartier discontinued the Roadster line of watches.
The watch is quartz-powered and comes on a leather band instead of the traditional three-link chain the brand is known for. The watch's face features a silver dial with Roman numerals.
When it came out, this model retailed for nearly $13,000. Today, you can find used versions that will run you $6,300 on average.
The Roadster W62048V3
This model is the perfect day-to-night watch. It is luxurious-looking enough for date night. But it also has a casual, sporty vibe that will look great with your business casual workwear.
The model features a 38mm barrel-shaped case with automatic power. The three-link stainless steel bracelet is classic and elegant.
The real show-stopper of this piece, though, is its bright cobalt blue dial with beautiful silver Roman numerals.
Prepare to pay $7,125 or more to get this model used. But considering its versatility, the price tag is more than worth it, in our opinion.
The Roadster W62002V3/W62000V3
This 43 x 38 mm stainless steel is one of the more affordable Cartier Roadster models out there. It is an automatic watch with a 42-hour reserve and three hands for multiple time zones.
The design of this model features a modern aesthetic with a three-link bracelet. Of course, this model features the Roadster's signature barrel-shaped face. The dial is jet black with bright red minute markers for a sporty look.
You can pick up the W62002V3 with black Arabic numerals. Or choose the W6200V3 for white Roman numerals. No matter which aesthetic you choose, this watch model will run you an average of $3,300–$6,200.
The Roadster W62031Y4
One of the least expensive Roadster models for men is the W62031Y4. It features two-tone stainless steel and yellow gold metals. Impressively, it will only cost you about $3,500 on average.
The Roadster WE5001X1
From Cartier's least expensive watch to its priciest, this model is the cream of the crop when it comes to luxury watches.
Introduced in 2005, this watch model retailed for more than $30,000 upon release. Now, it will run you $26,000 or more.
But why is this model so expensive? The 13-karat yellow gold case and three-link bracelet feature diamonds studded around the bevel. It is quartz powered via Cartier's signature Caliber 688 quartz movement.
The Best of the Cartier Roadster Ladies Collection
The great thing about Cartier watches is that they can be unisex. However, Cartier does put out lines of watches exclusively for ladies. And the Roadster is no exception here.
Cartier's Roadster Ladies line features smaller case sizes and more feminine designs. They often feature diamonds and other gems, too.
Below, we are talking about our top three favorite watches from the Cartier Roadster Ladies collection.
The Roadster 2675
Starting with the lower-end ladies' Roadster watches, this model is an excellent entry point. It features a 37mm by 31mm stainless-steel case. It is quartz-powered and has three sword-shaped hands.
The best thing about this Roadster Ladies' watch is its price tag. You can pick up the Cartier Roadster 2675 for $2,900 or less.
The Roadster W62016V3
A step up from the 2674 model is this Roadster Ladies watch. It is simple and casual yet luxurious and eye-catching. We recommend this 31mm quartz-powered watch for everyday wear.
The stainless-steel three-link bracelet is simple and modern. Meanwhile, the white dial features a black and white racetrack design, which is a fun signature of the Roadster line from Cartier.
You can pick up this model for $5,400 or less on the used watch market.
The Roadster W62026Y4
Last but not least, this model is best for women who prefer a mixed-metal look. The case and three-link bracelet feature a two-tone stainless steel and yellow-gold colorway.
This model is not for men, with its small, 29mm barrel-shaped face. Even the elegant white dial with slanting black Roman numerals look more feminine than many of the watches in the men's line.
You can pick up the quartz-powered W62026Y4 for $6,750 or cheaper when you buy it used.
Can You Buy Cartier Roadster Watches in 2023?
Unfortunately, you can no longer buy new Cartier Roadster watches in 2023. The brand discontinued this automobile-inspired watch in 2011.
The good news is that you can purchase Cartier Roadster models like the ones we listed above in used condition. Bob's Watches is a great place to find your favorite Cartier Roadster models, as well as other luxury watch brands.
Other Cartier Watches to Try If You Like the Roadster
Are you searching for Cartier watch models that are similar to the Roadster? We've rounded up our top five alternatives to check out. Learn more about our favorite alternatives to the Cartier Roadster line below.
The Cartier Tank Watch Line
Released in 1917, the Tank is one of the original Cartier watches. Designed exclusively for US customers, Louis Cartier got inspiration from army tanks used in the Western Frontier during that time.
You may be surprised to learn that Tank watches are still around. In fact, Cartier released its latest Tank model, Tank Must, in 2021. But these watches will cost you tens of thousands of dollars.
Instead, check out used Cartier watch resellers like Bob's. We sell used Cartier Tank watches for a fraction of the cost of a new model.
The Cartier Panthere Watch Line
Released in 1983, the Panthere line of watches from Cartier is part of the Ladies' collection. It has a distinctly vintage look, which lovers of the Cartier Roadster will love.
It features a five-link chain with a square case and signature blue spinel. This quartz-powered watch comes in stainless steel and measures 23mm by 30mm, perfect for dainty wrists.
Check out our used Cartier Panthere Ladies' watches here!
The Cartier Pasha Watch Line
Released in 1985, the Pasha line of watches from Cartier is for men and women. Like the Cartier Roadster, this model features a sporty design. But the design is quite unique for Cartier.
The case is round instead of square or barrel-shaped, like most of the brand's signature watches. It has a more casual look with the option of a link bracelet or an interchangeable leather band.
Pasha watches are some of the most expensive models on the market. Pick up your Pasha de Cartier at Bob's Watches.
Buy Used Cartier Roadster Watches at Bob's Watches
The Cartier Roadster is a classic, sporty watch for men and women. You can no longer buy this model new since Cartier discontinued it about a decade ago. But you can pick up a used Roadster from Bob's Watches.
Are you searching for second-hand luxury timepieces? We have a wide selection of watch options from the world's most famous luxury brands. Shop our luxury watches now to find the used watch you have been searching for!