Cartier isn't exactly known today as a watchmaker company. Most of us would associate them with fine jewelry. But the company is an established brand in the industry and actually started as makers of sophisticated timepieces – including the first pilot's watch. In the past two decades, the company has come back to its watchmaking roots and currently offers new collections of luxury pieces.
When shopping for Cartier watches for men, it may feel a bit intimidating at first to pick from the wide assortment of designs and models. There also aren't many buying guides since most focus on their jewelry. Thankfully, we can help you choose the best timepieces with the tips we've shared below. Keep reading to learn more!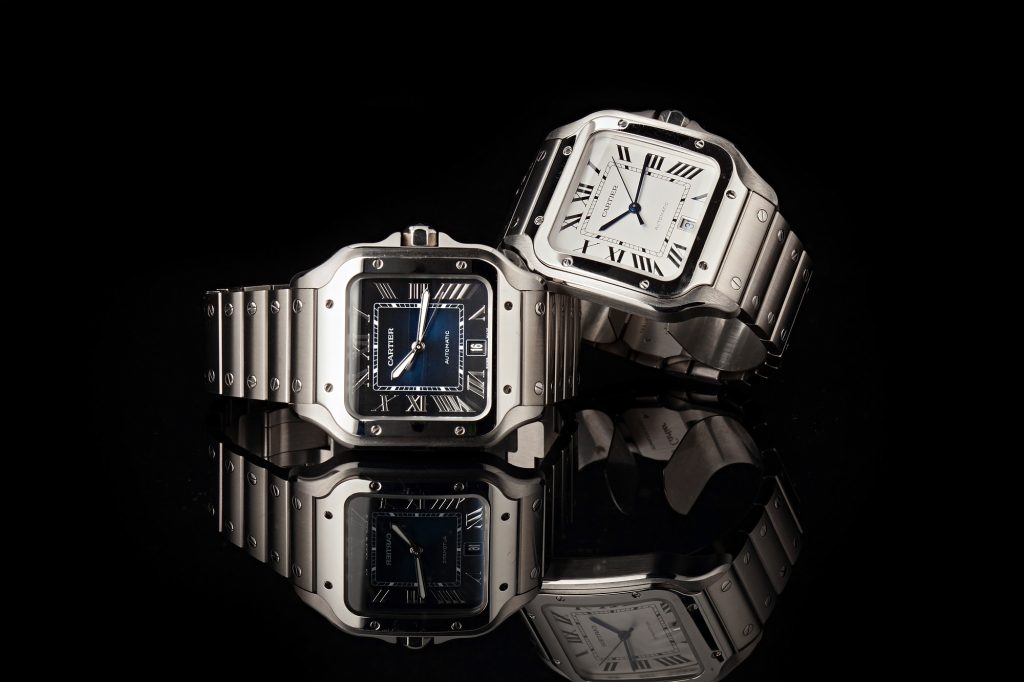 Design Codes of Cartier Timepieces
Cartier remains a standard when it comes to crafting the most opulent and prestigious timepieces since the company started more than a century ago. Thanks to this longevity, their watchmakers have come up with so many designs and models for all tastes and preferences.
Their most well-known watches come in non-round shapes, which many prefer for their distinct appearance and character. In addition, their watches come in various materials: gold, steel, silver, etc. They can also come in manual and automatic while others are powered by quartz movements.
Even though Cartier watches for men come in a dizzying array of options, there are some universal design codes that exist in almost all their watches. These are the features that make them instantly recognizable and distinguished from the rest.
Cartier watches for men have the iconic black Roman numerals and blue dials shaped like swords.
These watches have a distinctive sapphire or spinel set into the crown, a call back to the company's background in jewelry making.
Cartier watches have a hidden signature on the VII or X numeral, which helps distinguish the fake from the genuine products.
Top Considerations When Choosing Cartier Watches for Men
Buying a luxury Cartier timepiece is a great investment. So to get your money's worth, you'll want to really consider your options before committing to one. What are your preferences? Is it for you or a loved one? What type of design or functionality do you like? Those are just some of the questions you need to answer.
Your Personal Style
There are plenty of designs and variations in Cartier watches, ranging from simple yet elegant timepieces to bold ones with flashy bezels and watch faces. At the end of the day, it will be up to you to choose which best fits your fashion preferences. Do you prefer watches with visible mechanisms or more subdued designs? What about strap material and color? There's also the matter of shape, and Cartier has plenty of unusual ones. Whichever the case, make sure to get one that you can confidently include in your casual wear, formal attire, and everything in between.
Your Budget
When going for a Cartier watch, you're probably aware that the brand offers luxury timepieces. It will be costly, even the most affordable ones. So if money is not an issue, then you can go ahead and choose the watch you desire the most. For those on a budget, you can narrow your options to a certain range. In addition, clearance sales and discounts can help you get the model you've been chasing.
One alternative to try is buying pre-owned Cartier watches — an industry in itself. Companies like Bob's Watches offer used Cartier watches. And even though these have been previously worn by someone else, you're still getting a luxurious Cartier watch!
Your Activities
Some watches remain more accurate for those who wear them a lot on their wrist, such as automatic watches. Left in a single position for a long time, the timepieces can lose or gain time thanks to the sensitive mechanisms. Many other factors can impact the ideal watch setting, so you'll want to consider your daily activities when choosing your Cartier watch.
Your Other Needs
Will the watch be something you'll wear only on special occasions? Or would it be something you'll have on your wrist every day? Do you need something that can go with any outfit or a timepiece that draws eyes? You'll want to consider other personal demands and certain situations so you'll get a watch that you'll enjoy.
Cartier Watch Men's Options:
1. Cartier Santos
The watch that started it all: Santos de Cartier. It's modeled after the first wristwatches crafted by Louis-Francois Cartier-the ones considered the first pilot's watch. The iconic square shape makes this model one of the most recognizable designs from the brand, with the visible screws on the bezel adding to its rugged charm.
The bulkier design of the Santos de Cartier makes it a great timepiece for those who like a more masculine aesthetic. Its silhouette is also instantly recognizable, making it a great statement piece for various occasions. Since many of its models are in the more affordable range, Santos is a great choice for those who simply want to own a Cartier watch.
2. Cartier Tank
There's something of a cult following for the Cartier Tank, with many of its vintage designs sought after by watch collectors. It's the most recognizable Cartier timepiece, with a distinctive rectangular design and protruding case sides. This look is inspired by the World War I tank, with the watch debuting in 1917 before the war ended.
Cartier Tank remains a staple, worn by important personalities, politicians, and celebrities alike. That's why having one is a great investment, as the resale value appreciates. But more than that, having a Cartier Tank is a sign of exquisite taste and a discerning eye. So pick one that best suits your style from the many iterations available: Tank Francaise, Tank Must, Tank Louis Cartier, and more.
3. Cartier Ballon Bleu
While the Ballon Bleu is circular unlike the other non-round models, it's far from ordinary. It's still a whimsical timepiece from Cartier, with a distinctive crown that nestled into the watch face. It's surrounded by the crown guard, creating a floating appearance akin to a balloon. With the sapphire cabochon, the name "blue balloon" fits it best.
The design may be unconventional, but the Ballon Bleu has proven itself a hit among men and women alike. Even though it's only been around since 2007, it's become a staple on the shelves of collectors. Many celebrities and personalities also have one in public appearances. So if you're looking for something that shows off your personality while maintaining charm and elegance, this Ballon Bleu is a great option!
4. Cartier Calibre
Since Calibre de Cartier stopped production in 2018, the demand for the model has only increased. That's why this watch is one of the most sought-after timepieces in the pre-owned market. It's also the first line of watches with Cartier's in-house-made movement, making it an important item in the company's history.
Unlike the other watches, Calibre de Cartier has a classic circular shape, but its design is still made more recognizable with the curved lugs. It also has the quintessential Cartier design cues, like sword dials, railroad patterns, and baton indices that add a vintage aesthetic—perfect for those who want timeless elegance.
5. Cartier Drive
Also known as Drive de Cartier, this model is the latest luxury watch offering from the company. It's only been around since 2016, but its flawless look and masterful proportions have made it a must-have for watch collectors and Cartier fans alike.
Its shape is that of a rounded square, which adheres to Cartier's tradition of unconventional watch shapes. In addition, it has a curved base and sapphire dials that add to the understated elegance of the timepiece. It comes in many variations, with some showing dual time zones and others showing off a flying tourbillon. Even with all its modern integration, Cartier Drive still has that timeless allure that makes it more than just a regular luxury watch.
Buy Pre-Owned Men's Cartier Watches
Dreaming of owning your own Cartier timepiece? Bob's Watches has what you need. We are one of the most trusted and largest platforms where people can sell, buy, and trade luxury watches. We have a collection of pre-worn Cartier timepieces, and regularly add new items. For your satisfaction and confidence, we remain transparent about the current market values of the watches. We also guarantee that all our offerings are authentic.
Are you ready to own a Cartier watch? You can get a pre-owned timepiece that's just like new from our catalog! Browse our collection today or contact us for more details.