If you are a watch enthusiast, then it's likely that you've heard of Omega watches. Omega has been around for over a century and has built a reputation for producing high-quality timepieces. They are known for their precision and durability. In fact, they are one of the few watchmakers that still produce their exclusive movements.
Omega watches are a great choice if you are looking for a watch that will last you a lifetime. They have models that range from basic quartz models to advanced tourbillons with complications such as minute repeaters and chronographs. The Casino Royale Omega watch is one of their most popular models. It was released in 2006 as part of the James Bond collection of watches designed by Roger Dubuis. There were only limited sets produced worldwide making them very rare, collectible items today.
Choosing An Omega Watch
If you are thinking of buying a Casino Royale Omega watch, it can be a difficult process. With various styles, brands, and models available, it's easy to get overwhelmed. Whether you are looking for a classic style or modern flair, we've got everything you need to know about this avant-garde timepiece. We will take you through some of the popular models available on the market today, so you can make an informed decision about which one is perfect for you.
The Story Behind the Casino Royale Omega Watch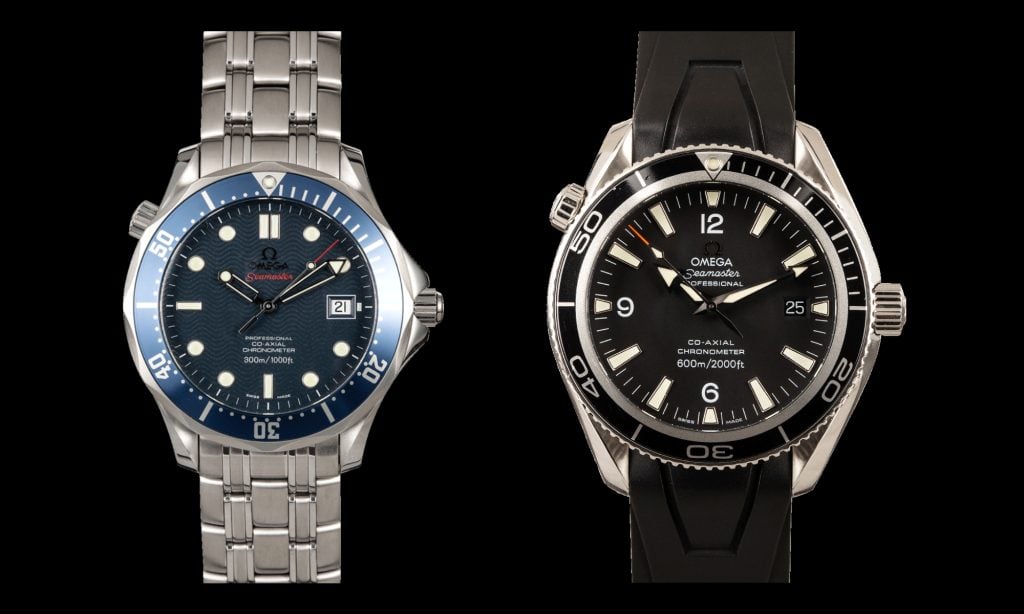 The Casino Royale Omega watch is the most iconic James Bond 007 collection. It's a beautiful piece with a sleek design that looks like it belongs on the wrist of 007 himself.
However, what makes this watch distinctive in Omega's line of watches? Well, it's more than just an attractive piece of jewelry; it has significance in the world of James Bond movies. The Casino Royale Omega watch has been worn by Daniel Craig (who played James Bond) for his appearances as 007 on screen, except for Quantum of Solace, when he wore the Omega Seamaster Planet Ocean watch instead.
In the movie Casino Royale, the main character, James Bond, wears this watch while playing poker in Montenegro with Le Chiffre, a villain. The villain tries to cheat at cards by using his smartphone to use a computer algorithm to feed him intel. However, Bond uses his Casino Royale Omega watch to detect this cheating and win back all his money from Le Chiffre.
Wearing a Planet Ocean 600M Co-Axial and a Seamaster Diver 300M Co-Axial, James Bond eliminates Le Chiffre. Due to the movie's popularity, they became one of the most famous and iconic timepieces in the Bond franchise. Today, they are highly coveted among watch aficionados.
Why Is a Casino Royale Omega Watch a Sound Investment?
If you are looking to invest in a luxury timepiece, the Casino Royale Omega watch is an excellent choice. With its impressive styling and quality craftsmanship, this watch will stand out from the crowd. Moreover, it's a watch that can be worn in any situation and will always make a statement. It's classic yet modern, with a timeless design that will never go out of style.
Here are solid reasons why buying a Casino Royale Omega watch is a worth it:
Exclusive Watch
The Casino Royale Omega watch was created to be one of the finest and most exclusive timepieces ever made. It's a limited edition, so you can't easily find it in many stores. This means that there will be fewer of these watches available to purchase, which makes it an even more desirable item. When you wear it, no eye can help but be drawn to the magnificent piece on your wrist.
Great Value
Designed for accuracy and functionality, this watch is a wise investment. The combination of style, quality, and value makes it one of the best timepieces on the market today. The watch has many functions, including chronograph, calendar, and date display options, as well as a second-time zone function. It also has automatic movement and comes with a sapphire crystal faceplate for added durability and scratch resistance.
Longevity
The Omega brand is known for its high-quality watches, and they put that quality into the Casino Royale models. The watch is made of stainless steel, which means it's strong enough to stand up to everyday wear and tear without denting or breaking. It also features a scratch-resistant sapphire crystal glass face that will last for decades without losing its luster or clarity. For these watches, top-quality craftsmanship meets luxury materials for a timeless treasure.
The Two Preeminent Casino Royale Omega Watch
As mentioned earlier, the Casino Royale Omega watch line was created to honor the Bond film franchise, starring Daniel Craig as 007. The two Omega watches, a Seamaster Planet Ocean 600M and a Seamaster Diver 300M with a co-axial chronometer movement are featured in the movies. Both are widely celebrated models, making them our top picks:
Seamaster Diver 300M Co-Axial
During the poker scenes in the movie, 007 James Bond switches to a different Omega timepiece model, the Omega Seamaster Co-Axial (2220.80.00). Done in a classic diving style, the Seamaster Co-Axial 300M is a unique dive watch that features a prominent blue dial with contrasting raised hour markers and index. It also includes wave patterns in the blue to give it an aquatic feel. Hence, it's perfect for any professional that needs a sporty watch with a nautical appearance.
Unlike the Planet Ocean series, this model is significantly sleeker, making it an excellent option for both casual and formal wear as well. It's a versatile timepiece that garners attention whether you are at the office or out enjoying any event.
At a glance, the watch features several details that elevate it above other models on the market today. From its easily recognizable domed crystal face to its unique application of the co-Axial escapement, this timepiece offers you the highest quality available. It has a crown and escape valve located at 11 o'clock and 10 o'clock, respectively. As with all Omega Seamaster watches, the Co-Axial has a Swiss automatic movement that provides precise timekeeping.
In the Casino Royale movie, Craig is a cunning, quiet, reserved, and intense man with a hidden charm that can be unleashed when the need arises. The same can be said about this Omega watch.
Seamaster Planet Ocean 600M Co-Axial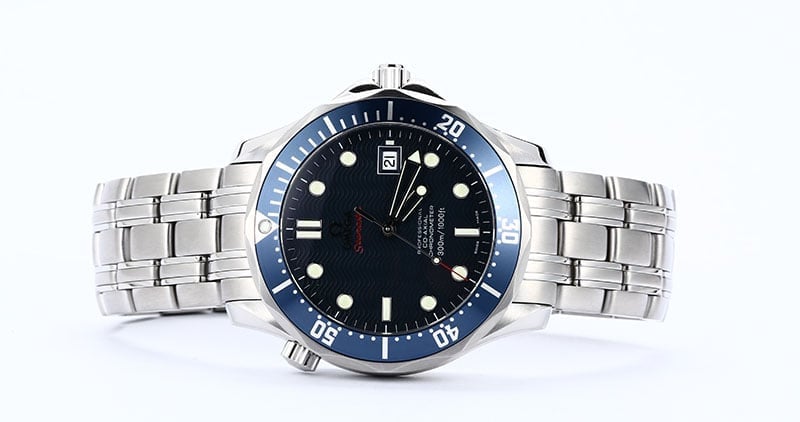 The Seamaster Planet Ocean 2900.50.91 combines the technical and aesthetic prowess of Omega. Crafted from scratch to mark the debut of Daniel Craig as James Bond in the acclaimed film Casino Royale, this piece is a fitting tribute to 007's 50th anniversary.
The model exhibits a black-colored ceramic bezel with three-dimensional waves around the exterior edge, a detail that recalls the original Seamaster 300-meter models. It retains the signature style of its predecessors, but is updated with a third sub-dial at twelve o'clock and coated with non-reflective sapphire crystal.
One notable feature of this 007 watch is the water resistance rating of 600 meters. It has a helium escape valve, located at 10 o'clock and embossed with "He." The facets of the arrowhead-shaped hour and minute hands, as well as the orange tip on the second hand, offer optimal readability in low-light conditions. Similar to the other Planet Ocean series, the watch utilizes a high-quality precision Swiss automatic movement with its analog dial display.
Powered by a 2500 co-axial escapement movement and certified chronometer, the Seamaster Casino Royale delivers exceptional performance on all counts. It's a combination of ruggedness and bravura on the outside, but absolute precision on the inside. Overall, it's an elegant timepiece worthy of 007.
How Much Does a Casino Royale Omega Watch Cost?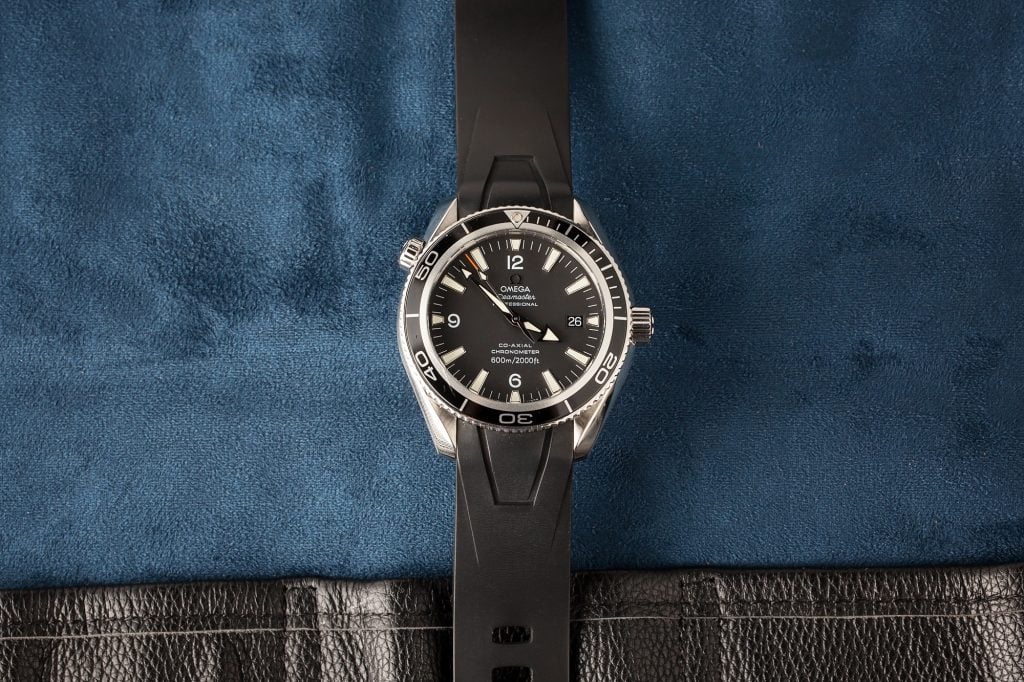 The Casino Royale Omega watch collection is a luxury item, so they tend to run on the higher price spectrum. The price varies significantly depending on the model and features. For the standard model, you can get them at around $4,000, while the most expensive models can be as much as $20,000 and beyond. The best thing about these watches is that their price appreciates over time due to their rarity.
If you are on a tight budget, you can opt for pre-owned Omega watches. Like their brand-new counterparts, these timepieces are still in pristine condition and are carefully examined by an expert watchmaker before putting them up for sale. Authorized dealers like Bob's Watches also grant a warranty, so you can be sure of the security of your investment.
Explore Our Casino Royale Omega Watch Collection
The Casino Royale Omega watch is designed to exude a sense of pure luxury. This wristwatch exemplifies the characteristics of timelessness, precision, and adventure in motion. If you want to own one, we suggest you bring one home from our collection before they're gone. Explore our collection today of Casino Royale Omega watches today.
Browse our full section of Omega watches today.