Let's begin by stating the obvious – anyone can wear any Rolex watch they choose to, regardless of whether the watch itself is classified as a men's watch or ladies' watch. There are plenty of buyers today that don't pay attention to how a watch is labeled and would rather just pick one that fits their wrist the best.
However, Rolex does segment its watch collection into gender categories, so if you want to gain a greater understanding of which models from the brand's category of timepieces are developed with women watch wearers in mind, then this is the primer for you. Welcome to the ladies' Rolex ultimate buying guide.
Click here for our Ultimate Buying Guide on Rolex Watch Models.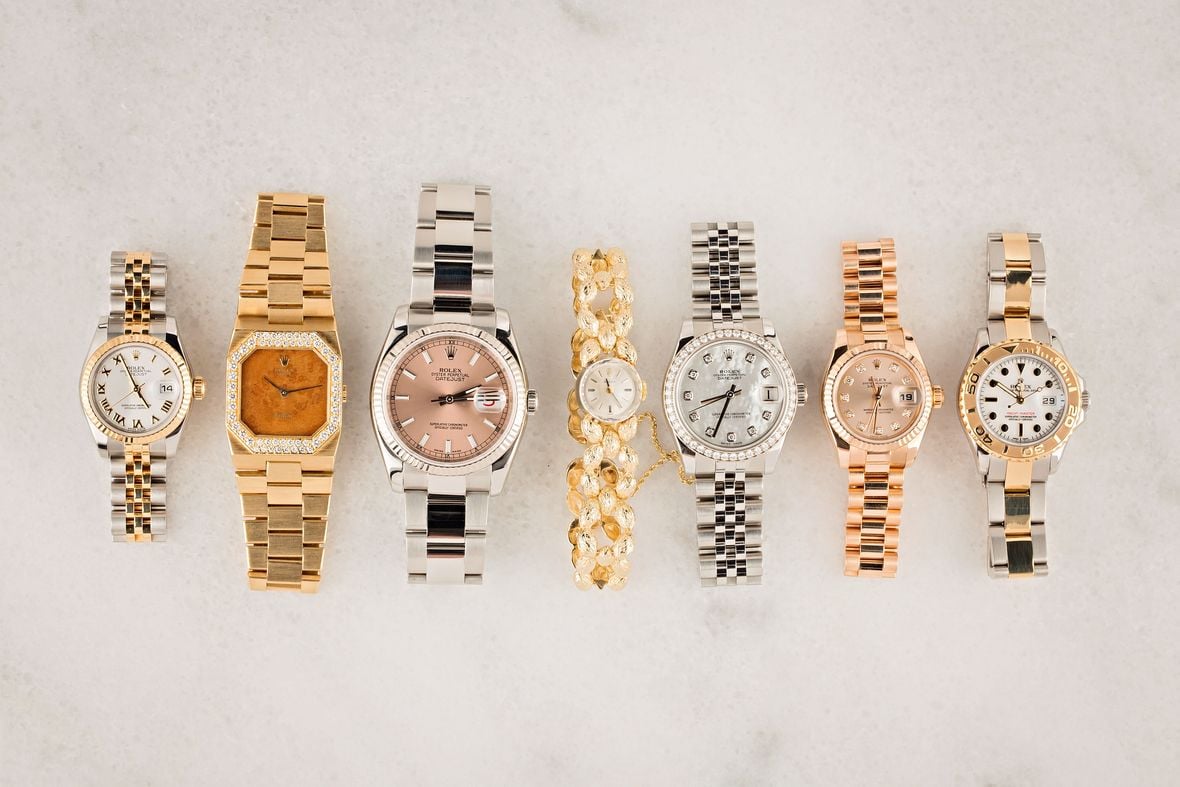 Rolex Watches for Women
Rolex's catalog has plenty of different watch options for its female clientele. In addition to smaller or more ornate versions of its men's watches, there are also entire Rolex watch collections that are created specifically for female wrists. Below is a general list of various Rolex watches for women:
– Lady-Datejust
– Datejust
– Oyster Perpetual
– Pearlmaster
– Yacht-Master
– Cellini
– Vintage Cocktail watches
One fantastic thing about ladies' Rolex watches is that they are almost always fitted with automatic movements (discontinued Cellini watches are the exception) – just like the men's models. Most other luxury watch brands normally equip their women's watches with quartz movements but Rolex favors "Perpetual" automatic movements across its current collection.
Rolex Lady-Datejust, Datejust, and President
Rolex introduced the Lady-Datejust in 1957 as a petite version of the Datejust. Aside from the size, the Lady-Datejust retained all the same features of the original Datejust, including the automatic movement, waterproof case, and date window at 3 o'clock topped by the brand's signature Cyclops magnification lens.
For almost six decades, Rolex fitted the Lady-Datejust with a 26mm Oyster case. However, in 2015, Rolex replaced the 26mm with a slighter larger 28mm case. Today, all current-production Lady-Datejust watches have 28mm cases.
While the 26mm and 28mm versions of the Datejust are officially called the Lady-Datejust, there's also a midsize Datejust watch with a 31mm case that's primarily marketed to women. Somewhat confusingly, none of these models are called Lady-Datejust watches but rather they all simply exist under the Datejust 31 banner.
Regardless of the specific size, the Datejust collection is Rolex's most varied line. Thanks to a vast assortment of case materials, dial designs, bezel types, and bracelet choices, there are seemingly endless possible configurations available for the Datejust.
– Case materials: stainless steel, two-tone steel/gold, yellow gold, white gold, Everose gold, platinum
– Bezel types: smooth, fluted, diamond-set
– Dial styles: a wide assortment of colors, diamond-paved, mother-of-pearl, stone dials, special designs like butterflies or flowers, etc.
– Bracelet types: Oyster, Jubilee, President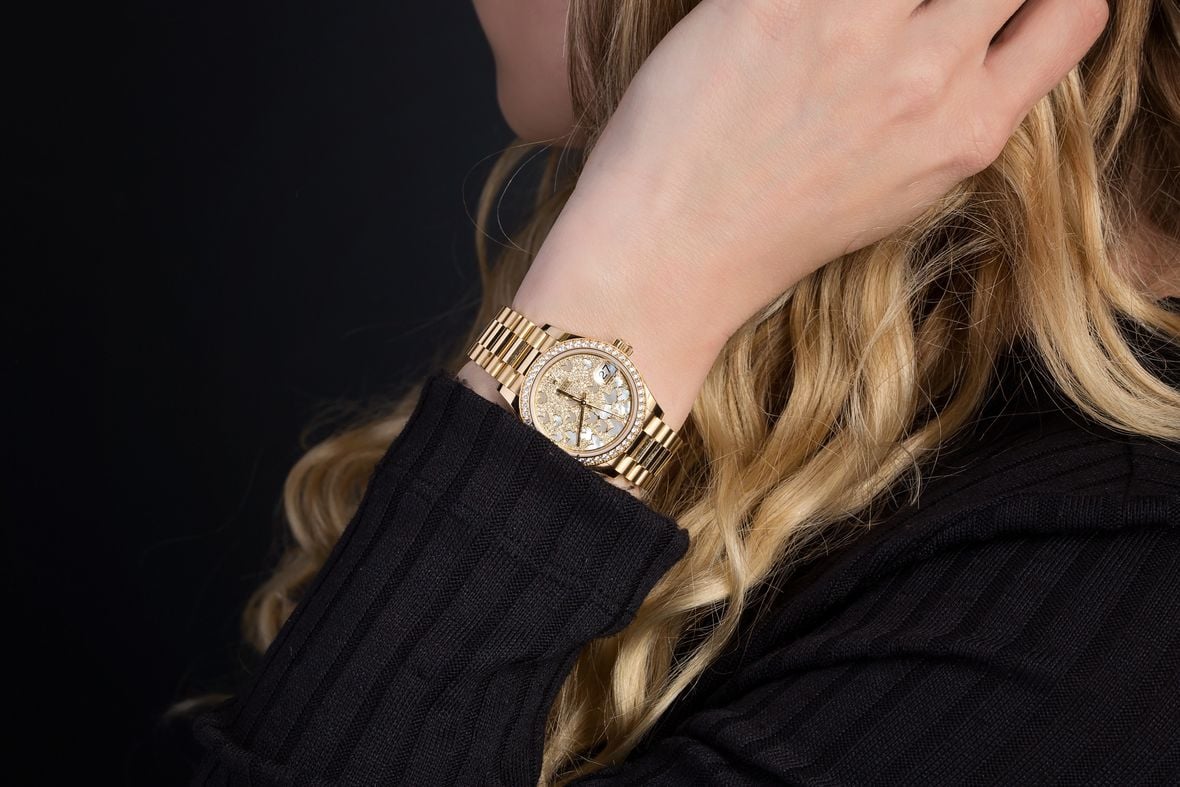 One important thing to note about ladies' Datejust watches, which are officially those with 26mm, 28mm, or 31mm cases, is that these are the only watches outside of the Day-Date collection that Rolex offers with the famed semi-circular three-link President bracelet. As a result, gold Lady-Datejust or Datejust 31 models with President bracelets are frequently nicknamed Lady President or Lady Presidential watches. With that in mind, only solid gold or platinum Datejust watches come with President bracelets.
It's also worth mentioning that even though the first men's Datejust had a 36mm case and Rolex continues to categorize this version as a men's watch, more and more women opt to wear the Datejust 36. And judging by the abundance of more feminine dial styles available within the Datejust 36 lineup, Rolex certainly knows this and is happy to cater to them.
– Lady-Datejust 26 (discontinued)
– Lady-Datejust 28
– Datejust 31
– Datejust 36
– Ladies' President
Lady-Datejust Prices
As expected, the prices for Lady-Datejust watches vary significantly depending on the specific model and materials, and whether it's new or pre-owned. At retail, stainless steel Lady-Datejust 28 prices start at $6,500 while steel Datejust 31 watches start at $6,600. Two-tone Lady-Datejust 28 prices start at $8,850 and two-tone Datejust 31 prices start at $9,650. Finally, full gold versions of the Lady-Datejust President start at $25,650 while Datejust 31 President prices start at $28,450.
However, pre-owned Rolex Datejust watches for women cost significantly less and you can find some models starting at less than $4,000.
Rolex Ladies' Oyster Perpetual
The Oyster Perpetual is Rolex's most straightforward watch design, featuring two of the brand's most important innovations: the waterproof "Oyster" case and an automatic movement with a "Perpetual" rotor. All Rolex Oyster Perpetual watches have minimalist time-only dials. While Rolex had previously offered Oyster Perpetual watches in a variety of materials, along with several bezel and bracelet options, these days Oyster Perpetual models are strictly made in steel, with smooth bezels and Oyster bracelets.
However, modern Oyster Perpetual watches are still varied in terms of size options and dial colors. Up until 2020, the smallest Oyster Perpetual was one with a 26mm case and before that, Rolex even produced a 24mm model. However, similar to the Lady-Datejust, Rolex replaced the ladies' Oyster Perpetual 26 with a slightly larger ladies' Oyster Perpetual 28 to be offered alongside the midsize Oyster Perpetual 31 as options for women too.
– Oyster Perpetual 24 (discontinued)
– Oyster Perpetual 26 (discontinued)
– Oyster Perpetual 28
– Oyster Perpetual 31
September 2020 not only saw a change in Oyster Perpetual sizing but also welcomed a fantastic selection of dial colors too, ranging from subtle tones like black and silver to candy shades in pink, red, yellow, turquoise, and green.
Ladies' Oyster Perpetual Dial Colors:
– Discontinued Oyster Perpetual 26 ref. 176200: grape, pink, olive green, black, white, silver
– Discontinued Oyster Perpetual 31 ref. 177200: grape, pink, blue, black, white, silver
– New Oyster Perpetual 28 ref. 276200: black, pink, blue, silver
– New Oyster Perpetual 31 ref. 277200: black, pink, candy pink, blue, silver, red, turquoise, green, yellow
Ladies' Oyster Perpetual Prices
The latest ladies' Rolex Oyster Perpetual watches are officially priced at $5,100 for the 28mm version and $5,200 for the 31mm version. However, due to their immense popularity, they're priced well above retail on the pre-owned market with prices starting at $6,995 and quickly increasing for highly sought-after dial colors.
Older Oyster Perpetual watches are significantly less expensive. For instance, a pre-owned ladies' Oyster Perpetual 26 ref. 176200 can be purchased for less than $4,000.
Rolex Ladies' Yacht-Master
The Yacht-Master is Rolex's collection of nautical-inspired sports watches, complete with a rotating bezel graduated to 60 minutes and a date window on the dial.
When the Yacht-Master made its debut in 1992, it was only available in full 18k yellow gold and with a 40mm case. Two years later, Rolex expanded the Yacht-Master with two new size options: the Lady Yacht-Master 29mm and the midsize Yacht-Master 35mm. Rolex also eventually added other material options to the Yacht-Master collection that decade, including Yellow Rolesor (a two-tone combination of yellow gold and stainless steel) and Rolesium (a steel case and bracelet accompanied by a platinum bezel.)
In 2015, Rolex discontinued the 29mm and 35mm Yacht-Master sizes and replaced them with the Yacht-Master 37 (which features a 37mm case). Furthermore, yellow gold or yellow Rolesor Yacht-Master watches are no longer an option as Rolex supplanted them with Everose gold and Everose Rolesor variants. Furthermore, Rolex furnishes the Everose gold Yacht-Master with a black Cerachrom ceramic bezel (instead of a metal one) and a black rubber Oysterflex bracelet (instead of a metal Oyster bracelet.)
– Yacht-Master 29 (discontinued)
– Yacht-Master 35 (discontinued)
– Yacht-Master 37
Ladies' Yacht-Master Material Options:
– Yacht-Master 29 and Yacht-Master 35: Rolesium, Yellow Rolesor, Yellow Gold
– Yacht-Master 37: Rolesium, Everose Rolesor, Everose Gold
Ladies' Yacht-Master Prices
Rolex prices the Yacht-Master 37 models at $11,250 for the Rolesium model, $13,150 for the Everose Rolesor model, and $23,250 for the Everose gold model. Expect to pay prices close to or even above retail for pre-owned Yacht-Master 37 watches.
Pre-owned Lady Yacht-Master 29 models cost much less with prices starting at less than $7,000 for a two-tone steel and yellow gold variant.
Rolex Pearlmaster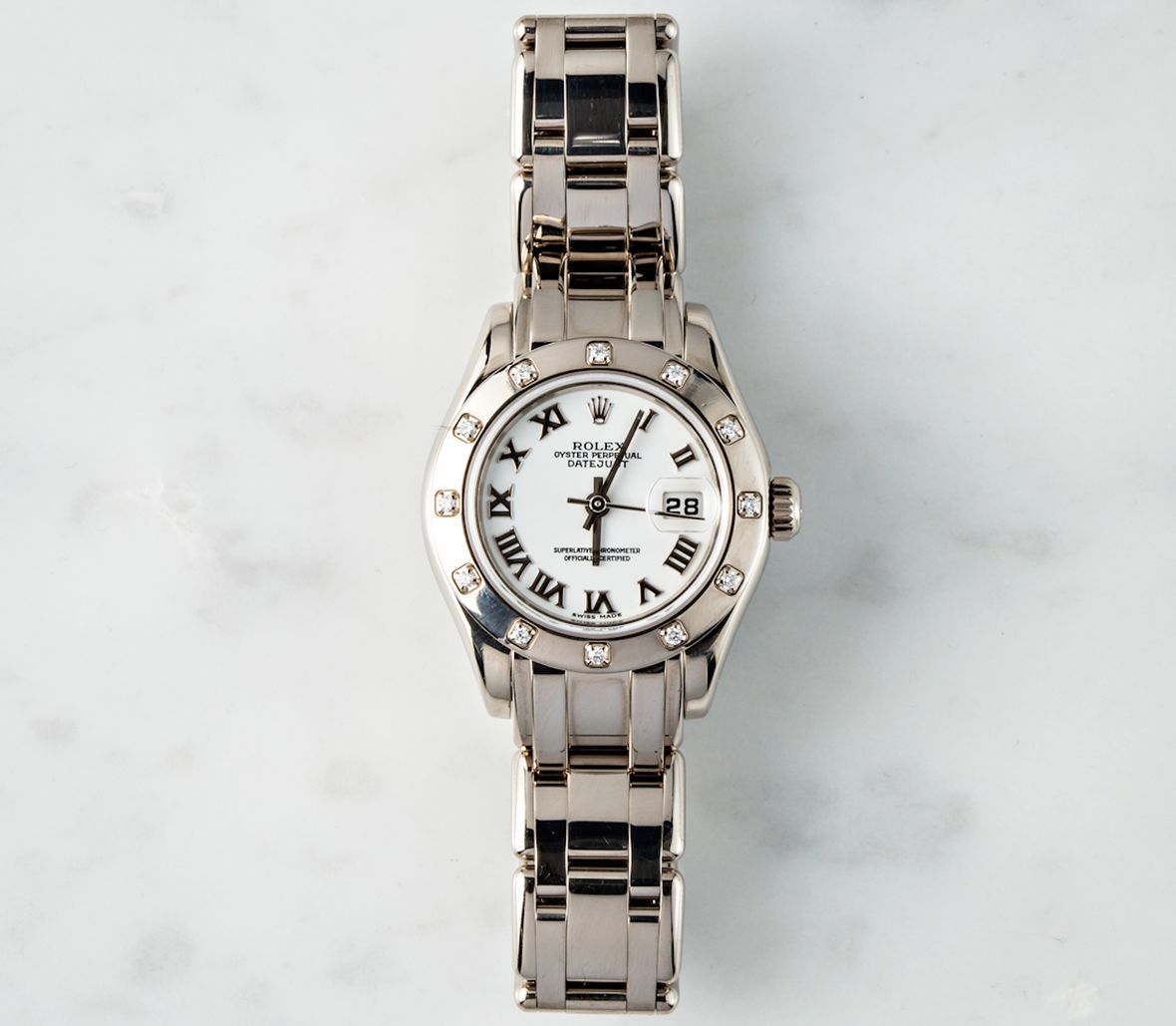 The Pearlmaster is a collection of Rolex jewelry watches largely designed for women (although there are also a number of men's Pearlmaster models). The collection was first released in 1992 and Rolex only makes the Pearlmaster in solid gold or platinum. Additionally, every Pearlmaster watch includes diamonds too, ranging from a dozen diamonds on the bezel to lavish editions that are fully paved in diamonds.
The watch takes its name from the Pearlmaster bracelet, which is characterized by a five-piece design of high polished curved links that was made especially for the launch of the watch. A closer look at the Pearlmaster reveals that the dial is labeled "Datejust" and not "Pearlmaster" and it has the same date window at the 3 o'clock position as the Datejust. A little puzzling perhaps, but the Pearlmaster is indeed a separate collection from the Datejust given its specific bracelet style and different case sizes.
Rolex originally made the Pearlmaster available with 29mm or 34mm case sizes. However, in 2015, similar to so many other Rolex watches in recent years, the smallest version was discontinued and a larger option was introduced. Today, Rolex makes the Pearlmaster with a 34mm or 39mm case size.
– Pearlmaster 29 (discontinued)
– Pearlmaster 34
– Pearlmaster 39
Ladies' Pearlmaster Prices
Due to the precious metal cases and matching bracelets – not to mention the obligatory diamond adornments – Pearlmaster watches are some of the most expensive Rolex models in the brand's catalog. Most Pearlmaster watches are listed as "Price on request" (which is a designation that indicates a hefty price tag and is reserved for Rolex's most expensive watches crafted from solid precious metals).
Pre-owned Pearlmaster 29 watches are not inexpensive – but certainly more affordable than new Rolex Pearlmaster models. A pre-owned white gold ladies' Rolex Pearlmaster 29 with a bezel set with 12 diamonds starts at around $13,495 on the secondary market.
Rolex Cellini and Vintage Cocktail Watches
For those looking for ladies' Rolex watches that are markedly different from contemporary timepieces, vintage cocktail watches or retro Cellini watches offer some truly unique options. Cocktail watches are essentially beautiful pieces of jewelry that happen to also tell the time while ladies' Rolex Cellini watches often feature non-traditional case shapes.
Rolex no longer produces cocktail watches, nor does the brand manufacturer ladies' sizes of the current Cellini collection, but these elegant and dressy timepieces are typically crafted from solid gold and offer a unique aesthetic that immediately separates them from all of Rolex's modern ladies' watches. From distinctive silhouettes to incredible craftsmanship, these pieces make an exceptional statement on the wrist and worthwhile addition to any collection.
Whether casual, dressy, sporty, or unique and avant-garde, Rolex has always been known to make some of the best luxury women's watches on the market. Ladies' Rolex watches are never created as an afterthought to the men's collection – they're built to the same exacting standards and boast identical robustness, precision, and accuracy. Just like the legendary men's models, women's Rolex watches represent some of the finest timepieces available and are built to last a lifetime.