Except for the Cellini, all modern Rolex watches will have the words "Rolex Oyster Perpetual" somewhere in their name to signify the use of Oyster cases (waterproof to at least 100 meters) and Perpetual movements (also known as automatic movements). However, there's also a collection of watches called the Rolex Oyster Perpetual, which are the brand's entry-level models.
Rolex's portfolio consists of just two main lines of watches: the Professional and the Classic series. The Professional Collection contains perhaps the most instantly recognizable names, the tool watch models such as the Submariner, Daytona, Explorer, and GMT-Master. Each one was (and still is) designed to do a specific job, whether that is keeping track of dive times, lap times, or times in another country. The Classic Collection also has some big hits, such as the Day-Date and Datejust; the former serves as the ultimate statement of prestige and attainment while the latter is an iconic all-rounder that's essentially the quintessential Rolex watch.
On the whole, the Classic models are simpler than their brawny brethren, both aesthetically and in terms of complications. The Sky-Dweller's wonderful annual calendar and GMT functionality aside, the rest of the Rolex Classic range is relatively conservatively styled and with fairly modest features. And coming in as the most humble, understated, and unpretentious of them all is the Rolex Oyster Perpetual watch collection.
Rolex Oyster Perpetual
Current Oyster Perpetual Collection Key Features:
Reference Numbers: 276200; 277200; 124200; 126000; 124300
Year of Introduction: 2020
Case Sizes: 28mm; 31mm; 34mm; 36mm; 41mm
Materials: Oystersteel (904L Stainless Steel)
Functions: Time w/ Running Seconds
Dial: Multiple Colors Options w/ Luminous Hour Markers
Luminous Material: Chromalight
Bezel: Fixed, Stainless Steel, Smooth Style
Crystal: Sapphire (Flat)
Movement: Rolex Caliber 2232 or Caliber 3230 (self-winding)
Water Resistance: 100 Meters / 330 Feet
Strap/Bracelet: Oyster Bracelet (Stainless Steel)
Clasp: Oysterclasp w/ Easylink Extension System (Stainless Steel)
Approx. Price (USD): $5,300 – $6,150 (Retail); $10,000 – $60,000 (Pre-Owned)
Click here for our Ultimate Buying Guide on the Rolex Oyster Perpetual.
A Simple And Straightforward Design
Every watch that Rolex produces (again ignoring the Cellini collection) is technically an Oyster Perpetual. The name is taken from the waterproof "Oyster" case which gives each one a water resistance of at least 100 meters, and the self-winding "Perpetual" movement the brand developed in the early 1930s. Therefore, a model that we would commonly refer to as just the "Sea-Dweller" is actually formally called the "Rolex Oyster Perpetual Sea-Dweller" – and the same is true for the vast majority of Rolex's self-winding watches that have water-resistant cases.
However, there has always been a separate line of watches with everything extraneous stripped away, leaving just three hands to tell the time, without even anything as unremarkable as a date display. This is officially the Rolex Oyster Perpetual collection, which is the brand's least expensive and arguably most versatile offering. Although the Oyster Perpetual series represents the point of entry into Rolex ownership, the model has become virtually unattainable at a retail level (just like most stainless steel Rolex watches) following the collection's update in 2020.
The Modern Oyster Perpetual Collection
Delving back into its long history, you will find a smattering of precious metal versions in 9k, 14k, and 18k gold – either yellow or pink. It was also among the first Rolex watches to be issued as a Rolesor piece, which is the brand's own term for the two-tone merging of stainless steel and gold on a single timepiece. These days, all Rolex Oyster Perpetual watches are forged entirely from stainless steel, underlining the model's long-held standing as the brand's entry-level model.
That being said, an entry-level Rolex watch is still very much a Rolex. The company doesn't compromise in any way whatsoever, and many of the elements you will find on a watch from the very top of the line are also found here on the most humble of the brand's offerings. That stainless steel isn't some cost-cutting, bargain-basement trade-off. It is the same 904L Oystersteel used for the rest of the catalog.
Rolex's Oystersteel alloy is immensely strong, highly resistant to pitting and corrosion, and holds a polish like no other. Primarily used in the aerospace and chemical industries due to its superior corrosion resistance, 904L stainless steel is the reason a steel Rolex has a unique shine, with virtually every other major manufacturer in the industry using standard 316L stainless steel. Between the case, sapphire crystal, screw-down case-back, and Twinlock winding crown, all of the modern Rolex Oyster Perpetual watches are water-resistant to at least 100 meters (300 feet).
Rolex Oyster Perpetual Options
Like its closest cousin the Datejust, the modern Rolex Oyster Perpetual series has been created to appeal to as many people and tastes as possible. As a result, the Oyster Perpetual is offered in a bevy of sizes and colorways – and movements vary depending on the specific reference too.
A VARIETY OF CASE SIZES
Oyster Perpetual 41
Oyster Perpetual 39 (discontinued)
Oyster Perpetual 36
Oyster Perpetual 34
Oyster Perpetual 31
Oyster Perpetual 28
Oyster Perpetual 26 (discontinued)
Oyster Perpetual 24( discontinued)
At the present time, it comes in a total of five different sizes, starting at 28mm and going all the way up to 41mm (which is the most recent addition to the collection from 2020). Additionally, among the various discontinued Oyster Perpetual models, you will also find 24mm, 26mm, and 39mm case size options, with the fan-favorite 39mm size of the watch only produced from 2015 to 2020, before it was replaced by the current 41mm model.
Rolex Oyster Perpetual Movements
Inside, the 36mm and 41mm versions of the Rolex Oyster Perpetual are the brand's newest-generation Caliber 3230 movement. Based around Rolex's proprietary Chronergy Escapement and benefitting from both Paraflex shock absorbers and a blue Parachrom hairspring for superior resistance to impacts, temperature fluctuations, and magnetic fields, this updated movement is the same one that you will find inside the current 41mm No-Date Submariner, along with the new 36mm Explorer. Due to its more efficient escapement and a redesigned gear train, it offers users an increased power reserve of approximately 70 hours.
If anything, the smaller Oyster Perpetual watches are home to even more impressive movements, and the 28mm, 31mm, and 34mm versions are all powered by Rolex's Caliber 2232 movement. Fitted with a Syloxi hairspring made from silicon, Rolex's patented balance spring is entirely immune to the effects of magnetism, while simultaneously providing improved stability in the face of temperature variations and mechanical shocks. Additionally, its patented geometry ensures its regularity in any position, allowing these calibers to achieve the same Superlative Chronometer standards of +/-2 seconds per day as their larger siblings.
Rolex Oyster Perpetual Dial Colors
Although not to the same scale as the Datejust or President, the Rolex Oyster Perpetual has been issued with a fairly extensive selection of dial colors throughout its history. Additionally, the bright and vibrant dial colors that accompanied the most recent update from 2020 are the single reason why the collection has seen such a boost in popularity over the course of the last couple of years. While there is some overlap throughout the series, a few are used exclusively for certain sizes.
Rolex Oyster Perpetual dial color options (current and discontinued):
Turquoise
Coral Red
Yellow
Green
Pink
Candy Pink
Blue
Blue Azzurro
Black
White
Silver
Champagne
Dark Rhodium
Red Grape
White Grape
Olive Green
A number emerged as real favorites, particularly the bright and colorful options that are reminiscent of the vintage Stella dials found on older Datejust and Day-Date watches. Turquoise Blue and Yellow are among the most popular with Green and Coral Red shortly following. Like most of Rolex's stainless steel watches, the current Oyster Perpetual range is entirely sold-out at retailers, and select dial colors for the 36mm and 41mm models have been known to sell for prices for multiple times their original brand-new retail price on the pre-owned market.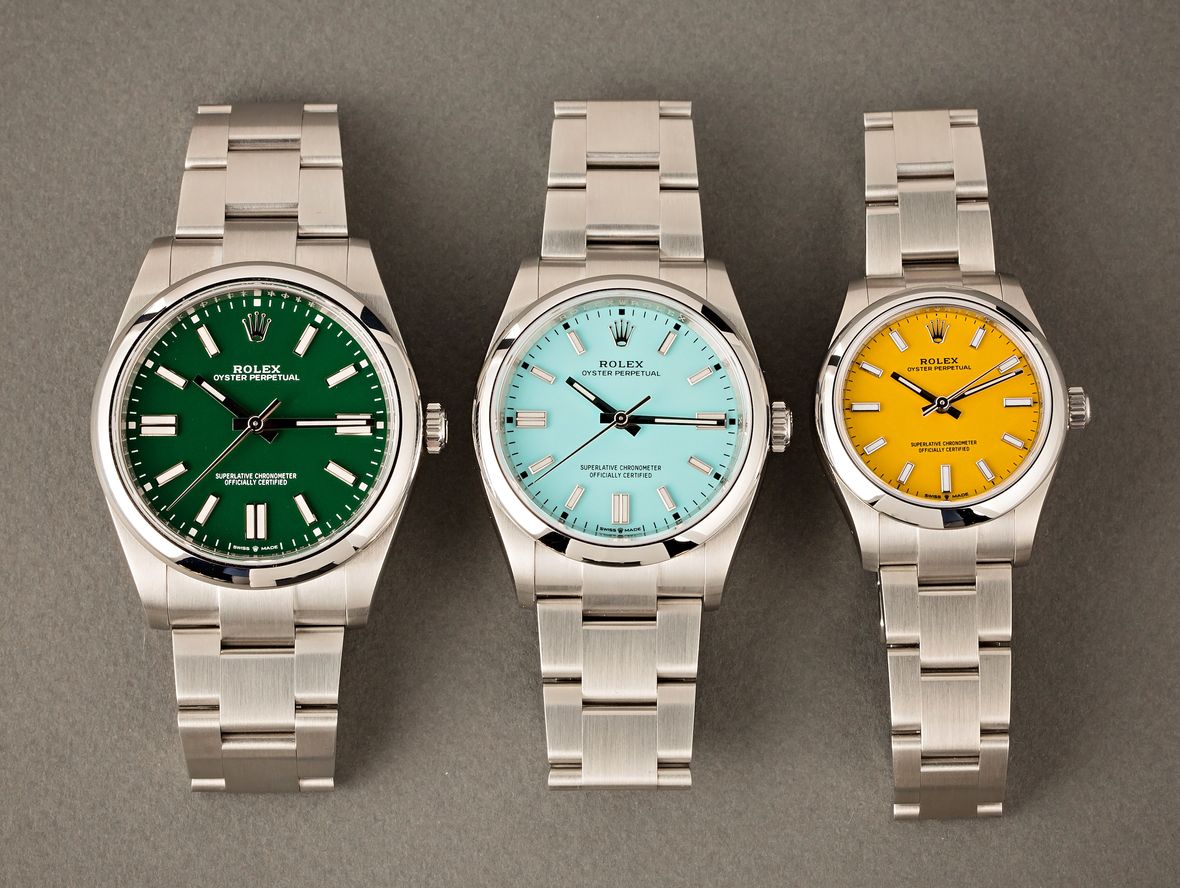 The Rolex Oyster Perpetual Dial Colors Discontinued in 2022
While much of the Rolex coverage at Watches & Wonders Geneva 2022 was (rightly) focused on the company's new watches, it's also important to look at what was dropped from the catalog. A surprising revelation among the discontinued Rolex models was the slew of Oyster Perpetual colorways that got cut in 2022 – even the ultra-popular ones.
The following Rolex Oyster Perpetual watches are no longer part of the current lineup, therefore can only be purchased from the pre-owned market:
Oyster Perpetual 41 Yellow (Ref. 124300-0004)
Oyster Perpetual 41 Turquoise (Ref. 124300-0006)
Oyster Perpetual 41 Coral Red (Ref. 124300-0007)
Oyster Perpetual 36 Yellow (Ref. 126000-0004)
Oyster Perpetual 36 Coral Red (Ref. 126000-0007)
Oyster Perpetual 31 Yellow (Ref. 277200-0005)
Oyster Perpetual 31 Coral Red (Ref. 277200-0008)
Oyster Perpetual 31 Candy Pink (Ref. 277200-0009)
In short, Rolex has done away with Yellow and Coral Red Oyster Perpetual dials entirely, reduced the Turquoise dial option to only 36mm and 31mm variants, and made the Candy Pink exclusive to the 36mm line.
Yellow, Coral Red, Candy Pink, and Turquoise Oyster Perpetual dials were already exceedingly sought-after, and this move by Rolex will only add demand for these now harder-to-find colorways on the secondary market.
A Classic and Timeless Design
As for the rest of the options list, the only bezel style currently available in the collection is the high polished smooth version, which adds to the no-nonsense vibe of the Oyster Perpetual. Furthermore, each model is fitted with a satin-finished Oyster bracelet that features an Oysterclasp with an Easylink extension system. The outcome is a line of watches that can work as both formal and casual wear, which is largely dependent on the chosen dial color. If you opt for one of the vibrant dial options, you're at the sporty end of the spectrum while muted tones result in dressier looking timepieces.
So exactly who is the Rolex Oyster Perpetual intended for? Although the brand is by far the most famous watch manufacturer in the entire world and creates some of the most collectible timepieces in existence, many Rolex buyers are still people who simply want that one good watch that they can wear every day for the rest of their lives. It needs to be realistically priced, versatile enough to go with anything, strong enough to wear every day, and be built reliably enough to last several lifetimes. The Oyster Perpetual is Rolex's ultimate go-anywhere-do-anything watch. It highlights two of the brand's most important innovations (water-resistant case and self-winding movement) but it's never fussy or overly precious.
Rolex's range of austerely designed, handsomely stylish time-only models emphatically ticks every box. Never under or overdressed, the classic Rolex Oyster Perpetual is simply a discrete class act.