In a crowded field of mechanical watch styles, skeleton watches are on the innovative side. Luxurious watch brands make use of transparency to enhance their appeal. Regardless of the type of skeleton you choose (either classic or modern style), it is an excellent option if you are looking for an adventurous and dramatic timepiece.
One innovator in this field is Omega. They have perfected the creation of a watch that contains a skeleton movement. These watches feature an exposed dial, meaning you can see the inner workings of the movement through an aperture on the back of the case. The display gives a glimpse into the quality of craftsmanship and beautiful function. The dials are also typically made from polished stainless steel or solid gold, so they are often quite reflective and shiny.
Indeed, the elegance of an exposed movement is the most daring way to get the world to slow down, look at your watch, and appreciate its craftsmanship. This buying guide will discuss everything you need to know about this luxurious watch. We also provide a list of our top Omega Skeleton watches.
What Is an Omega Skeleton Watch?
When it comes to watches, nothing is more eye-catching than the dial. Similar to humans, the face of an exquisite timepiece is the first thing we notice and the first to hold our attention. That's why luxury brands like Omega combine attractive design and technical excellence to produce the Omega skeleton watch.
These timepieces are designed to expose the intricate mechanics of a watch through the dial. They are often called open-heart wristwatches because of their resemblance to the human heart. Their cases are transparent, so you can see the inner workings of the watch without having to open it up yourself.
There's something about being able to see the gears moving inside and the intricate jewels that make these watches so appealing. They are an example of engineering at their finest. The movement is visible through the crystal, which is made from scratch-proof sapphire. Topped off with a sleek black dial, this watch is an excellent choice for those who love classic styling with a modern twist.
Omega is one of the oldest watch companies in the world, and they have been making some of the best skeleton watches for years. They are known for their attention to detail, precision engineering, and classic style. Their line of skeleton watches is one of their preeminent collections. It combines elements from their other lines to create a unique look that is both modern and timeless.
The Omega Skeleton watch has an automatic movement with a power reserve of 48 hours, a GMT function, and a date display window. It also comes with sapphire crystal glass over its face, which provides excellent scratch resistance for maximum protection against damage from everyday wear and tear.
Omega's skeleton collection includes everything from dressy styles to casual ones that are perfect for everyday wear. They also come in various sizes so you can find something that fits your wrist perfectly regardless of whether it is large or small.
Finding the Right Omega Skeleton Watch for You
There has been an explosion of interest in watches as a collectible and investment. It is no longer a case of just randomly choosing your next watch. With the best chronograph to invest in, you can get the best value for your money.
Whether you prefer vintage, new, or pre-owned watches, Omega skeleton watches have captured the hearts and emotions of many watch enthusiasts. It's time for you to bring home one for yourself, too. However, before rushing to shop for your wristwatch, consider the following factors:
Price: Remember to do your work, research, and compare each model to see the best option for your budget.
Size: This model comes in various sizes, so you can choose the one that suits your style. If you select the smaller case, it provides a good fit for smaller wrists, while a broader case makes a statement without seeming overbearing.
Features: Each model is unique in its own way. Hence, make sure to pick a watch that perfectly fits your needs and style.
Authenticity: There are many fakes on the market, so you must be careful to avoid buying a counterfeit item. To spot an authentic watch, look for the serial or model number engraved on the case back of a watch. If you aren't sure how to go about this, shop from an authorized dealer like Bob's Watches for peace of mind.
Omega Skeleton Watch: Our Top Picks
Among all of the exquisite Omega Skeleton watches, these are our top picks:
Omega Skeleton Watch – Ref. 2932.80.00
The Omega Seamaster ref. 2932.80.00 in 18k white gold is a rare find. This model was introduced in 1998 to celebrate the 50th anniversary of the Seamaster name. It was manufactured in a limited edition of 50 pieces.
Featuring a skeletonized dial and rotating bezel, the timepiece boasts luminous hour marks expressed in blue with skeletonized hands. With 38 hours of power reserved at full winding, the watch serves as an essential tool for tracking your busy schedule.
Omega Skeleton Watch – Dark Side of the Moon Apollo 8
For more than 60 years, the Omega Speedmaster Dark Side of the Moon Apollo 8 has delighted space experts with its mechanical features and highly distinguishing character. When you own this Omega Speedmaster Dark Side of the Moon Apollo 8, you can experience the same watch worn by the first astronauts and test pilots to reach for the stars.
It is the first ever chronograph equipped with a partially skeletonized dial that reveals parts of Caliber 1869, a "spin-off" of Caliber 1861. The Omega's chronograph takes you back in time with its black zirconium-oxide ceramic case. An after-image on the perforated black leather strap with yellow rubber through the middle completes the rocket ship look. Indeed, this timepiece combines style with functionality for a timepiece that should be in every watch enthusiast's collection.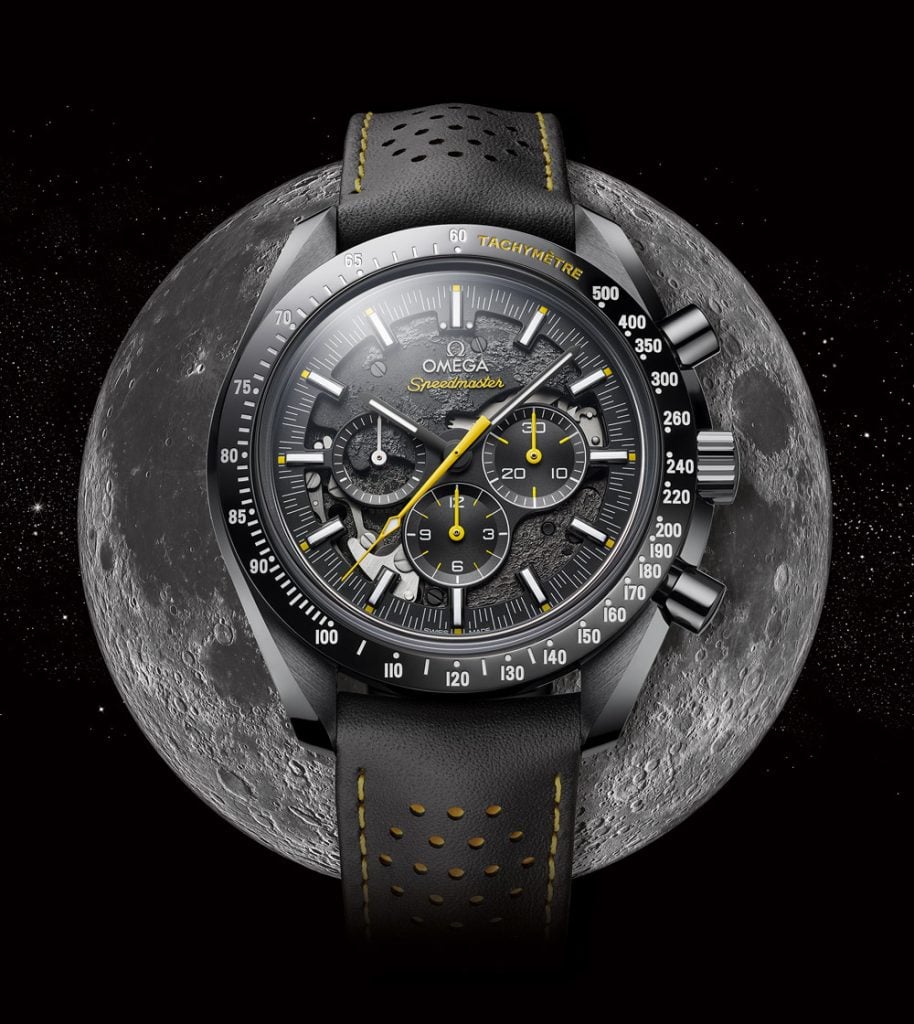 Omega Skeleton Watch – Ref. 3688.30.32
The Omega 3688.30.32 is one of the most elegant watches in the range. Here you see a skeletonized Omega movement, with a rhodium-plated finish. A further addition to this watch is a moon phase and date display set into the face. Possessing a silvery, white finish and brilliant shine platinum, the watch is highly rare and boasts lasting durability. Its material provides remarkable resistance to corrosion, making it the most endearing timepiece on the line.
Fine‑tuned to a state‑of‑the‑art level, the COSC‑certified caliber 3604 A is visible through a transparent sapphire case back. It also features a three-dimensional dial, made entirely of white gold with bright blue hands. No other material is used to ensure maximum sustainability and accuracy.
Omega Skeleton Watch – Deville Co-Axial Platinum
As one of the most collectible and expensive Omega De Ville watches produced, the Co-Axial Skeleton Limited Edition is crafted with precision, elegance, and history in mind. Handcrafted in platinum, 18K yellow gold, 18K white gold, and 18K pink gold, it features a co-axial movement with skeleton-like dials.
An astonishing piece of art, this watch has all the characteristics of the best luxury timepiece: sapphire crystal face and back, 18k yellow gold case, and bracelet strap.
Omega Skeleton Watch – Ref. 3096.30
In 1994, the Omega Speedmaster Apollo XI 25TH Platinum was released, but only 50 pieces were created, making this a desirable collector's item. Featuring a front and back opening in the movement visible on the dial, this watch was meticulously engraved and finished by master watch designer Armin Strom.
A rare timepiece with a flawless set of qualities, it has a transparent blue dial that reveals the beating heart of its movement. Its delicate second hand is made from genuine platinum and has been delicately hand-engraved with an image of a world map. The innovative design combines tradition and technology to create a masterpiece that stands out from the crowd.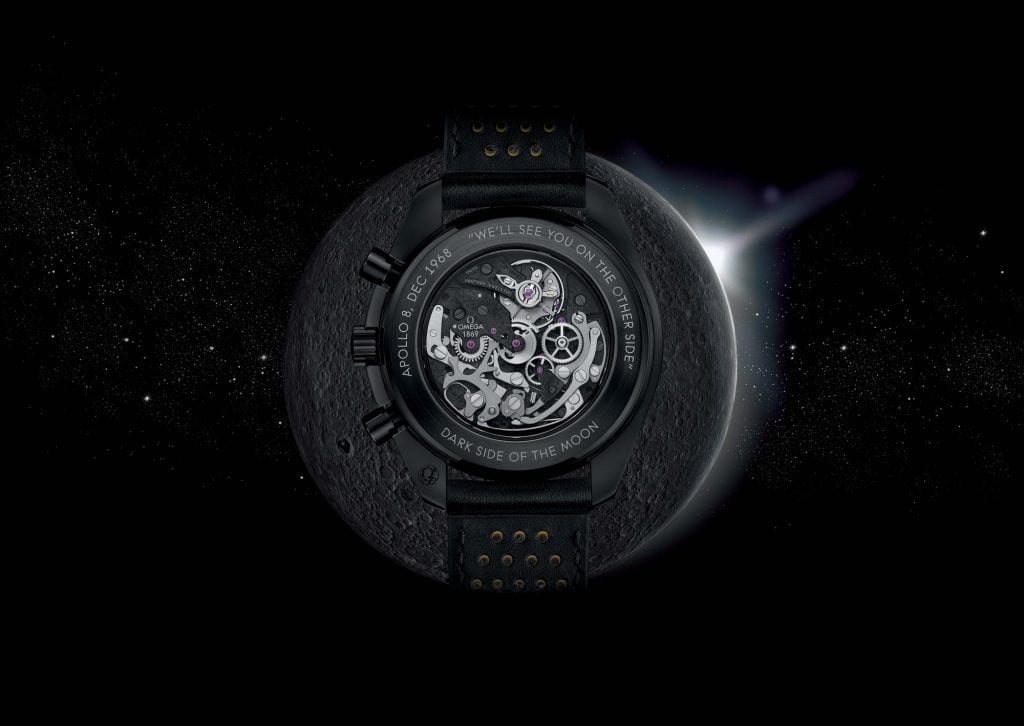 The Cost of an Omega Skeleton Watch
The Omega Skeleton models are exclusive and expensive as they are crafted using an innovative technique known as skeletonization. Depending on the model year and features, this luxurious watch sells for about $5,000 on average and up to $510,000 for the priciest versions.
With exquisite craftsmanship and unique design, the Omega Skeleton collection is in high demand among collectors and investors alike. All models are limited edition, but that rarity means that this watch will only appreciate over time.
Shop Our Omega Skeleton Watch Collection
Omega watches are recognized worldwide as a symbol of wealth and luxury. Buying from an authorized dealer such as Bob's Watches ensures that you are buying a genuine Omega product with warranty protection. Browse our collection today to find your next favorite timepiece.
*All images courtesy of OMEGA.