As many luxury timepiece enthusiasts will tell you, part of the fun (or challenge) of collecting vintage Rolex watches is discovering unusual occurrences in their archives. While today's Rolex collections are very clearly separated, each with its unique selling points and plenty of marketing materials to explain all of the ins and outs, it wasn't that clear-cut fifty-plus years ago. Case in point is the Rolex reference 5500. Although the ref. 5500 is technically a Rolex Air-King, the brand also simultaneously offered the ref. 5500 with a Rolex Explorer dial and handset for about a decade.
This type of thing would never happen today, but it is an absolutely fascinating piece of Rolex's history and serves as proof that sometimes things don't always make as much sense as they should when it comes to vintage watches. So, today we take a closer look at both versions of the Rolex reference 5500 with detailed reviews of the Air King ref. 5500 and the Explorer ref. 5500 to provide some insight on this somewhat mysterious vintage Rolex reference.
Rolex Reference 5500 Timeline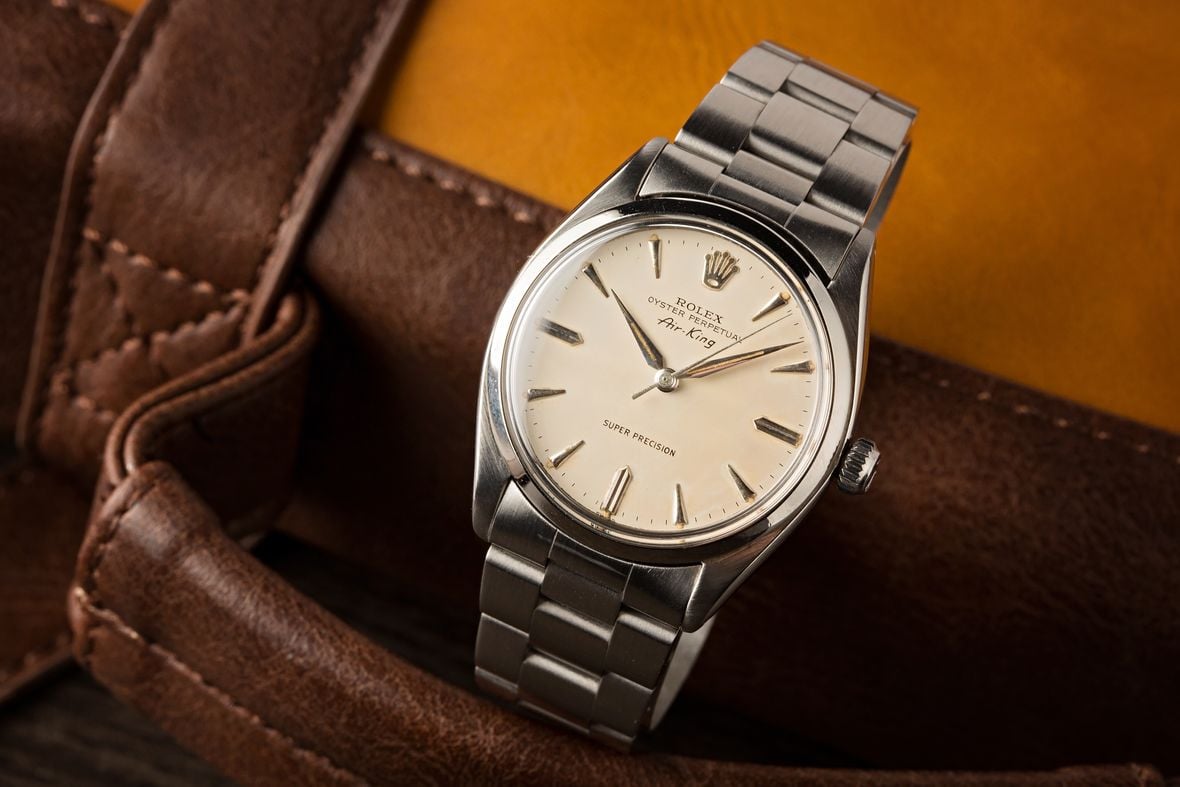 Rolex 5500 Timeline
– 1945: Rolex releases the first Air-King watch.
– 1953: Rolex releases the first Explorer watch.
– 1957: Rolex introduces the Air-King 5500.
– 1958: Air-King 5500 formally sold to the public.
– 1958: Rolex offers a version of ref. 5500 with an Explorer dial.
– 1967 (approximately): Rolex discontinues the Explorer 5500.
– 1989: Rolex discontinues the Air-King 5500.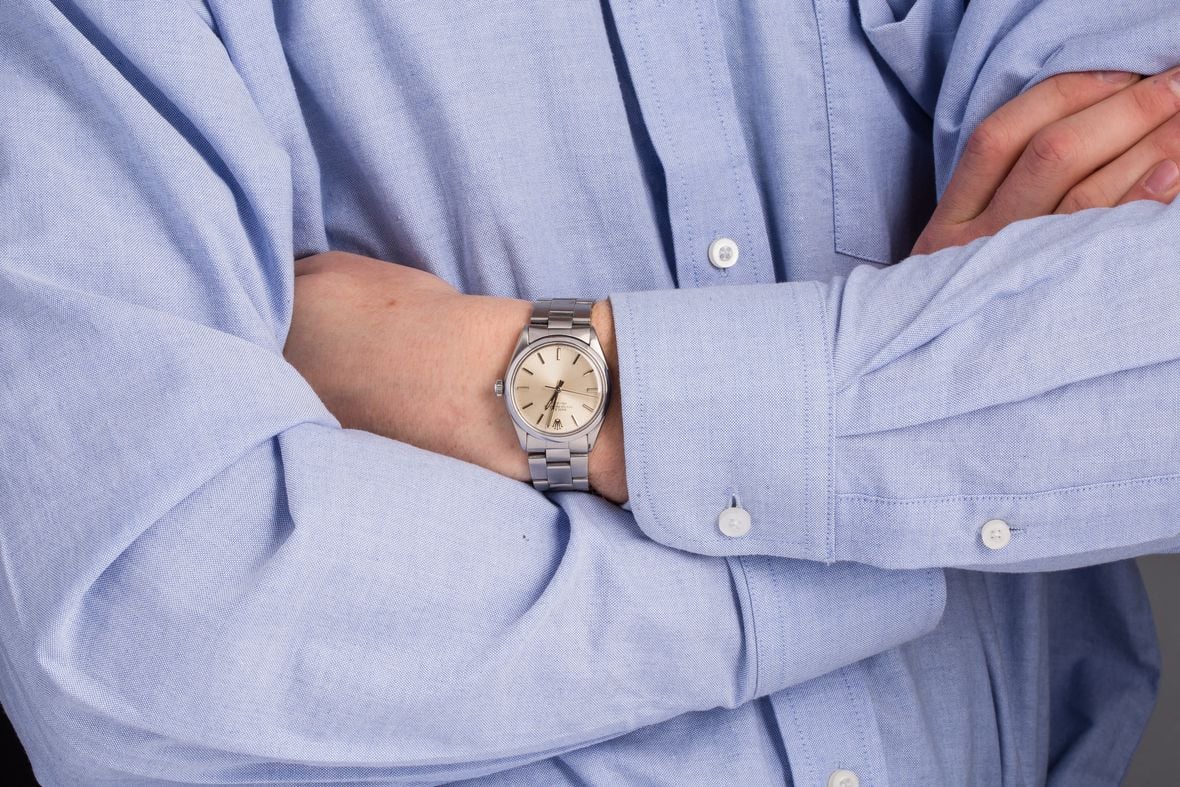 The Purist's Vintage Rolex: Air-King 5500
Although it receives far less attention than the Submariner, Day-Date, or GMT-Master, the Rolex Air-King is one of Rolex's oldest collections of watches, with an interesting history that spans over seventy years of near-continuous production. And the Air-King 5500 is one of the collection's longest-running iterations.
A History Dating Back To World War II
The Rolex Air-King lacks any specific features or complications that make it specially tailored to one type of sport or environment; however, this minimalist collection of watches has become a cult favorite among purists due to its simple time-only display and clean, all-stainless steel construction.
After hearing stories of World War II British pilots discarding their standard-issued field watches in favor of personally-purchased Oyster Perpetual timepieces, Rolex co-founder, Hans Wilsdorf decided to release a series of aviation-themed watches, intended to honor the brave RAF pilots who flew in the Battle of Britain.
Among these aviation-themed watches was the Air-King, which made its first official appearance in 1945 with the reference 4925. Several references followed as Rolex continued to refine the design; however, in 1957 (officially sold to the public in 1958), Rolex released a new version of the Air-King that would be known as the reference 5500.
Inside The Rolex Air-King Ref. 5500
Reference 5500 Air-King watches were fitted with both caliber 1520 and 1530 movements – a discrepancy that ultimately came down to the market in which the specific watch was originally sold. Due to the difference in movements, Air-King watches that were fitted with the caliber 1530 were often branded with "Super Precision" on the dial, while those with the caliber 1520 generally received the "Precision" branding – however, this rule is certainly not consistent for all reference 5500 watches.
Due to a less standardized production process at the time (along with the existence of service replacement parts), surviving examples of the Air-King ref. 5500 – regardless of whether they have a caliber 1520 or 1530 movement – can be found with either style of dial. Additionally, in some rare instances (generally on watches from older production runs), certain reference 5500 Air-King watches can be found with no text on the lower half of the dial at all – sometimes called "Pre-Precision" dials by collectors.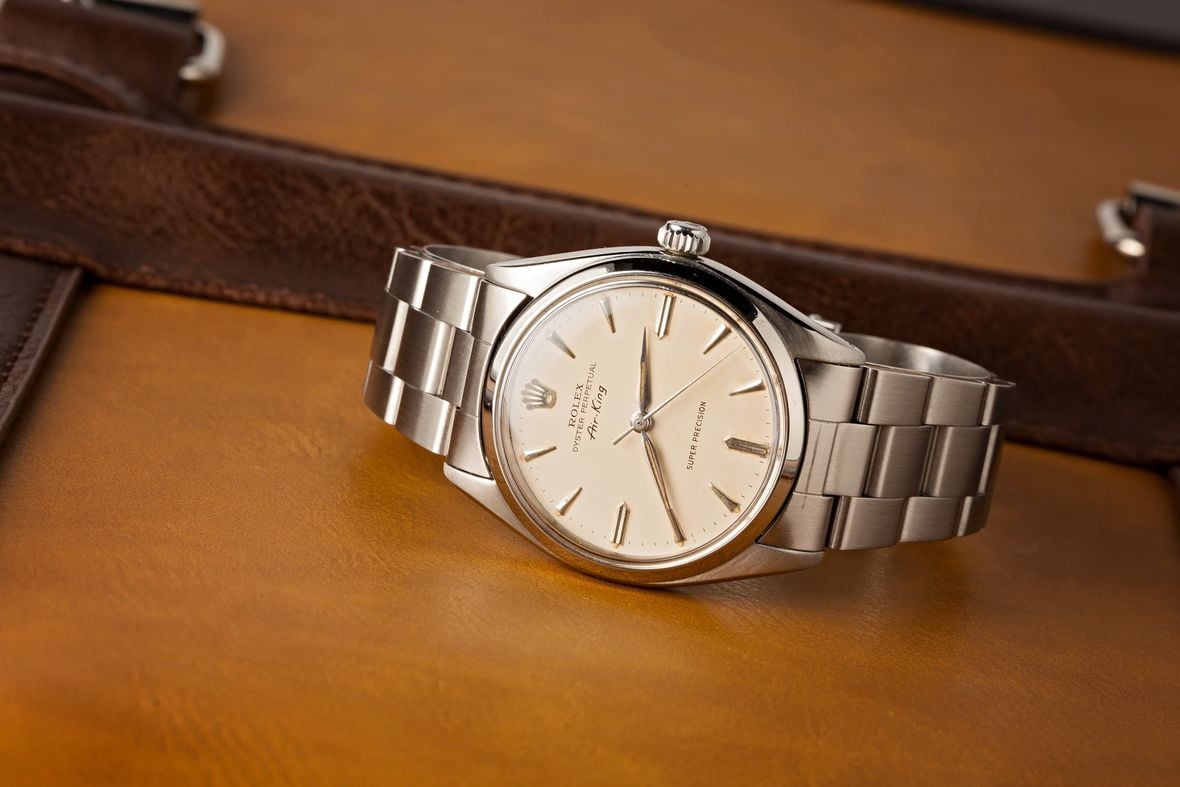 Air-King 5500 Design
At 34mm in diameter, and without any additional features such as a rotating bezel, chronograph registers, or even date complication, the Air-King ref. 5500 boasts one of the cleanest and most understated Rolex designs of all time. As a testament to its rock-solid reliability and timeless good looks, the reference 5500 Air-King remained in production for approximately 37 years, and stayed largely unchanged the entire time.
While the Air-King has always been considered one of Rolex's entry-level collections of watches, its classic design and top-notch build quality have made it a popular choice for celebrities and politicians alike. The Air-King ref. 5500 has all of the hallmark traits of a Rolex, without possessing a single superfluous feature. Its screw-down case, in-house movement, and Oyster bracelet provide owners with all the defining characteristics of a Rolex watch, yet they are wrapped up in possibly one of the most understated and versatile packages that the company has ever put forward.
At 34mm in diameter, the Air-King's modest size makes it well-suited for both men and women. Additionally, its minimalist good looks guarantee that it will never truly go out of style. It may never be as iconic and instantly recognizable as the Daytona or Submariner, but the Rolex Air-King has become a go-to favorite for purists seeking a classic Rolex watch that can easily fly under the radar.
Click here for our Ultimate Buying Guide on the Rolex Air-King.
What Is the Rolex Explorer 5500?
In the late-1950s, Rolex offered a version of the Air-King ref. 5500 with an Explorer dial. As a result, this particular model is often referred to as the Rolex Explorer ref. 5500 despite having more in common with the Air-King collection than the Explorer. It is a hybrid of sorts, combining the restrained Air-King case with the instantly recognizable Explorer dial. Like the Air-King 5500, the Explorer 5500 also sports a 34mm case, which is noticeably smaller than the traditional 36mm size of the Explorer ref. 6610 and the Explorer ref. 1016 watches of the same era.
The face of the Explorer ref. 5500 features the typical black gilt dial, the obligatory 3, 6, and 9 Arabic numerals, and the inverted triangle at 12 o'clock. However, this time under the Rolex logo, the "EXPLORER" name is clearly on display. Further connecting it to the Explorer collection is the Mercedes-style hands, complete with lollipop-style seconds hand with a luminous circle on it. The T<25 marking below six o'clock indicates that the dial uses tritium for luminescence.
Similar to the Air-King, there are both Precision and Super Precision editions of the Explorer ref. 5500, fitted with Calibers 1520 or 1530. There are also some ultra-rare "underline" examples with a line under the "SUPER PRECISION" text. Furthermore, there are some instances where the dial includes a double T<25 marking flanking the "SWISS" label and a few examples of the "Double Swiss" variant. Despite representing a relative blip in Rolex's history, quite a lot of variation can be found among the Explorer dials of ref. 5500 watches.
Is the Explorer 5500 an Air-King In Disguise?
In an effort to attract some younger customers, Rolex ran a little experiment by outfitting the body of the Air-King ref. 5500 with the dial of the Explorer. Since this is an unusual vintage Rolex watch with a few dial variations available, it's certainly an interesting piece to research, source, and add to any watch collection.
In fact, in 2016, Philips sold an Explorer ref. 5500 watch with the underlined "SUPER PRECISION" and double "T<25" for a whopping CHF 28,750 – triple its pre-sale estimate. The following year, the same auction house sold a Double Swiss Explorer 5500 stamped with Joyeria Riviera on the dial for CHF 32,500. Additionally, given all of the recent attention on vintage Rolex Explorer models, we can almost guarantee that those same watches would fetch even greater sums if they were sold today.
So, if you're in the market for vintage Rolex watches that are a little out of the ordinary, then the Explorer ref. 5500 might just be for you.
Rolex 5500: Air-King vs. Explorer
Although the Air-King 5500 and the Explorer 5500 share the same silhouette, case, bracelets, and movements, they still look quite different thanks to their dial and hand designs. The vast majority of Air-King models were fitted with light dials paired with simple baton hands and stick indexes, while the Explorer versions featured the now-iconic 3/6/9 black dials and Rolex's famous Mercedes-style hands.
The Air-King 5500 was in production for well over three decades while Rolex made the Explorer 5500 for about a decade. Furthermore, the history and evolution of the Air-King 5500 are well documented while there remains some mystery surrounding the Explorer 5500. It was once rumored that the Explorer 5500 was exclusively available for sale through the British Navy, Army and Air Force Institutes (NAAFI) for military personnel.
With that in mind, there's been plenty of anecdotes of civilians buying them from UK-based and Canada-based Rolex retailers in the 1960s to refute this theory. Plus, an Explorer 5500 has appeared in at least one official vintage Rolex catalog, suggesting that it was available for sale to the public (and not only through military retailers) at some point during its production run.
There's also a significant difference between the prices of these two Reference 5500 watches. The Air-King 5500 remains relatively affordable (in vintage Rolex terms) with prices starting out at just under $4,000. A genuine and all-original Explorer 5500 is far more challenging to come by and when they do come up for sale, expect to pay at least a five-figure price should you wish to add it to your collection.
Whether branded as the understated Air-King or the intriguing Explorer, the long-running reference 5500 was a dependable and durable Rolex watch despite its modest size. Additionally, whether you opt for the Air-King version of the Explorer, you will be getting a timeless vintage timepiece with all the hallmark traits of a Rolex.