The Air-King is one of the oldest names in Rolex's catalog that is still in the lineup today. Most collectors are more familiar with the Rolex Air-King in its current form: a contemporary aviator's tool watch outfitted with a 40mm case and a dial that closely resembles cockpit instruments. However, the Air-King actually has its roots firmly planted in the realm of dress watches, featuring a design more like that of the Oyster Perpetual than a Professional series pilot's watch.
In this guide, we take an in-depth look at this often-overlooked Rolex watch and answer a few popular questions floating around the web, such as is Rolex Air-King discontinued? Technically, no (although it was for a short time 2014). Also, what is the Rolex Air-King price? The series is positioned as an affordable option for collectors of all budgets, both on the retail level and the secondary market. This comprehensive guide covers both of these topics and much more, so continue reading to learn all there is to know about the beloved Rolex Air-King.
Introduction to the Rolex Air-King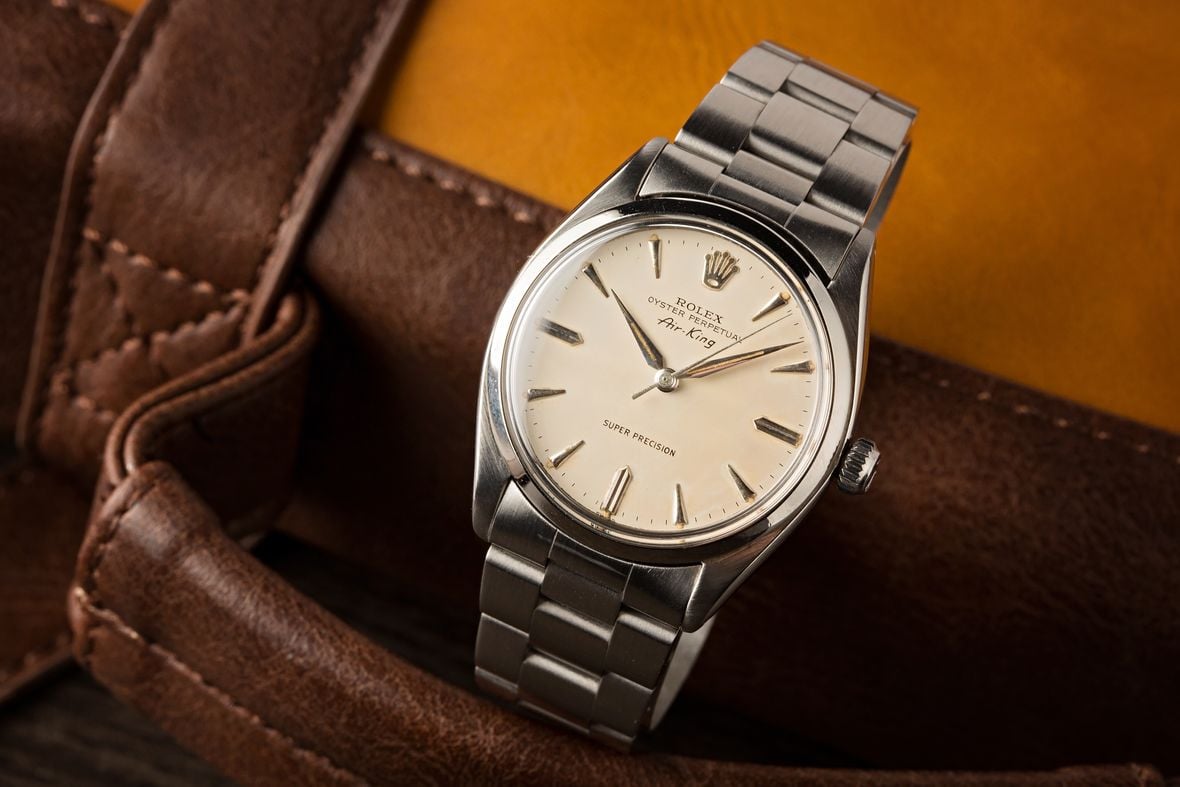 These days (following a major redesign), the modern Rolex Air-King is squarely situated as one of the brand's professional tool watches. However, that hasn't always been the case. While this watch has always technically been a pilot's watch, it has largely been a more popular choice for entry-level Rolex collectors, thanks to its timeless design and affordable price point. Over the decades, it became more of a cult favorite on the fringe rather than a mainstream piece beloved by the masses.
The Rolex Air-King is one of the oldest names in the brand's catalog, with the very first instance of its use dating all the way back to the 1940s. Throughout those years, we've seen some great iterations, innovations, and upgrades to this classic and elegant line. We've also seen a major shift in positioning by Rolex, stopping production after nearly 7-decades to totally upend the design in favor of turning it back to its original, tool-watch roots.
Here in this guide, we'll explain the storied history of this timepiece, talk about its value, and outline all of the features, options, and upgrades we've seen over the years. If you're thinking of investing in a Rolex Air-King, we've just about compiled everything that you'll need to make an informed decision right here. So, let's get started!
The Current Rolex Air-King
Air-King 116900 Key Features:
– Reference Number: 116900
– Production Years: 2016 – Present
– Case Size: 40mm
– Materials: Oystersteel (904L stainless steel)
– Features: Time + Running Seconds; Internal Antimagnetic Shield
– Dial: Black
– Bezel: Fixed, Stainless Steel, Smooth Style
– Crystal: Sapphire (Flat)
– Movement: Rolex Caliber 3131
– Water Resistance: 100 Meters / 330 Feet
– Strap/Bracelet: Oyster bracelet
Click here to learn more about the first Rolex Air-King.
5 Quick Facts About the Air-King
Before we dive into the extensive history of the Rolex Air-King, here are 5 interesting facts about its evolution over the decades.
1. The Air-King was made in honor of WWII Pilots
During and directly after WWII, Rolex released a line of 'Air' watch models. They were created to honor the British Royal Air Force and its pilots. There were Air-Lion, Air-Tiger, Air-Giant, and Air-King (among others), but the Air-King is the only one still in production today.
2. The Air-King has always been considered large
When the Rolex Air-King was first launched as its own standalone collection in 1958, it clocked in at 34mm. While this is considered small for today's standards, back then, it was quite large. Consequently, when the watch was re-released in 2016, it was reimagined in a totally new way, with one of its most significant updates being a larger 40mm case.
3. The Air-King is one of Rolex's oldest collections
Although the very first use of the "Air-King" name dates back to 1945, the Air-King collection as we know it today did not join Rolex's catalog until 1958. Rolex founder Hans Wilsdorf originally rolled out the Air-King as a tribute to pilots, and he likely had no idea it would become one of the brand's most enduring collections.
4. The Air-King was revived and re-invented in 2016
After being briefly discontinued for a couple of years in 2014, the Rolex Air-King was re-released in 2016 in the form of the reference 116900. The key difference? Instead of being considered an affordable and classic entry-level Rolex with a 34mm case, the new Air-King is a proper aviation timepiece with a 40mm antimagnetic case borrowed from the Milgauss.
5. The New Air-King is anti-magnetic
Powered by the Rolex Caliber 3131, the new Air-King ref. 116900 is equipped with a specialized internal shield to protect its movement from magnetic fields. Both the case and the bracelet of the current-model Air-King are the same ones found on the Milgauss, granting Rolex's aviation watch the same legendary antimagnetic properties as its iconic model for scientists.
Everything You Need To Know: History of the Rolex Air-King
First appearing in 1945, the Air-King was part of a larger collection of watches made by Rolex to honor the RAF pilots of the Battle of Britain. The range consisted of the Air-Lion, Air-Tiger, Air-Giant, and Air-King (among a number of other Air-themed watches.) The Air-King is the only model that remains in production today, and most interestingly, Rolex does not consider these early models to be the official start of the collection.
The first references to bear the "Air-King" name, such as the ref. 4925, ref. 4499, and ref. 6652 are all considered to be relatively rare and sought-after today. However, not all of the examples of this reference included the Air-King name on their dials, and Rolex more-or-less seems to ignore that these watches ever existed as Air-King models, instead preferring to classify them as just standard Oyster Perpetual watches.
As the history of the Air-King has spanned nearly eight decades, the best way to explore its entire history is through its references. Here, we'll examine the Rolex Air-King history through its five most important references.
Rolex Air-King (1958-1989)
Still in the early years of the Air-King's lengthy history, the ref. 5500 was only the fourth generation of this watch. However, Rolex considers the reference 5500 to be the official start of the collection, and its long-production history made a serious and lasting impact. In fact, when you ask most collectors what watch comes to mind when they think about the Air-King, the ref. 5500 is most likely the watch they imagine. Featuring a 34mm case, an austere dial design, and plain stick hands, this watch was incredibly minimalistic – there wasn't even Rolex's signature date display at the 3 o'clock location.
Over the decades, the aesthetics didn't change all that much. However, we did see two different movements fitted to the ref. 5500. First, there was the cal. 1530 followed by the cal. 1520 in 1963. Despite there being chronometer-rated versions of the cal. 1530, none of the Air-King 5500 watches were actually chronometer-certified since the watch was always positioned to be more of an entry-level offering within the Rolex lineup.
Collecting this era
For collectors, the Rolex Air-King 5500 is a great watch to snap-up. Not only is it the most inexpensive Air-King reference, but it is also one of the least expensive vintage Rolex models. This pricing, alongside its classic and timeless looks, makes it a great timepiece to start out your Rolex collection.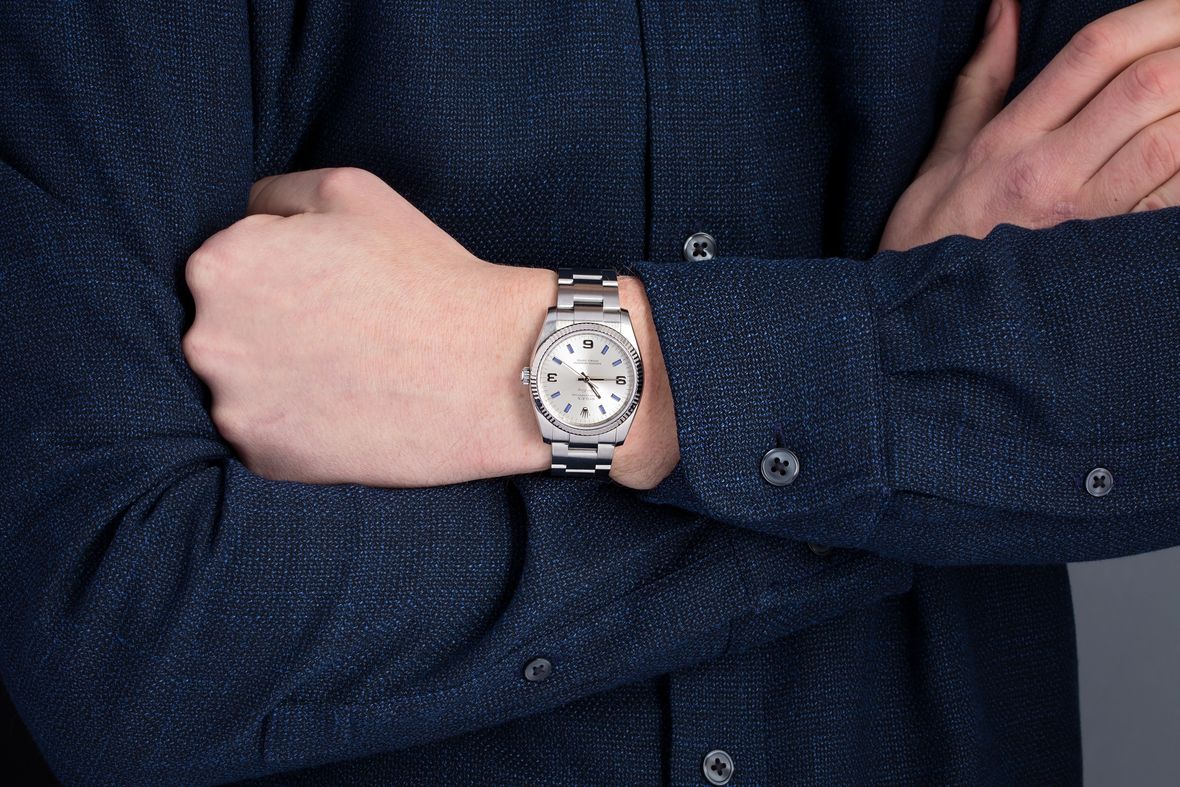 Rolex Air-King (1989-2006)
Eventually, the ref. 14000 replaced the beloved ref. 5500. However, this watch wasn't all that different, still featuring a 34mm stainless steel case and modest, simple styling. Although, this time, you did have some different dial color options like salmon, blue, white, and black. You could also choose between a smooth or engine-turned bezel, further expanding the options within the collection. Other upgrades included a sapphire crystal and the new Caliber 3000 movement, which gave the watch a frequency of 28,800vph, allowing it to stand alongside the rest of Rolex's powerful, reliable offerings. However, it is important to note that the cal. 3000 wasn't COSC-rated, meaning that it didn't promise the exact same timekeeping standards as the rest of Rolex's lineup.
At the new millennium, Rolex updated the 14000 with the ref. 14000M which featured a cal. 3130, ticking at the same rate but benefitting from a Breguet overcoil and a full balance bridge. This new movement still didn't obtain COSC certification due to the additional production costs associated with submitting movements to the COSC for official testing.
Collecting this era
When it comes to collecting this era, these watches represent a great opportunity. You will pay more for a ref. 14000 or ref. 14000M Air-King compared to the ref. 5500 due to the upgraded movement and sapphire crystal. With that in mind, you have far more options here in terms of aesthetics which make collecting fun. And in comparison to other Rolex models, you can still get a really great deal on an Air-King from this generation.
Rolex Air-King (2007-2014)
In 2007, the Rolex community was surprised to see the Air-King move into a more modern era – one that embraced a more contemporary feel and bolder features. While the ref. 114200 still boasted a 34mm case. It was bulked up with wider lugs and an overall larger appearance on the wrist. The dial was also a big change, as you could now choose from an even wider selection of colors – for the first time, you could even choose a fancy 18k white gold fluted bezel. Another first was the new, redesigned 904L Oyster bracelet and clasp with completely solid links. The ref. 114200 still boasted the cal. 3130 but this time, it was finally COSC-certified, bringing the Air-King right in line with the rest of Rolex's collection.
Collecting this era
This is an interesting Air-King era to collect for a few reasons. For one, the reference 114200 had a pretty short run (especially compared to the ref. 5500), which makes it a pretty great collector's item. However, they are still quite easy to find on the secondary market, which means while they aren't all that common, they are still affordable. As we see it, there's also great potential for these to rise in value, especially because this was the last generation of 34mm Air-King watches before it was discontinued in 2014 after nearly a 70-year production run.
Rolex Air-King (2016-Now)
After being discontinued in 2014, Rolex reimagined the Air-King and re-released it in 2016 in the form of the ref. 116900. The new Air-King now clocks in at 40mm and shares both its case and Cal. 3131 movement with the Milgauss, granting it the same antimagnetic properties.
Despite its structural similarities to the Milgauss, the aesthetics of the new Air-King are all its own, with an unusual black dial that features striking green and yellow accents. In fact, the Air-King is now the only piece from the brand to have the crown logo and the 'Rolex' title set in two different colors. Other features include Arabic 3/6/9 hour indexes in 18k white gold, while the remaining markers are occupied by prominent white minute markers, which makes the entire face really legible and perfect as a pilot's watch.
You can get an Air-King ref. 116900 for $6,450 retail today, making it a great entry-level watch alongside other cult favorites and legendary tool watches like the Oyster Perpetual and the Explorer. With this new reference, we saw Rolex embrace this watch by doing what it does best — making rugged, stylish tool watches that are built to last a lifetime.
How Much is a Rolex Air-King?
You can purchase a Rolex Air-King brand-new from an authorized retailer for $6,450; however, it is likely that there will be a slight waiting list for it. Once you get into discontinued models on the secondary market, there is a lot of choice for collectors not only in terms of price but also in regard to style and design. For example, most vintage models hover around $4,000 to $5,000, but this all depends on their specific reference and condition. Below, we have compiled a list that outlines pricing for specific Rolex Air-King references.
| | | | | |
| --- | --- | --- | --- | --- |
| Model | Retail Price | Second-Hand Price | Size | Bezel |
| Ref. 5500 | N/A | from $3,995 | 34mm | Smooth; Steel |
| Ref. 14000 | N/A | from $4,495 | 34mm | Smooth; Steel |
| Ref. 14010 | N/A | from $4,895 | 34mm | Engine Turned; Steel |
| Ref. 114200 | N/A | from $5,695 | 34mm | Smooth; Steel |
| Ref. 114210 | N/A | from $5,495 | 34mm | Engine Turned; Steel |
| Ref. 114234 | N/A | from $5,895 | 34mm | Fluted; 18k White Gold |
| Ref. 116900 | 6,450 USD | from $7,895 | 40mm | Smooth; Steel |
Buying Pre-Owned vs. New
For decades, what attracted many collectors to the Rolex Air-King was its affordability. Because it had classic, simple aesthetics and a low price point, the Air-King was often touted as the 'entry-level' Rolex for up-and-coming collectors. Today, that still remains true when you look at vintage and pre-owned Air-King models, as these watches come in at a great low price point and offer a good selection of styling while still remaining timeless.
However, when Rolex decided to reinvent the Air-King for its re-release in 2016, the new design was seen as somewhat polarizing. The bolder face design and pops of green and yellow turned a lot of entry-level buyers off who sought out this collection for its simplicity; however, others loved it for its thoroughly modern take on the classic pilot's watch. Today, the Rolex Air-King is very much a tool watch, and those who buy it often wear it as such. With that in mind, it is important to note that the price has not changed drastically, as its $6,450 retail price sill makes it one of the most affordable men's Rolex models currently available.
So to sum it up: whether you go new or pre-owned, you can always get a Rolex Air-King for a great price. In the end, what it really comes down to (as always) are your personal tastes and budget.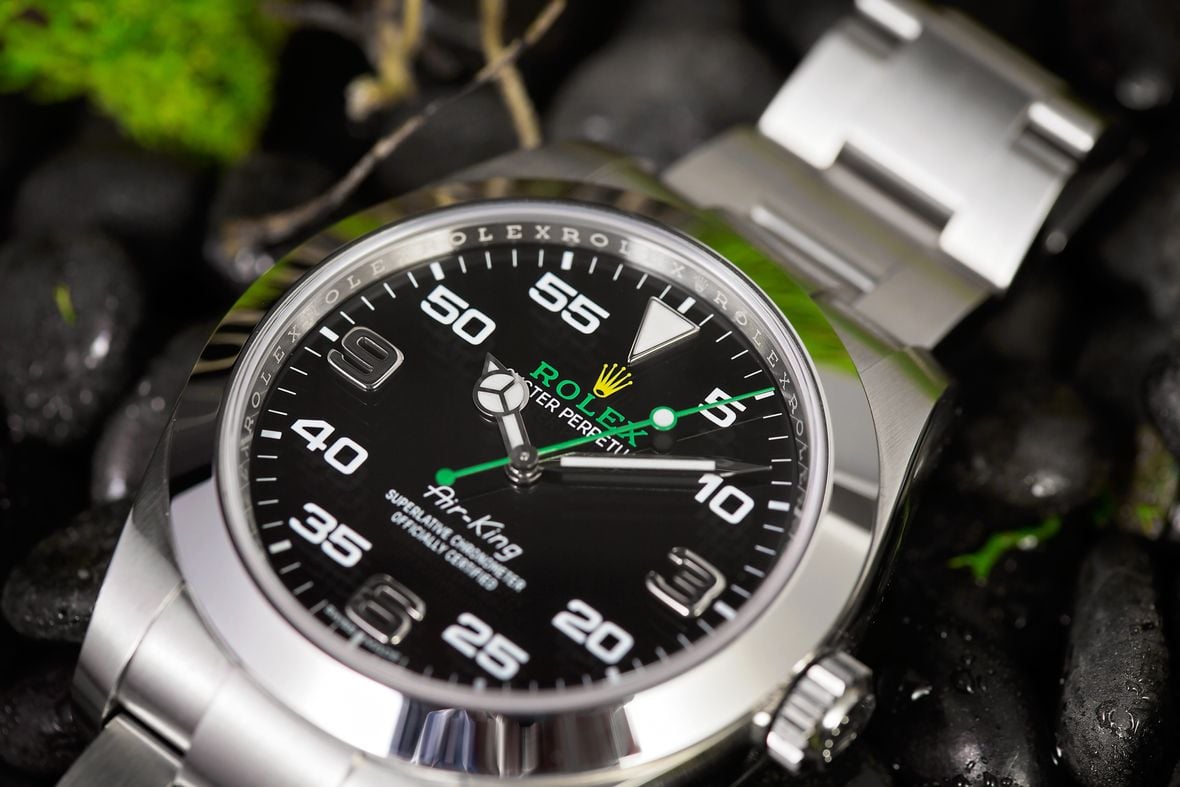 Rolex Air-King References
When the Air-King first appeared in 1945, it existed as a few different references until the Air-King collection was officially launched in 1958. While these models are technically Air-King watches, below we are only highlighting the reference numbers that existed after the official start of the Air-King collection – the ones you are likely to encounter.
– Ref. 5500 (34mm; smooth bezel)
– Ref. 14000 (34mm; smooth bezel)
– Ref. 14010 (34mm; engine-turned bezel)
– Ref. 114200 (34mm; smooth bezel)
– Ref. 114210 (34mm; engine-turned bezel)
– Ref. 114234 (34mm; fluted bezel)
– Ref. 116900 (40mm; smooth bezel)
Need To Know: Rolex Air-King Features & Options
With the exception of a few vintage Rolex Air-King Date references, the Air-King collection has always been a straightforward, time-only watch. Here, we'll explore the different features and options available on the Air-King over the years. Although dial styles have ranged dramatically from stark black or silver dials with traditional stick indexes to brightly colored diamond-set dials, the core functionality of the Rolex Air-King has remained largely unchanged over the years.
Rolex Air-King materials
With the exception of a small handful of vintage references, the Rolex Air-King has always been forged out of stainless steel. Today, Rolex uses their proprietary 904L stainless steel which is not only extremely durable but also highly corrosion-resistant. However, during the extremely long production run of the ref. 5500, we saw solid gold, two-tone, and even gold-capped Rolex Air-King watches. Then much later on, some models of the Air-King ref. 114200 were available with an upgraded fluted bezel in 18k white gold.
Rolex Air-King sizes
Today, the modern Rolex Air-King clocks in at 40mm. This is large compared to the 34mm sizing that was used on the Air-King case from 1958 until 2014. However, back in the day, the 34mm sizing was considered quite large for a wristwatch. Today, 40mm is actually considered average, and many now see Rolex's 36mm sized watches (like the Datejust and Day-Date) as small. How times change, right?
Rolex Air-King bezels
Famously, the Air-King embraced the simplicity of a smooth bezel. In fact, for decades, it's practically all you could get (think ref. 5500), except for some gold fluted bezels. Eventually, we entered the ref. 14000 era, and we got an engine-turned bezel (which collectors either loved or hated) in addition to an 18k white gold fluted option. On the current 40mm Air-King, you can only get a smooth, stainless steel bezel.
Rolex Air-King dials
Over the years, the Rolex Air-King has continuously been offered with more dial color options. The earliest examples were almost exclusively fitted with either black, silver, blue, or gray dials. When the ref. 14000 replaced the beloved ref. 5500 we got new colors like salmon and white alongside the classic blue and black. Today, the modern Air-King is only available with a black dial, although it does feature a yellow crown and bright green printed Rolex logo.
Rolex Air-King bracelets
The Air-King has always been outfitted in the classic, 3-piece Oyster bracelet; however, certain vintage examples can also be found with the dressier Jubilee. The bracelet always matches the Oyster case, as well, being forged out of the same durable and reliable alloys. The current ref. 116900 also features Rolex's latest Oysterclasp, complete with the convenient 5mm Easylink extension system.
Rolex Air-King movements
The movements inside the Rolex Air-King only became COSC certified with the ref. 114200, which housed the cal. 3130. Before that, Air-King watches were only allowed to be marked with either 'Super Precision' or 'Precision' on their dials, as they lacked chronometer certification. Below are the movements used from the 1950's Air-Kings until today.
– Caliber 1530
– Caliber 1520
– Caliber 3000
– Caliber 3130 (both with and without COSC-certification)
– Caliber 3131 (COSC-certified)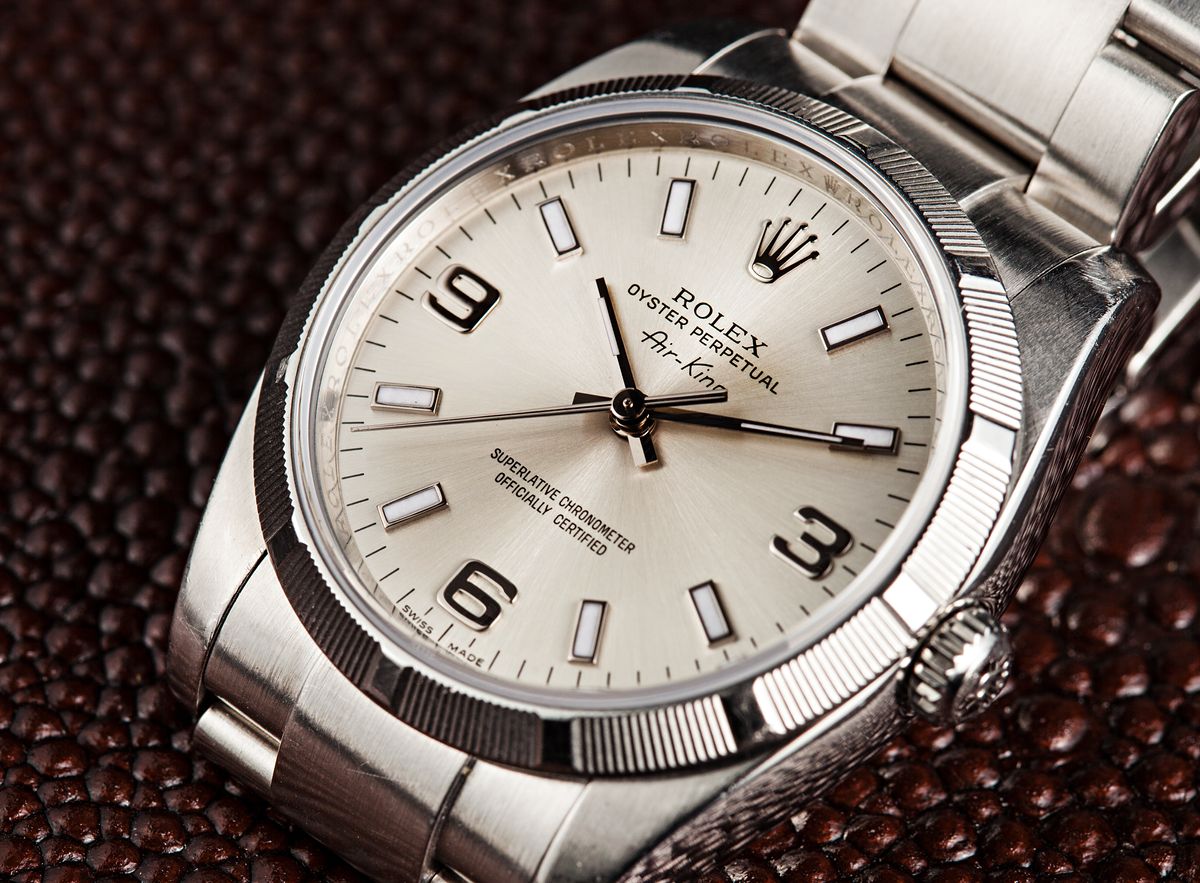 How to style the Rolex Air-King
The Rolex Air-King is such an easy watch to style in your everyday wardrobe. Because this timepiece has historically been forged out of stainless steel (with a few luxe exceptions), the Air-King is the perfect understated accessory that can easily transition from the office to errands and weekend adventures. Here, we have a few ideas on how you can incorporate one into your own wardrobe.
Dressed down with your vintage Air-King
This stainless steel watch is the perfect everyday accessory because it is timeless and durable. We love the vintage models especially because they feature these easygoing, simple dials that are effortless to pair with different outfits. For example, this silver dial ref. 5500 is relaxed and low-key, making it the perfect accessory to strap on for weekend activities like brunch or rooftop drinks with friends. Since it's a Rolex, it's always going to steal glances. Yet, the understated design allows you to pair it with your favorite t-shirt and jeans or button up with a funky pattern. Want to go bolder? Add a fun-colored pair of sneakers to your look.
Dressed up with your diamond Air-King
For the most part, the Rolex Air-King is an understated watch. However, with additions like gold and fluted bezels, and even diamond-set dial upgrades, you could definitely go for a more luxurious look at a lower price point. Ladies, try pairing this watch with some diamond studs or a diamond tennis bracelet for a night out. Gents, pair a diamond-set Rolex Air-King with a pair of dark wash jeans, a crisp white shirt, and a dark blazer for an effortlessly handsome and elevated look.
Your everyday look with your contemporary Air-King
You either love or hate the new Air-King – and we personally love it. While some are on the fence about its styling, it is undeniable that it makes a great everyday timepiece. The dark dial with incredibly legible numerals makes it perfect for those who travel a lot for work or are too busy to even grab their phone and check the time during the day. Plus, the green and yellow accents really add a pop of color while also being entirely unexpected for Rolex. If you're looking for a watch that turns heads and starts conversations, this Rolex Air-King is it. Strap it on with a suit and tie for work or with jeans and a t-shirt for the weekend. This modern Rolex is always going to look good.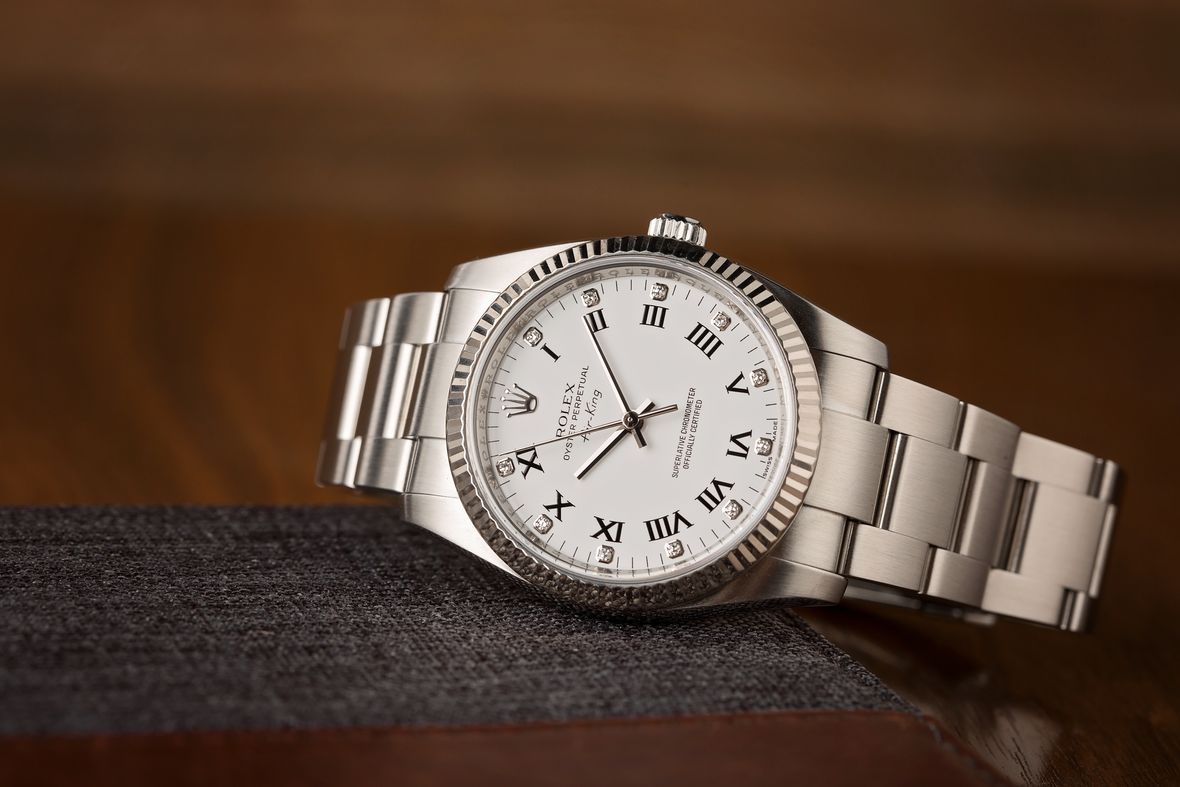 Frequently asked questions about the Rolex Air-King
What is the Air-King made to do?
The Rolex Air-King was originally made as a pilot's watch. It does not feature any additional capabilities like a timing bezel or a dedicated GMT hand like other pilot's watches. However, the dial was purpose-made to be easily read while in flight. Today, the most modern iteration of the Air-King more closely follows that design ethos than ever before, offering a highly legible display and magnetic protection.
Is a Rolex Air-King a good investment?
The Rolex Air-King is a great investment piece. Because you can get this watch (retail or second-hand) at such a reasonable price point, it is a great watch to invest in if you do not want to spend too much money but still get a beautiful, timeless, and valuable Rolex. With that in mind, we always recommend purchasing a pre-owned Rolex should investment be your number one goal, as any initial depreciation would have already been absorbed by the initial buyer, allowing you to obtain one of these great watches for the best price possible.
Is the Air-King discontinued?
No. The Air-King was removed from the Rolex catalog briefly in 2014 but then redesigned and re-introduced at Baselworld 2016 in the form of the reference 116900. A significant departure from the previous 34mm Air-King watches with traditional styling, the current 40mm Air-King 116900 boasts antimagnetic capabilities and features a bolder dial with bright green and yellow accents.
How can I spot a fake Rolex Air-King?
When shopping for a Rolex Air-King, the clues are always in the details. Use our 'How to Spot a Fake Rolex' reference guide to help you keep an eye out for what to look for when verifying the authenticity of a watch. However, our biggest advice is to always do your research and only buy from a trusted and reputable seller.
Is the Air-King the cheapest Rolex?
When the Air-King was just 34mm and boasted a non-chronometer-certified movement, it was the least expensive timepiece you could buy from Rolex at the retail level. Today, the Air-King has magnetic-resistant capabilities and a chronometer-rated movement, which has raised its retail price. Now, the Oyster Perpetual collection is the least expensive in the Rolex catalog. However, when shopping on the secondary market, Rolex Air-King watches are amongst the least expensive watches you can purchase. Be sure to browse our catalog to see what great deals are waiting for you!