A timepiece synonymous with success and achievement, Rolex is the standard by which all luxury watches are measured. The Rolex pre-owned collection is stylish, durable, and precise. Unlike other higher-priced watches, Rolex is certainly an internationally recognized brand with a global reputation for excellence in form and function.
When it comes to modern luxury timepieces, nothing embodies a luxurious style like the Rolex Day-Date 40. Its elegant, timeless design and precision craftsmanship make it one of the most luxurious watches in the world. If you're thinking about buying one, there are many brands to choose from, but when it comes to brand choice, Rolex is second to none.
It's no secret that a Rolex Day-Date 40 watch is one of the most sought-after, yet delicate modern luxury timepieces. With its precise nature, you'll need to know what to look for, and how to purchase the best model possible. This comprehensive buying guide will help you choose the best Day-Date 40 watch that meets your needs and preferences.
Click here to learn more about the complete history of the Rolex Day-Date.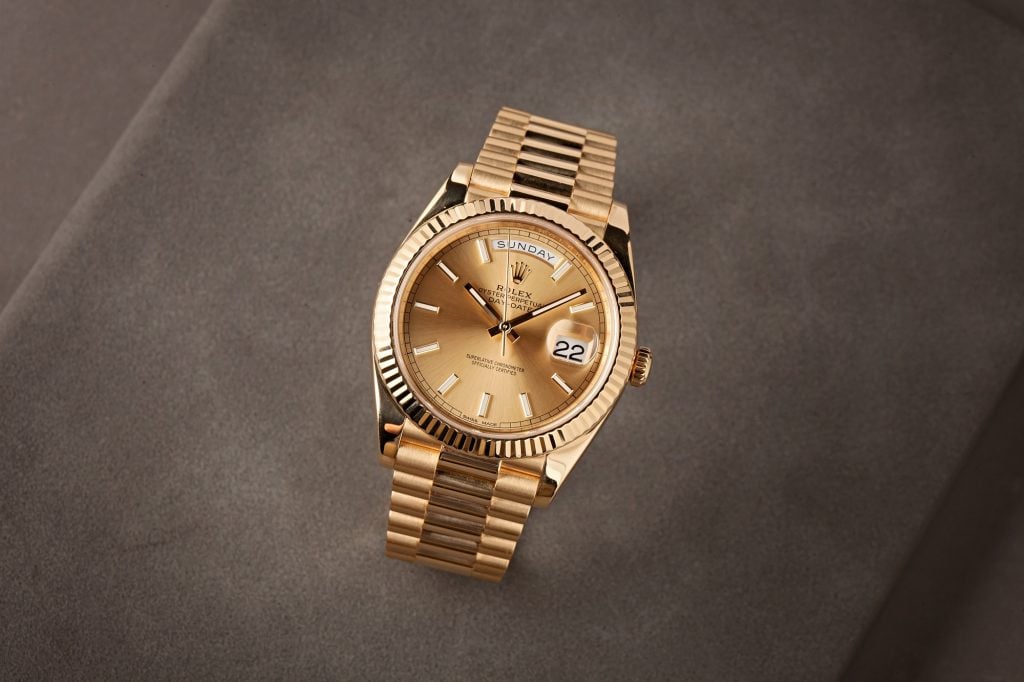 Rolex Day-Date 40: Overview
The Day-Date is one of Rolex's most recognizable and iconic watches. Celebrities, politicians, and world leaders have made the Day-Date their watch of choice for many years. Watch collectors and aficionados seek the Day-Date out when building their luxury watch collection.
The Rolex Day-Date was first introduced in 1956. It was the Crown's flagship watch. Additionally, it was the first watch in history that displayed the full name of the week at the 12 o'clock mark.
The timepiece became more sought after with the special "President" bracelet and platinum or gold materials. The Day-Date was only available in 36mm sizes for decades.
Throughout the years, there was a demand for larger watches. Rolex introduced the Day-Date II in 2008. The watch was a bigger version, measuring 41mm.
The Day-Date 40 is the largest of the Day-Date line of Rolex watches. It's the latest and most impressive version of one of the most iconic luxury watch models to join the Rolex catalog. First introduced in 2015, Rolex Day-Date 40 was designed to resemble the original models initially produced in 1956. Perhaps, displaying a perfect blend between classic and modern creations that exudes elegance and class.
Though similar to Day-Date 36, this model sports a 40mm case and has been crafted with several other aesthetic changes in mind. Made with precious metals, it features a polished and brushed President bracelet. The simple dial design exhibits the time with a sapphire crystal – and is made even more convenient with the Cyclops date magnification lens. Plus, it features a date aperture at 3 o'clock and a day of the week display at midnight. This flagship model also debuts Rolex's new caliber 3255 automatic movements for optimum performance.
With its larger case and bolder looks, the Day-Date 40 embodies the most visible manifestation of what Rolex stands for – a highly recognizable symbol of achievement. A timeless design that will never go out of style, it's a show-stopping watch for today's modern man.
Why Should You Invest in a Rolex Day-Date 40?
Rolex Day-Date 40 timepieces have a strong value appreciation. Investing in a Rolex Day-Date 40 is one of the best decisions you can ever make. Besides its luxury image, it's a product of the highest quality and technology that makes it stand out from other watches. The fact that they are such an iconic brand means it'll always hold its value over time, which makes them attractive as an investment opportunity.
If you're looking for more motivation, here are other reasons why you should invest in a Rolex Day-Date 40:
Superb Design & Craftsmanship
As one of the most prestigious lines owned by Rolex, the Day-Date 40 is the pinnacle of a man's accessory collection. The numerous variations allow you to choose a model that matches your unique taste and style. Whether you prefer classic gold or ice blue, this watch will be a timeless addition to your wardrobe for generations to come.
You'll also love the following features:
70 hours of power reserve
Caliber 3235 automatic movement
Water resistance up to 100 meters
Date display at 3 o'clock position
Anti-scratch sapphire crystal glass
Three-piece link President bracelet
Moreover, the Rolex Day-Date 40 is a watch that can take you from the boardroom to the golf course, no matter what you're wearing. The expansive 40mm diameter means it works well with varied outfits and can easily pass as a dress watch. The 40-mm case of the Day-Date 40 looks great on nearly every wrist. While it's larger than the original Day-Date, it's not so oversized that it's uncomfortable for the wearer.
Another great thing about the Rolex Day-Date 40 is that it includes the legend three-piece link President bracelet. This type of bracelet has become synonymous with luxury Rolex timepieces. Most of the Day-Date 40 watches include a 70-hour power reserve.
The iconic Day-Date 40 watch is a great option for those looking for an heirloom piece that can get passed through their family for many generations.
A Symbol of Success & Achievement
Rolex watches represent success and excellence, regardless of the year or model. Whether you wear it on your wrist for a day or a decade, owning a Rolex will always signify that you have risen above the herd. If your dream is to own the most expensive watch in the world, then a Rolex Day-Date 40 will fulfill your wishes. It's widely recognized and used as a symbol of success and accomplishment. When you want to buy this exact watch, you can browse any trusted Rolex retailer like Bob's Watches and buy your way toward riches.
Investment Opportunity
Investing in luxury watches is a great way to spend money and not lose value. Rolex Day-Date 40 watches have been known to appreciate greatly over time — making them even more valuable than they already are. Because of this, luxury watches can serve as both investments and brilliant everyday jewelry to add a little flare to an outfit.
Many customers buy Rolex Day-Date 40 watches because of their strong value appreciation. The Day-Date 40 models have, in recent years, gained high-value appreciation — making them attractive investment pieces.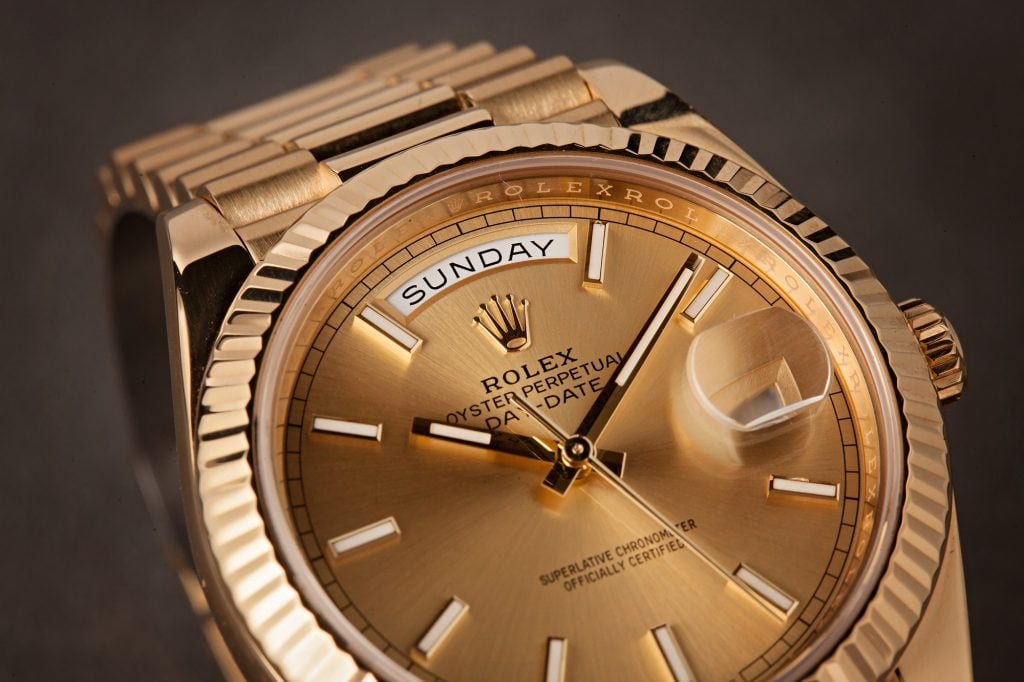 What To Look for When Buying Rolex Day-Date 40 Watches
When you're looking to buy Rolex Day-Date 40 Watches, especially pre-owned watches, you need to inspect the following:
Authenticity: To ensure that the watch is genuine, check for the presence of the serial number or a laser engraved Rolex logo at the 6 o'clock positions.
Caliber (Movement): The Day-Date 40 utilizes caliber 3255 automatic movement to power a perpetual calendar and a day-date function.
Scratches or damage: Before you buy, check for any scratch or damage on the surface and the body parts.
Functions: You should examine if all functions, such as the day and date display are all in good working condition.
Dial and Insert: Watch inserts or the dials can easily be changed out to make a vintage piece look fresh, so check to ensure that it's original by ensuring the model number or serial number hasn't been altered.
Case: Look at the overall condition of the case and all its parts. If there are any marks, corrosions, or scratches, check to see if they can be polished away.
Warranty: Every Rolex watch comes with a warranty card, and the serial number on the card should match that of the watch.
Rolex Day-Date 40 Models
Yellow Gold Day-Date 40
Rolex Day-Date 40 offered under reference number 228238 is made of yellow gold and comes in various dial designs. The most popular one features a black dial with gold baton indices and gold hands, while the second choice is the white dial variant with Roman numerals in gold. Prices start at $56,000 for a timepiece with a black dial and gold baton indices and $51,000 for the version with the white dial and Roman numerals. For comparison, the value of this model appreciated by over 80% between June 2020 and June 2022.
Rose Gold Day-Date 40
For investment value, look at the Rolex Day-Date 40 reference 228235. This watch features a white dial and Roman numerals coated in rose gold, with costs around $58,000 at full retail value. This model has also performed well, appreciating around 78% since June 2020.
There are various dial variations for this model – from chocolate brown dial to olive sunburst dial and sundust dial. Regardless, it's seen that their prices are appreciated higher than expected. The pink dial, for example, has doubled its price recently compared to its value in 2020.
White Gold Day-Date 40
Classically styled, the Day-Date 40 ref. 228349RBR is crafted from 18k white gold. This model in mint condition will cost you around $70,000 today. Prices are up over 32% compared to two years ago, so there is an investment opportunity – a fine addition to any collector's or connoisseur's collection.
The white gold Day-Date 40 with a green dial, Roman numerals, and fluted bezel appreciated by 116% as of this year – while the silver dial is higher at 68% value appreciation. If you want to invest with a blue dial 228239 or a white dial model with silver roman numerals, that could be an excellent option as their value is increasing over time.
Platinum Day-Date 40
Already in 2022, this model is considered extremely valuable. The Rolex Day-Date 40 has a luxurious platinum finish to complement the blue dial and diamond-set bezel. The price for this watch model is not widely known due to its exclusivity, but you can get a 228206 blue dial at Bob's Watches for only $72,995 (preowned). Compared to 2020, this model has doubled in value since it was first introduced.
In March, Rolex introduced the fluted bezel Platinum Day-Date 40 under ref. 228236, eliminating diamonds and flutes from the inner bezel. This move is almost certain to cause rapid growth in price due to greater desirability for collectors.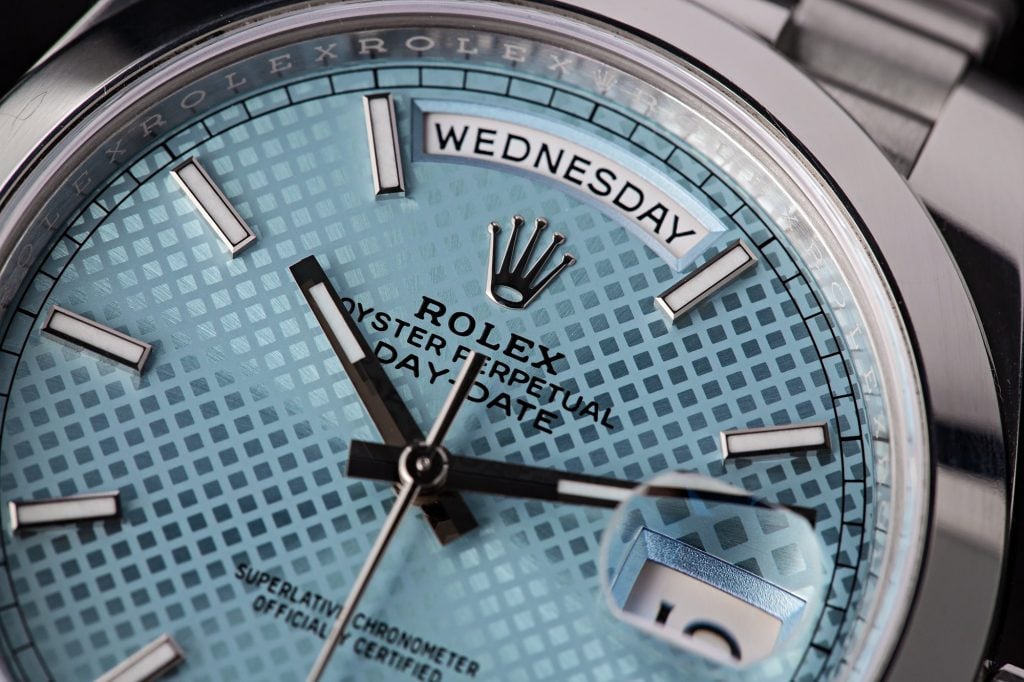 The Bottom Line
A Rolex Day-Date 40 will hold its value over time. Buying a Rolex Day-Date 40 is a pursuit you don't need to think twice about. You can leverage it to wear it every day while keeping its value for the future. On the other hand, buying a Rolex watch isn't a decision that should be taken lightly. If you're looking to buy one, your first consideration should be the seller. You need an authentic and reputable seller with whom to do business. And, that's none other than Bob's Watches!
Whatever you're looking for in a Rolex, we're a certified dealer who can help you find the best choice and tell you everything you need to know to make an informed decision. You can contact us or browse our collection for various Rolex watches.
Are you ready to make an investment that you and your loved ones will benefit from for many years? Shop our selection of certified pre-owned Rolex Day-Date 40 watches today.