From early on, Rolex recognized that luxury watches didn't appeal to just men. In fact, women's models have been in production since around the mid-1950s with the introduction of the first Lady-Datejust in 1957. What's even more interesting is that Rolex has also recognized that women make up a significant portion of their customer base and that they don't just wear lady's watches; they also enjoy wearing timepieces from the men's range, such as the Datejust, Day-Date, and Yacht-Master. That's why Rolex continues to work on its collection of women's watches and keeps their female customer base in mind when developing new editions of their men's watches as well. Let's take a closer look a the top 3 most popular Rolex watches for women.
Rolex Datejust 31
The Oyster Perpetual Datejust is one of Rolex's most versatile collections. It debuted over 70 years ago in 1945 and was originally only available in a men's size. The past several decades have seen many changes to the line, including the introduction of the mid-size Datejust 31. While the Datejust collection also includes women's models with a 26mm case size on older watches and 28mm on the current generation, the modern collector seeks a larger watch in the form of the 31mm edition.  This case size is in the 'Goldilocks range' when it comes to Rolex watches for women – it is just large enough to make a bold statement on the wrist without appearing too large or bulky, so it comes as no surprise that it is one of the top 3 most popular.
What's also great about the Datejust 31 is that it's available with several metal options and can also be had with or without diamond accents. So, if you seek a wristwatch for daily wear, or perhaps a watch that is more suited for formal attire, chances are that you'll find what you're looking for within the Datejust 31 collection.
Rolex Yacht-Master 37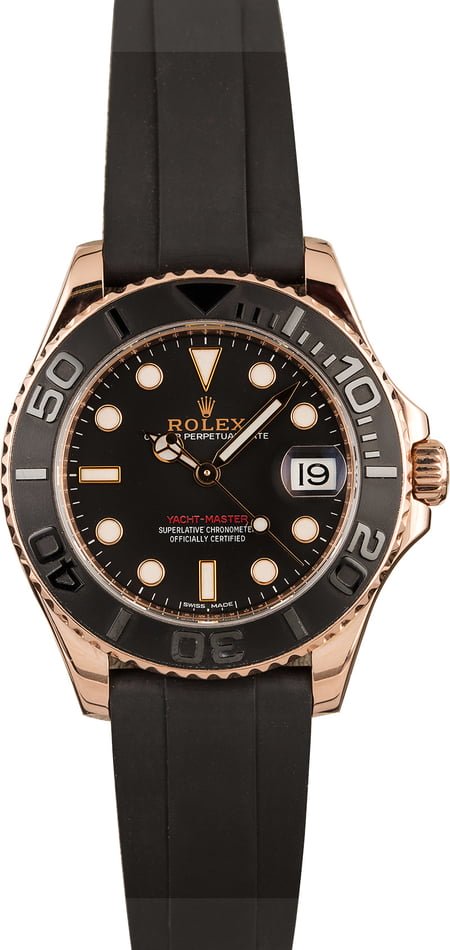 The Rolex Yacht-Master is a notoriously opulent watch that was developed for those who spend their time sailing. Its feature set is very reminiscent of a classic sports watch with a 60-minute bi-directional bezel and Mercedes hands on the dial. What sets the Yacht-Master apart from other sports watches in the Rolex catalog is its sand-blasted bezel in precious metals and the polished and tapered lugs of its case. While it's perfectly suited for professional use, the Rolex Yacht-Master is also a fashion-forward daily timepiece as well as a special occasion wristwatch.
The Yacht-Master collection is also the only sports watch produced by Rolex that offers both women's and men's case sizes. It also features a very desirable 37mm mid-size option that has found immense success among the modern female collector who loves the functional aesthetic that a sports watch has to offer but wants a slightly smaller overall package. Similar to the Datejust 31, the mid-size Yacht-Master is in the sweet spot when it comes to bold yet flattering case sizes, making it consistently one of the most popular Rolex watches for women.
Rolex Oyster Perpetual 26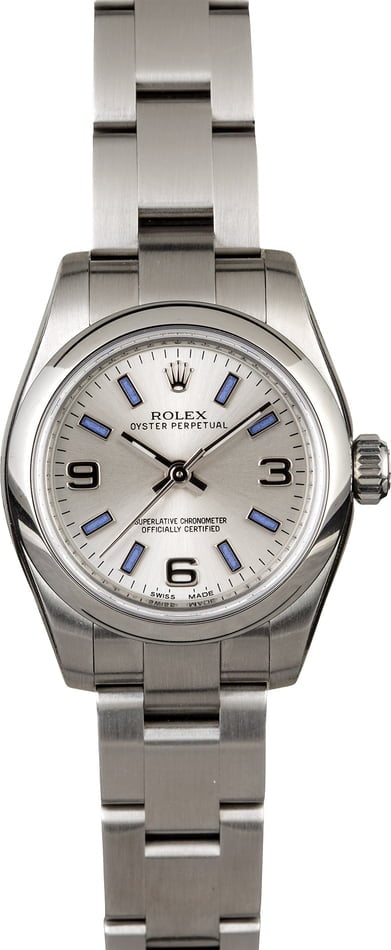 It would be remiss of us if we didn't mention at least one ladies model Rolex in our top 3 list, and that would be the sophisticated Oyster Perpetual 26. The Oyster Perpetual itself is Rolex's oldest collection of watches, and it is also one of the brand's most successful too, with a production that spans many decades and includes both men's and women's case sizes and several metal options. While the Datejust 31 and the Yacht-Master 37 are mid-size models, rather than being strictly Rolex watches for women, the Oyster Perpetual 26 is a much more feminine timepiece that was developed solely for female customers.
The current generation includes a classic 26mm case size that is available in a wide selection of contemporary dial colors. While the ladies Oyster Perpetual has been on the market for quite some time and can be found in a handful of metal options, the current version (ref. 176200) is only offered in Rolex's proprietary 904L Oystersteel and features a smooth bezel and a three-piece link Oyster bracelet. This edition is on-trend, versatile, and has all the makings of a fashionable, everyday watch.