At first glance, the Omega Seamaster collection appears like an eclectic assortment of timepieces. The line is home to professional diving watches, elegant sports watches, and vintage-inspired timepieces – not to mention all the different types of complications that can be found on models throughout the range. Yet, if we dig a little deeper, we see that the original ethos of the very first Seamaster watch from 1948 permeates through the modern collection: high-quality and water-resistant watches that are built for an active lifestyle.
Omega is known for producing a vast assortment of luxury watches but the company categorizes them all into four main collections: Seamaster, Speedmaster, De Ville, and Constellation. The Seamaster is by far Omega's most popular collection. However, within these main collections of Omega watches, there are numerous sub-collections offering distinct models. For instance, while the Planet Ocean, Aqua Terra, Diver 300M, and Railmaster are all vastly different timepieces – both in terms of design and functionality – they all belong to the greater Seamaster range. Join us as we take a closer look at the Omega Seamaster collection, exploring its history, features, options, prices and must-have references.
Introduction to the Omega Seamaster
About the Omega Seamaster
Omega launched the Seamaster watch in 1948 to celebrate the brand's 100th anniversary. The Seamaster drew design inspiration from the military watches Omega supplied to the British Military of Defense (MOD) during World War II – and Omega positioned the Seamaster to civilians as a water-resistant watch built for an active lifestyle.
Omega Seamaster Key Facts
– The Seamaster is Omega's oldest line of watches still in production today.
– The first Omega Seamaster was introduced in 1948
– Omega Seamaster watches are defined by their water-resistant cases.
– The Omega Seamaster collection contains 8 different sub-collections
– The Seamaster is the most diverse collection of Omega watches.
– Omega Seamaster watches can be powered by both mechanical and quartz movements.
– James Bond has worn Omega Seamaster watches since 1995.
Click here to learn more about OMEGA watches.
Omega Seamaster Sub-Collections
The Seamaster collection has grown and expanded over the decades to include a bevy of different models and options to suit a variety of adventurist lifestyles. From the boardroom to boats, deep below sea level to firm ground, there is an Omega Seamaster out there for any wrist. Currently, the Omega Seamaster range is divided into the following sub-collections:
– Seamaster 1948
– Seamaster 300
– Seamaster Railmaster
– Seamaster Bullhead
– Seamaster Aqua Terra 150M
– Seamaster Diver 300M
– Seamaster Planet Ocean 600M
– Seamaster Ploprof 1200M
Seamaster 1948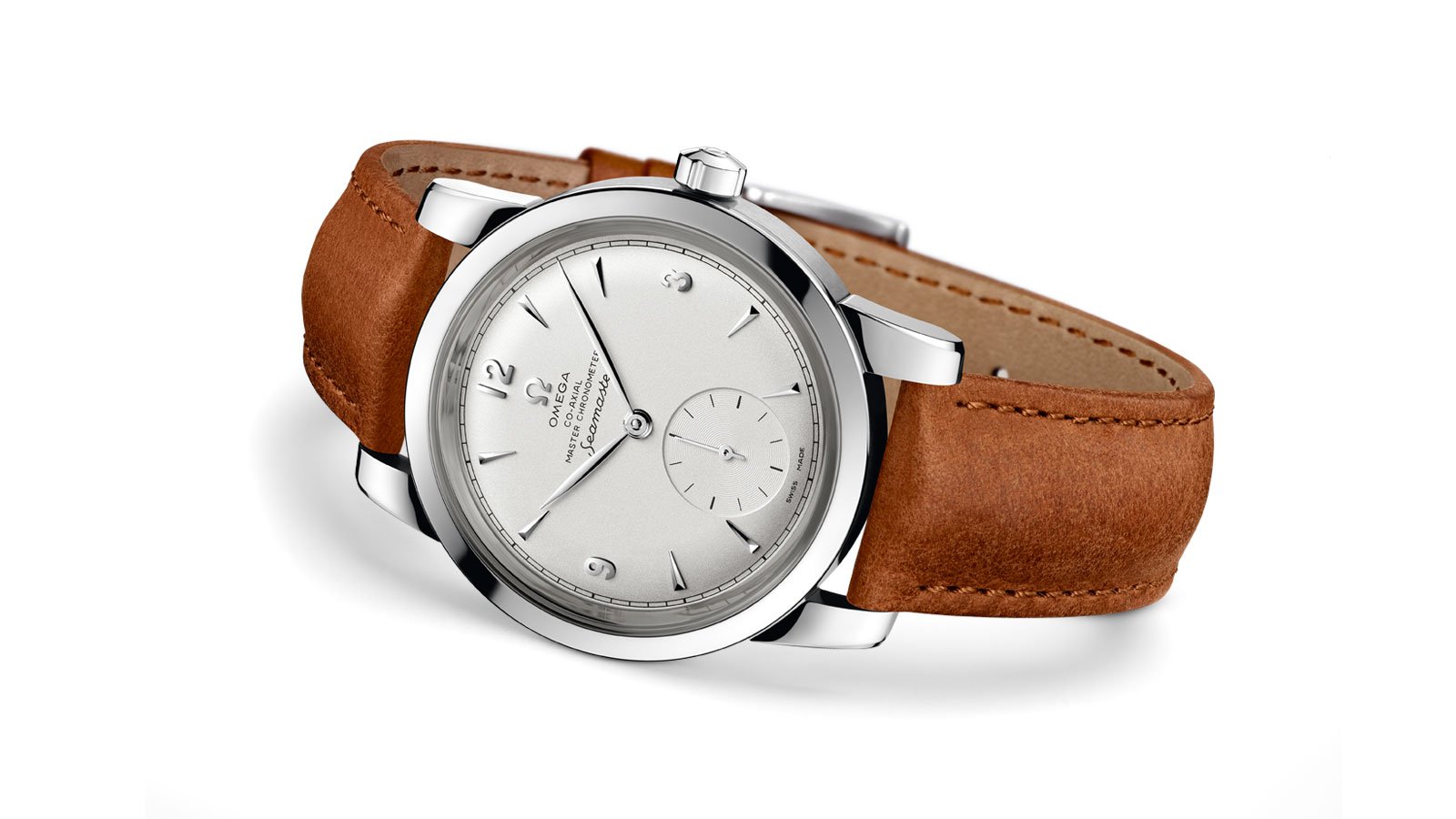 Given that the Seamaster is Omega's oldest watch collection still in production today, it comes as no surprise that there are several vintage-inspired models. Take for example, the Seamaster 1948 collection, which houses faithful reissues of the very first Omega Seamaster models.
The maiden Seamaster models were sold as tough but elegant timepieces inspired by the watches Omega supplied to the British MoD. As such, these original Seamaster watches were waterproof, dustproof, shockproof, and antimagnetic. By today's standards, the designs of the current Seamaster 1948 models are far closer to traditional dress watch designs than any of the other models in the Seamaster range.
Seamaster 300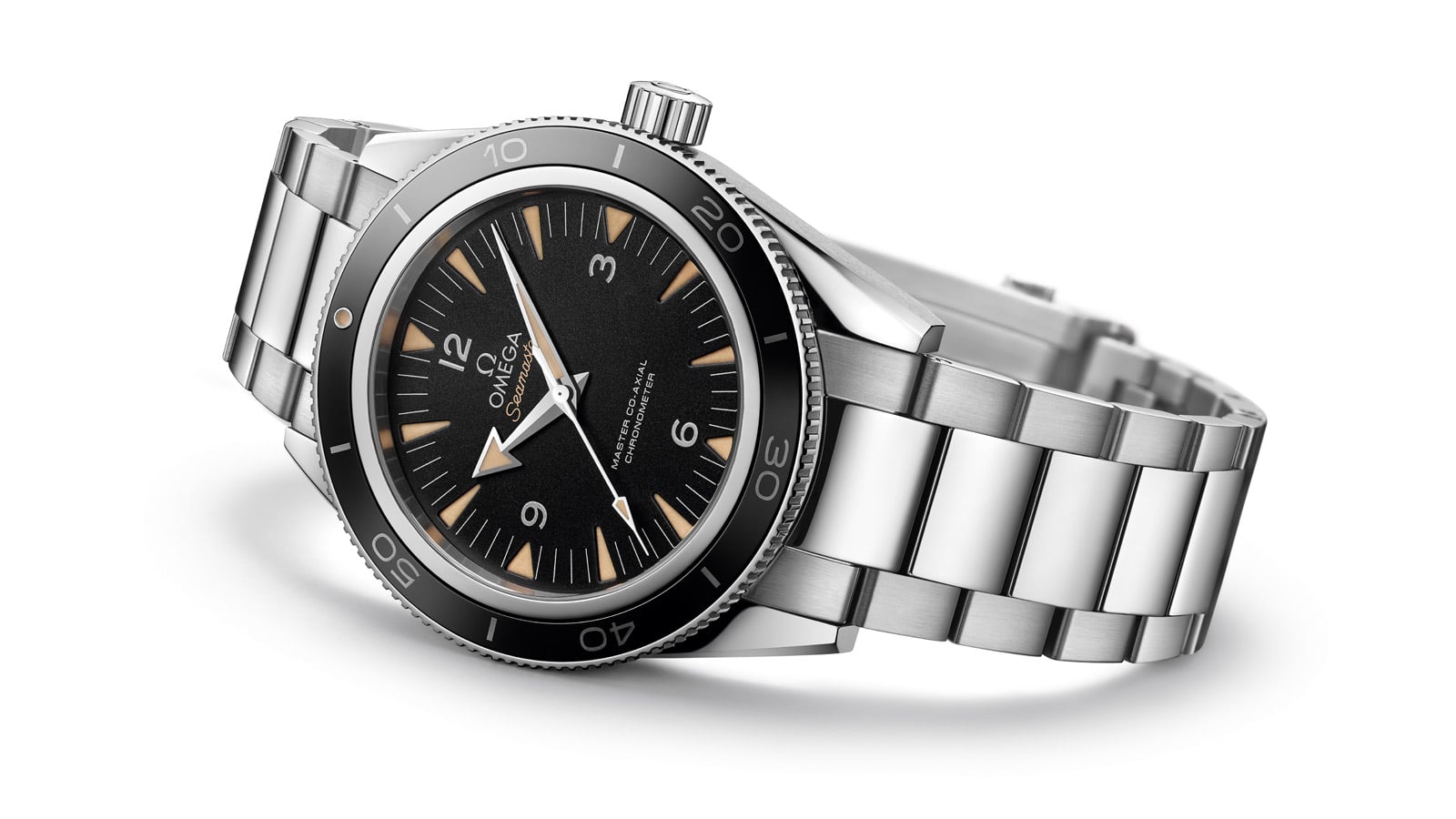 Omega launched the Seamaster 300 in 1957 as the brand's first dive watch, complete with a rotating timing bezel, a black dial with plenty of lume, and a water resistance rating of 200 meters. The contemporary Omega Seamaster 300 collection consists of modern iterations of these vintage divers, offering similar designs but with modern upgrades such as larger cases, 300-meter depth ratings, sapphire crystals, Super-LumiNova luminescence, and of course, state-of-the-art Co-Axial movements.
Railmaster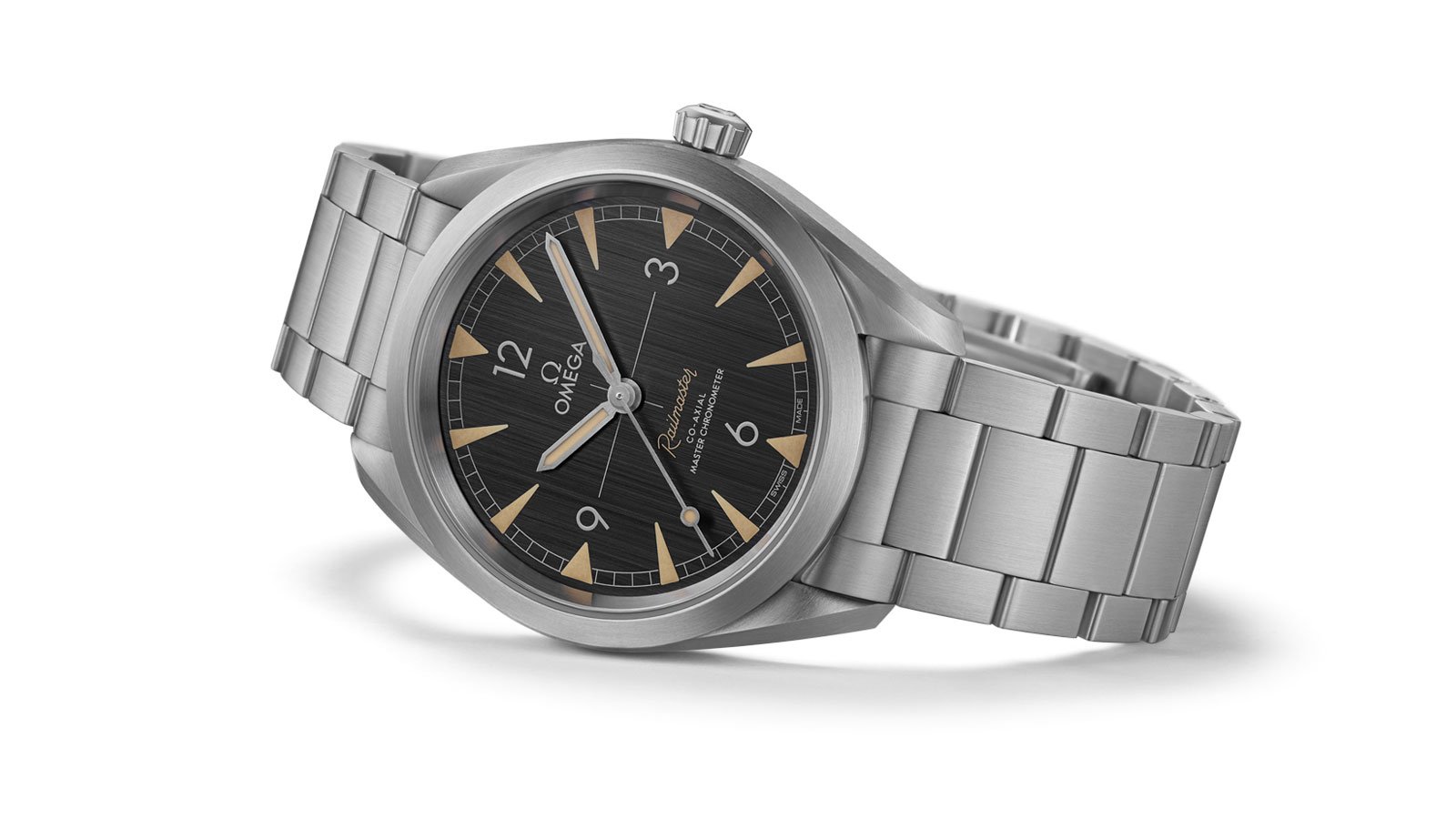 The Railmaster was also presented in 1957 but was positioned as Omega's flagship antimagnetic watch for the burgeoning scientific community of the era. However, the Railmaster now sits within the Seamaster collection. The designs of the watches stay relatively close to the original, with steel cases and time-only dials featuring Arabic numerals at the four quarters. Yet, what has improved dramatically is the magnetic resistance of today's Railmaster watches, which is now up to 15,000 gauss – without the use of any sort of internal movement shield.
Bullhead
In 1969, Omega released the Seamaster Bullhead chronograph, named so for its distinctive case silhouette reminiscent of a bull's head with its winding crown at 12 o'clock flanked by two chronograph pushers, along with an additional crown at 6 o'clock to control the internal rotating bezel. Yet again, the current production Seamaster Bullhead watches are re-issues of the original model, but they benefit from modern enhancements in both mechanics and materials.
Aqua Terra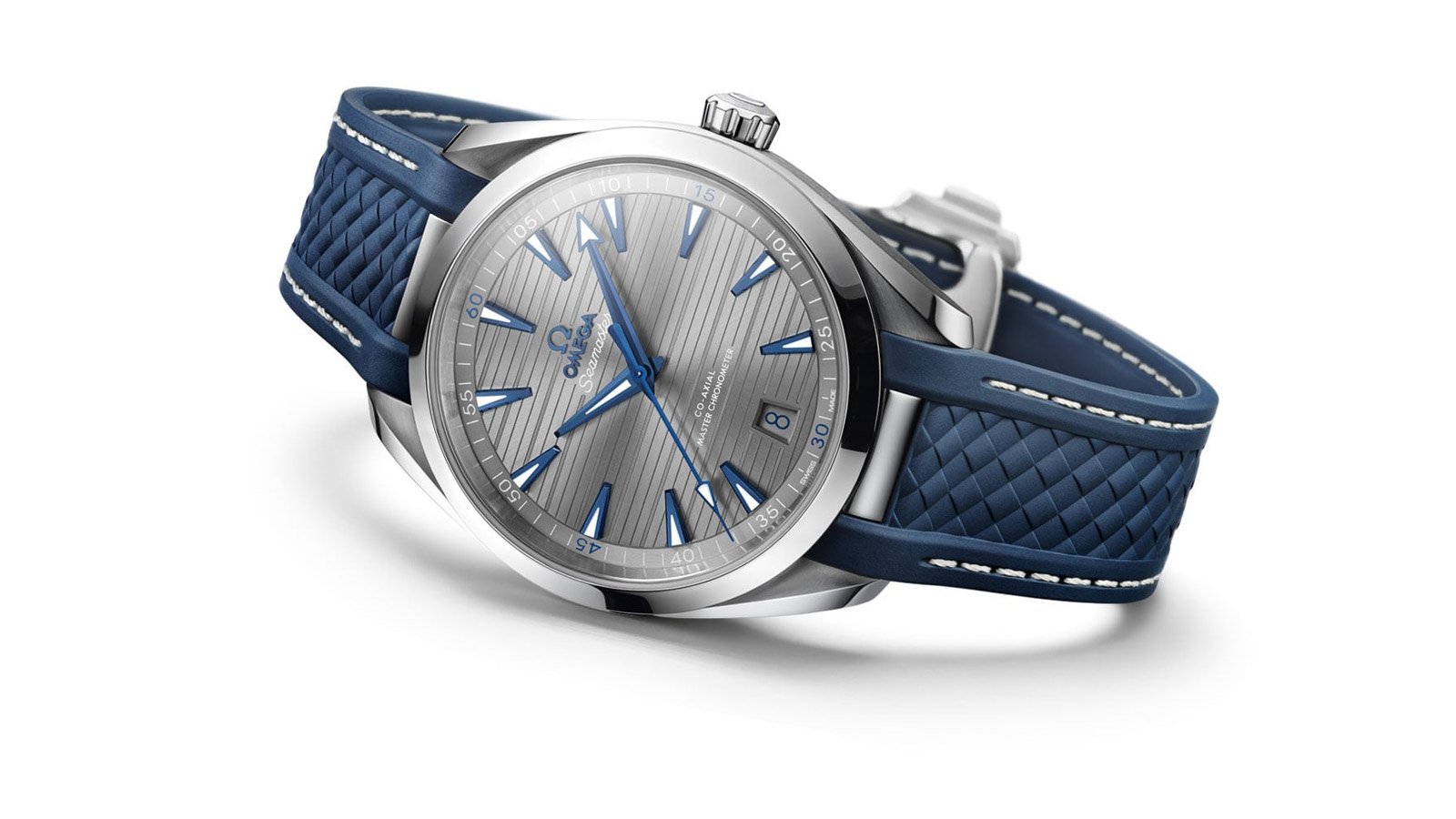 Omega Seamaster Aqua Terra watches are not specifically intended for diving and they do not have rotating timing bezels. However, with a water resistance rating of 150 meters, Aqua Terra watches can certainly handle water-based activities. The core watches of the Aqua Terra collection feature round cases, smooth bezels, striped dials (to mimic the wooden decks of luxury yachts), and time and date functionality. The Aqua Terra is one of the most varied Omega watch collections, offering a vast assortment of size metal, bracelet, dial colors, and complications.
Aside from the standard time and date Aqua Terra models, there are also a handful of time-only models, alongside more complicated ones such as GMTs, Annual Calendars, Worldtimers, and Day-Dates. Additionally, there are Aqua Terra "Golf" watches, which underline Omega's longstanding commitment to the sport and feature bright pops of color on their dials and hands.
Straps and bracelets for Aqua Terra models include metal bracelets, both leather and rubber straps, and even Omega's own Nato straps, which are typically fitted to the various golf-edition models in matching colors. When worn on a metal bracelet, the Omega Seamaster Aqua Terra looks like a proper everyday sports watch. However, when on a dark leather strap, the versatile design of the Aqua Terra allows it to easily be paired with a suit for formal attire.
Diver 300M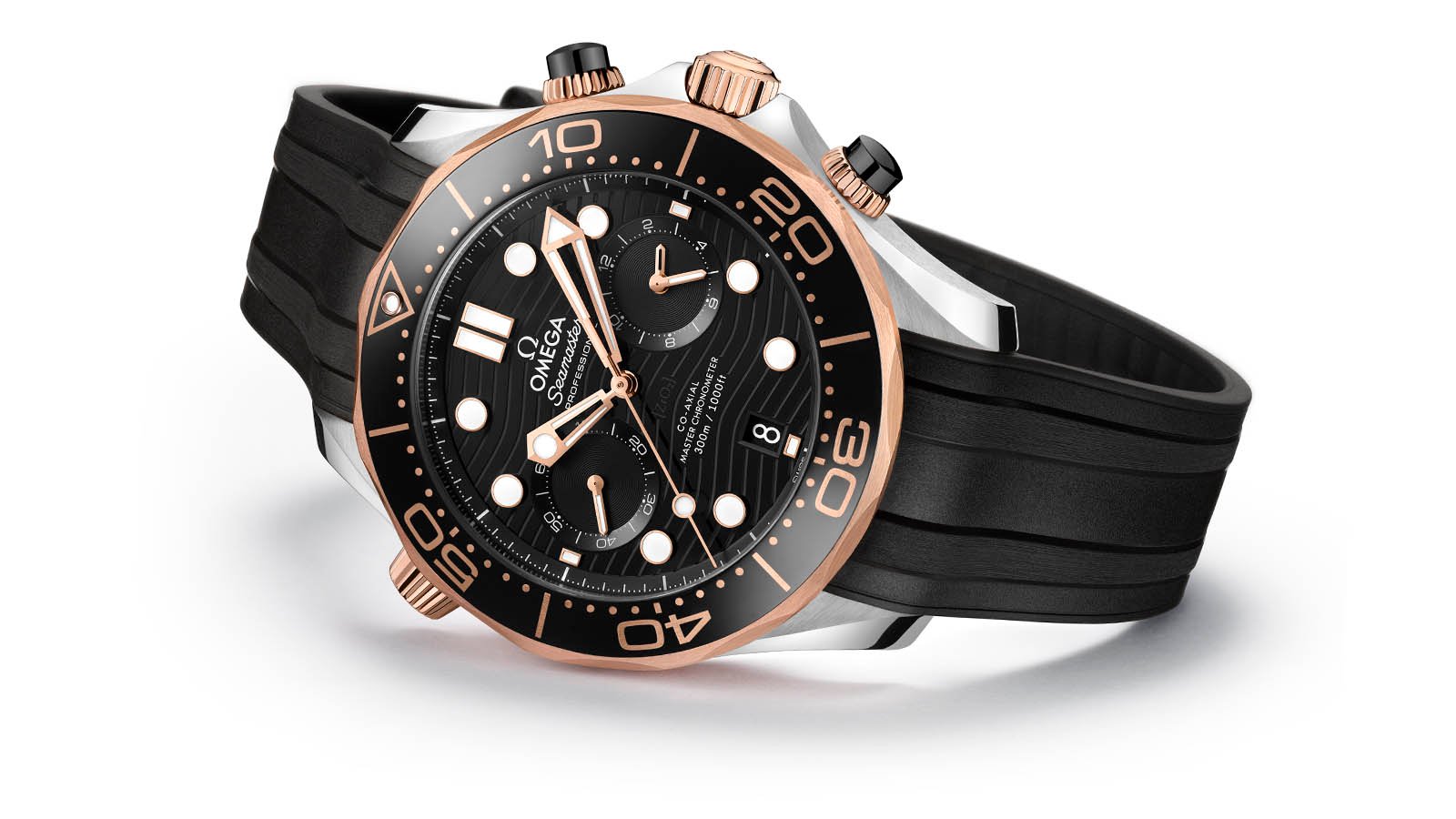 Omega introduced the Seamaster Diver 300M, then also known as the Seamaster Professional, in 1993 as the company's go-to modern dive watch. As its name implies, the Omega Seamaster Diver 300M has a water-resistance rating of 300 meters and includes a helium escape valve (HEV) on its case, allowing it to be used for professional saturation diving applications.
As with all modern dive watches, the Diver 300M also includes a unidirectional rotating timing bezel and luminous details on the dial. Some of the Seamaster Diver 300M's signature traits include a scalloped bezel, skeletonized sword-shaped hands, and many models also include a 'wave' pattern on their dials.
In true Omega form, there's a wide array of case materials and sizes, strap or bracelet options, and dial colors available, and the most modern versions are furnished with ceramic bezels. There are also Seamaster Diver 300M chronograph models available, in addition to James Bond and Olympic limited edition variants.
Planet Ocean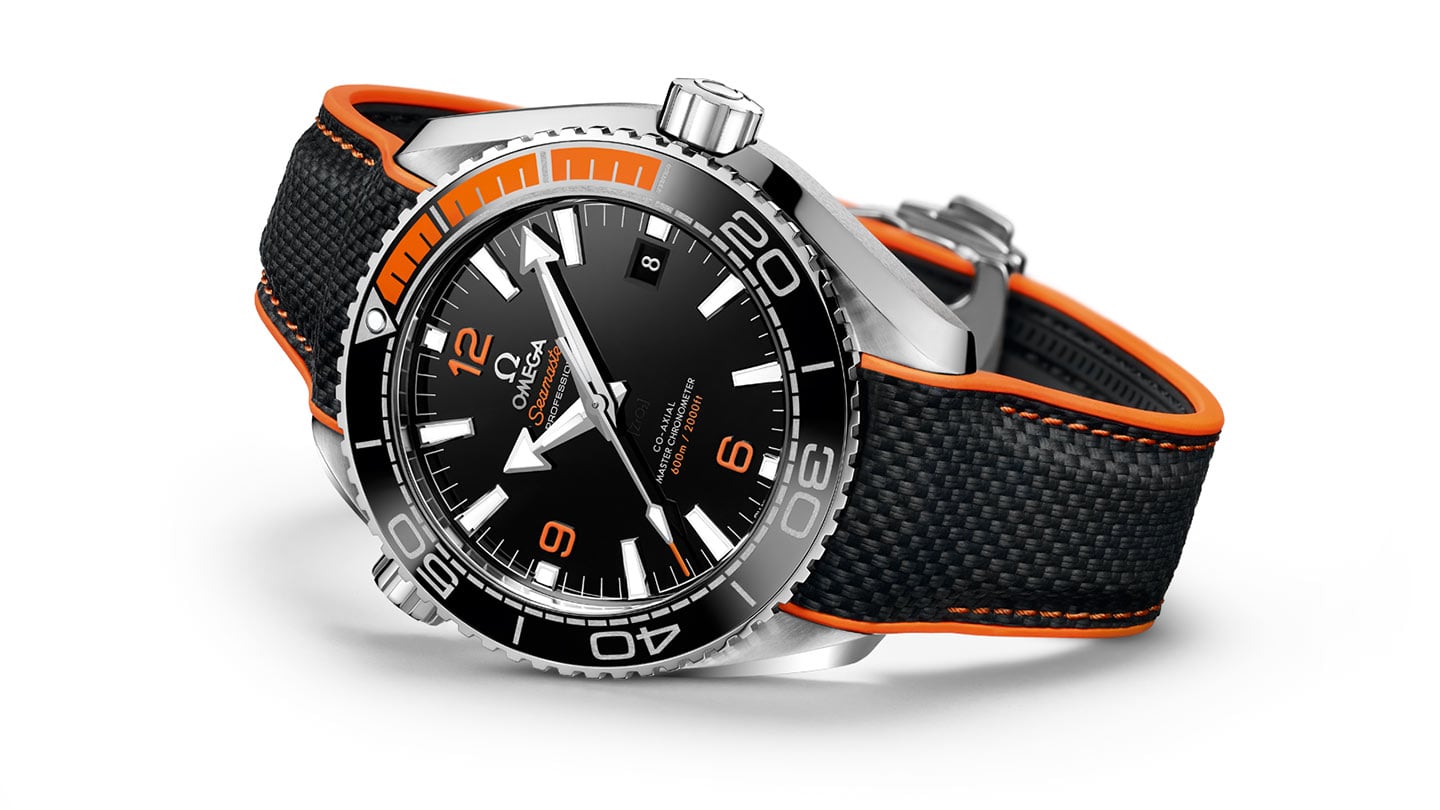 In 2005, Omega unveiled the Seamaster Planet Ocean 600M diving watch with even greater water resistance and bolder designs than the Diver 300M lineup. While the watch model is loosely based on the original Seamaster 300 from 1957, the Planet Ocean is entirely modern in execution.
Aside from the standard time and date Planet Ocean models, Omega also makes Planet Ocean Chronographs and Planet Ocean GMT watches. Plus, the collection boasts some interesting case material options like titanium, ceramic, and platinum, along with the standard stainless steel, gold, and two-tone choices. All Omega Planet Ocean watches have helium escape valves, and current-production models are equipped with ceramic bezels.
Ploprof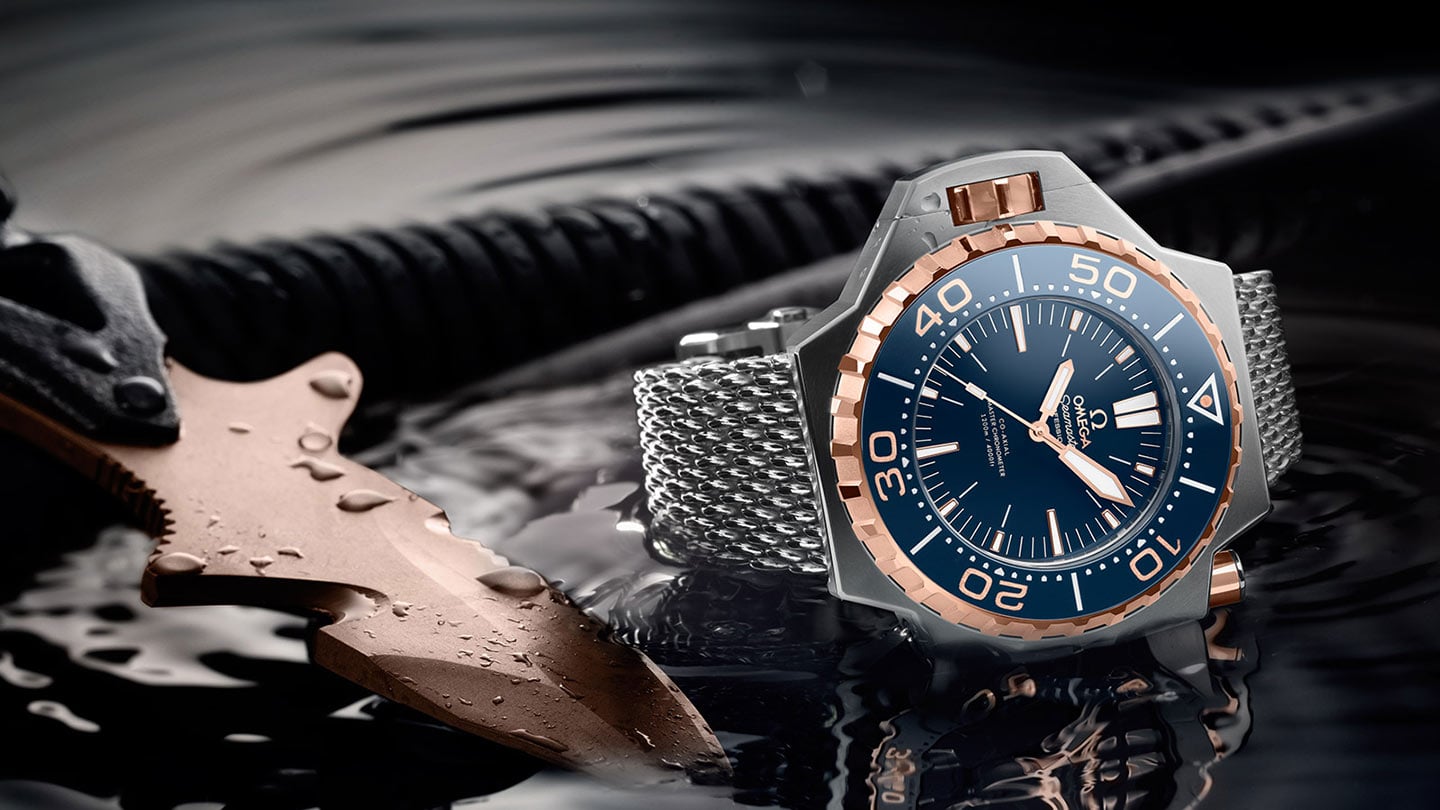 In the early 1970s, Omega launched the Ploprof 600M and Ploprof 1000M (Plongeur Professionnel, or "professional diver" in French) to serve technical divers. However, rather than fitting the watches with helium escape valves to deal with trapped helium molecules, Omega constructed the Ploprof in such a way that helium molecules could not penetrate the case.
While today's iterations, known as the Ploprof 1200M, do indeed have HEVs, their distinctive and chunky case shapes are almost identical to the 1970's versions, complete with shark-mesh bracelets.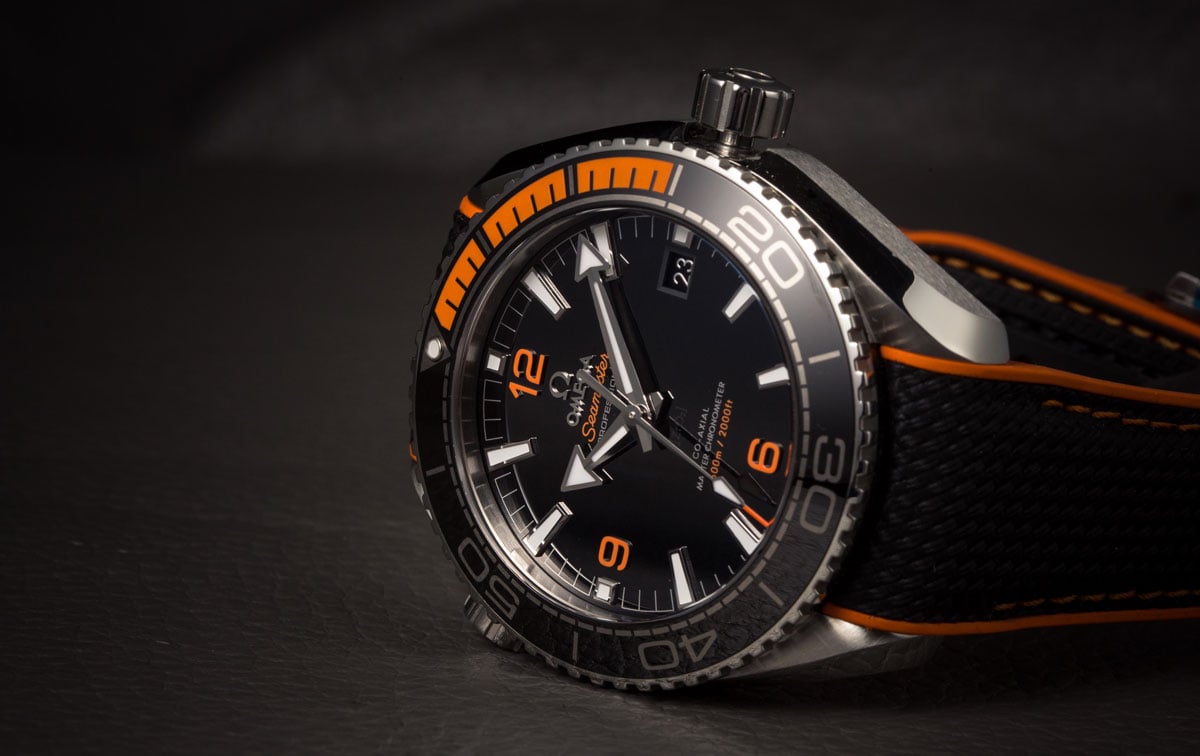 Vintage vs. Modern Omega Seamaster Watches
As we've illustrated, the Omega Seamaster collection is extensive. For brevity, we compare the vintage Seamaster 300 with the current Diver 300M to illustrate the difference between vintage and modern Seamaster watches.
Despite its name, the original Seamaster 300 ref. CK2913 was only water-resistant up to 200 meters – rumor has it that this was due to Omega's testing equipment of the time, rather than actually being the limitations of the watch itself. In total, there are eight variants. However, each one features a similar matte dial topped with triangle hour markers and variations of the arrow hand, depending on the year it was produced.
The case was modest, measuring approximately 38.5mm in diameter and it featured either a case-back with or without the iconic seahorse logo. Powering the watch was an automatic cal. 501 or cal. 500 movement with a 46-hour power reserve. The Seamaster 300 was resurrected in 2017 to celebrate the 60th anniversary of the original model, and although significantly different both inside and out, it showcases a very similar design as the ref. CK2913.
Fast-forward several decades to 1993 and the release of the Seamaster Diver 300M. Side-by-side, the differences between the vintage and current Seamaster Diver 300M are quite apparent. While there are over 40 references of the Diver 300M currently in production, they all share similar skeleton hands, bold luminous hour markers, and rotating timing bezels. Additionally, the depth rating matches the watch's name at 300 meters. The Diver 300M also includes case sizes that range from 42mm for the 3-hand edition to 44mm for the chronograph. Naturally, the collection also offers a modern series of movements that boast the brand's Co-Axial escapement.
Omega has not forsaken the original Seamaster 300 that laid the foundation for the entire Seamaster collection as we know it today. However, it also hasn't shied away from tirelessly perfecting the entire Seamaster catalog to remain current both in functionality and in design.
How Much is an Omega Seamaster?
On the retail level, Omega Seamaster prices start at great value compared to other Swiss brands. The price can vary depending on the specific model, materials, and features of the specific watch. Retail prices are often obtainable by most budgets; however, you'll get more value on the pre-owned market and with a little bit of searching, you can sometimes find Omega watches discounted up to 60% off their retail prices. Each model will vary and (of course) the watch's condition is also a key factor to consider.
Omega Seamaster: Buying New vs. Pre-Owned
If you've decided to invest in an Omega Seamaster, you've probably asked yourself the question, should I buy pre-owned or new? There are benefits to both, with the most obvious being that a pre-owned watch can be cheaper than a new one. On the other hand, there are several factors to consider when purchasing a used Omega rather than a new one, such as the watch's condition and its authenticity.
If the watch is pre-owned, does it come with the original box and paperwork? Also, has the timepiece been serviced? Does it include all of its original parts? None of that is a factor when purchasing new. However, depending on the watch, there is the factor of depreciation. Similar to buying a new car, most luxury watches will almost always depreciate (to some degree or another) once you purchase them. Omega watches do retain their value quite well, but it is important to buy them at the right price. If you know where to shop, buying pre-owned can often be the best option, allowing you to obtain the exact same watch at a significant discount.
The Best Omega Seamaster Watches
It would be nearly impossible to review every Omega Seamaster watch. Instead, we've selected a few models, both current-production and discontinued, to highlight in more detail that represent the different sides of the Omega Seamaster collection.
The James Bond Seamaster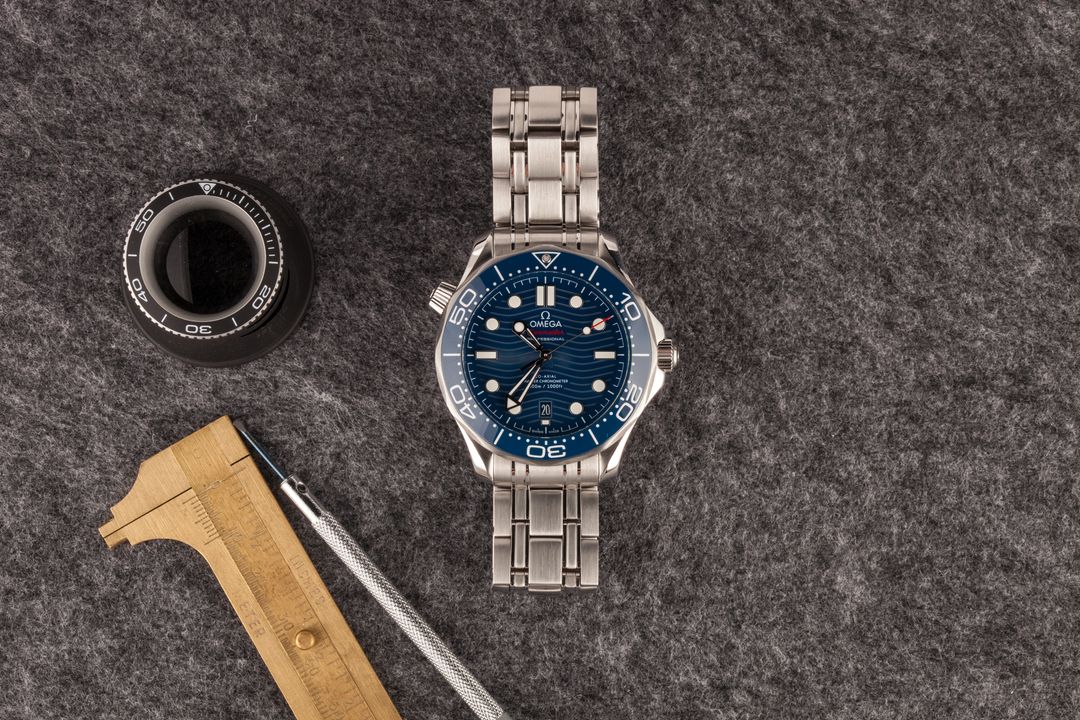 The classic blue wave dial 'Bond Seamaster' – in all of its different generations – consistently remains one of Omega's most popular watches for its appearance in many James Bond films (more on that below) along with its effortless design. It offers a highly refined, almost dressy aesthetic paired with serious professional dive watch features. Omega produced several editions of the blue wave Seamaster throughout the years.
One such example that you can add to your watch box today is the ref. 210.30.42.20.03.001 in stainless steel. It features the brand's Master Chronometer cal. 8800 movement, 42mm case, and wave dial topped with plenty of lume. Its appearance not only has wide appeal but the watch is also highly capable with a versatile design that could very easily be the only watch that a person owns for the rest of his or her life. It wouldn't ever look out of place, regardless of whether it was worn at a poolside barbecue or a black-tie event.
Omega Seamaster Planet Ocean Chronograph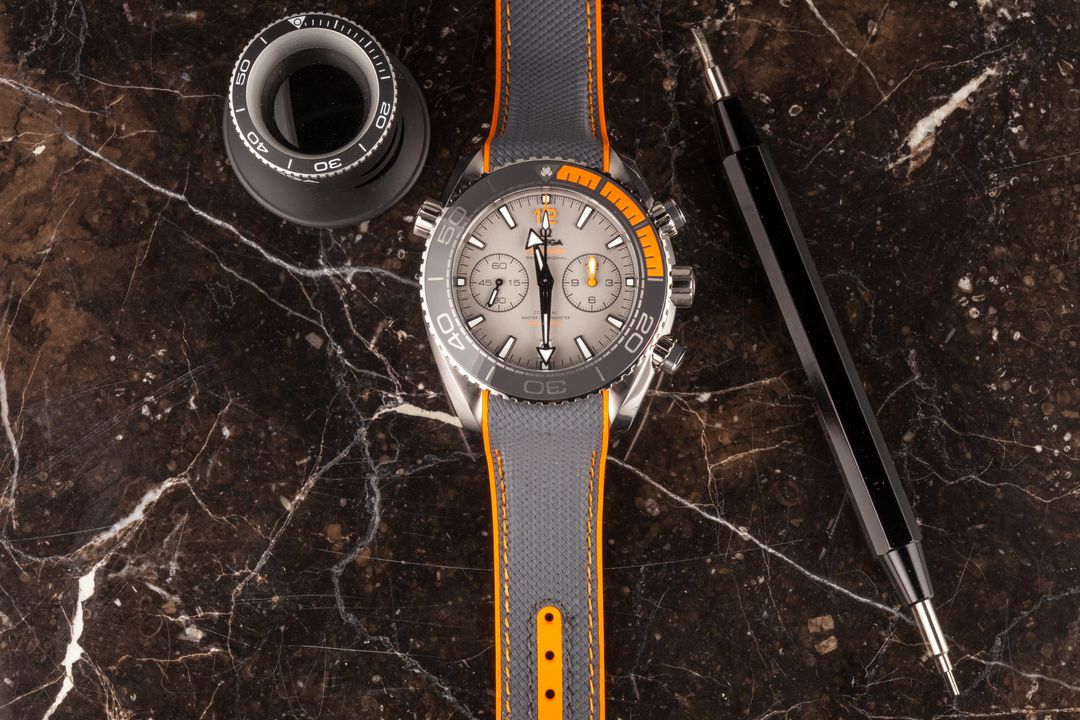 The Planet Ocean is effectively a Seamaster on steroids – increased water resistance, chunkier cases, and generally more rugged aesthetics. When picking a Planet Ocean to kick this list off, going with this 45.5mm titanium-cased beast of a chronograph was an easy choice. The combination of a light grey dial and orange accents paired with a matching grey and orange rubber strap works exceptionally well.
At a functional level, this piece is also rock-solid, as Omega was able to maintain the standard 600m of water resistance on it even though it is fitted with a chronograph complication. While it is standard practice on most watches to never operate the chronograph features underwater, newer Omega Seamaster chronograph pushers can actually be operated at depth. Additionally, like many of the other professional dive watches in the Seamaster collection, the case of this Planet Ocean Chronograph is fitted with a helium escape valve at the 10 o'clock location.
Omega Seamaster 300
The reference 233.22.41.21.01.001 is based on one of the early Seamaster Trilogy releases from 1957. It features a relatively flat case profile with long lugs, making the 41mm piece wear a bit larger than its specs would otherwise indicate.
The Omega Seamaster 300 is offered in various metals, with this example being made in steel and gold and fitted with a ceramic and Ceragold™ bezel. While the style of font and use of beige-colored Super-LumiNova on the hands and indices give the piece a very vintage-leaning aesthetic, its automatic Caliber 8400 Co-Axial chronometer movement makes it properly modern in terms of accuracy and mechanical performance.
Seamaster Diver Chronograph – America's Cup Edition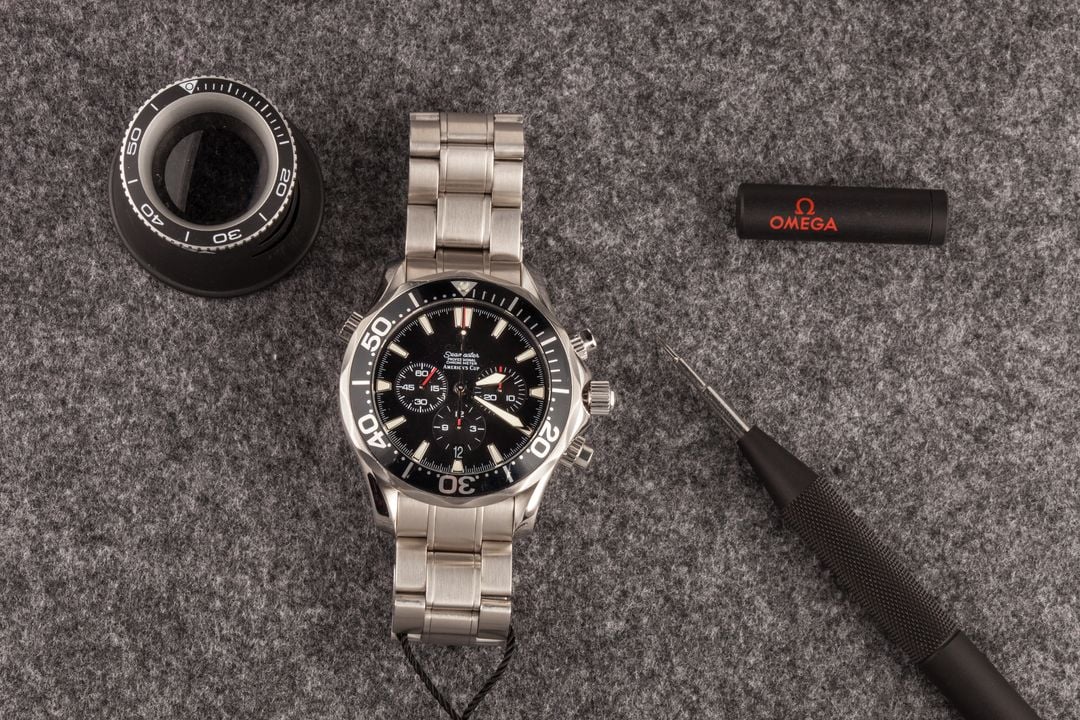 The Omega Seamaster Diver Chronograph America's Cup edition is from the same general line of design as the original 'Bond' model. However, it is fitted with sword hands, a glossy black dial, and a chronograph complication to boot. At 41.5mm across in this casing, this divers chronograph wears quite compactly when compared to the Planet Ocean.
Additionally, it also happens to be priced significantly below the Planet Ocean, representing a serious bargain for the amount of watch you receive. Getting an automatic luxury chronograph with a 300m of water resistance and timing bezel at this price point is an absolute steal, even without the added pedigree of it being an Omega Seamaster in the first place.
Seamaster Planet Ocean GMT 600M
Everyone needs a good GMT – a classic complication in the dive watch category, though one that is entirely irrelevant for a dive watch when used for its actual intended task. While the Planet Ocean is Omega's range of ultra-capable professional dive watches, a surprising number of different GMT models have been offered within this extensive sub-collection.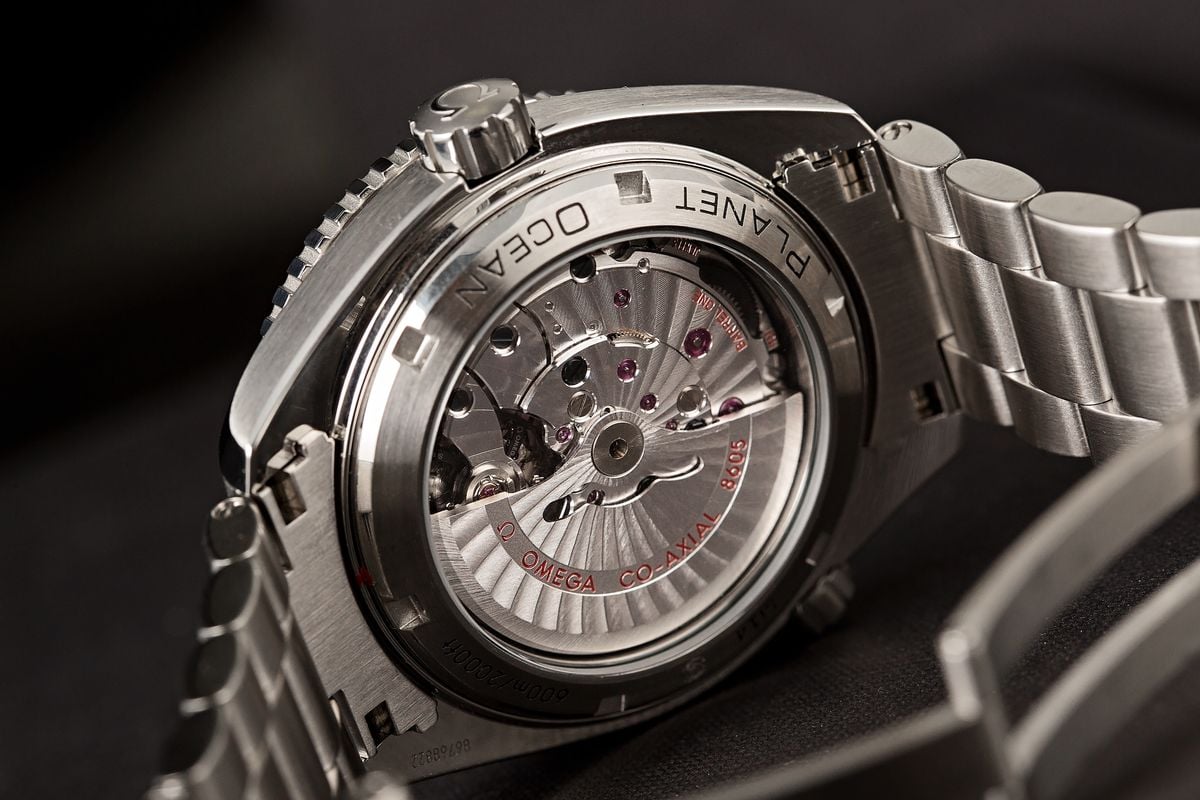 Once again, we get a solid but not overbearing blue dial, this time paired with those orange accents that are the unofficial calling card of the modern Planet Ocean lineup. The swap to a 24h rotating bezel does a remarkable job of changing the piece's overall look; however, the LiquidMetal bezel retains a luminous marker at the 12 o'clock location, which allows it to keep much of its dive-ready functionality. Using titanium for its case and bracelet also does an excellent job of lightening the piece, as its steel-cased counterpart can be a bit on the hefty side.

The Omega Seamaster and Hollywood
Omega Seamaster watches can be spotted on the wrists of many public figures, including celebrities, world dignitaries, and accomplished athletes.
– George Clooney – In addition to frequently being spotted wearing a Speedmaster, the Omega ambassador wears both the Seamaster Planet Ocean and the Aqua Terra.
– Rory McIlroy – Professional golfer and Omega brand ambassador, Rory McIlroy can often be seen wearing the Omega Seamaster Aqua Terra Ultra Light, which is a watch he helped design
– Prince William – The mid-size version of blue wave dial Seamaster Professional Diver 300M was a gift from his mother, Princess Diana, and it has been a fixture on Prince William's wrist for decades.
– Adam Savage – While he also wears the Speedmaster, the Mythbuster's star has also been known to wear a couple of different Seamaster Planet Ocean watches.
– Liev Schreiber – American actor, director, and screenwriter Liev Schreiber is frequently spotted with an Omega Seamaster Diver 300M both on and off-screen.
– Joe Biden – U.S. President Joe Biden is a watch guy and one model in his collection is his trusty Omega Seamaster Diver 300M
– Alessandra Ambrosio – Brazilian model and Omega ambassador Alessandra Ambrosio is almost never without her Seamaster Aqua Terra watch
The James Bond Omega Legacy
Throughout the years, Agent 007 has worn a wide variety of different timepieces from a number of different brands ranging from Rolex to Seiko and everything in between. However, since the 1995 release of the film Goldeneye, there has always been some type of Omega Seamaster watch on his wrist.
James Bond Omega Seamaster Filmology
1995: Goldeneye – Seamaster Diver 300M
1997: Tomorrow Never Dies – Seamaster 300M
1999: The World is Not Enough – Seamaster 300M
2002: Die Another Day – Seamaster 300M
2006: Casino Royale – Seamaster Diver 300M; Seamaster Planet Ocean 600M
2008: Quantum of Solace – Seamaster Planet Ocean 600M
2012: Skyfall – Seamaster Planet Ocean 600M; Seamaster Aqua Terra
2015: Spectre – Seamaster 300 Co-Axial
2020: No Time To Die – Omega Seamaster Diver 300M
James Bond Seamaster Watches
The first Omega Seamaster worn by James Bond was the quartz-powered 2541.80.00 with a blue wave dial, matching blue bezel, and steel-on-steel finish. Two years later, Pierce Brosnan was outfitted with the automatic chronometer-rated version (reference 2531.80) for his return as Bond in the 1997 film, Tomorrow Never Dies. He would go on to wear that same watch for the remainder of his tenure as 007. A blue Omega Seamaster 300M can be seen in both his third and fourth (also final) appearances as James Bond during The World Is Not Enough (1999) and Die Another Day (2002).
The 2006 release of Casino Royale marked a new generation for 007 with the introduction of a new Bond actor and a new Bond watch. Pierce Brosnan had passed the torch to Daniel Craig, and to accompany Craig's more rugged and gritty portrayal of James Bond, the watches were now gadget-free, and multiple Omega Seamaster watches appeared on screen during the film. The classic blue wave dial Seamaster did make an appearance in Casino Royal; however, it was the updated version featuring Omega's Co-Axial escapement. Additionally, keeping with Daniel Craig's more rugged and gritty rendition of Bond, a Seamaster Planet Ocean 600m with a black dial and a black rubber strap could also be spotted on Craig's wrist during scenes of Casino Royale.
For the 2008 release of Quantum of Solace, Bond seemingly ditched the classic blue Seamaster Diver 300m that had been his go-to model for more than a decade. Instead, it was a 42mm stainless steel Seamaster Planet Ocean with a black dial on a matching steel bracelet (again without gadgets) that Craig wore during most of the film. Omega also started to release several different 007-themed limited and special edition Seamaster models during this time – a practice that continues to this day. While the watches worn on-screen are typically standard-production Seamaster models, these 007-edition watches typically feature special James Bond details and often include elaborate 007-themed boxes and packaging.
Additional 007 Seamaster Watches
Craig wore two different Omega Seamaster watches during the 2012 film Skyfall. The 42mm stainless steel Planet Ocean that he wore in Quantum of Solace returned, this time accompanied by a Seamaster Aqua Terra with a blue dial. Although the classic blue wave dial Seamaster Diver 300m did not make an appearance in Skyfall, the particular Aqua Terra model worn by Daniel Craig during the film is vaguely reminiscent of the original "Bond Seamaster" with both watches featuring stainless steel cases, matching steel bracelets, and blue dials that are engraved with lines (straight and vertical on the Aqua Terra, horizontal and wavy on the Seamaster 300m).
For the 2015 launch of Spectre, James Bond received a new watch, although it was still a member of the greater Seamaster collection. Rather than continuing to wear models from the Seamaster Diver 300m and Planet Ocean sub-collections, Bond received a new watch – the Seamaster 300 – which is a modern re-interpretation of the very first dive watch ever produced by Omega way back in 1957. While the standard production of the watch featured a 60-minute dive bezel, the version featured in the film (which was also made available to the public as a limited edition) was fitted with a 12-hour bezel and a different 'lollipop style seconds hand.
In No Time to Die, which is currently unreleased but set to come out in late-2021, Craig wears a grade 2 titanium Omega Seamaster ref. 210.90.42.20.01.001 on his wrist. Craig was heavily involved in the design of 007's latest timepiece, which includes a mesh Milanese bracelet, a matte-finished dial and bezel, and correct military-inspired markings.
The Seamaster is an expansive and versatile men's and women's watch collection with models that appeal to serious watch enthusiasts, novice watch buyers, and just about everyone in between. Whether you're searching for a top-notch diver, an everyday luxury sports watch, or a modern timepiece designed to look like it was made decades ago, the Omega Seamaster collection has plenty to offer.
*Additional images courtesy of OMEGA.