Part of the fun of collecting watches is being able to wear the perfect one for any occasion. While there are many fantastic timepieces that can be worn every single day and could easily be 'that one good watch' that accompanies you throughout your entire life, owning multiple different watches gives you the opportunity to choose one that is perfectly suited to the theme of an event or the activities you plan on doing that day.
So, what is the best luxury watch to wear on Thanksgiving?
Thanksgiving Watch Requirements
Thanksgiving is a day all about cooking, eating, and spending time with family (even if that means just checking in for a Zoom call). While you have quite a bit of freedom when it comes to the type of watch you can wear, some models are simply better suited for this particular holiday than others. As the entire day is centered around food, there is a pretty good chance that you may find yourself needing to time something in the kitchen on Thanksgiving day, and a chronograph watch is the perfect timepiece for the task. If you're new to timepieces, be sure to read our article on what is a Chronograph watch.
It takes an average of several hours (minimum) to cook a turkey, and if you plan on using your wristwatch to time it, your standard diver with its 60-minute rotating bezel is going to come up a bit short. What you really need is a chronograph watch to time your Thanksgiving turkey – and not just any chronograph, but one that is capable of timing events that are multiple hours long.
Not all chronographs offer the ability to time events longer than an hour, and some models only include a single 30-minute register. However, there are many watches out there that are able to time events up to 12 hours in length, which is more than enough to accurately measure the cooking time on even the largest of holiday turkeys.
Additional Features
Beyond having a chronograph complication, the perfect watch for Thanksgiving should have at least some degree of water-resistance so that you can easily clean it off if it gets a little dirty while helping out in the kitchen. While you don't need the massive depth ratings offered by dive watches, you also don't want to have to worry about it at all when you go to wash your hands or help out with the dishes after dinner.
Lastly, your Thanksgiving watch should also have either an adjustable strap or a clasp with some form of an extension system. You may not end up needing the additional adjustability, but you definitely want to be able to guarantee that your watch will still remain comfortable on your wrist no matter how many servings of dessert you eat at dinner.
You may already have the perfect Thanksgiving chronograph in your collection; however for those that may be looking for some suggestions, below is a quick overview of the different options available from some of the industry's top luxury watch brands.
Rolex Chronograph Watches
Rolex may not produce many chronograph watches, but the one model that the brand does offer is ideal for Thanksgiving day. First launched in 1963 and originally designed specifically for the racetrack, the Rolex Daytona racing watch has reached a mythic-level of status and collectibility in recent years. The current-production stainless steel model has been completely sold out at retailers ever since it was first announced back in 2016 and in addition to being considered one of the most desirable luxury watches in the world, the Rolex Daytona is also a robust and highly-capable professional timing tool.
Despite the range of different movements that have been used to power the watch over the years, all Rolex Daytona models include the ability to time events up to 12 hours in length. While the flyback adjustable countdown timer on the Yacht-Master II initially seems like it might be perfectly suited for use in the kitchen, it can only measure events up to 10 minutes long, making the Cosmograph Daytona the only model from the current Rolex catalog that can time out the full duration of the cook on your Thanksgiving turkey.
With that in mind, the Rolex Daytona collection does offer a wide range of options when it comes to metal type and configuration, resulting in a surprising amount of variety among this single line of watches. Beyond their precision chronograph movements, modern references from the Daytona collection also include clasps fitted with Rolex's Easylink extension system, which will allow you to quickly expand your bracelet by 5mm for a post-dinner fit.
Omega Chronograph Watches
The Omega watch brand is no stranger to producing highly capable chronograph watches, and if the classic Speedmaster Moonwatch can be trusted by NASA astronauts while working in outer space, it is more than up to the task of playing the role of turkey timer on Thanksgiving day. With that in mind, in the years since it was first introduced back in 1957, the Omega Speedmaster has expanded into an entire collection of chronograph watches and the vast majority of the different models offer the ability to time events up to 12-hours.
However, in addition to the entire Omega Speedmaster watch lineup, the brand also produces chronograph models in both its Seamaster and De Ville collections. Within the Seamaster range, you will find Aqua Terra, Diver 300M, and Planet Ocean watches all fitted with chronograph complications. These models offer much of the same stopwatch functionality as the Speedmaster but with greater water-resistance, while the De Ville chronograph models offer dressier and more formal options that still retain all of the same precision stopwatch timing capabilities.
In the same way that Omega's catalog offers a wide range of different chronograph models, the brand also offers individual watches in a variety of different materials and configurations. In addition to traditional options such as stainless steel, gold, and platinum, Omega also offers watches with cases made from high-tech materials such as titanium, tantalum, and ceramic. Furthermore, buyers have the option of choosing between metal bracelets or straps in a variety of different styles, materials, and colors, resulting in an incredibly wide selection of watches that are all perfect for tracking cook times while preparing Thanksgiving dinner.
Breitling Chronograph Watches
Buying a Breitling watch continues to be an exciting experience for anyone familiar with the brand's history, craftsmanship, and prestigue. As a brand, the watch is synonymous with chronograph watches and the world of aviation. The modern two-pusher chronograph configuration (which has become the standard and that we all know today) was first developed by Breitling in 1934, and while the company now produces timepieces in an incredibly wide range of different styles, many of the brand's most famous and iconic models are those fitted with chronograph complications.
The Navitimer is arguably the most famous Breitling watch collection of all time, but it is by no means the only one that offers chronograph models that are capable of measuring 12-hour events. A number of different watches from the Chronomat, Avenger, Colt, Bentley, and Superocean collections can all feature stopwatch functionality, and some of Breitling's hybrid analog/digital quartz models even feature advanced chronograph and timer modes that can be displayed on their digital screens.
In addition to offering chronograph complications, many Breitling Navitimer models also include slide rule bezels. Featuring a pair of logarithmic scales, a slide rule bezel can be used like a primitive calculator to compute a number of different calculations. Resorting to your watch's slide rule bezel might be a bit extreme if you are just trying to figure out the measurements while multiplying a recipe, but the fact that the Navitimer can actually perform these calculations does give it an additional edge as a kitchen timer on Thanksgiving day.
Tissot Chronograph Watches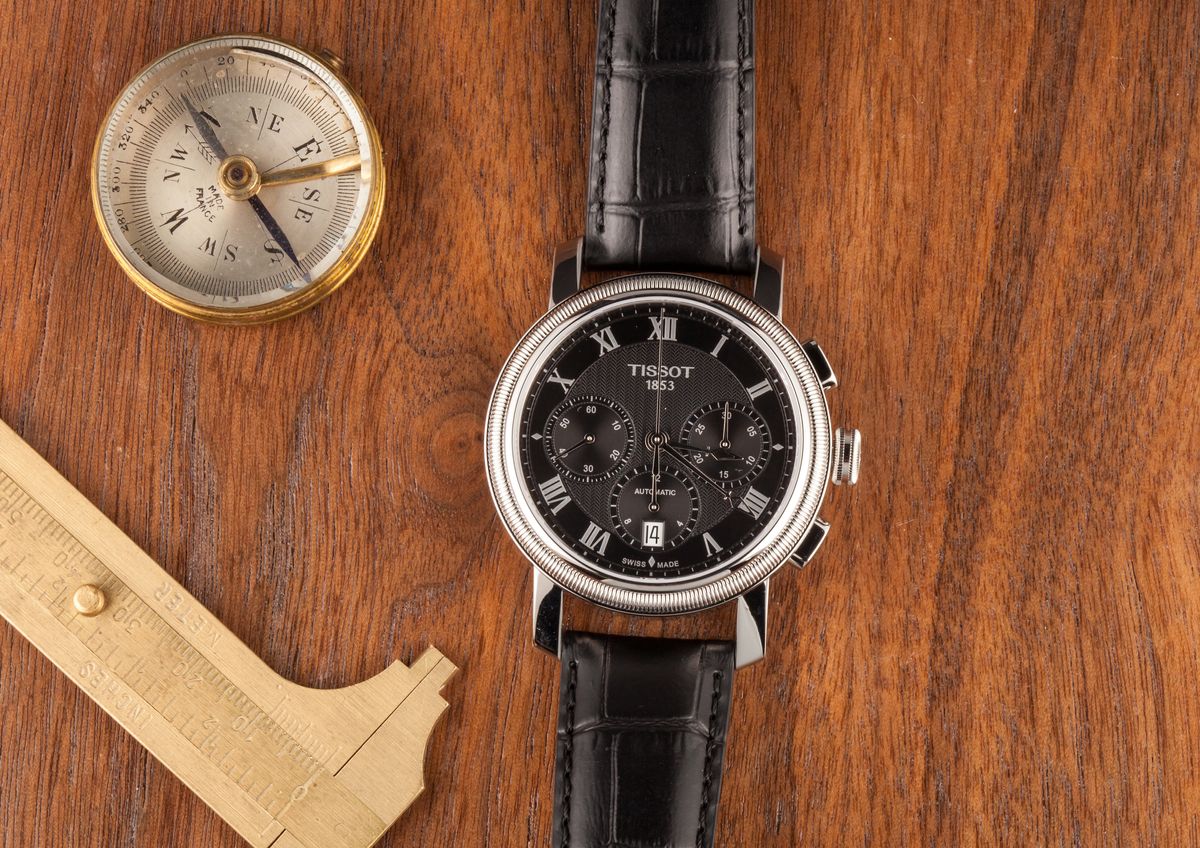 The Swiss-made Tissot watch brand is one of the core members of the Swatch Group, and the historic manufacturer occupies a lower price point than Blancpain or Omega, while still offering the impeccable quality and precision that defines all Swiss luxury watches. For those in the market for a traditional mechanical chronograph, Tissot offers near-unparalleled value for the money, despite being one of the world's oldest brands with a history that dates all the way back to 1853.
The majority of Swiss-made watches that do not use in-house movements rely on ETA-designed calibers, and ETA movements serve as the foundation for many of the world's top luxury watch brands. As part of the Swatch Group, Tissot benefits from having guaranteed access to genuine ETA calibers, since the prolific movement manufacturer is also a core member of the greater Swatch Group.
Few watch brands can offer a Swiss-made mechanical chronograph with a genuine ETA movement for a similar price as Tissot, and virtually none have nearly the same degree of brand recognition or history. Tissot's Bridgeport, Couturier, Le Locle, PRS 516, and Seastar collections all include models that are powered by ETA automatic chronograph movements, and many of these offer the ability to measure events up to 12 hours, making them the perfect luxury watches for keeping track of cook times on Thanksgiving day.