No one is going to pretend that vintage watch collecting is the cheapest activity in the world. If you are venturing into this hobby for the first time, scouring the pre-owned market for that initial purchase can see you faced with some alarming dollar figures, especially if you have your heart set on a vintage Rolex watch.
Yet, fear not! Rolex has been around for so long and has such a wide and diverse portfolio, that there are models out there to suit just about any budget. Generally speaking, the most affordable vintage Rolex watches are those that are plentiful in number, either because they remained in production for a very long time or because they were the models that everyone wanted, leading to vast quantities being produced. In either instance, it is their present-day availability that has ultimately helped keep their costs down.
Of course, all of this only applies to certain Rolex models. We can't exactly list the real icons (Submariner, Daytona, GMT-Master, etc.) in the 'Everyone Can Afford' category anymore; those days are long gone. However, what we are left with are some truly spectacular watches, the cult heroes that can set you apart in an overcrowded space – and that won't break the bank while doing it. Below, we have picked out a few of our favorite affordable vintage Rolex watches.
Rolex Datejust ref. 1601
Datejust 1601 Key Features:
– Case Size: 36mm
– Materials: Yellow Rolesor; White Rolesor; 18k Gold
– Functions: Time w/ Running Seconds, Date Display
– Dial: Multiple Options Available
– Bezel: Fixed, 18k Gold, Fluted Style
– Crystal: Acrylic (Flat w/ Cyclops Lens)
– Movement: Caliber 1565 or Caliber 1575
– Strap/Bracelet: Oyster Bracelet or Jubilee Bracelet
Click here for our Ultimate Buying Guide on the Rolex Datejust.

Sitting at the head of this category is the celebrated Rolex Datejust, which has been among the brand's best-selling creations since it debuted way back in 1945. With a mind-boggling array of different metal, bezel, dial, and bracelet options, the Datejust has always been the one watch designed to suit absolutely anybody. Furthermore, it bridges that gap between an all-out dress watch and a rough-and-ready tool model, fitting in anywhere and complementing any situation.
It is obviously possible to spend huge amounts on a Datejust, but it is by no means necessary. The model has never been subjected to the Rolex policy of limiting allocation (which continues to frustrate those looking for a stainless steel sports watch today), and it has been produced in enormous numbers over the decades. There's even a better-than-average chance of being able to buy a brand new example straight from an authorized retailer – imagine that!
Of the vintage references, the ref. 160x family (introduced in 1959) is the most reasonably priced. This was the series that really nailed down the aesthetics, helped along by adopting a new thinner movement, the Cal. 1565 (and later the Cal. 1575), which did away with the "Bubble Back" cases of previous iterations. However, it still has those two touches loved by all vintage fans – a pie pan dial (where the outer rim slopes downward with the resemblance of an inverted plate) and an acrylic crystal. The range was in production for nearly 20-years, meaning the pre-owned market is swarming with great examples in every style you can imagine. However, it is perhaps the ref. 1601 in the brand's signature two-tone steel and gold (Rolesor) metal combination with a fluted bezel, that screams "Rolex" the loudest.
A stainless steel 36mm case topped with a gold bezel is a trademark visual, and prices start out at under $5,000. If you can live without the Jubilee bracelet and are happy to wear your Datejust on a leather strap, you can have one for even less. An undisputed star of horology, a vintage Rolex Datejust allows you to wear a vital slice of horology history.
Rolex Air-King ref. 5500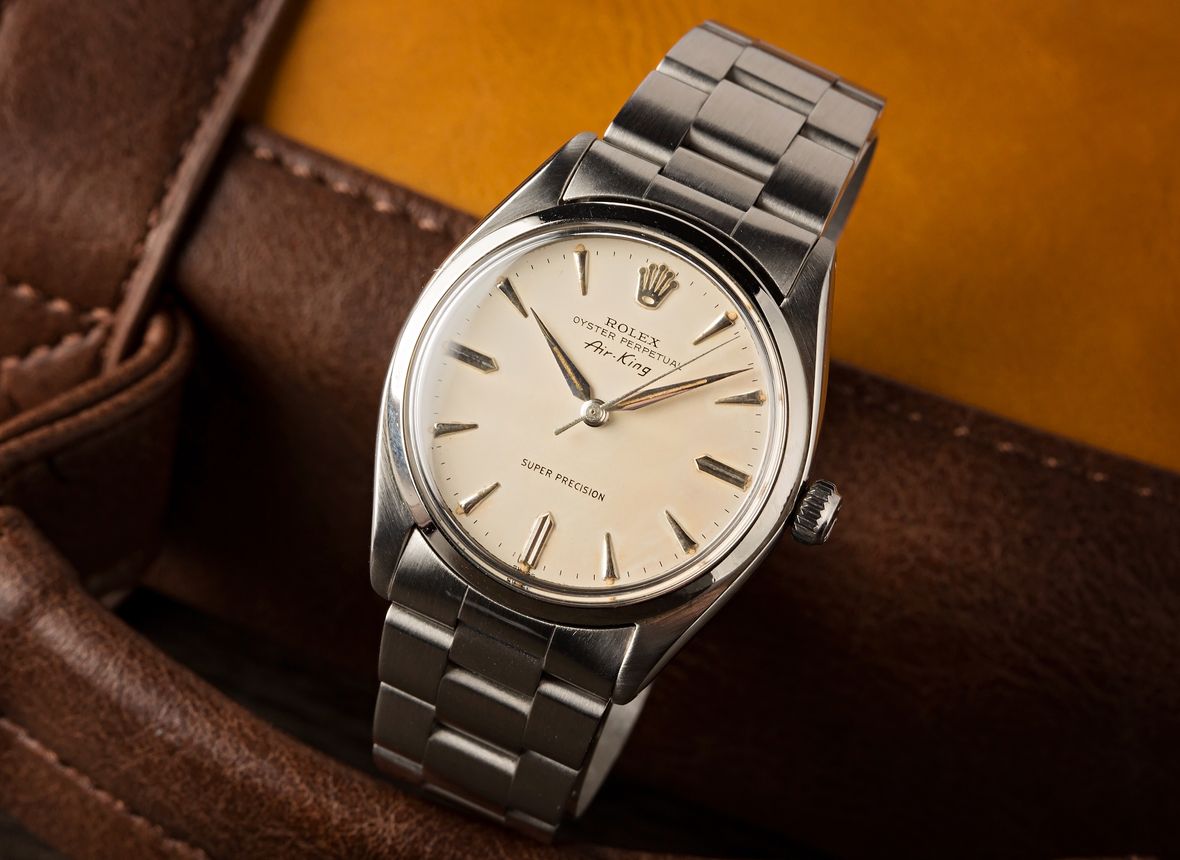 Air-King 5500 Key Features:
– Case Size: 34mm
– Materials: Stainless Steel; 14k Gold
– Functions: Time w/ Running Seconds
– Dial: Multiple Options Available
– Bezel: Fixed, Stainless Steel or 14k Gold, Smooth Style
– Crystal: Acrylic (Flat)
– Movement: Caliber 1520 or Caliber 1530
– Strap/Bracelet: Oyster Bracelet or Jubilee Bracelet
Click here for our Ultimate Buying Guide on the Rolex Air-King.

The Rolex Air-King first appeared even earlier than the Datejust as one of a series of 'Air' watches Rolex founder Hans Wilsdorf created to celebrate the heroics of British RAF pilots in their defense of the U.K during WWII. However, the Air-King did not actually become an official collection in Rolex's catalog until its formal launch in 1958. Even with the Air-King's remarkably long and illustrious history, it still stands as one of the most underappreciated names in the Rolex collection. Further evidence comes in the form of just how far the Air-King has lagged behind the rest of the catalog in receiving its incremental updates. Incredibly, it didn't even receive its first chronometer-certified movement until as late as 2007.
From the outset, the watch was always the epitome of stylish, unassuming elegance. By the time the reference 5500 emerged in 1958, the "Air-King" name had already been used for several different references. However, the Air-King 5500 is the one that Rolex considers to be the official start of the collection, and it would go on to remain in production for more than three decades. A 34mm three-handed watch with not so much as a date function to muddy up the perfectly-balanced dial, the Rolex Air-King was here to tell you the time and nothing else, and it remains one of the most starkly handsome creations the brand has ever put forward.
Rolex Air-King 5500 watches always have a smooth polished bezel, a plain stick handset, and the hour markers on the vast majority of examples were simple batons. However, some examples are crafted from solid 14k yellow gold, and there was a short-lived experiment in the late 1950s to early 1960s that put the Explorer's 3/6/9 dial and Mercedes hands on the Air-King's case, making a 34mm Explorer ref. 5500.
Another dial discrepancy tells the story of what's going on inside. The ref. 5500 had two different movements during its production: the Cal. 1520 and Cal. 1530. Neither movement was COSC-certified and so the 'Superlative Chronometer Officially Certified' text that we are used to seeing on Rolex watches is missing from reference 5500 watches. In its place is 'Super Precision' in many of the Cal. 1530-driven pieces and either just 'Precision' or else no designation at all (known as "Pre-Precision" dials) on many of the Cal. 1520 models. With that in mind, the lack of chronometer-certification is no reason to avoid the ref. 5500, as both movements are fine examples of Rolex engineering, keep time beautifully, and are celebrated for their rock-solid reliability.
And the price for all this fascinating vintage Rolex fineness? A late-model example in perfect condition can be had for under $4,000. One of the unsung masterpieces of Rolex's formative years, the reference 5500 Air-King is a genuine bargain and offers a timeless and minimalist aesthetic that is guaranteed to never go out of style.
Rolex Day-Date ref. 1803
Day-Date 1803 Key Features:
– Case Size: 36mm
– Materials: 18k Gold
– Functions: Time w/ Running Seconds, Date Display, Day Display
– Dial: Multiple Options Available
– Bezel: Fixed, 18k Gold, Fluted Style
– Crystal: Acrylic (Flat w/ Cyclops Lens)
– Movement: Caliber 1555 or Caliber 1556
– Strap/Bracelet: Oyster Bracelet or President Bracelet
Click here for our Ultimate Buying Guide on the Rolex Day-Date.

It might represent a significant jump in price over the other two models on this list, but the Rolex Day-Date (aka "The President") also represents a lot more watch for your money. With a design that has hardly changed over the years, the Rolex President has become the very definition of a status symbol piece, and it is easily the world's most famous and universally-recognizable gold watch.
The debut reference was launched in 1956, some 11-years after its closest cousin (the Datejust), and it immediately took over flagship duties and became the first waterproof automatic wristwatch ever made to display both the date and the day of the week spelled out in full through windows in the dial. The ref. 180x series is to the Day-Date what the ref. 160x series is to the Datejust; the generation that settled everything down after a turbulent start and squared away the most important design and engineering elements that would go on to define them for the next half-century. However, unlike the Datejust collection, stainless steel was never to play a part in the Day-Date's makeup. For the Rolex President, it was precious metal or nothing.
The ref. 1803 was exclusively manufactured with a 36mm case and available in all three flavors of 18k gold (yellow, white, and rose) with a matching fluted bezel. Much like the Datejust, the ref. 1803 also swapped movements during production. Starting out with the Cal. 1555, it was later upgraded to the Cal. 1556 movement with a higher 19,800vph frequency. Although the latter was given a hacking function, neither movement featured the convenience of a Quickset that allows wearers to advance the calendar complications independently of the time-telling hands, as this convenience would not make its first appearance on the Day-Date collection until the subsequent generation.
A yellow gold Day-Date ref. 1803 on its eponymous President bracelet is going to start out at around $12,000, which is a hefty chunk of cash. However, as a solid-gold luxury watch, the Day-Date also suits a high-quality leather strap extremely well, and prices for Day-Date watches without matching gold bracelets can be as low as $7,000 to $8,000. This is still not exactly inexpensive, but it is a remarkably reasonable price for one of the all-time classic Rolex references in solid 18k gold. And as a vintage purchase with an unbeatable pedigree, it doesn't get much better than that.