A fresh trend that's been sweeping through the luxury watch space as of late is the brightly colored dial. That's thanks in large part to the new line of Rolex Oyster Perpetual watches that were released in the latter half of 2020. With shades like sunny yellow, crisp turquoise, energetic red, and more, the colorful Oyster Perpetual watches are a welcome addition to the more muted tones we've come to associate with fine timepieces. And other watch brands are following suit by adding lively dials to the luxury watch landscape too.
However, those who are familiar with Rolex watches will recognize that boldly colored dials are not new to the brand's catalog but in fact, have a history that dates back to the 1970s. Those vintage dials are known as Rolex Stella dials and many collectors have correctly pointed out that the new Oyster Perpetual watches are (more-or-less) modern revivals of the old-school Stellas. Let's dig in a little deeper and find out the similarities and differences between the new colorful Rolex Oyster Perpetual watches and the vintage Stella dials that inspired them.
Click here for our Ultimate Buying Guide on Rolex Watches.

What is the Rolex Stella?
In the 1970s, Rolex began furnishing select Day-Date watches with colorful lacquered enamel dials. Rolex called them "Lacquered Stella" in the catalogs of the era, and there are two popular but incorrect theories on why they received this name. One theory claims that the name was taken from the Italian word for "star" while the other maintains that they were named after American artist Frank Stella, renowned for his kaleidoscope-like creations.
The name actually comes from a Swiss company called Stella that supplied Rolex's dial manufacturers with special lacquers and pigments that were used in the production of these brightly colored dials. However, today they are simply known as Rolex Stella dials within the collecting community. It is understood that these dials were manufactured in limited quantities and were originally destined for primarily the Middle East market. The combination of the flamboyant high gloss dials with the normally conservative 36mm Day-Date President watch was a striking and unexpected one.
Rolex Stella Dials Colors
Rolex Stella dial color choices include:
– Blue
– Green
– Orange
– Oxblood
– Peach
– Pink
– Purple
– Red
– Salmon
– Turquoise
Perhaps the combo was too unexpected for most because the Rolex Stella watches were not particularly popular during their time. However, similar to several other once-overlooked Rolex references (most notably, the vintage Daytona references), Stella dials have reemerged as some of the most collectible vintage Rolex watches in today's market. And finding one, especially in good condition, is a challenge since not only were they manufactured in smaller numbers but hard enamel also has a tendency to crack.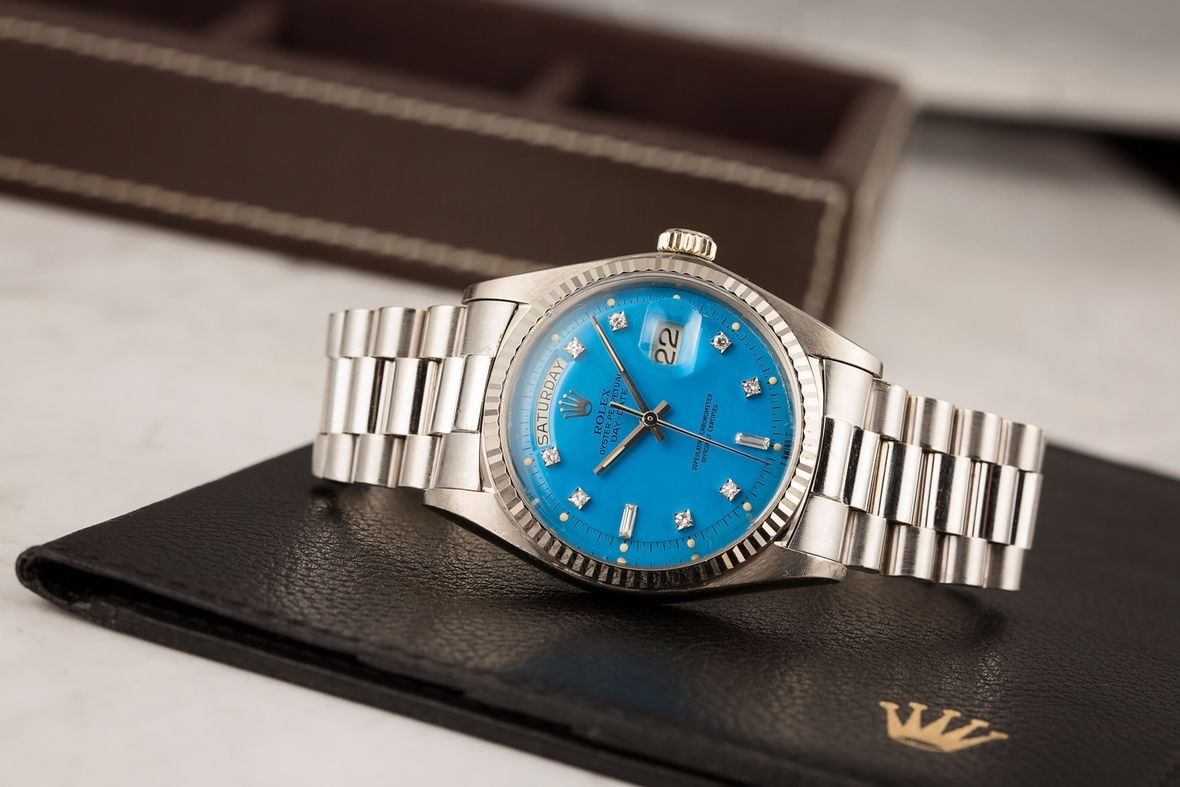 Rolex Models With Stella Dials
Rolex Day-Date watches fitted with Stella dials were made primarily during the 1970s and 1980s, but production tapered off in the early-1990s. Additionally, there are yellow gold, white gold, and platinum versions of Rolex Stella watches, as well as gem-set editions. As a result, these special edition dials can be found across several references, depending on their year of production:
– Day-Date ref. 1802
– Day-Date ref. 1803
– Day-Date ref. 1804
– Day-Date ref. 18038
– Day-Date ref. 18039
– Day-Day ref. 18079
 -Day-Date ref. 18248
– Day-Date ref. 18239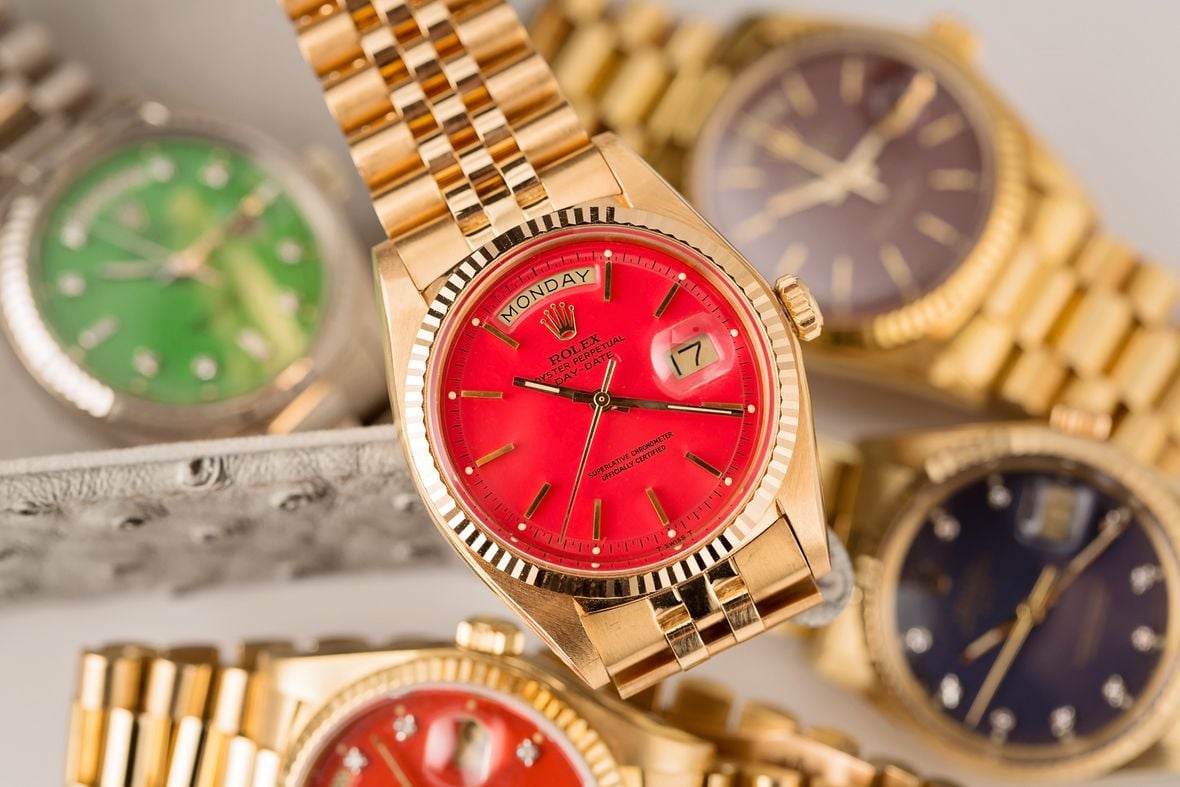 The New Rolex Oyster Perpetual Collection
In September 2020, Rolex unveiled a new generation of Oyster Perpetual watches, boasting new calibers, new sizes, and new colorways. Although the watches still offer the choice of neutral-toned dials, it's the bright tints that have got everyone talking. The current Rolex Oyster Perpetual dial color options include:
– Black
– Blue
– Coral red
– Green
– Pink
– Silver
– Turquoise
– Yellow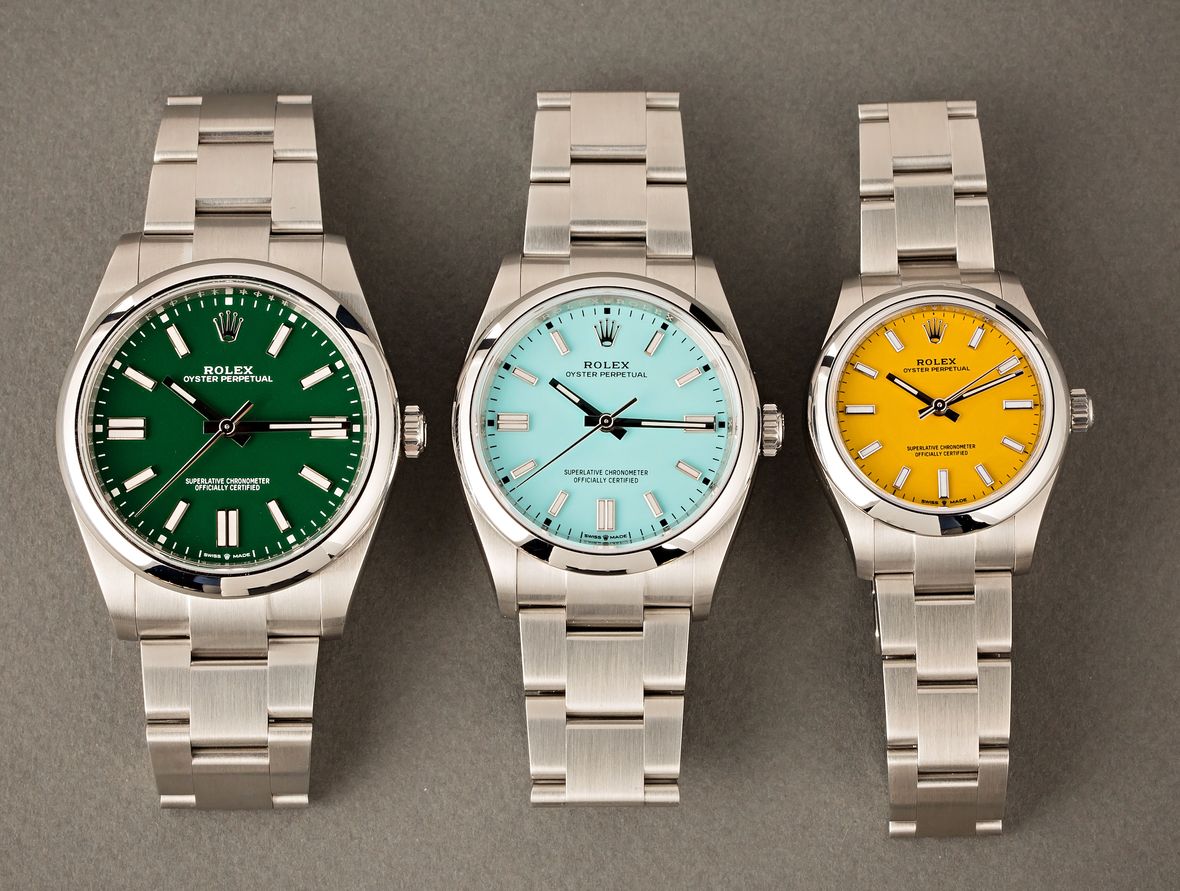 Rolex Oyster Perpetual Sizes
The new-generation Rolex Oyster Perpetual is available in five different sizes:
– Oyster Perpetual 28 ref. 276200
– Oyster Perpetual 31 ref. 277200
– Oyster Perpetual 34 ref. 124200
– Oyster Perpetual 36 ref. 126000
– Oyster Perpetual 41 ref. 124300
While not all sizes offer all eight dial color choices, the highly-versatile OP 36 does. For those who aren't familiar with the Oyster Perpetual collection, this is Rolex's entry-level model exclusively available in stainless steel and fitted with a time-only dial and a 3-link Oyster bracelet.
Rolex Stella Dials vs. Oyster Perpetual
They may look similar at first glance due to their eye-catchy dial shades, but the Day-Date Stella dials and the new Oyster Perpetual watches represent two opposite ends of the Rolex dress watch spectrum. The Day-Date is Rolex's most prestigious watch model – so much so that it is more commonly known as the Rolex President and it's the watch that we've come to expect on the wrists of the world's most powerful people.
The Rolex Day-Date is only ever made in solid 18k gold or platinum, and diamond embellishments are always an option. Other flourishes often found on Day-Date watches include fluted bezels and President bracelets. The watch combines both a day and a date window, with the latter indication further enhanced by a Cyclops magnification lens protruding from the surface of the crystal above it.
On the other hand, the Oyster Perpetual is Rolex's starter watch, offering the two most important design traits of a modern Rolex: a water-resistant Oyster case and a self-winding Perpetual movement. The face of the watch is straightforward in its design, featuring a trio of hands at the center, an unadorned smooth bezel, and a flat sapphire crystal. It only comes with a three-link Oyster bracelet, which is the brand's most casual choice.
An Attainable Splash of Color
Given these fundamental differences, it is refreshing that Rolex would pick its entry-level model to showcase a vibrant and collectible dial style once reserved for its most exclusive line of watches. Rolex even revived the idea of the Stella style for a short while in 2013 when it released a few Day-Date models with colorful dials and matching leather straps. However, now the most easy-going Rolex model was chosen to serve up the candy-colored dials – and buyers are eating it up. It also doesn't hurt that you can choose from a variety of different case sizes within the new Rolex OP range, while the original Stella dials were only available inside a 36mm Day-Date case.
Although the Rolex Oyster Perpetual is by no means an inexpensive watch, it is far more attainable than a Day-Date President, especially if we're comparing it to an ultra-coveted vintage Day-Date with a Stella dial. If the watch-centric corners of Instagram are any indication, the "Tiffany" turquoise editions and the sun-drenched yellow options are the current favorites among the new OP colorways.
Rolex has long been considered a conservative brand, sticking to classic palettes and timeless silhouettes. Yet, given the advent of more cheerful options in recent years like the Rainbow Daytona, multi-colored sapphire "Gummy Bear" Yacht-Master, the gradient gem-set Pearlmaster models, and now the brightly-toned Oyster Perpetual watches, it's clear that Rolex knows precisely when and how to add a dash of color to its lineup for maximum effect.