Ferrari celebrates its 70th anniversary this year, and Rolex is getting in on the action by sponsoring one of the most incredible exhibitions of classic Ferraris the world has ever seen. Rolex's history of close ties with motoring and racing dates back to the 1930s and the land speed records set by the dashing Sir Malcolm Campbell, one of the brand's earliest devotees.
Ferrari Collection
These days Rolex partners with the Formula 1 series in various cities as well as backing a number of high profile classic car events. The exhibit,  "Seeing Red: 70 Years of Ferrari", is being staged in L.A.'s amazing Petersen Museum, in the Bruce Meyer Family Gallery which is one of Rolex's more unusual sponsorships, focusing as it does on a single space devoted to one of the world's great classic car collectors, Bruce Meyer of Beverly Hills. A Rolex Daytona Cosmograph will perfectly match the occasion for this partnership.
Connections
The Ferrari / Rolex connection is not one that has ever been officially established, but many Ferraris have won prize Rolex watches and events like the Rolex 24 at Daytona, the Rolex Monterey Motorsports Reunion and the Pebble Beach Concours d'Elegance. The Rolex Daytona has much in common with the Ferrari Daytona, both seminal machines in motorsports, and both owned and popularized by the great Paul Newman. The exhibit in L.A. features over a dozen Ferraris including a 1947 125S (the first Ferrari ever made), a legendary 250 GTO – the world's most valuable sports car – Niki Lauda's Ferrari 312 T5 and the 2001 Ferrari F1 driven by Formula One champion Michael Schumacher in one of his most dominating years in the series.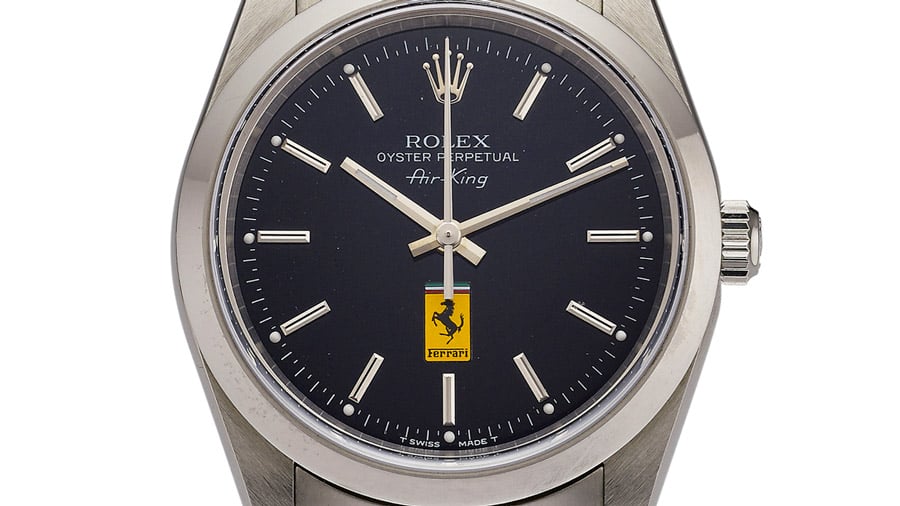 Petersen
"We're so thrilled to bring some of the world's most beautiful Ferraris to the Petersen," says Meyer, founding chairman of the Petersen's Board of Directors. "Seeing that Rosso Corsa paint and the beautiful curves of the body work is always enough to make your heart skip a beat. 'Seeing Red' is one of the most significant gatherings of Ferraris in the world." And Rolex made it happen. The exhibition opened with a grand reception on April 27th at the Petersen and will run through April 2018. Whether you wear a Rolex or not when you go to see it is entirely up to you – but there's no better way to feel a part of the prestige, power and pedigree of these two great brands. And we can help with that…