In the modern era, Rolex reportedly makes somewhere in the region of a million watches a year from inside one of the slickest and most efficient mass production facilities in the world. However, it hasn't always been that way. Going back a few generations, Rolex was still finding its feet, and like any business, went through a deal of trial and error before settling on the core Rolex collection of watches that we all know today.
Some of those more experimental pieces from the archives still exist today, but often in only a tiny handful of examples, and were made as either special orders for extremely important individuals or else as prototypes trialing short-lived styles or complications. These models represent some of the rarest (sometimes entirely unique) and most captivating watches in Rolex's entire history. Below, we've picked out three of our favorites.
Rolex Daytona ref. 6265/9 'Unicorn'
In truth, we could have populated this entire list with just incredibly rare specimens of Rolex's fabled racing chronograph. There are a number of examples from its early years with the smallest discrepancies that mark each one out as either ultra scarce or actual one-offs. You may come across pieces with unofficial nicknames such as the 'Gandalf" with its grey grené dial, or the 'Neanderthal' – a sort of pre-Paul Newman Daytona, among scores of others. 
But for all out exclusivity, the absolutely singular Unicorn stands literally on its own. Made in 1970 for an unnamed German retailer, the ref. 6265/9 is the only manually-wound, four-digit Daytona forged from white gold. At this stage in its development, Rolex was offering its chronograph in primarily stainless steel, along with a few in 18k yellow gold (and some in 14k for a U.S. audience).
Being crafted entirely from white gold made the Unicorn just about the most luxurious and distinctive version of the Daytona up till that point, and it was fitted with a dial which was also rather special. The black face, with its contrasting sub counters and white gold indexes, has small Greek letters flanking the 'T Swiss T' script at the six o'clock, marking it out as a so-called Sigma dial. The designation was briefly used by Rolex (among other brands) on some gold models as a way to signify that the hour markers on the dial were crafted from gold. Any Sigma dial Rolex is sought after, but perhaps none more so than this one.     
After spending many years in John Goldberger's world-class personal collection, the Unicorn Daytona went up for auction in 2018 with proceeds benefitting the charity, Children Action. It immediately became the second most expensive Rolex watch ever sold, when the hammer dropped for more than $5.9 million. It was an historic price for an historically significant watch, even further sealing the reputation of the legendary Rolex Daytona.
Rolex Day-Date ref. 1831
One of the best things about studying watches is that every day you are likely to learn something new. Just when you have a certain amount of confidence and swagger that your knowledge on a particular collection is complete, something entirely unexpected emerges from the archives to remind you that there is always something new to discover. So it is with the Rolex Day-Date ref. 1831, outranking the watch's usual Presidential nickname by being dubbed 'The Emperor." 
Even among seasoned experts, this is a model that is often seldom mentioned and virtually never encountered in person. Like the white gold Daytona above, the ref. 1831 was made to order, specifically at the request of the Shah of Iran in the late 1970s. Powered by a movement exclusive to the reference, only eight examples were were ever created, and the watches were fitted with a number of different and unusual dials.
At first glance, you could be forgiven for thinking the ref. 1831 was part of the Oysterquartz family that debuted around the same period, with the squared-off case and integrated bracelet. However, these watches were fitted with a mechanical Perpetual movement, the Cal. 1566, and all the watches were forged from solid platinum, as were the angular bracelets that were similar to the ones Gérald Genta designed for the King Midas. All told, the ref. 1831 is among heaviest models Rolex has ever made, weighing in at around 300 grams, or about twice the typical weight of the Day-Date.
With bezels and hour markers awash with diamonds and fitted with different color dials, these ref. 1831 watches were created to be gifted by the Shah to visiting dignitaries. Some were fitted with more traditional black or silver dials, while others received bright lacquered Stella Dials like those that can be found on certain vintage President models. Rolex Emperor watches are all engraved with their individual number on the case back, and constitute just about the holiest of holy grails in what is already a very special collection of watches. Among the rarest and most elusive examples of one of Rolex's traditional offerings, the ref. 1831 represents a fascinating chapter in the brand's story.
Rolex Regulator Non-Oyster Chronograph ref. 2737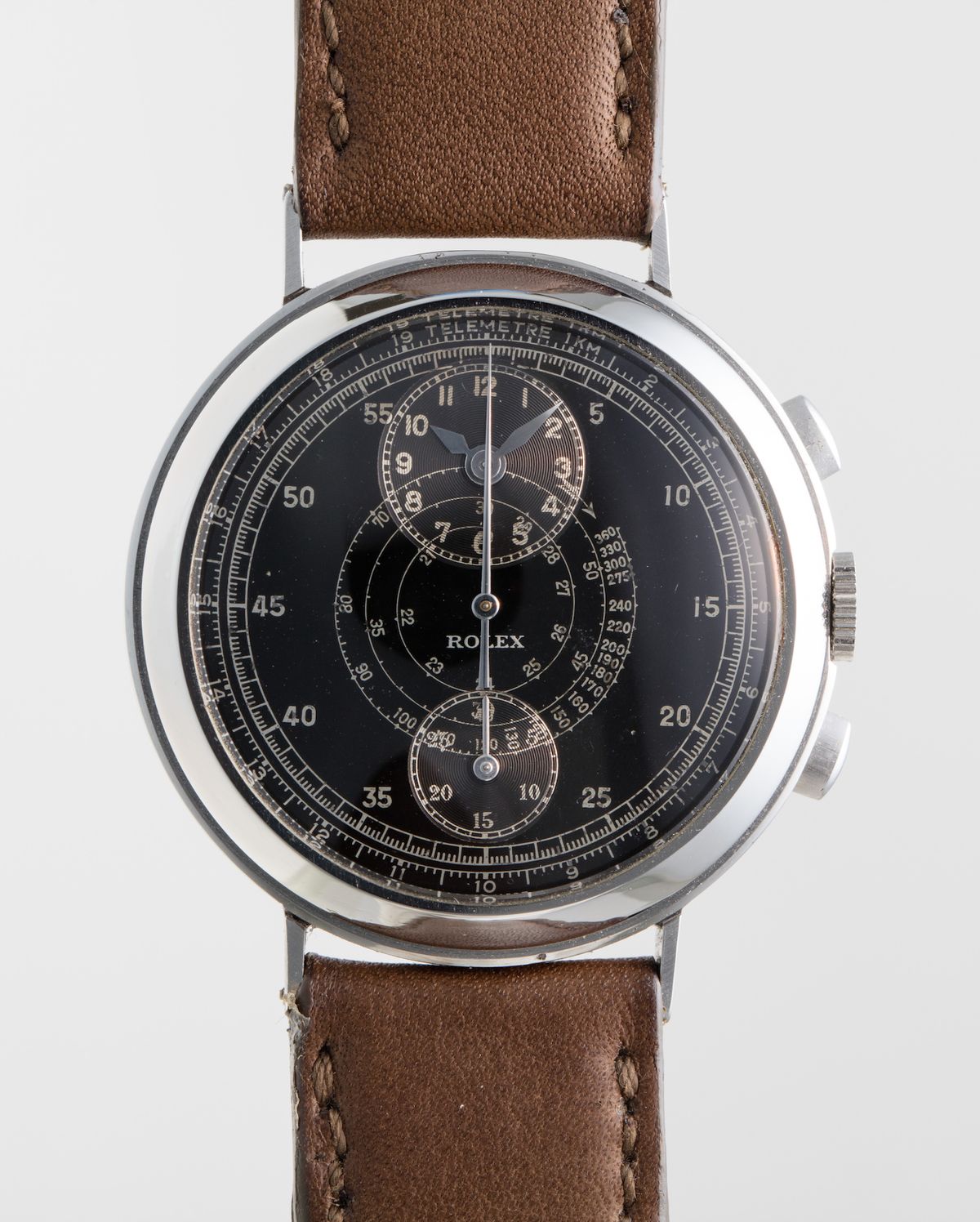 The Daytona may be the most famous, but it wasn't Rolex's first attempt at a chronograph. Long before that piece came into existence, the company occasionally dipped its toes into the world of mechanical stopwatches, with some of the earliest examples dating all the way back to the 1930s.
Even though it was made after the invention of the Oyster case, the ref. 2737 features the snap-on caseback that was prevalent at the time, a feature inherited from the ubiquitous pocket watch. However, it is up front where most of the interest lies. The dial layout is what is known as a regulator, which traditionally were extremely accurate chronometers used as a reference by clock and watchmakers to adjust the time on their own pieces. In order to make them as clearly legible as possible, the hour, minute and seconds hands are all arranged on their own sub-dials and in the case of the Rolex ref.2737, powered by the cal. 13 lever movement.
The beautiful black gloss dial has an outer telemeter and an inner spiral tachymeter scale, as well as Arabic numeral markings, yet still manages to look balanced and uncluttered. The stainless steel, 36mm case was fairly large for the period and features a round profile with slender lugs. On either side of the tooth-edged winding crown are two oval-shaped pushers to operate the chronograph.
All in all, it is a wonderfully handsome and capable watch, but also an incredibly rare one, and truly unlike anything that exists in Rolex's current catalog. It was not much more than an experiment by Rolex and it is estimated that only around a dozen or so examples were ever made. Of those, a mere handful have ever appeared at auction, with the last time being in 2015, when a superbly maintained example sold for around $160,000. A real outlier from Rolex's adolescent years, the ref. 2737 is an intriguing creation. 
*All images courtesy of Phillips