For many people, it can be a serious struggle to think of the perfect Father's Day gift. Most of the things he could possibly want he already owns, and rarely is he ever vocal about what you could get him that will make him happy. This year, forget the tie or cologne and give Dad a gift that stands for luxury, status, elegance, and reliability – something that he can wear every single day and love forever: a Rolex watch.
Many people think that a Rolex is far out of their price range, but with pre-owned Rolex watches, you can get all of the same luxury and exclusivity at a mere fraction of the price. Celebrate that special father in your life by showing him exactly how much he means to everyone. A genuine Rolex on his wrist will be a daily reminder of just how much everyone loves him and appreciates everything that he has done for them.
Father's Day Gift Ideas
Don't Let Rolex Watch Prices Scare You
When shopping for a Father's Day gift, Rolex watch prices might scare you. However, buying a pre-owned Rolex watches can allow you to get Dad that perfect, elegant timepiece without spending a fortune.
Used Rolex prices often vary by model and condition, so do some shopping around to figure out what style you think would best suit the man in your life. Perhaps he'd like the traditional GMT-II model is an ideal gift to fathers, or would really love the Rolex Submariner. Each model offers the same precision and attention to detail that one would expect from a Rolex, but with slightly different features.
A Gift That Will Last A Lifetime
Because of the quality and precision of the workmanship that goes into each watch, used Rolex prices often hold steady over time. A Rolex is a gift that he can wear throughout his entire life, and in a variety of circumstances. A used Rolex watch will bring something special to even a casual outfit, and will perfectly finish off a business ensemble. It will keep impeccably stylish time while scuba diving, or at his daughter's soccer game. It truly is the one piece of jewelry that every man needs in his wardrobe.
Take a look at pre-owned Rolex watch prices today, and see if this could be the year that you make the Dad in your life a Rolex man.
The Best Rolex Watches for Father's Day
Father's Day is around the corner and Dad really wants a Rolex.
There's a lot to consider when selecting the right watch. Unlike other brands that often only have one really iconic piece in their portfolio, Rolex is anything but shy on selection. Different case sizes, materials, eras, complications, and overall aesthetics provide countless options, allowing you to find the perfect watch for Dad this Father's Day.
Assuming you've so far narrowed the field down to pre-owned and not vintage, we've decided to break down some of the pros and cons of some of our favorite models from the brand to give you a bit of insight as you approach that big decision. At the end of the day, personal preference is destined to triumph when it comes to what feels right on the wrist, but if you need some help picking out the perfect model for Dad, this guide should at least start steering you in the right direction.
Rolex Submariner
Being the classic to end all classics, the Rolex Submariner is the most logical jumping-off point for this list. Not only is it a true classic in terms of design and pedigree, but it's also a proper tool watch that was engineered from day one to take as much of a beating as you can throw at it. Given its longstanding history, there is no shortage of different models and references to choose from. However, the Submariner 16610 came to mind for this list as it strikes the right balance between modern functionality and slight vintage charm.
The Submariner 16610 is the ideal blend of fashion, functionality, and durability. With its striking blend of masculine features and delicate craftsmanship, the ref. 16610 is the perfect watch for the active father in your life. This particular model is comprised of an all stainless steel case, which showcases the gloss black dial bordered by a black bidirectional bezel. The dial features luminous white hour markers, which allow for greater visibility underwater, and a strong and durable oyster bracelet, made with hand-brushed stainless steel. A Rolex Submariner 16610 is the perfect choice for any Rolex watch collection, particularly for the important father in your life.
The Submariner 16610 is the last reference from Rolex to feature an aluminum bezel insert – known to slowly fade with age and give the Sub a unique aesthetic characteristic – alongside the modern convenience of being fitted with a scratch-resistant sapphire crystal rather than the acrylic crystals fitted to vintage models like the Submariner 5513. It is also powered by the Rolex caliber 3135, which still powers modern Submariner models to this day. Finally, it also lands in a bit of a sweet spot price-wise, as it is currently more affordable than both its vintage predecessors and its more modern siblings, which all sport a redesigned case and Cerachrom ceramic bezels.
Rolex Datejust
Unlike the Submariner, the Rolex Datejust is a significantly dressier alternative that equally highlights the masterful engineering and finishing of all things Rolex. With case sizes ranging from a compact 34mm up to a much more contemporary 41mm, there is a Datejust model out there to suit all wrist sizes and aesthetic preferences.
Additionally, the model range is by far the broadest in the brand's collection, providing an array of watches to choose from in steel, gold, or two-tone configuration, with baton, roman numeral, or even diamond-set indices. Because the collection is so broad, it would be unfair to narrow the Datejust down to a single reference.
The smooth-bezel Datejust II 116300 has a fair bit of appeal on account of its slightly less flashy aesthetic when compared to its fluted bezel siblings. On the other hand, there's a fair level of appeal to rocking a piece that speaks more to the Datejust's roots – such as the stainless steel and yellow gold Datejust 116233 with a fluted bezel and champagne dial. This classic two-tone aesthetic paired with Rolex's hallmark traits such as a gold fluted bezel and Jubilee bracelet create a truly timeless design and help make this configuration instantly recognizable as a Rolex watch.
Rolex Explorer II
The Rolex Explorer II is firmly on the tool/utility side of the brand's catalog; however, its thinner case profile and flatter fixed bezel help make it a fair bit more versatile if you're looking to tuck under a shirt cuff. The Explorer II was a serious departure for Rolex when it first launched in 1971, created specifically with explorers, adventurers, and spelunkers in mind.
A heavy application of luminous material on its indices and hands, and a 24h indication using an oversized hand are key elements of its design that still carry forward to the present day (though past references scaled-down the 24h hand size for a brief period). Aside from the big orange hand, the Explorer II is arguably one of the more understated Rolexes on the market as well, as its case and bracelet are exclusively crafted from stainless steel and feature a brushed finish throughout rather than the high polish seen on countless other models.
Offering dual timezone functionality via its independently adjustable hour hands, the Explorer II makes an ideal companion for both travel and everyday use. Occasionally referred to as the Rolex for the non-Rolex guy, the Explorer II is a fantastic choice for someone in the market for a truly versatile daily-wear watch that will last a lifetime.
Rolex Daytona
Given its permanent position at the top of the Rolex pyramid, and the jaw-dropping auction results that continue to surface from the vintage watch market, the Rolex Daytona is an absolute no-brainer when it comes to potential watches from the brand that deserves a spot on your radar this Father's Day.
We all remember the significant fanfare that came along with the first ceramic-bezel Daytona in stainless steel – the reference 116500 – and though the watch was released a number of years ago, these models remain a proper pain to track down, with multi-year waiting lists present at retailers worldwide. As appealing as the ceramic bezel is, we still have a soft spot for the steel-cased Daytona 116520, which sports a matching engraved steel bezel.
The proportions of the modern Daytona have remained largely unchanged since the model migrated to a self-winding caliber in 1988. A 40mm case, screw-down pushers, and pronounced crown guards, paired with a simple 3-register chronograph dial layout ensure the Daytona remains instantly identifiable by any self-respecting watch enthusiast. Similar to the Explorer II, the Daytona is designed to go from day to night, and from the boardroom to the beach with ease, and given their ability to retain value and appreciate, they're one of the smartest investments in the watch world right now.
Rolex Watches for Father's Day
For the ultimate expression of love and appreciation make this day dedicated to Dad extra special by splurging on a watch that he deserves! Whether dad is into steel, gold, or a combination of both, here are nine different Rolex watches to suit any taste. Below we take a closer look at the different metal options available for Rolex watches and offer some suggestions for the best Rolex models to give as Father's Day gifts.
Stainless Steel
For some understated and highly-functional luxury, opt for a stainless steel Rolex watch. Masculine and rugged, yet still undeniably luxurious, here are three choices of iconic Rolex watches all crafted in stainless steel.
1. Datejust II
The larger alternative to the original Rolex Datejust, the Oyster case of the Datejust II measures 41mm for a more contemporary size. The black dial, steel case, bracelet, and domed bezel keep things modern while the use of Roman numerals adds a touch of traditional style.
2. Explorer II
A spectacular looking watch, the Explorer II is a Rolex sport watch that stands out. The clean white 'Polar' dial is the perfect backdrop for the large lume plots, luminous Mercedes-style hands, a bright orange GMT hand, and matching orange "EXPLORER II" text. The robust stainless steel 42mm Oyster case is topped with the 24hr fixed bezel and presented on the iconic stainless steel Oyster bracelet.
3. Submariner
Nothing says 'Rolex tool watch' like a stainless steel Submariner. With a 40mm steel Oyster case, stainless steel Oyster bracelet, black unidirectional diver's bezel, and a black dial with luminescent hands and indexes, this is the classic Rolex Submariner. The legendary diver's watch that first set the standard for all luxury sports watches, the Rolex Sub is just as comfortable paired with a diving suit as with a formal three-piece suit.
Two-Tone
For a touch more luxury, the steel and gold "Rolesor" two-tone combination is always a great choice. Whether on a more classic Rolex dress watch or a Rolex sports watch, the contrast between tough steel and precious gold just works.
4. GMT-Master
The famed Rolex pilot's watch crafted in steel and yellow gold offers a touch of vintage glam for those who want to jet-set in style. The combination of the 40mm steel and yellow gold Oyster case with the black and gold GMT bezel and a black and gold dial looks particularly good with the steel and gold Jubilee bracelet.
5. Cosmograph Daytona
Quite possibly the most famous chronograph in the world, the Rolex Daytona is built for endurance and speed. The Rolesor yellow gold and steel configuration is supremely good looking with the two-tone 40m Oyster case and matching Oyster bracelet. Topped with a solid gold bezel and black dial with gold details, the Rolesor Daytona is a dynamic and exciting luxury sports watch.
6. Datejust
The most classic design among all Rolex watches, the Datejust has been a cornerstone offering in Rolex's collection since its inception in 1945. The two-tone Datejust with yellow gold and steel 36mm Oyster case and Jubilee bracelet keeps traditional design details such as the fluted gold bezel, champagne dial, and baton-style hour markers. At 3'clock is the famed date window magnified by the Cyclops lens mounted on the surface of the crystal. While it was not designed for a specific sport or activity, the Datejust was meant to be worn all day, every day, and has not once looked out of style since it was first introduced all those decades ago.
Gold
For the ultimate statement of luxury, you can't do better than a solid gold Rolex. Whether yellow, white or Everose (pink), classic or sporty, Rolex are the masters of the precious metal, forging all of their gold alloys themselves from inside their in-house factory, before crafting them into unforgettable designs.
7. Date-Date
The Rolex Day-Date or (Rolex President as it's more commonly known) sits at the pinnacle of Rolex prestige and excellence. Only ever crafted in solid gold or platinum, wearing a Rolex President asserts one's appreciation for the finer things in life. The solid yellow gold Day-Date is just perfect with the 36mm Oyster case and solid gold President bracelet. Additionally, vintage models can be found with "pie-pan" dials, adding retro charm to the iconic President watch, which features the characteristic day and date apertures.
8. Sky-Dweller
A very different Rolex, the Sky-Dweller is the most complex model currently in the brand's lineup. Touted as the ideal luxury watch for the international traveler, the Sky-Dweller is not only one of Rolex's most complicated with dual time zones and annual calendar, but it's also one of the larger ones at 42mm. Outfitted with a fluted Ring Command bezel and fashioned from either solid 18k gold, or two-tone steel and gold (both yellow and white), the Sky-Dweller is presented on either an Oyster bracelet or leather strap, making this luxury travel watch a true standout.
9. Yacht-Master
If the Submariner is built for the man who explores the underwater world, the Yacht-Master is made for the man who enjoys being the captain of his own ship. Sporty, yet luxurious, All Yacht-Master watches feature precious metal bezels, either crafted from solid gold or platinum. On this model, 18k yellow gold is used to craft the 40mm Oyster case, rotating bezel with oversized numerals, and Oyster bracelet. The white dial bears the black hour markers with gold surrounds, date window at 3 o'clock, and luminescent Mercedes-style hands for a highly legible face.
Rolex Watches for Different Types of Fathers
What do you give the man who has given you everything? His steady hands guided you as you took your first steps, and his voice provided the calming wisdom you needed when the weight of the world seemed to be stacking up against you. What better way to thank the man who was there for you than by giving him the only watch he will ever need?
Rolex watches were built to last, and they make the perfect Father's Day gift. Below we offer some of the best Rolex watches to give on Father's Day, and have categorized our selections based on the different type of dads out there.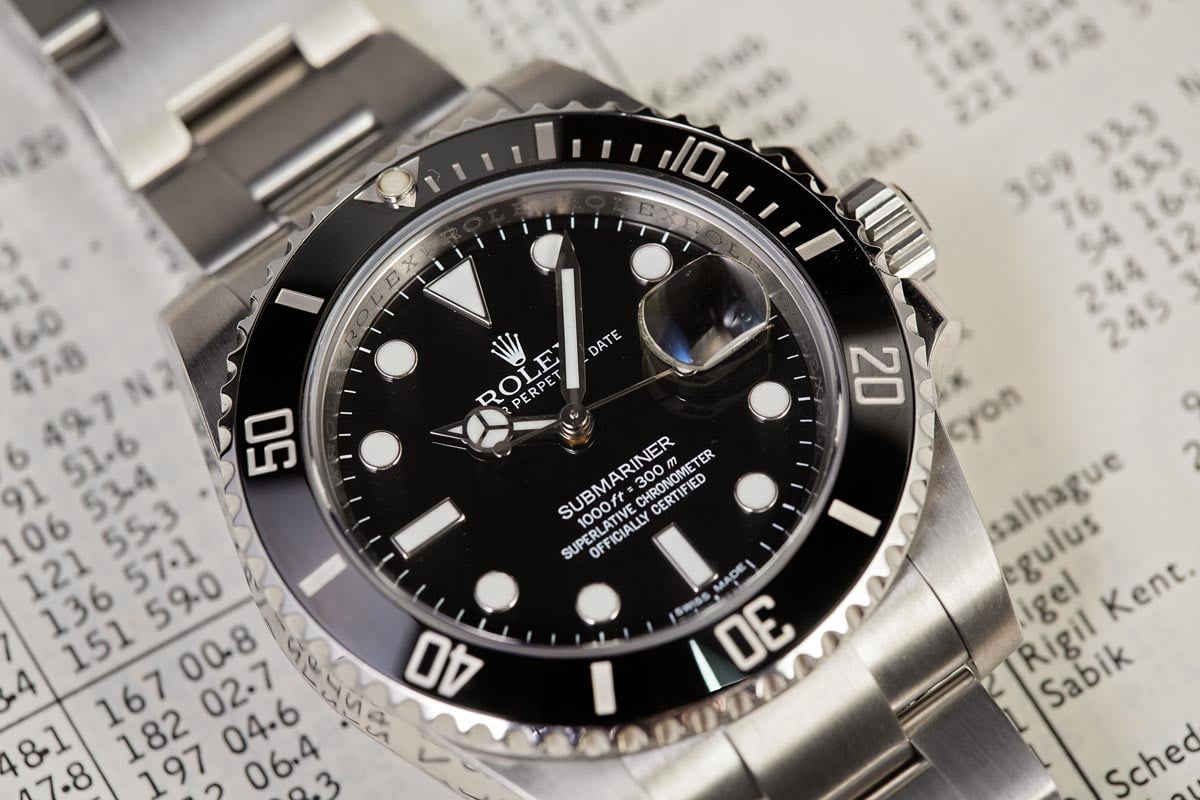 THE ADVENTURER
Whether your dad spends his days out on the trail or traveling the world, these watches are the perfect companion as he embarks on his latest challenge.
SAFE BET | ROLEX DATEJUST
Timeless, dependable, and effortlessly cool, the Datejust is the original Rolex icon. The Datejust is the world's most recognizable watch, and it has your dad covered from the office to the weekend barbecue and everywhere in-between.
BOLD MOVE | SEA-DWELLER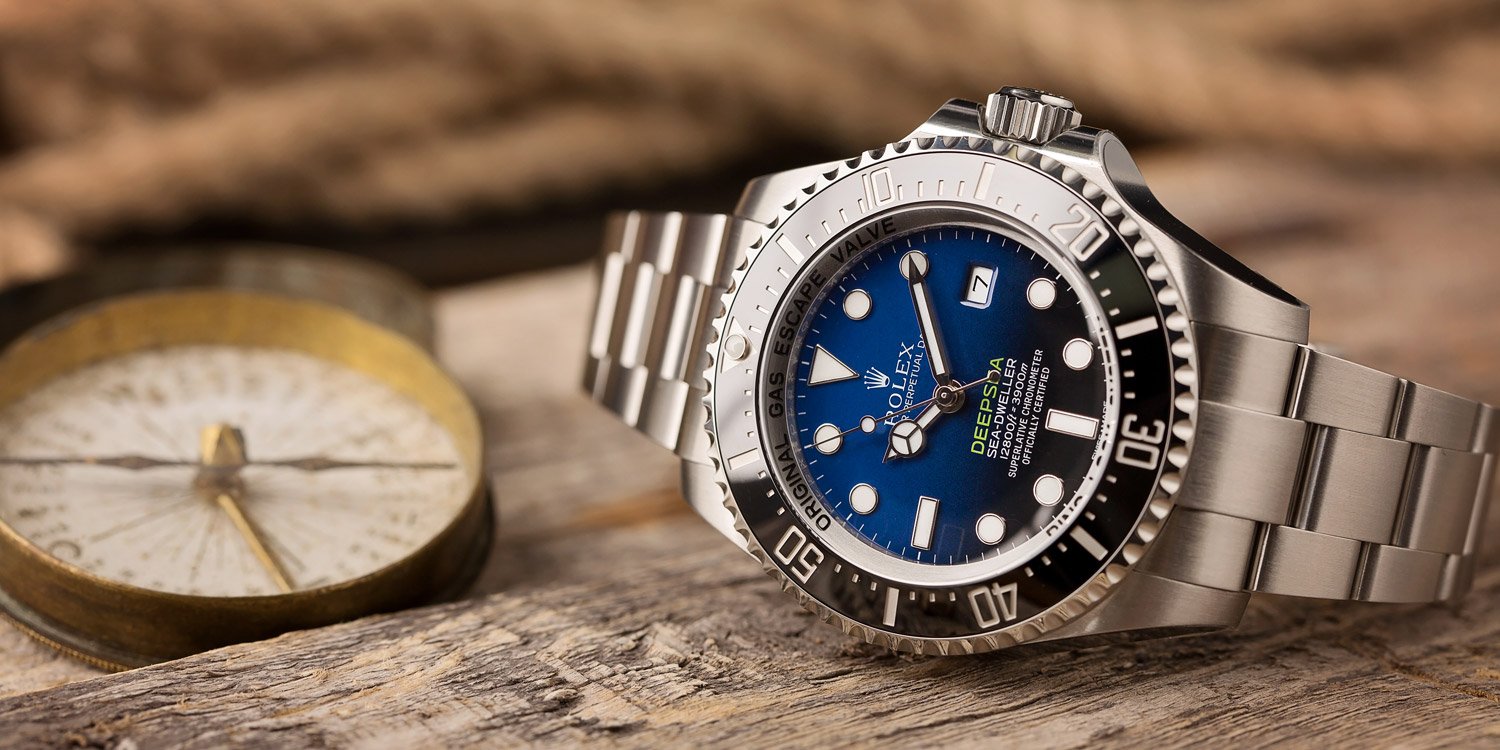 The Sea-Dweller is Rolex's most durable, battle-tested adventure watch, making it perfect for the dad on the go. Featuring a minimum depth rating of 4,000ft and stainless steel construction, the Rolex Sea-Dweller is the only tool watch your father is ever going to need.
THE HOBBYIST
For the dad who is never content with the status quo, the dad would rather fix the sink himself, build his own muscle car, or take the road-less-traveled (rather than ask for directions). These no-nonsense watches are built to last – the perfect compliment to the endlessly inquisitive dad who wears them.
SAFE BET | ROLEX MILGAUSS
Initially created by Rolex for scientists, the Milgauss offers protection against the disruptive magnetic fields that frequently surround electronic devices and heavy machinery. Don't let its playful lightning bolt seconds hand fool you, this is a no-nonsense watch made for those with inquisitive minds.
BOLD MOVE | ROLEX EXPLORER II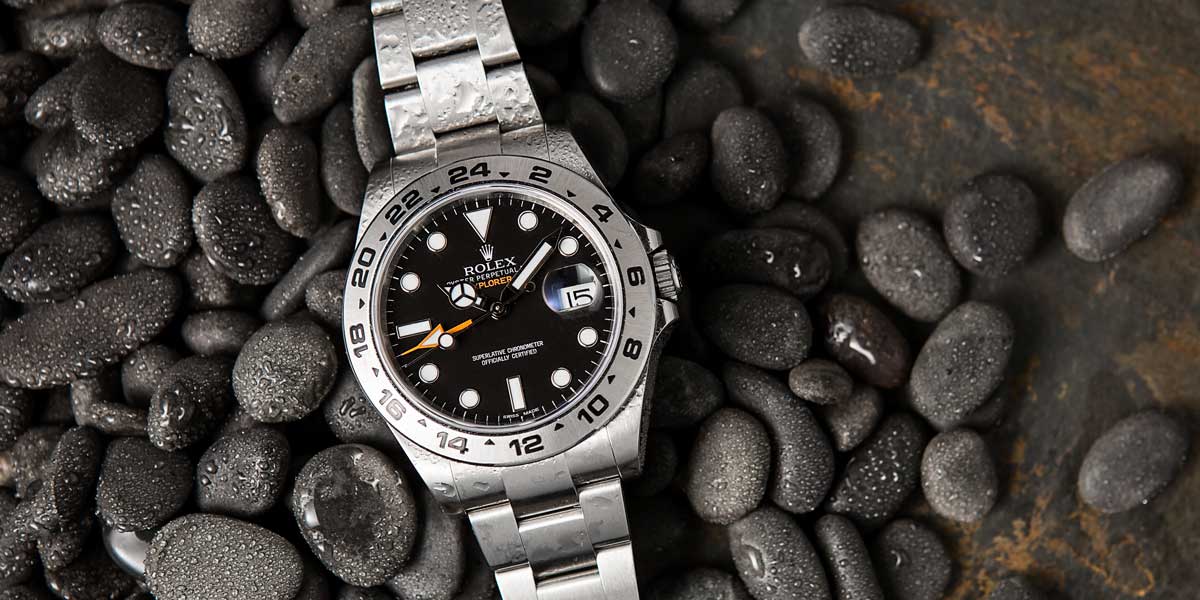 The Explorer II is undoubtedly one of the best watches for any dad who is constantly outdoors. Originally created for cave explorers, this watch is capable of tracking two time zones with its additional 24-hour hand. The Explorer II is a rugged stainless steel watch intended for the man who is not afraid to get his hands dirty.
THE ARTIST
Some people were never meant to be confined to the four walls of an office building. The artist is the father who would rather be writing the next arena rock ballad or painting a masterpiece than filling out spreadsheets. Whether your dad is an artist by trade or only on the weekends, these watches are the perfect compliment to his creative lifestyle.
SAFE BET | OYSTER PERPETUAL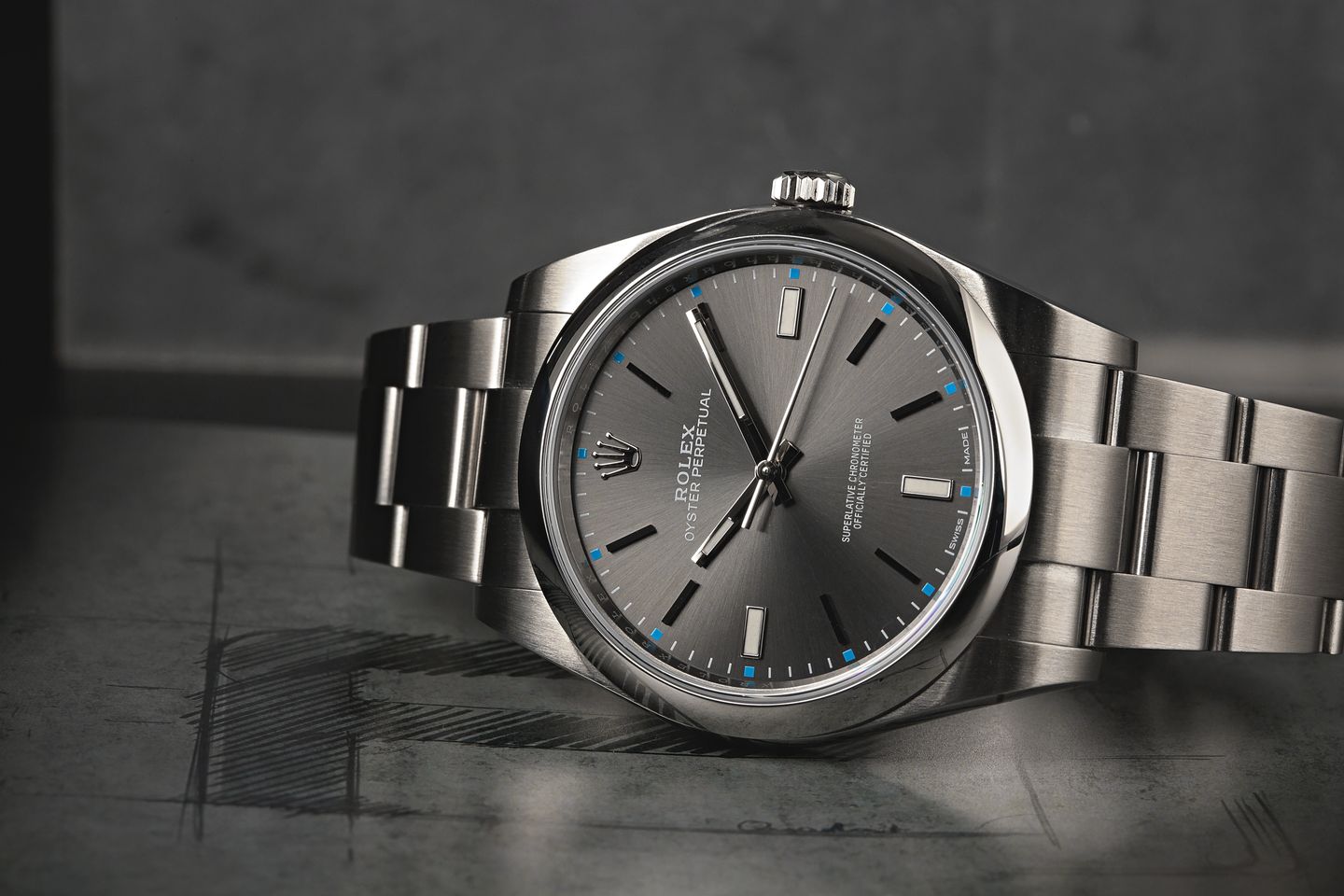 The original self-winding Rolex, the Oyster Perpetual is available in nearly any dial color and size, meaning it will never cramp your dad's creativity. The watch of choice for boardroom execs, rock stars, surgeons, poets, and everything in between – the Oyster Perpetual is the perfect companion for the artist in your life.
BOLD MOVE | ROLEX DAY-DATE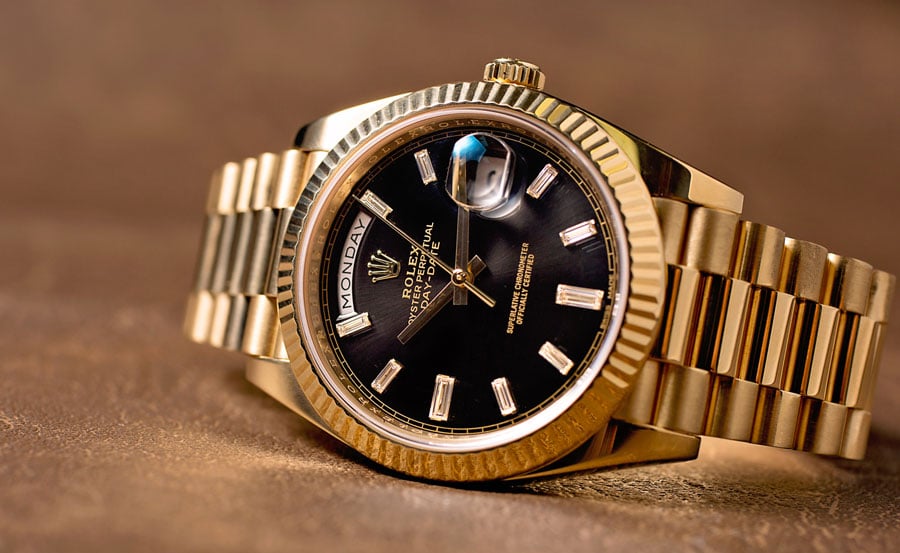 The Day-Date is one of Rolex's most celebrated lines of watches. Offered exclusively in precious metals, the Rolex Day-Date has been the watch of choice for visionaries the world over. The first watch to simultaneously display the date and the day of the week, the Rolex Day-Date is a statement piece as luxurious as it is prestigious.
THE SUPER-DAD
For the dad who does it all. Whether he needs to time drills at soccer practice, poach eggs for Sunday brunch, or lock-down deals at the golf course, these watches are as reliable and handsome as the men who wear them.
SAFE BET | ROLEX SUBMARINER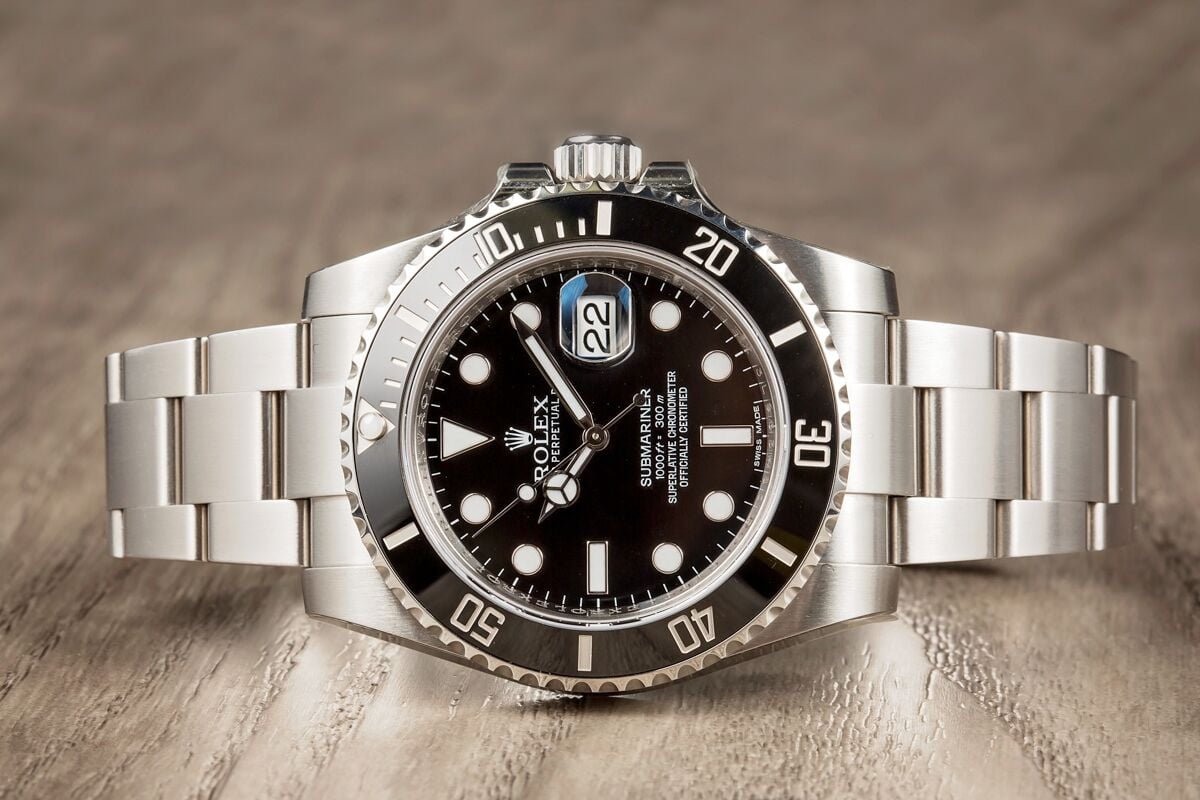 Perhaps no timepiece better embodies the pioneering and perpetual spirit of Rolex than the iconic Submariner. Its rotatable bezel makes timing any activity a breeze, and its waterproof case and stainless-steel construction make it damn near indestructible. No watch in the Rolex catalog can take your dad from the boardroom to the beach quite like the Rolex Submariner.
BOLD MOVE | GMT-MASTER
Initially created by Rolex for Pan-Am pilots so they could simultaneously track multiple time zones, the GMT-Master is the perfect watch for the dad on the go. Available in a variety of metal types, dials, and bezel colors, the Rolex GMT-Master is the king of travel watches and the perfect compliment for the globally-minded dad.