In the Rolex world of exploration, the spirit of adventure lies within each man and woman. From a fascinating technology to pioneering history Rolex was there. Here are some of the most iconic stories of Rolex adventurers you should know about on some of their most timeless watches that had a substantial impact on the watchmaking world. The stories behind the watches are even cooler.
1972: Ronald Evans on Apollo 17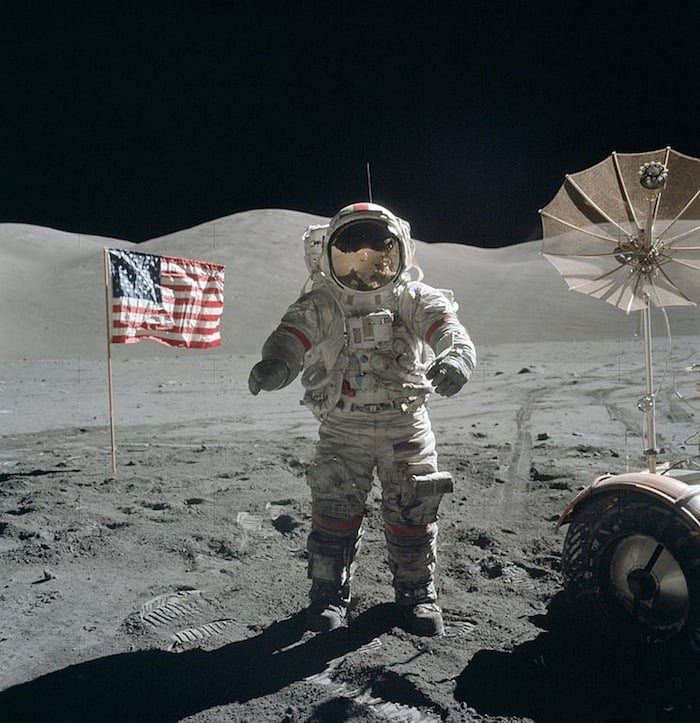 The coolest story about the Rolex GMT-Master is that at least a couple of them made it to the Moon. Jack Swigert wore one on the Apollo 13 mission (you know, the one during which the command module almost blew out from under Swigert, James Lovell, and Fred Haise; pretty sure they made a movie about it). Some claim it was the GMT and not the NASA-authorized Omega Speedmaster that Swigert used to time-critical rocket burns as a crippled Apollo 13 limped home. That one definitely hangs on a plaque at Rolex HQ.
And several missions later, Apollo 17 Commander Ronald Evans wore his GMT-Master clear down to the lunar surface, albeit under his space suit. There it stayed for a little over three days. When he got home, he took his buzz-pencil and hand engraved the case back with "FLOWN ON APOLLO XVII 6-19 DEC 72 ON MOON 11-17 DEC RON EVANS." The watch sold at auction in 2009 for $131,450. Not too shabby.
1953: Sir Edmund Hillary Summits Mount Everest
Throughout modern history, a number of expeditions to the highest peaks and farthest reaches of the earth have shared at least one tool in common: a watch that could keep up with the rigors of travel and the harshness of climate. This is the Rolex Explorer watch — an essential tool that can survive the elements, be trusted at a glance and fade into the background when not needed.
With that said, man going to new heights on Mount Everest makes the Oyster Perpetual Rolex (ancestor of the Explorer) one of the most important wristwatches of all time.
On 29 May 1953, two men fired with extraordinary determination were the first to reach Mount Everest's 8,848-metre summit. A crowning achievement this Rolex adventurer successfully conquered the harsh Mt. Everest. Sir Edmund Hillary and Tenzing Norgay, members of a British expedition led by Sir John Hunt, achieved the goal that dozens of other earlier expeditions had tried to reach: to stand on the top of the world.
1927: Mercedes Gleitze Crosses English Channel
It is one thing to claim a watch is waterproof. It is quite another to prove it. In 1927 a Rolex Oyster crossed the English Channel, a watch worn by a young English swimmer named Mercedes Gleitze. It ticked with each stroke she took as she swam from Cape Gris Nez, France toward London, twice. The swim lasted over 10 hours and the watch remained in perfect working order at the end of it. In fact, she was pulled from the icy-cold water only half-conscious. Her Rolex was bone dry inside, proving its watertight capabilities and reinforcing its otherworldly rank in extraordinary natural elements.