Building a professional wardrobe or even a collection of clothing that is suitable for executive functions and business travel can often entail a little bit of trial and error. No matter your age or industry experience, having an edited closet full of key pieces will help make you more of a star player – and no business-ready outfit is complete without a Rolex watch on your wrist.
Whether you're going to be rocking a solid gold Submariner, a sporty GMT-Master, or a classic and timeless option such as a Datejust or Oyster Perpetual, having the right luxury watch on your wrist can elevate your business wardrobe, and below we take a quick look at some essential items for a Rolex-worthy wardrobe.
Click here for our Ultimate Buying Guide on Rolex watches.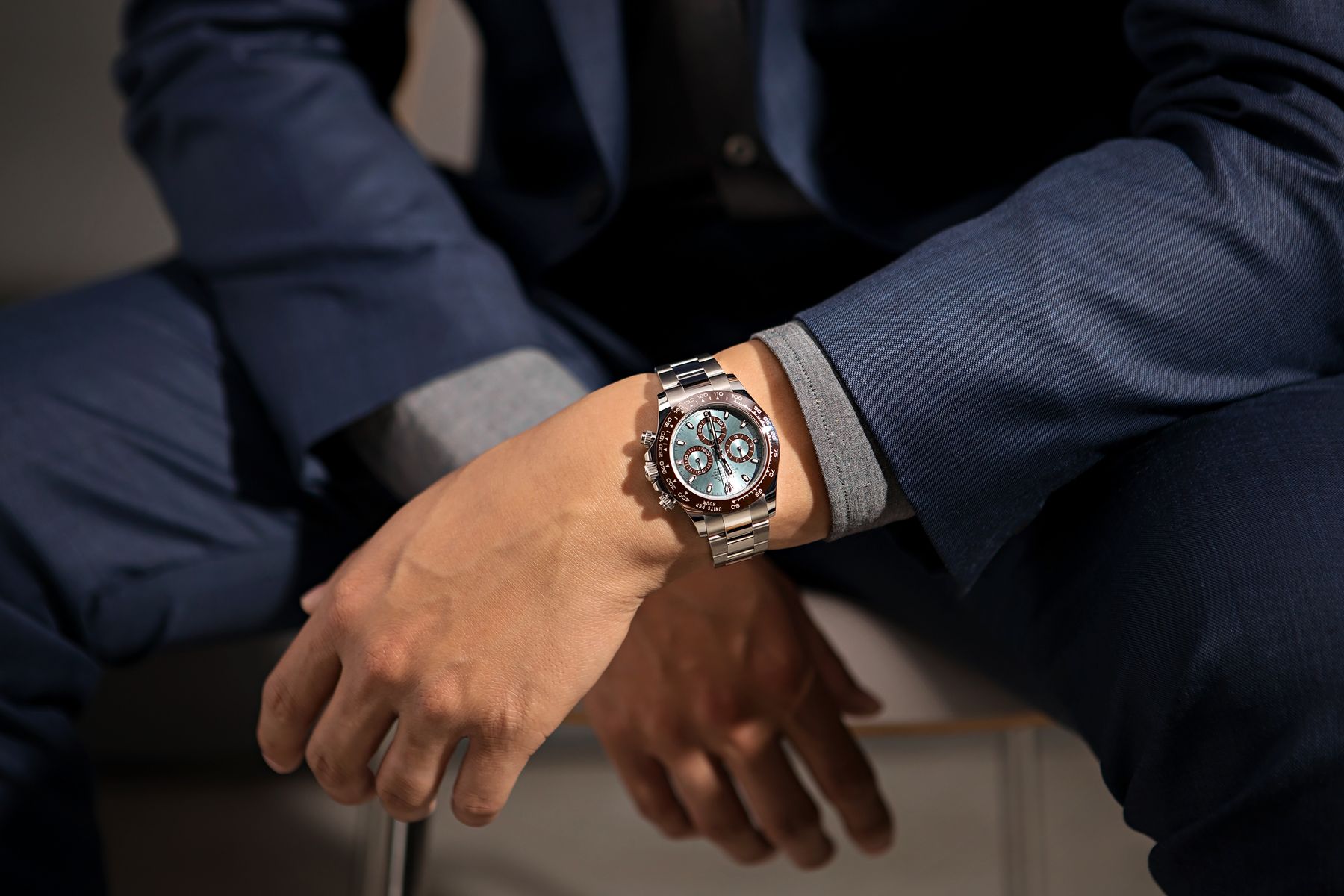 The Oxford Shirt
The foundation of a successful wardrobe is often relegated to the basics. A simple Ivy league staple, the classic men's dress shirt in white, pale blue, or light gray is a non-negotiable item and can be dressed either up or down to suit an incredibly wide variety of different settings. Regardless of whether you dress them up with a coat and tie, or keep things relaxed with a pair of khakis and the sleeves rolled up, a few high-quality oxford shirts will serve as the backbone for your professional wardrobe.
A Classic Crewneck
Beloved by the likes of Prince Harry, David Beckham, and Tom Brady, a classic cotton crewneck will be the ultimate layering piece to step up your wardrobe to fit all seasons. Far more refined and sophisticated than a standard sweatshirt, yet not so formal that it cannot exist in more casual settings, a classic crewneck is a true wardrobe essential, whether you wear it for work purposes.
A Rolex Watch
The workingman's wardrobe would not be complete without a statement-making and confidence boosting watch. Rolex is famous for producing some of the finest luxury timepieces in the world, and the brand's models have an amazing ability to be worn all day, every day and reliably keep time for a person's entire life. From timeless and elegant models such as the Datejust, Day-Date, and Oyster Perpetual to robust and sporty options such as the Submariner and Daytona, a Rolex watch is the ideal timepiece for today's working professional.
Regardless of whether it is crafted from stainless steel, gold, or a mix between the two, a classic Rolex watch is a near perfect finishing touch on a timeless wardrobe, and no business-ready outfit is complete without topping it off with the international symbol of success.
Single-Breasted Suit
No business professional can be without the classic gray or dark navy suit. From business luncheons to impromptu coffee meetings, a modest but mighty power suit is a must. Unlike black, which is truly a timeless option and offers the absolute most formal and refined aesthetic, a single-breasted suit in either a dark blue or gray can offer a much more laid back appearance, making it perfect for lunch meetings and work functions.
Dark Wash Denim
Even the busiest working executive needs a pair of off-duty denim in a dark blue wash to complete a solid professional wardrobe. Suits and slacks are great for board meetings and days at the office, but sometimes a more casual ensemble is required and a slim fit with a low rise in a dark color is guaranteed to tick all of the right boxes.