At the latest version of Baselworld, Rolex brought out a 50th anniversary edition of its legendary Sea-Dweller, complete with the famous red text. Despite the anticipated scarcity of the new model, not all of the retro tweaks pleased diehard Rolex fans, for whom the original Double Red Sea-Dweller remains a holy grail. Now London's prestigious Project X Designs has come out with their own tribute to the 1967 original with those purists in mind.
Sea-Dweller 126600
Priced at about $18,000, it represents a significant premium over the new Sea-Dweller Ref. 126600, which is priced at $11,350 – assuming you can get hold of one. For all of its surface good looks, some would say Rolex went a bit too far modernizing the new 43mm Sea-Dweller, especially with the addition of a "Cyclops" date lens, which many think ruins the model's streamlined look.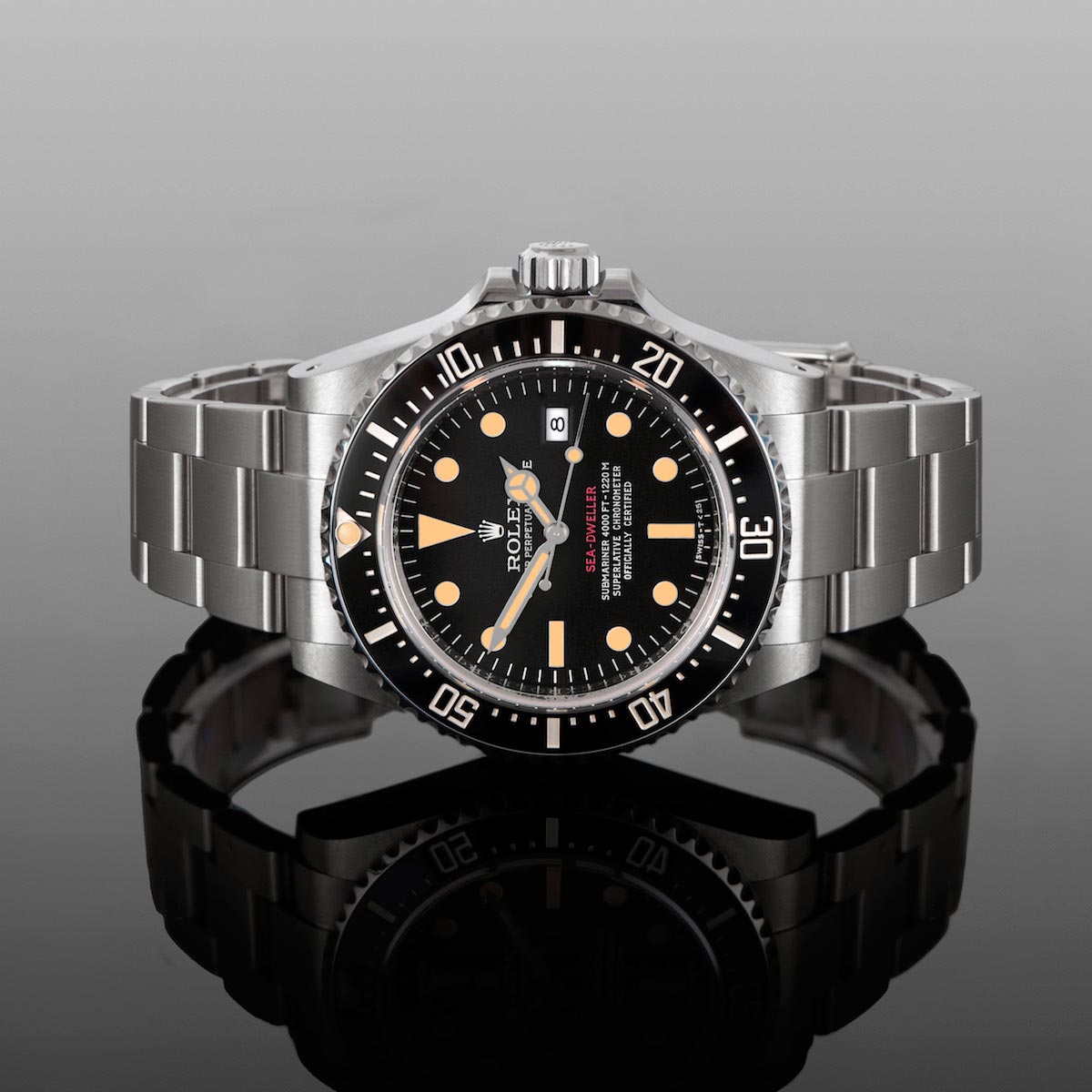 Project X
The Project X version does not have the controversial cyclops lens, one indication that it is in fact made to closely resemble the earliest prototype Sea-Dwellers known variously as the "Single Red", the "MK0", "MK1" and "Patent Pending", which can command $500,000 or more on the rare occasions when they surface at auction. Project X's piece is based on the ceramic bezel Sea-Dweller Ref. 116600, the reigning Sea-Dweller model prior to Rolex's update. It is limited to just 67 examples in honor of the original debut year. Other clues as to its inspiration include the oversized word DATE in homage to the first time a Rolex dive watch had featured this complication; the vintage patinated style of 5 minute markers; and visible lug holes on the case sides.
The case back features the words 'OYSTER GAS ESCAPE VALVE' & 'PATENT PENDING' in the style, font and position of the original vintage 'Single Red' Sea-Dweller finished with a black enamel bezel, and the unique limited edition number for each watch is written in the following format: '1.67' It's not the first time Project X, whose blacked-out watches have been spotted on the wrists of Kanye West and Daniel Craig, has produced a "heritage" edition of a legendary Rolex model. In fact it anticipated another smashing Rolex design, the new cerachrome Daytona, with a limited edition version that incorporated some of the famous "Paul Newman" attributes to boot. Keep an eye on these guys…